Dr. Loco's Rockin' Jalapeño Band: José Cuéllar- PhD. by Day, Loco by Night
by Mark Guerrero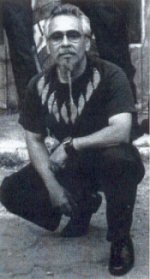 José Cuéllar, a.k.a, Dr. Loco, has achieved a life and career that can be used as inspiration to young people, especially Chicano and minority youth. Growing up in San Antonio, Texas, José Cuéllar wanted to be a musician. As fate would have it, he wound up going to college and becoming a PhD. in anthropology. As if this weren't enough, he became a musician as well, eventually founding his popular Dr. Loco's Rockin' Jalapeño Band. Based in the San Francisco Bay Area, they have recorded four CDs and performed all over the United States. His story proves you can have it all if you want it and are willing to work for it.
José Bernardo (Bennie) Cuéllar, was born and raised in San Antonio, Texas. He came from a middle class musical family. His father played drums and trumpet, his grandfather violin, and grandmother mandolin. José played clarinet though grade school, before taking up the saxophone in his late teens. The first two albums he bought were by Stan Getz and Count Basie. Stan Getz became an early idol and inspiration. The first band José joined was a rhythm and blues band called the Dell Kings. He was brought in to play second tenor sax. Another musical inspiration for José and other young musicians was an African-American sax player by the name of Clifford Scott. Clifford Scott achieved musical immortality by composing and playing sax on the classic instrumental "Honky Tonk" by Bill Doggett. According to José Cuéllar, Clifford Scott was also beloved in the Chicano community of San Antonio because he would go to the barrio and bond with La Raza and teach saxophone to young people. In 1961, José joined the Air Force, figuring he would probably eventually be drafted anyway. He was promised by recruiters that he would be in the band, but was assigned to become a medic. After basic training in Texas, he was sent to Alabama, a state in which he was considered "colored." José was subjected to the kind of discrimination African-Americans were enduring at the time. He remembers buying an ice cream cone at a well-known ice cream franchise and being told to pick it up at the back door. On the positive side, he was able to play with black musicians and hang out at the blues clubs. After Alabama, he was stationed in Puerto Rico, where he played in Latin bands and learned about the styles of Latin music played there. His last stop in the Air Force was Bangor, Maine, where he played in some rock bands. During his time in the Air Force, aside from being a dental technician, he received diverse and valuable musical experience playing off-base. After his discharge in 1964, he decided to pursue a career in music.
José Cuéllar returned to San Antonio and began playing in bands. He headed for Hollywood, California with a band called Tom Cellie & the Charades, who moved into a motel on the Sunset Strip. This was in the mid-sixties, the height of the glory of the Sunset Strip in terms of rock & roll. José remembers Dewey Martin, drummer for the Buffalo Springfield, getting José's band gigs in South Central Los Angeles in r&b and blues clubs. Even though the band was gigging some, it wasn't enough to keep up with their motel bill. As a result, the owners held the band's instruments hostage. They would only allow the band to take some of their instruments on their jobs, while others remained at the motel as collateral. One day, while rehearsing in the motel cafe, they were heard by the cousin of a well-known female singer named Timi Yuro, who'd had a big hit with a song called "Hurt." The cousin told Yuro that he had heard a great band so Yuro sent her agent, Joe White, down to check them out. The agent liked them. He liked them so much he paid their motel bill and rented them a house in which to rehearse. The band soon got a 36 month guaranteed contract with the Del Webb Corporation to perform in Las Vegas at the Mint Casino. Tom Cellie & the Charades spent the next two years living and playing in Las Vegas. They had several matching shark skin suits and worked out some serious rock & roll choreography to go with their show. When the band broke up, José returned to Southern California to the Orange County area. He played gigs in the area and did occasional demo sessions in Hollywood. One day José got a call for a Motown session at Gold Star Studios. Upon arrival, he was handed sheet music for the session. He could read music, but not to the level where he could sight read on the spot in the heat of a big time session. He was dismissed. For a time, José thought he might give up music.
After some soul searching, he decided to go to Golden West College in Huntington Beach and improve his music reading and knowledge. On registration day, he found that all the music classes were filled to capacity. He also noticed everyone in line was Anglo and looked like a surfer, male and female. It was as if he were dropped onto the set of "Beach Blanket Bingo." He didn't feel he would fit in very well. He started to walk away when a student stopped him and said "where are you going?" After a discussion about what José was interested in, the student said one of the music teachers, Tom Hernandez, had played trumpet with Frank Sinatra in Vegas. This definitely piqued Jose's interest. The student took him to meet Mr. Hernandez. To this day José Cuéllar doesn't know the identity of the student who affected the course of his life. Tom and José had a long talk over a "cafecito" (cup of coffee) while José filled out registration forms. Tom Hernandez then opened a cabinet door full of musical instruments and invited José to pick out what he wanted. He took an alto and tenor saxophone, clarinet, and flute. Tom Hernandez became José's mentor. After a year of music and band classes, Mr. Hernandez said to José take some other kinds of classes. "I don't want to see you around here anymore. Maybe you can get a degree." José took classes in different subjects and soon had the credits for an A.A. degree in music. It was suggested he go on to Long Beach State where they had an excellent music program. Since Richard and Karen Carpenter had attended the program, it was more popular than ever. José could not get into a single music class. He thought maybe sociology would be a good major because a lot of social and political events were occurring in 1968, such as the assassinations of Martin Luther King and Robert Kennedy, the East L.A. high school walk outs, and Cesar Chavez had marched on Sacramento. However, the sociology classes were also filled to capacity. He walked into an anthropology class. The teacher said there was no room. As he was walking away, she stopped him and said maybe she could squeeze in one more student. She asked José what other classes he had and he replied "none." He explained every class he wanted was full. She wound up taking him around to other anthropology classes and helping him to get in. He now had a full-time load of anthropology classes. He found that he really liked the subject matter and that he was very good at it. Two years later, he had a Bachelor's degree in anthropology!
At this point, José Cuéllar still had the G.I. bill and access to fellowships to attend graduate school at U.C.L.A. He wasn't sure he wanted to go there and give up his musical aspirations. His favorite psyhology teacher advised him to try it and if he didn't like it he could quit anyway. It wasn't something he had to commit to continue. He gave it a shot and found he enjoyed it and once again did very well. Cuéllar eventually graduated from U.C.L.A. with a masters degree and a PhD. in anthropology. This led to teaching jobs at the Claremont University (early 70s), the University of Colorado at Boulder (1977-78), U.C. Santa Barbara (1978-79), San Diego State (1980-83), and Stanford University (mid-80s-1990). He's also been a guest professor at U.C. Berkeley. All through José's college career as a student and teacher, he had been playing in bands on weekends. However, while in Colorado in 1977 he found he had no one to play music with so he hung up his sax for many years. While teaching at the prestigious Stanford University in Palo Alto, California, he formed his first band which was cleverly called the Contra Contraband, whose purpose was to raise money for the activists who were fighting the Contras in Nicaragua. In 1988, he was asked by teacher/writer Antonio Burciaga to put a band together to play at a mural dedication at Casa Zapata. He put one together using mostly Stanford students and called it Dr. Loco's Original Corrido Boogie Band. The name was inspired by the style of the name Sgt. Pepper's Lonely Hearts Club Band and the Original Dixieland Band. The name Dr. Loco originated while doing research on cholos in Tijuana while teaching at San Diego State. Dr. Cuéllar was intrigued as to how cholos, who originated in the American Southwest, evolved south of the border. His paper was entitled, "The Development and Diffusion of Cholismo in Urban Barrios Along the U.S.-Mexico Frontera,"1975-1988. While developing relationships with the cholos in Tijuana, one of the cholos had heard that José was a doctor (PhD.). He thought it was funny and began taunting Dr. Cuéllar in a good natured way saying "a poco Dr. Loco," which got a big laugh from the other vatos. They all started calling him Dr. Loco. Dr. Cuéllar thought it sounded like a good name for his musical alter ego since rock & roll already had a Dr. John, Dr. Hook, and Professor Longhair. Getting back to Dr. Loco's Original Corrido Boogie Band, they played the mural event and sounded very good. An article appeared in the San Francisco Chonicle about this PhD. moonlighting in a rockin' Latino band. Another article appeared in the Stanford newspaper, which led to Dr. Cuéllar meeting his early musical hero, Stan Getz, who happened to be an artist in residences at Stanford at the time. The San Jose Mercury News also wrote a story in which they referred to José Cuéllar as a "pair of docs" (a play on the word paradox), meaning he was both Dr. Cuéllar and Dr. Loco. The stories created a lot of interest in the band and the gigs started coming in. The name of the band was changed in 1990 to its present Dr. Loco's Rockin' Jalapeño Band. The Jalapeño part of the name came from a radio station in San Antonio that José enjoyed as a youngster called Radio Jalapeño, KEDA. What he liked about it was that it played an eclectic mix of the kinds of Latin music he liked; corridos, Lalo Guerrero music, and Chicano rock and blues. His band had a similar mix of music. The band's new name also had the style of the name Sgt. Pepper's Lonely Hearts Club Band, Chicano style. José wisely knew it also lent itself to marketing.
Dr. Loco knew he was onto something when Dr. Loco's Rockin' Jalapeño Band performed at the Viva Chicago Festival, where they held their own with music veterans Ruben Blades and Little Joe. Dr. Loco's Rockin' Jalapeño Band recorded their first album in 1991 called "Con / Safos." Albums to follow include "Movimiento Music" (1992), "Puro Party" (1995), and "Barrio Ritmos & Blues" (1998). I have two of the CDs, so I can only comment on those. "Con / Safos (1991) is an excellent album and a lot of fun. It's bilingual and very pocho. The band covers James Brown's "I Got You (I Feel Good)," but call it "I Got You (I Feel Chingon)." They also have a bilingual and highly suggestive version of the classic doo wop song "Cherry Pie" they call "Chile Pie." The Mexican standard "Volver, Volver" becomes "Volver, Return." Lalo Guerrero's "Los Chucos Suaves" is also included and I'm happy to say the CD is dedicated to my dad, "El Maestro Lalo Guerrero." The album also has a cumbia, cha cha, Dr. Loco's version of "The Girl From Ipanema" as "Homegirl de la Misión." Chuck Rio's "Tequila" ends the CD, but on the breaks the band shouts "jalapeño" instead of "tequila." It's good time music played very well. "Barrio Ritmos & Blues" (1998) has a bilingual and "pochocized" version of Stephen Stills' "For What It's Worth" and, my favorite cut, "Barrio East Los." It's a monster funky track about my home town of East L.A. It's very hip with a kind of rap that's more like urban poetry. The last track on the CD has a recitation of the ingredients for menudo to a musical groove. Hilarious. The musicians in the band, including Dr. Loco, are not only entertaining, but they can play! It's an excellent band. Dr. Loco's band began touring in 1993 and continues to perform at prestigious festivals, clubs, and events throughout the U.S. Current members of the Rockin' Jalapeño Band are: Saul Sierra, bass, vocals; David Stephens, valve trombone, trumpet, vocals; Brian Andres, trumpet; Tom Ledesma, trumpet; Steve Cervantes, flute, harmonica, tres, vocals; Ron Torrez, guitar, vocals; and Carlos Caro & Stan Ginn, percussion, timbales, congas. In 1997, José "Dr. Loco" Cuéllar and Francisco Herrera, a well-known guitarist, vocalist, and activist, created an electro-acoustic group to perform musica Americana of amor and liberation called Amorindio. Their unique bilingual arrangements bring new voice and high energy to some of the great classic and contemporary boleros, freedom songs, polkas, cumbias, and gospels. Multi-instrumentalist and vocalist Daniel Martinez plays electric bass. Joe Brigandi or Carlos Caro of Dr. Loco's Rockin' Jalapeño Band sometimes joins this group on percussion, drums, and vocals. Amorindio has performed at Princeton University, Grand Valley State University (Michigan), the Summer of Love 30th Anniversary in San Francisco, the Berkeley Art Museum at U.C. Berkeley, and many other venues.
José "Dr. Loco" Cuéllar first met my dad, Lalo Guerrero, at an event at which my dad received the Feathered Serpent (Quetzalcoatl) Award at Luis Valdez' Teatro Campesino in San Juan Bautista, California. Dr. Loco had been invited to perform by Luis Valdez. It was a star-studded event with Linda Ronstadt, Edward James Olmos, Paul Rodriguez, and others. Dr. Loco's band backed up Eddie Olmos at the event. Eddie sang several of my dad's pachuco songs that had been featured in the Luis Valdez play and movie "Zoot Suit." This gave Dr. Loco an opportunity to learn some of my dad's songs and become familiar with them. This turned Dr. Loco on to my dad's music and resulted in the recording of his own version of my dad's classic "Los Chucos Suaves" on Dr. Loco's Rockin' Jalapeño Band's first album, "Con / Safos." Dr. Loco and his band backed my dad at an event in San Jose a few years later. This was at a time when my dad was in his early 80's and was having some trouble at times remembering his lyrics. I spoke to Dr. Loco on the phone prior to the performance and gave him a heads up on the lyric situation. Dr. Loco made sure one of his vocalists was at the ready with the lyrics in case of any problems. As it turned out, my dad rocked the house, with the exception of one song on which he needed a little help. Dr. Loco's Rockin' Jalapeño Band also shared the bill with my dad at Arizona State University in Tempe, Arizona, a show I have on video tape. Dr. Loco and I hadn't met in person until I interviewed him for this article over breakfast in a South San Francisco IHOP in April of 2005, while I was in town to speak at a Chicano music class at U.C. Berkeley. I found him to be a bright and exuberant man, who's enthusiastic about music and life in general. Hopefully, we can do some music together in the future, live or in the studio.
Dr. Cuéllar is currently Professor and Chair of La Raza Studies at San Francisco State University and Director of the Cesar Chavez Institute for Public Policy. José B. Cuéllar, PhD. combines his talent as a United States Mexican multi-cultural anthropologist, musician, educator, and activist in three entertaining and inspiring presentations: Dr. Loco's Rockin' Jalapeño Band, Amorindio, and Professor Cuéllar. As Professor Cuéllar, he appears around the country presenting an entertaining educational multi-media lecture on the diverse origins of Mexican-American musical heritage, spanning from the 19th century to the present on both sides of the U.S.-Mexican border. His academic credentials, lectures, and writings, as well as his musical credits are too numerous to mention in this article. You can get additional information on José "Dr. Loco" Cuéllar on his website, drloco.com.
This article is based on an audio taped interview by Mark Guerrero with José "Dr. Loco" Cuéllar on April 5, 2005 in San Francisco, California.
mp3 Sound Bytes
Los Chucos Suaves - Dr. Loco's Rockin' Jalapeño Band (1991)
Barrio East Los - Dr. Loco's Rockin' Jalapeño Band (1998)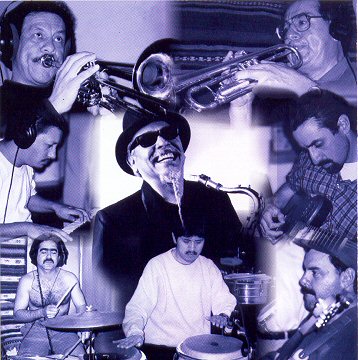 Dr. Loco's Rockin' Jalapeño Band (1998)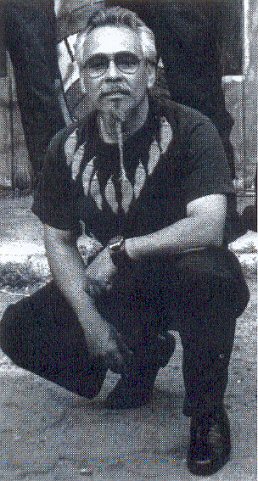 Dr. Loco- José Cuéllar (1991)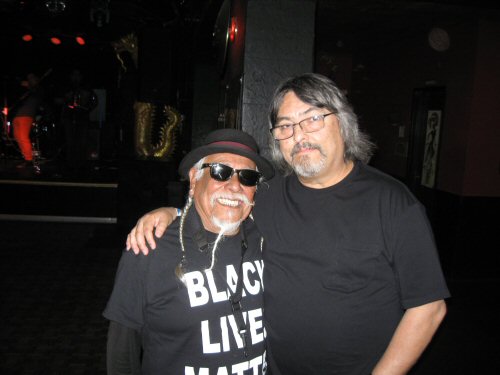 Dr. Loco & Mark (2016)

Click here to go to the Dr. Loco store at amazon.com



Previous page || Go to next article