---
Viento Callejero
"Viento Callejero"- New CD by a great cumbia band from East L.A. Here's a paragraph about the band and its music taken from one of their you tube video pages:
"When the fiery guitarist Gloria Estrada decided to leave L.A.'s fast-rising fusion band La Santa Cecilia, most of us who had seen her live were shocked and wondered what she would do next. Well, here she is with her new project, Viento Callejero. The band is composed of Estrada on guitar, Chicano Batman's Gabriel Villa, Federico Zuniga Jr. from the Grammy-nominated electro-jarocho group Sistema Bomb, and will feature a rotating roster of guest singers. Viento Callejero has set out to cover old school big band cumbia classics in a very innovative way. Estrada had the idea a long time ago, but grappled with how to recreate the multitude of horns and instruments on these orchestral tracks with just one guitar, bass, and drums. The final result is an electrified cumbia sound that finds itself somewhere between the psychedelic guitar licks of Peruvian Chicha and classic Santana riffs. The music will captivate your ears and get your hips swaying."
For more info visit their facebook page: www.facebook.com/vientocallejero.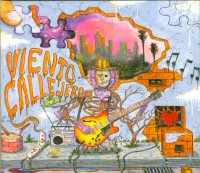 "Viento Callejero"
Viento Callejero (2014)