Hirth Martinez: Hirth From Earth and Beyond
by Mark Guerrero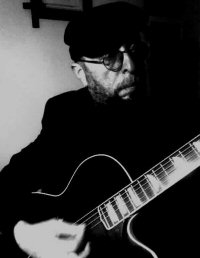 Hirth Martinez is Chicano music's best kept secret. I was introduced to him by Gene Aguilera, a mutual friend who manages vocalist Little Willie G. Little Willie G. recorded one of Hirth's early songs in the mid-sixties when Willie was a member of the legendary East L.A. band, Thee Midniters. Hirth is a world-class singer/songwriter and guitarist. His voice can have the smoothness of Chris Montez, the gruff edge of Bob Dylan, or the bluesy attitude of Dr. John. His songs run the gamut from Jobim-styled sambas and melodic ballads to blues and jazz. Hirth's resume reads like a drunkard's dream. His career as a solo recording artist began with a helping hand from Bob Dylan. He's written songs with Donald Fagen of Steely Dan. His songs have been covered by the likes of Carly Simon, Paul Butterfield, Manfred Mann, and Julio Iglesias. He's performed and recorded with some of the greats of our time. In the biography of the Band called "Across the Great Divide" by Barney Hoskyns, Bob Dylan is quoted as describing Hirth as "extraordinary." Dylan also once described Hirth as a cross between Howling Wolf and Dave Brubeck.

Hirth Martinez grew up in East Los Angeles and attended my alma mater, Garfield High School, though he graduated a year before I arrived. His father's roots go back to Mexico and his mother's to the Basques of Spain, from whom the name Hirth originates. During the sixties, he worked as a guitarist with Latin artists Don Tosti, Joe Loco, and Sal Chico, jazz artists including Art Pepper and Joe Pass, and toured with the great Ray Charles. He was also active as a session man in the L.A. studios, where he worked with the likes of Barney Kessel and James Burton. Although he was working all the time, either live or in the studio, his true passion was songwriting. He spent most of his time writing songs, amassing a catalog of hundreds of songs. In 1974, through a simple twist of fate, his songs came to the attention of Bob Dylan, who liked what he heard. Bob hooked Hirth up with Robbie Robertson, who was then leader and chief songwriter with The Band. Robbie was also impressed and decided to work with Hirth. After pouring over hundreds of songs, they selected the songs for Hirth's first album "Hirth from Earth," which Robertson produced. It was released on Warner Brothers Records in 1975. The album featured thirteen excellent songs by Hirth and some of the best musicians in the business, including Russ Kunkel, Chuck Rainey, Ben Keith, Robbie Robertson, Garth Hudson, and Levon Helm. Although it didn't receive the attention it deserved with the public, word got around the musical community and Hirth got personal compliments from artists Joni Mitchell, James Taylor, Paul Simon, and Frank Zappa, who all liked his record. He received some great reviews, most notable are write ups by Robert Hilburn of the Los Angeles Times and Mikal Gilmore for Rolling Stone Magazine. I like every song on "Hirth from Earth," but my favorites are the Dylanesque "Winter Again," a hilarious funky blues called "The Way It's Gotta Go," the cosmic "Comin' Round the Moon," and two soft melodic songs with poetic imagery, "Silent Movies" and "You Are a Star."

In 1977, Warner Brothers released Hirth's second album called "Big Bright Street." Once again Hirth did his job and filled the record with fine songs. For this collection the musicians included, among others, drummers Steve Gadd, John Guerin, and Jim Keltner, bassist Max Bennet, Dr. John (Mac Rebennak), and the return of Robbie Robertson and Garth Hudson. The album was produced by John Simon, who had co-produced albums by The Band, and featured Hirth consistently using the bluesy and edgy side of his vocal style. My favorite songs on this collection are the title track "Big Bright Street," "Love Song," "The Moone Toone," "Valley of the Music," the country flavored "The Circle Song," "Only In America, Jim," and the very funny "Mothman Samba."

In 1998, Hirth recorded and released an album called "I'm Not Like I Was Before" for Japan's Dreamworks label. It was also produced by John Simon, some 21 years after Hirth and John collaborated on "Big Bright Street." It showcases Hirth in a jazzier context. His songwriting has continued to evolve and although it's still pop and accessible, the sophistication, attitude, and style of the record shows that Hirth can now be considered a bonafide jazz artist. Standout songs on this album are "5/4 Samba," "The Girl," "These Days," "Somewhere In the Power of Her Love," and the humorous "Busy Man." Due to the success of his latest album, as well as the reissue of his previous albums, Hirth is well known and appreciated in Japan, where he tours and performs to enthusiastic fans. In April of 1999, he recorded a live album in Tokyo entitled "I Love To Play For You," which was released in 2000. It contains songs from all his albums and includes three previously unreleased original songs. One of them, "Alarming the Stillness," was done "live" and the other two are new studio recordings featuring Valerie Carter, singing duets with Hirth, and Van Dyke Parks on accordion. Most of the album is Hirth performing solo, while on several tracks he's accompanied by John Simon on piano and John Hall on guitar. He also does four covers including John Sebastian's "Daydream," Bob Dylan's "Down Along the Cove," and the classic "Bye Bye Blackbird." In 2001, Hirth contributed two tracks to "Hoagyland: Tribute to Hoagy Carmichael," also on the Dreamworks label. The songs were "In the Cool Cool of the Evening" and "Baltimore Oriole," which features the harmonica of John Sebastian, formerly of The Lovin' Spoonful.

Hirth's influences come from many genres. Some he mentioned include songwriters of the 40s, Hoagy Carmichael, Johnny Mercer and Jimmy Van Heusen; country music's Don Gibson, Doc Watson, and Willie Nelson; from jazz, Miles Davis and Charlie Parker; from pop/rock, Bob Dylan, Robbie Robertson, Harry Nilsson, Van Morrison, Randy Newman and Ray Charles; from folk, Tom Paxton and Phil Ochs; from Latin, Carlos Jobim and Lalo Guerrero. (In case you're wondering, he included my dad with no prompting from me). Hirth Martinez has musicians on both sides of his family, which gave him some musical DNA with which to work. Add to that the inspiration he derived from the people mentioned above, and Hirth has evolved into a unique artist. He is a great songwriter, both musically and lyrically. His melodies and chord structure can be elegantly simple or very sophisticated. His lyrics are intelligent, quirky, sometimes cosmic, sometimes humorous, and other times sensitive and soulful. It borders on the criminal that his recordings are not currently available in the American market. However, you can get all his albums as Japanese imports. His first two albums are also available as imports on amazon.com. If you want to order any or all of his albums from a store, here are the serial numbers: "Hirth from Earth," Warner Pioneer Corp., WPCP-4916 (Japan 1992); "Big Bright Street," Warner Pioneer Corp., WPCP-4917 (Japan 1992); "I'm Not Like I Was Before," Dreamsville Records, YDCD-0001 (Japan 1998); and "I Love To Play For You (Live in Japan)", YDCD-0030 (Japan 2000). I highly recommend you buy one or more of these CDs and enter the wonderful world of Hirth Martinez. I've had the pleasure of playing guitars with Hirth on a couple of occasions in his living room and can tell you first hand, he's a great talent and an interesting and humorous guy to be around. I particularly enjoy accompanying him on his songs, which to me are nothing short of phenomenal. Hirth has two websites of his own, which you can access from my "related links" page.
This article was based on an audio taped interview by Mark Guerrero with Hirth Martinez in East Los Angeles on November 27, 2001.
Hear Mark's interview with Hirth by clicking the link in the paragarph below
Mark Guerrero plays selected recordings by singer/songwriter Hirth Martinez from his Warner Brothers albums of the 70s though his CDs of the late 90s. Hirth is in studio with Mark discussing how he was "discovered" by Bob Dylan, produced by Robbie Robertson of The Band, and his popularity in Japan. Click here to hear the show, which was originally broadcast on crnlive.com in May and June of 2007. (91 minutes 11 seconds)
Hirth Martinez Recordings Featured on the radio show
1. All Together Alone 2. Winter Again 3. Comin' 'Round the Moon 4. That's the Way It's Gotta Go 5. You Are a Star 6. Big Bright Street 7. The Moone Tune 8. The Mothman Samba 9. Old Friends 10. 5/4 Samba 11. The Girl 12. Busy Man 13. These Days 14. Somewhere In the Power of Her Love
For more information on Hirth, visit his official website, hirthmartinez.com. You can also purchase Hirth CDs from the amazon.com link at the bottom of this page.
mp3 Sound Bytes
That's the Way It's Gotta Go - Hirth Martinez 1975
Busy Man - Hirth Martinez 1998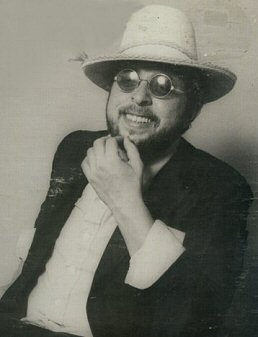 Hirth Martinez (1977)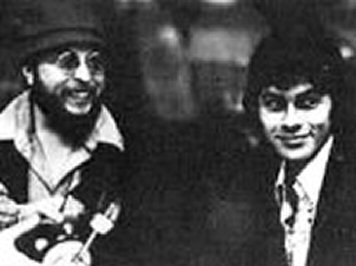 Hirth Martinez and Robbie Robertson (1976)
(Robertson produced Hirth's first album "Hirth From Earth"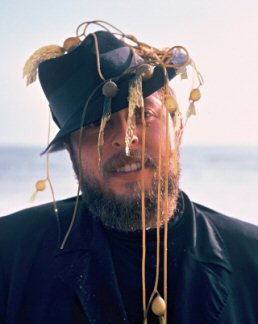 Hirth Martinez (1976)
(at photo shoot for "Hirth From Earth")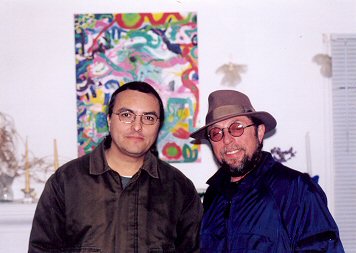 Mark Guerrero & Hirth Martinez (2001)

Click here to go to the Hirth Martinez store at amazon.com



Previous page || Go to next article