Rubén Funkahuátl Guevara: Ruben & the Jets, Con Safos, y Más
by Mark Guerrero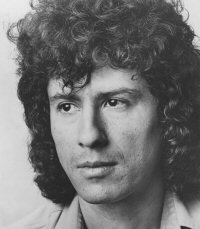 Rubén Funkahuátl Guevara is a singer, songwriter, producer, writer, poet, performance artist, and impresario. He made his mark in music with his 1970s band Ruben & the Jets, who recorded two albums on the Mercury Record label, the first produced by the legendary Frank Zappa. In the early eighties, and again in the mid-nineties, he ran Zyanya Records, a subsidiary of Rhino Records. At Zyanya, he compiled and released three albums in the 80s and two in the 90s, which featured Chicano rock artists, as well as rock en Español groups from Latin America and Europe. He has composed a rock gospel cantata, created art videos and performance art pieces, provided music composition and coordination for movies and television, and put together shows featuring music and dance. He has been aptly called a culture sculptor.

Ruben Guevara grew up in the Mexican barrio of Santa Monica, moved to Cathedral City, then settled in the racially mixed Pico Union district of Los Angeles, just west of Central Avenue. His father was a singer/songwriter/musician, who was a member of a major trio from Mexico called Los Porteños. (The legendary Miguel Aceves Mejia was also in the group.) Rubén Guevara Sr. came to Los Angeles to perform with Los Porteños at an International Folk Festival at the Los Angeles Coliseum for Cinco de Mayo in 1941. At a performance during the same trip at the Million Dollar Theater in downtown L.A., Rubén Guevara's future mother and father met backstage. Rubén Sr. left the trio and stayed in L.A. to pursue the relationship. Ruben says his father was his first music teacher. At age nine, Ruben took up the trumpet in school and succeeded in playing in the California All Youth Symphony. At Berendo Jr. High School he began to be interested in rock & roll and rhythm and blues. By the time he was in high school he was singing in a doo wop group. In 1958, Ruben and Pablo Amarillas formed the Apollo Brothers, who were influenced by Don & Dewey and the Carlos Brothers. They performed at the El Monte Legion Stadium, Alan Freed's Record Hop at Jordan High in Watts, Pacific Ocean Park, and various local television shows. They recorded for Cleveland Records and were the first Chicano duo to be played as a VIP platter on KGFJ, a Los Angeles rhythm and blues station. At the time Ruben's influences were: In doo wop (besides the two previously mentioned); Robert & Johnny, Vernon Green & the Medallions, The Penguins, The Jaguars (South Central L.A.), The Flamingos, Don & Juan, Ritchie Valens, and Lil' Julian Herrera. In jump blues; Little Richard, Don & Dewey, Joe Houston, and The Masked Phantom Band. In r&b; James Brown and Bobby Blue Bland.

In 1965, Ruben performed solo on the hit national television show, Shindig. He was on the bill with Bo Diddley, Tina Turner, and Jackie DeShannon. Ruben opened the show in a medley with cast, sang a solo spot, and closed the show with Bo Diddley. Ruben's rendition of Bobby Blue Bland's "Don't Cry No More" went over so well, the producers wanted him to replace singer P.J. Proby, who had left the show. They also wanted him to change his name to J.P. Moby and did so reluctantly. The show went off the air soon after so the name change became a moot point. A highlight of the experience for Ruben was Tina Turner complimenting him on his singing. In the late 60s, Ruben went to Los Angeles City College and studied music composition and modern composers for two years. This education was of help when he worked with Lalo Schiffrin on the soundtrack for Clint Eastwood's "Coogan's Bluff," in 1968, and his later work with Frank Zappa.

In 1969, Ruben went to a Frank Zappa and the Mothers of Invention concert at the Shrine Auditorium. Zappa had just put out a parody doo wop record called "Cruisin' with Ruben & the Jets." Ruben got backstage and thanked Zappa for bringing back that kind of music and told him that his name happened to be Ruben and that he sang in that style. Two years later, Ruben went to Zappa's house with a friend, keyboardist Bob Harris, who had toured with Frank. After spending hours listening to records and talking about music, Zappa and Ruben found that they liked much of the same music, rhythm & blues and doo wop, as well as modern composers such as, Varese, Bartok, Stravinsky, and Cage. Zappa asked Ruben if he'd be interested in forming a real Ruben & the Jets. Ruben put the band together and auditioned for Zappa, who wound up producing their debut album on Mercury Records called "For Real." The album is classic doo wop and rhythm & blues. They did covers of Chuck Berry's "Almost Grown," Joe Houston's "All Nite Long," a soulful version of "Dedicated To the One I Love," which features a great guitar solo by Frank Zappa, and "Charlena," which was later also covered by Los Lobos. Ruben wrote two of the songs, "Mah Man Flash" (co-arranged with Zappa), and "Santa Kari" and co-wrote two others, "Sparkie" and "Spider Woman." Other band members wrote all the remaining songs with the exception of a Zappa song called "If I Could Only Be Your Love Again." The lead singing, harmonies and playing on the album are excellent and true to the style. The members of Ruben & the Jets on this album were: Rubén Guevara- vocals and keyboards; Tony Duran- lead guitar, vocals and keyboards; Robert "Frog" Camarena- rhythm guitar and vocals; Johnny Martinez- keyboards and vocals; Robert "Buffalo" Roberts- tenor sax; Bill Wild- bass and vocals; Bob Zamora- drums; and Jim "Motorhead" Sherwood- baritone sax. (Original member, alto sax player Clarence Matsui, left the band before recording began). Guest musicians included George Duke and Ainsley Dunbar (formerly a member of the English band, The Ainsley Dunbar Retaliation). Ruben sang most of the lead vocals, but Tony, Robert and Johnny also sang lead on this record. Ruben & the Jets did a west coast tour with Frank Zappa in late 1972 and went on a tour of the east coast after the release of "For Real" in '73. On a second tour that year they appeared on the bill with Three Dog Night and West, Bruce and Lang, with T Rex included on one of the dates. Ruben fondly remembers a particular concert at U.C. San Diego where Ruben & the Jets were on a powerhouse bill with Malo, Azteca, Tower of Power, and Cheech & Chong.

Ruben & the Jets recorded a second Mercury album called "Con Safos," produced by Denny Randell, who had previously worked with The Four Seasons and The Toys. "Con Safos," which featured the same musicians, minus Jim Sherwood, was recorded in 1973 and released in 1974. Covers on this collection included, Sam Cooke's "You Send Me" in a medley with the doo wop classic "A Thousand Miles Away," Bill Dogget's "Honky Tonk," and Elmore James' "Dust My Blues." Ruben's contribution to the album as a writer was "Cruisin' Down Broadway." After his experience with Ruben & the Jets, Ruben had a deal to record a solo album produced by Steve Cropper of Booker T. & the MGs but the deal fell through. In 1975, Ruben traveled to Mexico to explore his roots, which had a profound impact on his future musical and artistic direction. In 1976, for the U.S. bicentennial, he recorded a doo wop version of the "Star Spangled Banner" and "America the Beautiful" (with ex Jet, Johnny Martinez) for Rhino Records' first single release. The following year, Ruben appeared in Cheech & Chong's first movie, "Up In Smoke," as a member of the band playing the trumpet. (A closing line in the movie honored the band when Cheech says to Chong," we're gonna be bigger than Ruben & the Jets"). This began a long association with Cheech Marin, which included writing the title song and doing music coordination for another Cheech & Chong movie, "Nice Dreams" and a cameo appearance and the music coordination for Cheech's "Born In East L.A.."

In 1983, Ruben recorded C/S (Con Safos), a narrative piece he had written in 1975, after his Mexican roots pilgrimage), also for Rhino Records. In the same year, he headed Rhino's new subsidiary, Zyanya Records. (Zyanya is a Nahuatl word meaning always or forever). Three albums were released: "History of Latino Rock: 1956-65," "The Best of Thee Midniters," and a compilation of early 80s Eastside bands, "Los Angelinos: The Eastside Renaissance." To celebrate and promote these albums, co-produced "The Eastside Revue" (1983), with Brendan Mullen (founder of L.A.'s punk mecca, The Masque) at the Club Lingerie in Hollywood. The concert featured Cannibal & the Headhunters, Los Lobos, Ruben & the Jets, and Con Safos, with comedian Paul Rodriguez as MC. A second show ('84), which I attended, featured Thee Midniters, Thee Royal Gents, Con Safos, and Los Perros. In 1980, Ruben formed the band Con Safos, who were introduced by Cheech Marin for their debut at the Whiskey in Hollywood. The members included guitarist Danny Dias, formerly of The Village Callers, Hector Gonzalez, bass, formerly of The Eastside Connection, John DeLuna, formerly of El Chicano, Mel Steinberg, alto sax, and a sax player from New Orleans, Jerome Jumonville. Ruben's association with Rhino/Zyanya surfaced again in the mid-nineties when he produced two CD compilations, "Reconquista, The Latin Rock Invasion," (4 stars Rolling Stone), and "Ay Califas! Raza Rock of the 70s and 80s." "Reconquista" contained recordings by the leading bands in the alternative rock en Español movement, including from Mexico; Maldita Vecindad, Caifanes, Tijuana No!, Santa Sabina, Cuca, and La Castaneda, from Argentina; Divididos, Los Fabulosos Cadillacs, from Spain; Mano Negra and Seguridad Social; and Negu Gorriak from Pais Vasco. "Ay Califas" was a compilation of California Chicano rock artists including Santana, Azteca, Sapo, Malo, Tierra, El Chicano, Cheech & Chong, Los Lobos Del Este De Los Angeles, Los Illegals, Yaqui, The Plugz, Cruzados, Ruben & the Jets, and Con Safos, Cold Blood, and Daniel Valdez.

In the early eighties, Ruben began to write poetry for later performance art projects. In 1989, he put together the Modern Mesoamerican Ensemble, wrote, produced, and directed the performance art piece, "La Quemada," which debuted at Highways Performance Space in 1990. The same year, Ruben traveled to France with a solo piece, "Aztlán, Babylon, Rhythm & Blues," which covered 500 years of Mexican/Chicano history as part of a touring Chicano art show, "Le Demon des Anges." Also on the tour were artists Gilbert "Magu" Lujan and Patssi Valdez. It was from this show that Ruben came up with the name Funkahuátl, who was the unknown Aztec god of funk in the "Aztlán Babylon" piece. He began to use the name as a middle name for himself because it reflected his love of funk/r&b and his heritage and because he needed more humor in his life. It first appeared professionally in 1996 as a compilation producer credit for "Reconquista!" and "Ay Califas!." In 1989, Ruben was the musical director and MC for an HBO music special called "Caliente Y Picante," which featured Santana, Celia Cruz, Tito Puente, Linda Ronstadt, Ruben Blades, and Jerry Garcia. In the early nineties at the age of 50, Ruben returned to school and got a bachelor's degree in World Arts and Cultures from U.C.L.A. This provided additional building blocks of knowledge and inspiration for his multicultural arts odyssey. For his work building bridges between Chicanos and Mexicanos, in 2000 Ruben received a Rockefeller U.S./Mexico Fund for Culture award to produce "Mexamerica" (Angelino Records), a collaborative CD with musical, visual, and spoken word artists from Mexico City, Tijuana, and East L.A. His writings include, "View From the Sixth Street Bridge: A History of Chicano Rock" (Parthenon, 1984), which was part of a collection of writings on U.S. popular culture compiled and edited by Dave Marsh, called "The Real World of Rock & Roll." Ruben's jukebox installation "Chicanos Rock California: A History (2001)" is currently in Cheech Marin's traveling art show "Chicano Visions/Now" at the Smithsonian Institution (2002) and currently at the National Hispanic Cultural Center in Albuquerque, New Mexico (2003).

Rubén Guevara has produced many live shows throughout the years. I remember going to one in downtown L.A. in the eighties that featured a Pre-Columbian percussionist by the name of Luis Perez Ixoneztli with Ruben's band, Con Safos. In 2002, he produced Surcos Alternativos: Alternative Grooves From Mexamerica at the Getty Center in Los Angeles. The concert merged Aztec Ceremonial ritual dance with electronic border music, along with Chicano consciousness hip-hop and Afro-Chicano funk and soul. Later the same year, Ruben was the guest curator/narrator/artistic director for "The Eastside Revue 1932-2002: A Musical Homage To Boyle Heights," presented in conjunction with the exhibit, "Boyle Heights: The Power Place," at the Japanese-American National Museum in downtown Los Angeles. It featured seventy years of music from eastside icons such as Lalo Guerrero, Cannibal & the Headhunters, and Tierra; 80s standouts Los Illegals and The Brat; female acoustic vocal trio, Las Tres; and newcomers Ollin, Slowrider, Lysa Flores, and poet Marisela Norte. The show also included Jewish Klezmer by the Skip Heller Ensemble and Japanese Chicano fusion by East L.A. Taiko. The event, which I attended, presented an exciting living musical history of L.A.'s first multicultural community, Boyle Heights, (where Guevara was born), and was a fitting 60th birthday gift and testament to his "ongoing commitment to create, share and spread the magic and the poetry of music."

This article is based on an audio taped telephone interview by Mark Guerrero with Rubén Guevara on December 5, 2002.
mp3 Sound Bytes
Cruisin' Down Broadway - Ruben and the Jets 1973
The Star Spangled Banner - Ruben Guevara 1976


Ruben & the Jets (1973)
(left to right- Jim "Motorhead" Sherwood,
Tony Duran, Robert "Buffalo" Roberts, Bill Wild, Bob Zamora,
Rubén Guevara, Johnny Martinez, and Robert "Frog" Camarena)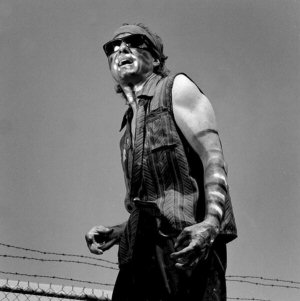 Rubén "Funkahuátl" Guevara (1992)
(photo by Aurelio José Barrera)

Click here to order Ruben's latest CD "The Tao of Funkahuatl" by Ruben & the Eastside Luvers



Previous page || Go to next article