Don Tosti: Master of Music
By Mark Guerrero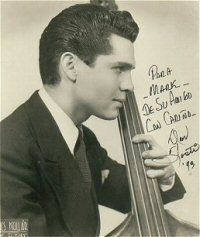 Don Tosti's musical history is nothing short of amazing. He's part of the pre-rock & roll generation of musicians who played and composed music in two of the styles that evolved into rock & roll, namely, swing and rhythm and blues. He also excelled in Latin, classical, and jazz music. Born Edmundo Martinez Tostado in El Paso, Texas in 1923, he eventually had to change his name when he realized he was having trouble getting work because of its ethnicity. Don Tosti is what his teachers called him in school because they couldn't or wouldn't pronounce his name. Don, a courtesy title used before given names in Spanish, as in Don Juan or Don Diego, and Tosti, short for Tostado. Don spelled his name as it is in honor of a nineteenth century Italian composer. Many Latino artists, such as; Ritchie Valens, Vikki Carr, Andy Russell and Freddie Fender, also had to Anglicize their names to further their careers.
When Don was seven years old he was getting into various kinds of trouble so he was forced to take music lessons by his grandfather and aunts, who were raising him. Taking lessons and practicing seven days a week, he was soon playing seven different instruments. Even though he hated it at the time, the discipline paid dividends as he was playing violin for the El Paso Symphony Orchestra at the age of nine. After five years with the symphony, he moved to Los Angeles to follow a girl he loved. He lived with his mother and went to high school in L.A., becoming concert master of the All National High School Symphony Orchestra. In 1941, he switched to upright bass because he was rejected by the Los Angeles Philharmonic Orchestra, he believes due to racism. After studying bass for a couple of years, Don was taking accounting classes at L.A. City College when one day he went to watch the school jazz band rehearse. Through a twist of fate, the bass player was absent on the day that the great jazz trombonist, Jack Teagarden was watching the students play. Jack and his band were on campus recording an armed forces radio broadcast. Someone told the instructor that Don played bass and he was asked to sit in. Don was offered a job and found himself at age 19 playing bass in the Jack Teagarden Orchestra in New York City for $250 a week, a lot of money in 1943. Don Tosti went on to play with Bobby Sherwood, Charlie Barnett, Les Brown and Jimmy Dorsey, who was best man at his wedding. According to Don's recollection, he was one of only four Mexican-Americans to play in the big bands in that era. In those years he played along side the likes of Doc Severensen, Bud Shank, Art Pepper and Clark Terry. He met jazz giants, such as; Charlie Parker, Dizzy Gillespie, Charles Mingus and Miles Davis, and Latin music legends; Machito, Tito Puente and Perez Prado.
In the late 40's, Don met his father for the first time, who was a former naval officer, band leader and musical promoter. His dad gave him some valuable advice, which led him into the next phase of his musical life. The advice was to become a composer and band leader. Don got into Latin music, formed his own band and started to write and record. He soon had a major hit with "Pachuco Boogie," which was a Chicano rhythm and blues record. In his group was the later to be famous, Eddie Cano. Throughout the 50's Don Tosti had a popular Latin band and even had his own television show. In 1961, he moved to Palm Springs, where he had been playing during the seasons of 1958 and '59. Once again, it was a woman who inspired the move. Ruthie became his second wife. In the desert, Don became a society musician, eventually switching over to piano.
Don Tosti has had a career in four distinct parts. He's been a symphony, jazz, Latin and society musician. To have been a professional symphony violinist at nine and a big time, big band bass player at nineteen are a testament to his hard work and great talent. Don Tosti teaches voice, piano, bass and guitar and plays society jobs. He still practices everyday. In '93, I took some voice and piano lessons from him and found him to be one of the most musically knowledgeable people I've known. Don's philosophy is live, love, learn and leave a legacy. Don Tosti has done all of this and more.
This article was based on an audio taped interview of Don Tosti by Mark Guerrero on July 2, 1999 in Palm Springs, California.
Hear Mark's interview with Tosti by clicking the link in the paragarph below
Mark Guerrero interviews Don Tosti and plays selected recordings from his catalogue. This show was put together using an audio-taped interview I did with Don for the above article before I had the radio show and five years prior to his passing. It was recorded on an inexpensive cassette recorder so the sound quality is not what it would be in a studio. Click here to hear the show, which was originally broadcast on crnlive.com in 2015. (73 minutes 40 seconds)
Update
In 2002, Arhoolie Records released a CD entitled, "Pachuco Boogie," which features the pachuco music of Don Tosti, with his groups, the Pachuco Boogie Boys, the Don Tosti Trio, and Don Tosti y su conjunto. Some of Don's recordings included are: two versions of "Pachuco Boogie," "Guisa Gacha," "Wino-O-Boogie," and "El Tirili." The CD also has three classic pachuco recordings by my dad, Lalo Guerrero; "Los Chucos Suaves," "Chicas Patas Boogie," and "Muy Sabroso Blues." Other artists are also represented on the CD. You can order this CD at arhoolie.com or by clicking on the amazon.com link below. This CD, and hopefully others in the future, will help keep Don Tosti's musical legacy alive and available to future generations to enjoy.
Don Tosti passed away August 2, 2004 at his home in Palm Springs, California at the age of 81. Fortunately, just months before he became ill, I hooked Don Tosti up with CEMA (California Ethnic Multicultural Archives) at the University of California at Santa Barbara. Don donated his archives (photos, music, records, etc.) to the university, where they will be preserved and be available for research for future generations. My brother Dan and I had donated our father's (Lalo Guerrero) archives to CEMA a few years before. To see Don Tosti's webpage on the CEMA website click here.
mp3 Sound Byte
Pachuco Boogie - Pachuco Boogie Boys


Pachuco Boogie Boys
(clockwise from left: Bob Hernandez,
Don Tosti, Raul Diaz, and Eddie Cano)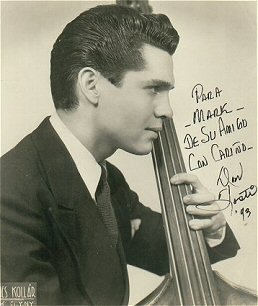 Don Tosti (1943)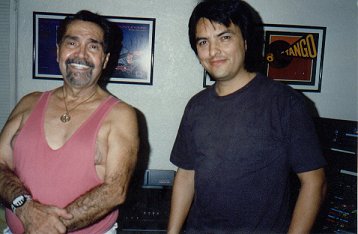 Don Tosti & Mark Guerrero (1998)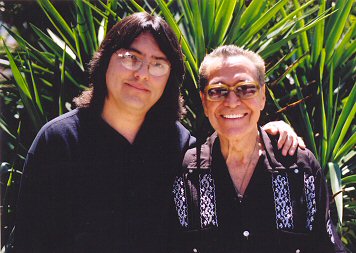 Mark Guerrero & Don Tosti (2004)

Don Tosti You Tube Video

Don Tosti Story Video
(with Don Tosti comments)
Read my stories of Don Tosti's two memorial events in Palm Springs on my website on the links below:

Don Tosti Tribute: August 17, 2004 and Tribute Concert for Don Tosti: October 3, 2004



Previous page || Go to next article