Elijah: East L.A.'s Funky Horn Band of the 70s
by Mark Guerrero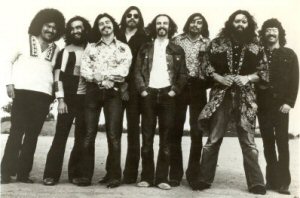 Elijah began as a group of friends who got together in elementary school with the idea of learning instruments and forming a band to, in the words of guitarist Hank Barrio, "have fun and be more popular with the opposite sex. From that humble beginning, they did two albums in the late 60s under the name Evergreen Blues. The first for Mercury Records, which included the first recording of the hit song, "Midnight Confessions." The second for ABC Records. which included a version of "Try a Little Tenderness" that may have predated Three Dog Night's hit version. In the early 70s, as Elijah, they recorded a great album for United Artists Records and a second for Sounds of the South Records, produced by the legendary Al Kooper. They toured extensively and shared the bill with some of the greatest artists of our time. After Elijah broke up in 1976, some of the members continued in music and went on to play with some extraordinary artists. This is a story of a great band who accomplished some great things, but didn't get the success and recognition they truly deserved.
The seeds of Elijah were planted at St. Alphonsus Catholic elementary school in East Los Angeles. It was in the basement auditorium of this school that some of the greatest "Eastside Sound" dance and shows occurred in the 60s, featuring all the best bands including Thee Midniters, Cannibal & the Headhunters, The Premiers, The Blendells, The Jaguars with the Salas Brothers, The Ambertones, The Blue Satins, my band, Mark & the Escorts, and many more. Getting back to the genesis of Elijah, it was in this environment that Hank Barrio, Joe McSweyn, Sam Lombardo, and Manny Esparza took their positions on guitar, bass, drums, and vocals respectively. Manny says he became the vocalist by default because he could carry a tune better than the others. Manny's vocal influences were who he calls the "tough r&b singers" such as James Brown, Otis Redding, Wilson Pickett, Sam Moore, and Eddie Floyd, as opposed to the slicker Motown singers. Manny says he was a Stax/Volt guy. As the band improved, they started to play local gigs and were called Two Thirds Majority. On rhythm guitar in the original band was Tom Merlino, another St. Alphonusus student, who did not stay in the band very long since he didn't seem to have the musical ability of the others. They played a lot of r&b, but also did songs by groups such as The Rascals and The Buckinghams. Hank, Joe and Manny went on to Cantwell High School (another parochial school), while Sam Lombardo went to Montebello High School. There he met Steve Lawrence (no relation to the singer of the same name), who was added to the band on organ and saxophone. After high school, fellow Montebello High alums Tom Bray and Ken Walther were added on trumpet and trombone. This completed the puzzle. They played many venues, including some of the storied East L.A. spots such as Kennedy Hall, the Montebello Ballroom, and aforementioned St. Alphonsus Auditorium. They shared the stage with Eastside bands such as Thee Midniters, The Ambertones, The Emeralds, The Exotics, and Little Ray & the Progressions.
After hooking up with manager Jim King, the band secured a major record deal with Mercury Records in 1967. Their name was changed to Evergreen Blues for the record. It was a time in the music business when money was flowing. Having just graduated high school, they went on an 18 city national tour. Musical equipment and clothes were bought for them by the record label and they found themselves riding in limos and flying in a private Beechcraft airplane. Pretty heady stuff for teenagers! They found themselves playing shows on the bill with artists such as The Righteous Brothers, Gary Puckett & the Union Gap, and Chuck Berry. On that first tour Hank and Joe were merely 17 years old. In fact, the band had to go through court and have their parents approval with the recording contracts. Despite their under age status they played some clubs on the tour, including "The Rooster Tail in Detroit. It had a black clientele, but Evergreen Blues were accepted and appreciated because their music was sufficiently good as well as funky. Manny also had an afro that rivaled American Basketball Association players of the period like Dr. J. The tour also went to Florida, New York, and some other states. A non-musical memory of the tour that stands out in Hank's mind is flying in their small Beechcraft airplane over the Great Lakes in the fog during the same period that Otis Redding had gone down under almost identical circumstances (similar plane, same area, a month later.) Hank says the band was very nervous on the flight and were afraid they might suffer the same fate as one of their musical heroes. Their first album entitled "Evergreen Blues," included a song written by their manager, Jim King, under the name L.T. Josie, called "Midnight Confessions." (Small world department: My band at the time called Nineteen Eighty Four recorded an L.T. Josie song called "Three's a Crowd." Our producer on the record was Tommy Coe, who engineered the Evergreen Blues second album.) Released as a single, "Midnight Confessions" received some airplay around the country, even becoming a hit record in Florida. Ironically, shortly thereafter The Grass Roots recorded a virtually identical version of the song and it became a major hit record. That was a heartbreaking experience for Evergreen Blues. However, they got up, dusted themselves off, and did a second album with ABC Records called "Comin' On." It included mostly original songs written by various band members. It also had two more L.T. Josie songs and a cover of Otis Redding's version of "Try a Little Tenderness." This was likely before Three Dog Night covered it and had their first mega hit. In fact, Evergreen Blues opened for Three Dog Night, who's manager asked Evergreen Blues not to play "Try a Little Tenderness." They went ahead and played it anyway. Good for them. Evergreen Blues had learned "Try a Little Tenderness" from the Otis Redding version. Manny says Three Dog Night did it in more of a rock style, rather than r&b. Evergreen Blues did record their second album at American Studios in Studio City, California and Richard Podolar, who was Three Dog Night's producer, engineered a couple of tracks. One can say it's possible that this was the connection that gave Three Dog Night the idea to record the song, which became their first hit record. We'll probably never know for sure. Anyway, their manager Jim King didn't like the musical direction the band was taking so he and Evergreen Blues went their separate ways. Hank acknowledges in retrospect that the band's songwriting wasn't yet quite developed on that album.
At this juncture, enter Edward James Olmos. Yes, the actor, who was then an r&b singer. He had played around Hollywood with his band Eddie James & the Pacific Ocean. One of the venues they worked a lot was the fabled Gazzari's on the Sunset Strip. Olmos wound up joining Evergreen Blues, sharing lead vocal duties with Manny Esparza. At the time Eddie was known for his flashy showmanship, which included some wicked splits. Hank and Manny both acknowledge that the band learned a lot from Eddie. He taught them about dynamics, helped with arrangements, and turned them on to a lot of classic r&b records and artists. Eddie also got them their first regular club gig. It was a black club called the Citadel du Haiti on Sunset Boulevard, where the band was paid $50 total and all the soul food they could eat. In those days the deal wasn't as bad as it sounds. Through Olmos they met Delaney Bramlett, who was then performing with his wife as Delaney & Bonnie, who would later score a major hit with "Never Ending Song of Love." At one point, Delaney & Bonnie opened for Blind Faith on a tour. Eric Clapton who was then a member of Blind Faith took a great liking to Delaney & Bonnie's style and band. Clapton wound up going on tour playing with Delaney & Bonnie and eventually brought along his friends Dave Mason and George Harrison to share in the fun and musical inspiration. Eric eventually used Delaney & Bonnie's band to form Derek & the Dominoes. The result was the classic record "Layla" (the early 70s up tempo version.) Eddie Olmos played with Evergreen Blues for about a year before they went their separate ways. Eddie went on to become a successful and excellent actor, best known for his role as El Pachuco in the play and movie Zoot Suit, the classic movie Blade Runner, and his role in the 80s mega hit television series, "Miami Vice."
Evergreen Blues played on into the early 70s, a time when they became Elijah and recorded two more albums. By this time, they had added a keyboard player by the name of Jim Morris. Jim was nicknamed "the reverend," not because he was a man of the cloth, but because he seemed to always win at poker, scrabble, and fusball. The joke was that he "had to have help from above" to win so much. The name Elijah was taken out of a Gideon Bible in a motel room. They saw the name and liked it. After further investigation, they liked the story of Elijah coming out of the sky in a flaming chariot to take the righteous back to heaven. Pretty cool. So Elijah it was. By this time, Elijah was a mature and fully professional band who had evolved into a style that was influenced by funky, edgier bands such as Electric Flag, Sons of Champlin, and Redbone, rather than the slicker Chicago and Blood, Sweat, and Tears. Their first album with the new name, released in 1972 on United Artists Records, was and is phenomenal. Entitled "Elijah," the album was made up of some great original songs. The band's songwriting had also matured by this time. Despite getting his position as a kid by default, Manny Esparza had also matured and developed into a very strong and soulful lead vocalist. The right guy got the job and his voice was the perfect fit for the band. "Elijah" also included an Otis Redding cover and two Redbone songs, "Chant 13th Hour" and "Prehistoric Rhythm." I had the album at the time and loved it. The album still sounds great today. However, unfortunately the music business is such that a great album or artist for that matter, does not guarantee a hit record. It takes record company backing, timing, luck, and other factors that have to come together. "Elijah" was produced by Doug Gilmore and Terry Furlong. The deal went through Doug Gilmore Productions. According to Hank, Gilmore had a falling out with the label and the record was shelved. Elijah also didn't have a manager to push the label for attention and promotion. It's a story that happens to many young artists. It's important to have a manager and lawyer in place to protect your interests and lobby for you. During this period Elijah also did a lot of live shows and performed on the bill with such artists as Canned Heat, Redbone, Dr. Hook, comedians Cheech & Chong, White Trash (when Butch and Barry Rillera were members), and Chuck Berry. On the Chuck Berry gig, Elijah was backing him up when Chuck invited the crowd to come forward and gather around the stage, but security would not allow it. Chuck, who had already been paid, got mad and walked off the stage, got in his limo and left. Elijah remained, facing an angry booing crowd. Elijah kept playing and the crowd came around, stayed, and enjoyed the Elijah concert. All's well that end's well.
Elijah continued to perform and secured a job as the house band at the legendary Whiskey a Go Go on Sunset Boulevard in Hollywood. They even had a menu item named after them at the establishment, "Elijah Fries." Under the menu item it said "nothing new, but will be around for a long time." During their run at the Whiskey, they were seen by Al Kooper, who had been a founding member of "Blood, Sweat & Tears. He also played organ on Bob Dylan's "Like a Rolling Stone" and The Rolling Stone's "Gimme Shelter, "pretty impressive credentials indeed. Al took a liking to Elijah and offered them a record deal with his new label Sounds of the South, which also had Lynyrd Skynyrd on their roster at the time. Given Al Kooper's history, Elijah took his offer and found themselves with Al in Atlanta, Georgia where they recorded their second album called "Elijah Fanfares." Two members of Elijah, Steve Lawrence and Tom Bray didn't make the trip. They opted to join up with Delaney & Bonnie on a tour. They were replaced on sax and trumpet by Don Roberts and Stu Blumberg, who were solid studio musicians. Elijah's experience in Georgia with Al was mixed. On the negative side, they were not happy that Al chose to change their arrangements and, according to Hank, they didn't get all they were promised. They also ran into some racism. Manny remembers being referred to as "frito bandido" by a guy from one of the other bands on the label. On the other hand, Elijah had some good times recording by day and playing at night in a local club called Richard's. The album sounds good, but as a whole Elijah was not very happy with the record. One highlight for Manny was a cover of a Jackie Wilson song, "Baby Work Out." Because of Elijah's dissatisfaction with creative and financial issues, they had a falling out with Al Kooper and the album fizzled. For Al's side of the story, according to his autobiography, "Backstage Passes and Backstabbing Bastards," MCA was making a lot of money with Lynyrd Skynyrd so they weren't interested in Sound of the South's other artists, Mose Jones, Blues Project, or Elijah. Kooper writes, "I was getting tired of apologizing to these acts for things that weren't my fault, i.e. plulled ads, no tour support, and invisible promotion. They had fallen behind Skynyrd and that much was obvious to everyone in the other acts. But I was virtually powerless."
Elijah went back to Los Angeles, played clubs for a year or two, and eventually broke up. Manny and Sam chose to get married and have a family life. Joe eventually became a doctor of oriental medicine. Hank Barrio became the guitarist for singer/songwriter Hoyt Axton, who wrote hits such as Three Dog Night's "Never Been To Spain" and "Joy To the World." (Hoyt's mother, Mae Axton, is legendary for writing the music of Elvis Presley's "Heartbreak Hotel.") Hank played with Hoyt from 1978 through 1990. He traveled all over the U.S. and Europe and met and shared the bill with legends such as Johnny Cash, Willie Nelson, George Jones, and Jerry Lee Lewis to name a few. He recalls seeing Jerry Lee Lewis playing piano in a hotel lounge in Europe with George Jones standing on the piano singing. Of course, they were fortified by alcoholic beverages at the time. Another feather in the cap of Hank Barrio was playing with the legendary blues man Albert King. He met Albert through Delaney. Albert King had been one of Hank's idols and inspirations when he was a teenager. Now he found himself trading solos with one of the all time greats. When he first got the job he told Albert that he felt funny about soloing with Albert because he was bound to play of few of Albert's licks since they were part of his formative education in the blues. Albert said, "my licks, your licks, it doesn't matter as long as it's the blues." Is that cool or what? The original Elijah horn section, Steve Lawrence, Tom Bray, and Ken Walther had their own thrill of getting to play with Buddy Miles' The Electric Flag in the 70s. The Electric Flag had been one of Elijah's favorite groups in the 60s. In the late eighties, the Elijah horn section played on Neil Young's "This Note's For You" album. They also did some touring with Neil to support the album. My former bass player, Rick Rosas, was also on the album and tour. They're also all in the video for the title track. Rick Rosas and Tom Bray were also both on Neil Young's 2006 CD, "Living with War." Rick and Tom also just got hired onto the 2006 Crosby, Stills, Nash & Young tour. On a sad note, Steve Lawrence passed away in 1992 and Ken Walther died in an automobile accident in 1999.
My experience with Elijah goes way back. I first met Steve Lawrence while still in high school. My band in the mid-sixties, The Men From S.O.U.N.D., played a job with 2/3 Majority at Cantwell High School in 1966. My band in the late 60s, called 1984, played on the bill with Evergreen Blues at the Montebello Armory in 1968. You can see the latter flyer on my "60s Eastside Flyers" page on my website. In 1972, I hired the Elijah horn section to play on two of my songs I was recording during the time I was with Capitol Records, "Hang On" and "Nobody's Satisfied." In 1979, I utilized their talents again to play on two more of my songs, "I'll Take Rock & Roll Any Ol' Time" and "You Gotta Thank the Black Man (For Your Rock & Roll)." They did a great job. All four songs are available on my "On the Boulevard Anthology" CD on my "Mark Guerrero Recordings" page. Tom Bray says that the Elijah horn section always used to say, "We not only play together, we breath together." The way they played as a unit was what made them so special. My best memory of Elijah "live" was a concert we did at Cal State L.A. in 1972 called "La Feria de La Raza." It was a great concert featuring El Chicano, Tierra, Mark Guerrero & the Mudd Brothers, Elijah, and Carmen Moreno. It was kind of a Chicano mini-Woodstock. All the artists played great and the festival style audience loved it. I remember Elijah playing great and being as tight as a band can be that day.
Elijah was one of those bands you can only get when teenagers get together for the love of music and stay together for years into adulthood. What you get is a homegrown organic blend, a tightness, and a style that can't be achieved when managers assemble a band though auditions or when "supergroups" are randomly formed. All in all, Elijah accomplished a lot and came a long way from those early musical dreams at St. Alphonsus Elementary School. I asked Manny Esparza what were the highlights of his Evergreen Blues/Elijah experience. His answer was "the whole thing." It's not always the pot at the end of the tunnel, but the journey. Elijah had quite a journey.
Update: Elijah is back together again, using their earlier name, Evergreen Blues. The original members are Manny Esparza, Hank Barrio, Joe McSweyn, and Sam Lombardo. They are joined by Larry Cronin, who was a member of Yaqui in the 70s (another band whose story is on my website).
This article is based on an audio taped telephone interview by Mark Guerrero with Hank Barrio on May 2, 2006 and Manny Esparza on May 4, 2006.
mp3 Sound Bytes
Elijah - Elijah 1972
Prehistoric Rhythm - Elijah 1972
Midnight Confessions - Evergreen Blues 1967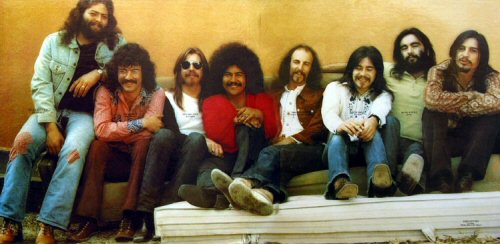 Elijah (1972)
(left to right- Steve Lawrence, Jim Morris, Ken Walther, Manny Esparza,
Sam Lombardo, Tom Bray, Hank Barrio and Joe McSweyn)

Elijah (1972)
(left to right- Manny Esparza, Hank Barrio, Tom Bray, Ken Walther, Sam Lombardo, Joe McSweyn, Steve Lawrence, and Jim Morris)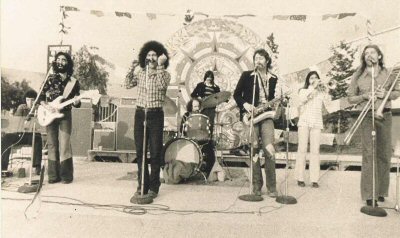 Elijah "Live" 1972
(left to right- Jim Morris, Hank Barrio, Manny Esparza,
Sam Lombardo, Joe McSweyn, Tom Bray, and Ken Walther)

Elijah (1973)
(front, left to right- Hank Barrio, Manny Esparza, and Joe McSweyn)
(top row, left to right- Jim Morris, Sam Lombardo, Ken Walther, Don Roberts, and Stu Blumberg)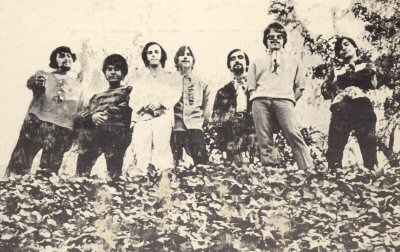 Evergreen Blues c. 1969
(left to right- Steve Lawrence, Manny Esparza, Sam Lombardo,
Ken Walther, Hank Barrio, Tom Bray, and Joe McSweyn)

Evergreen Blues (2005)
(left to right- Hank Barrio, Sam Lombardo, Manny Esparza, Joe McSweyn, and Larry Cronen)

Previous page || Go to next article