Jack D'Amore: Rocker from East L.A.
by Mark Guerrero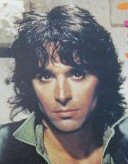 One of the joys of writing artist stories on my website is that I get to spotlight artists who have done great work and didn't get the success and recognition they deserved. I've written about many such artists, who with some promotion and a little luck could have had hit records. Jack D'Amore is another such artist. These stories need to be told and these artists and their music should not evaporate into the mists of time and be forgotten.
Jack D'Amore is an Italian-American who grew up in the El Sereno district of East Los Angeles among Chicanos. He became a part of the legendary East L.A. music scene of the late '60s and early '70s as a drummer. In 1979, he was a lead vocalist/drummer with a band who recorded an album for Columbia Records. In 1981, he recorded an album as a solo artist and front man of his own band on RCA Records, produced by the legendary songwriter/producer Dennis Lambert.
Jack D'Amore came from a musical family. His father played piano and sang. His uncle Danny was a sax player/vocalist/entertainer. His brother Joseph played sax and is in a barbershop quartet. His uncle Don was a drummer, who set Jack on the path of being a drummer himself. Don first taught Jack to tap out beats on coffee cans and eventually let him play his drums. Jack learned piano by ear by pounding on his dad's piano at the family home. When Jack was eleven he was a member of his school's glee club. Another boy in glee club by the name of Rick Chavez, heard Jack tapping out a beat on his desk. Out of the blue Rick asked Jack if he wanted to form a band. (Rick Chavez became an excellent guitar player, who currently lives and performs in Las Vegas.) That was the seed that started Jack's musical journey. Jack entered a mural contest in El Sereno which he won. The prize money was $250, which paid for his first drum set, a Slingerland kit. He and Rick did form a band and began to play gigs around town.
In the late 60s, Jack became the drummer for an East L.A. band called The Runabouts, who were managed by Eddie Torres. Torres was also the manager of the most popular band in East L.A., Thee Midniters. The lead singer of The Runabouts was Bobby Torres, brother of their manager. The Runabouts played the "Eastside circuit," venues such as Kennedy Hall, the Little and Big Union Halls, and Montebello Ballroom. At some of those venues they also backed many artists such as The Drifters, The Coasters, and the Shirelles. They also did a small tour of California via small aircraft on the bill with Rene and Rene, a popular Latin pop duo from Loredo, Texas who had scored two national hits, "Angelito," and "Lo Mucho Que Te Quiero."
The next band Jack joined was The Emeralds, who were one of the best bands in East L.A. They were known for "sounding just like the record." Led by Anthony Baray they were meticulous, not only in regard to playing the right chords and doing the right harmonies, but also in matching the sounds and tones of the instruments as they were heard on the recordings. The Emeralds had been popular since the mid-60s, but Jack became a member during the last stage of the band's run starting in 1970. When he first joined the band the members were Anthony, Jack, Sammy "Bones" Ramos (guitar/vocals), and Ray Nunez (bass). It so happened that I also joined The Emeralds later that same year, replacing "Bones" Ramos, and played with them for about six months. That's when I first met Jack. The members of The Emeralds at this time were Anthony Baray (leader/guitarist/keyboardist/vocalist), Jack D'Amore (drums and vocals), Johnny Joe Ramos (bass), and yours truly on guitar and vocals. The band was great! We had three lead singers, great harmonies, two lead guitarists, a solid rhythm section, and a tight sound. Jack was a great drummer and nailed all the songs regardless of the style. Our repertoire included songs by bands such as The Beatles, Grand Funk Railroad, The Guess Who, and Emitt Rhodes, and Crosby, Stills, Nash & Young. My favorite song we did was "She Said She Said" by The Beatles. It was "spot on" as the English say.
We played some East L.A. venues as well as venues around the Greater Los Angeles area, which included colleges, dance halls, and even a wedding. The highlight was playing the annual Rock & Roll Show at East Los Angeles College Auditorium. We came up playing on the rising stage and played for a packed house of enthusiastic teenagers. I recall singing lead and playing lead guitar on "Ohio" and "Southern Man" by Neil Young. We weren't included on the "live" album they recorded that day because I was signed exclusively to a major label at the time, Ode Records. Ode was producer Lou Adler's label, which was distributed by A&M Records. I left the band in March of 1971 because I started to do recording sessions for Ode. I have great memories of playing in that band and regret I didn't stay longer.
Jack played with The Emeralds until the band broke up around 1973. Throughout the rest of the '70s he played in several night club bands such as Shine On, with his old friend and first bandmate Rick Chavez and Ener-Jive, led by the former leader of The Emeralds, Anthony Baray. Both bands played some of the top clubs in Southern California. Ener-Jive also played a stint in Hawaii. In 1975, Jack was in a band called Burlesque. The most memorable experience for Jack with this band was a tour of Texas and Louisiana backing up the great Jackie Wilson. It's a testament to Jack's drumming ability that he was able to lay down the grooves for the great rhythm & blues artist. The members of Burlesque would later back Jack up on his RCA solo album in 1982.
In 1978, a band called the Frisco Kids had seen Jack play drums with Shine On and asked him to join their group. They were soon to secure a record deal with Columbia Records. The band, whose name was changed to Rock Rose for their album, was produced by the hit songwriting team of Dennis Lambert and Brian Potter. Lambert and Potter wrote such hits as "Ain't No Woman Like the One I Got" by The Four Tops "One Tin Soldier" by Coven, and "Don't Pull Your Love" by Hamilton, Joe Frank & Reynolds. As producers they hit big with "Rhinestone Cowboy" by Glen Campbell and "Baby Come Back" by Player.
Rock Rose's Columbia album was released in 1979. The band members were Chris Barr (keyboard/guitar/vocals), Frank Demme (bass/vocals), Carl Johnson (lead guitar), and Jack D'Amore (drums/vocals). Jack sang the lead vocal on six of the nine tracks and contributed the cover concept, but didn't write any of the songs. He wasn't writing yet. The songs were written by the other band members with the exception of one Lambert and Potter song.
In 1982 Jack had a solo album out on RCA Records produced by Dennis Lambert. Lambert obviously liked Jack's voice and talent to continue on with him, especially as a slol artist. For the album Jack's name was changed to Jack Street. Jack is an excellent rock singer with a voice that has a certain Rod Stewart rasp and edge. He can do ballads and hard rock songs with equal ability and effectiveness. On this record Jack wrote or co-wrote eight of the ten songs. One song was co-written with Peter Becket of Player and Dennis Lambert. Three others were co-written with Lambert. I sang background harmony on one of the songs, "Annie," written by Jack and J.C. Crowley. That happened to be my favorite song on the album. Other favorites are "Jupiter's Theme," written by Jack and his old Rock Rose band mate Carl Johnson, and "Two Hearts," written by Jack and Dennis Lambert. The album also featured a ballsy version of "Baby It's You," the classic Burt Bacharach/Hal David/Barney Williams song. Around this time, Jack did a "live" showcase at the Hollywood Palladium backed by the musicians who played on his album. I was there to see them play the Jack Street album in its entirety. It sounded as good as the record. Aside from Jack's strong vocal performance, he showed that he's a dynamic front man.
Following the Jack Street album, Jack formed a band called The Rockaholics with the former drummer of Player, John Friesen. In 1981, Jack and I wrote a love song together called "Next Time." Jack came to me with the title and the verses. I wrote a bridge and re-wrote a few of the lines in the verses. We cut a demo of the song at a professional 24-track studio with John Friesen on drums. We also had an excellent bass player, Dave McDaniels, and session musician extraordinaire, Gabe Katona on acoustic piano. I played acoustic guitar on the track and sang harmony on the bridge. Jack did the lead vocal. The idea of the song is the man in the song is going to take his time next time with love. He knows he can be hurt, but love is worth taking the chance. Jack and I really like this song and believe in it to this day. You can hear the mp3 below. We also wrote a song called "Save the Human," which is about how we try to save various animals from extinction forgetting that we ourselves are endangered species too.
In 1987, Jack was an actor in a motion picture called "Body Slam." Jack comes in about a half hour into the movie and appears throughout. He worked for 2 weeks on it and had a great time. Also in the movie was pro wrestler Lou Albano, who was also Cindy Lauper's manager at the time. Jack and Peter Becket of Player wrote a song that appeared on the movie's soundtrack called "Rock & Roll Heart." The film ran in movie theaters at the time and still appears on cable television occasionally to this day.
I mentioned earlier that Jack won a mural contest when he was a teenager. Well, he used his artistic talent to become a tattoo artist. Jack owned a successful tattoo studio in Colorado Springs for many years. He's currently working as a tattoo artist in Mesa, Arizona.
In 1990, Jack recorded and released an E.P. protesting the new motorcycle helmet laws. Jack and his band, The Pigeon Trainers, are on the cover with their Harley's and leather gear. Jack had written the songs while spending some time in Hawaii. He then moved to Northern California and recorded them. The name Pigeon Trainers came when Jack and the guys in the band were painting houses. A kid came up to them and asked if they were pigeon trainers because they white coveralls were spotted with paint which looked to the kid like bird droppings. The band had found their name. In 1995, Jack wrote and recorded "Angel of the Christmas Trees" in Colorado Springs. The song was inspired by Jack's childhood memory of shopping for Christmas trees and feeling bad when his mother said "look at that little Christmas tree, no one wants him."
In 2010, Jack moved to Nashville where he wrote a group of songs with Bill Cuomo. Cuomo is best known for his keyboard work and arrangement on "Betty Davis Eyes" by Kim Carnes.
Jack D'Amore has accomplished a lot in his musical career. He's had two major record deals, played with many great musicians, worked with major producers, co-written songs with top songwriters, and made some great music. The proof is in the pudding. Listen to the sound bytes below and hear for yourself.
This article is based on audio taped telephone interview by Mark Guerrero with Jack D'Amore on September 2, 2013.
mp3 Sound Bytes
Annie - Jack Street (nee Jack D'Amore) 1982
Next Time - Jack D'Amore (unreleased) 1982
Baby It's You - Jack Street (nee Jack D'Amore) 1982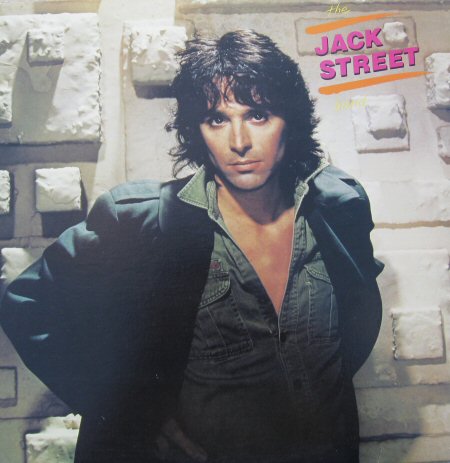 Jack D'Amore (1982)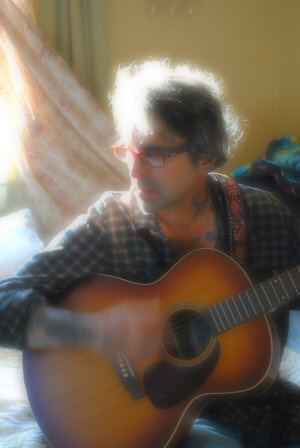 Jack D'Amore (2012)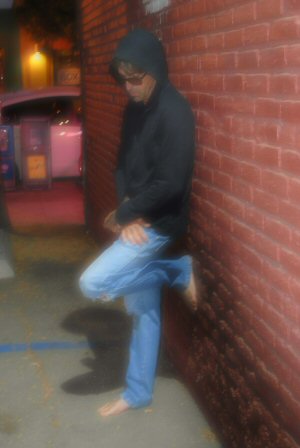 Jack D'Amore (2012)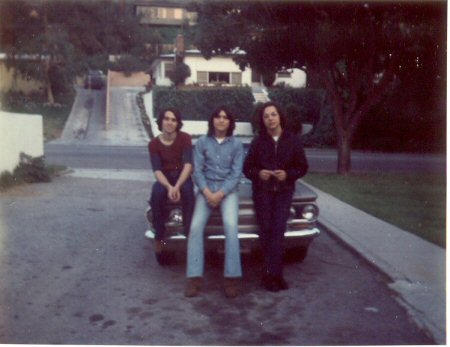 Jack D'Amore, Mark Guerrero, & Anthony Baray (1971)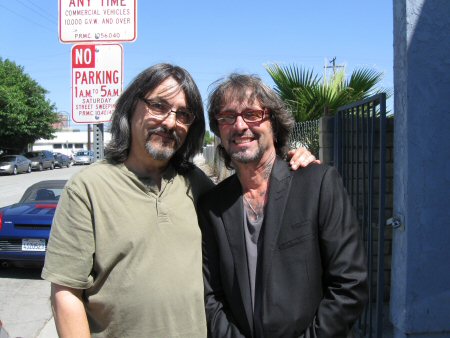 Mark & Jack (c. 2014)

Previous page || End of Chicano & East L.A. music articles