Los Lobos: How Did the Wolf Survive?
by Mark Guerrero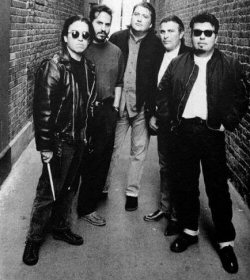 Los Lobos have been the most successful Chicano rock band of all time. They've managed to achieve a level of success and maintain it continuously since their major label debut in 1983. Aside from their commercial success, they seem to consistently be a favorite of the most respected rock critics. They are equally adept on their rock & roll instruments as their traditional Mexican acoustic gear, and sing and play authentically in English and Spanish. They have a unique chemistry, which was helped by the fact they played together for ten years before their major label debut. David Hidalgo is the chief lead singer and the most accomplished musician; playing guitar, violin, accordion, lap steel guitar and a range of different Mexican acoustic instruments, all with great ability. He also co-writes most of the groups songs with Louis Perez, who I believe is the chief lyricist and the most cerebral of the group. His main instrument in the band is drums, but he's a guitarist who got the drummer job by default much like Paul McCartney, also originally a guitar player, became The Beatles' bass player. Cesar Rosas provides a bluesy edge with his vocals and second lead guitar, as well as writing a few songs for each album. He also sings most of the Spanish language songs. On electric bass and guitarrón is my old high school friend, Conrad Lozano, who played with Tierra for a short time in the early 70's. All the aforementioned Lobos attended my alma mater, Garfield High School in East Los Angeles. In the early 80's they added sax player Steve Berlin, who defected from The Blasters.
David, Louie, Cesar, and Conrad all originally played rock & roll and r&b like other Chicanos in East L.A. in the sixties. In 1973, they decided to learn to play traditional Mexican styles. After eight years, hundreds of gigs and a Mexican repertoire of 150 songs, they returned to their rock & roll roots, inspired by the burgeoning punk scene of the early 80's. They opened for Dave Alvin and the Blasters at the Whiskey with a combination of rock and traditional Mexican music that blew away a stunned punk crowd. They soon signed with Slash Records and the rest is history. I knew David, Louie, and Conrad long before their notoriety. I saw Los Lobos play at various gigs, including a house party for our mutual friend, the late great artist Carlos Almaraz, in the early 80's. I remember them playing inside the house while most of the people were outside talking, not realizing that in a short time they would become a famous band. I got to know Cesar in 1995 when I sang back up on a track of their Grammy nominated children's album, "Papa's Dream." My father, Lalo Guerrero, narrated the record, wrote lyrics to a couple of songs and sang lead on a few tracks. The album was billed "Los Lobos with Lalo Guerrero." Later that year, Cesar and I backed up rock & roll hall of famer Eric Burdon at Fantasy Springs Casino in Indio, California.
To date Los Lobos have the following albums to their credit: "Just Another Band from East L.A.," a collection of traditional Mexican folk music independently recorded and released in 1978. "And a Time to Dance" (1983), a seven song EP, which had both rock & roll and traditional Mexican music. The song "Anselma," a norteño song, won a Grammy award in the Best Mexican American Performance category. "How Will the Wolf Survive" (1985), their first full-fledged album on a major label, which included the great song and record "Will the Wolf Survive." The song made the charts and was covered by country music legend Waylon Jennings. "By the Light of the Moon" (1987), which included "One Night One Time in America." This song, which was nominated for a Grammy in the Best Rock Performance category, was also used in the Sean Penn-Robert Duvall movie, "Colors." Also in 1987, Los Lobos recorded seven of the tracks for the "La Bamba" motion picture soundtrack, including the remake of Ritchie Valens' version of "La Bamba," which sold two million copies and reached #1 in 27 countries including the U.S. It was also nominated for a Grammy in the Best Song of the Year category. "La Pistola y el Corazón" (1988), a return to Mexican folk music, which earned the group a second Grammy in the Best Mexican-American Performance category. "The Neighborhood" (1990), which featured the artwork of the aforementioned Carlos Almaraz on its cover, is a collection of blues and country flavored music. "Kiko" (1992), a real artistic leap for the group. Here they started to experiment with different sounds and textures and more sophisticated production. My favorite cut on this album is "Kiko and the Lavender Moon." "Just Another Band from East L.A." (1993), a collection of the best from the previous albums. "Colossal Head" (1998), another step up in their musical and recording evolution. It contains a song entitled, "Mas y Mas," which is dedicated to my dad, who's talent and legacy they acknowledge. "This Time" (2000), a collection of mostly blues and rhythm & blues oriented songs, with the exception of my two favorite songs on the album, a cha cha entitled "Corazón," and a cumbia called "Cumbia Raza." Also, a four CD set has been released in (2000) entitled "Los Lobos' "El Cancionero Mas y Mas" by Rhino/Warner Archives. It traces the band from their first self-financed album through their entire career to this point. "Good Morning Aztlán (2002) is a hard driving record, produced by John Leckie (Radiohead, The Verve). It also features a bilingual folk song, Cuban salsa, and 70s inspired r&b. Their next album, released in May of 2004, "The Ride" features guest appearances by the likes of Tom Waits, Elvis Costello, Bobby Womack, East L.A.'s Little Willie G., Garth Hudson, Mavis Staples, Ruben Blades, Dave Alvin, Richard Thompson, and others. In 2005, "Live at the Fillmore" was released on CD and DVD. In 2007, a great CD called "The Town and the City" was released. It's a great sounding record with some good songs. My favorites are "Little Things," a soulful mid-tempo song with nice changes and a great bluesy melody written by Hildago and Perez and sung by David Hidalgo, and "Chuco's Cumbia," written and sung by Cesar Rosas. The latter song may have been influenced by my dad's pachuco recordings of the late 40s. For more details and updates of their recording and "live" activities, visit their website at loslobos.org.
Los Lobos have spread the gospel of rock & roll and traditional Mexican music all over the world. They've performed with artists, such as U2, The Clash, The Eagles, and The Grateful Dead. Their songs have been utilized in many motion pictures, and they've won respect in the music industry and with the public, as a group with talent and integrity. These are the ingredients that have helped the wolf survive for the last 40 years and will help them continue on.
mp3 Sound Byte
Los Lobos 1987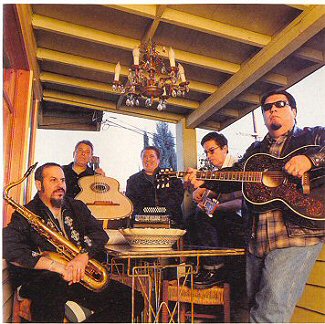 Los Lobos (2002)
(left to right- Steve Berlin, Conrad Lozano,
David Hidalgo, Louie Perez, and Cesar Rosas)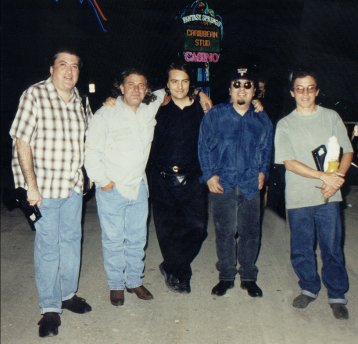 Los Lobos & Mark Guerrero (1995)

(left to right- David Hidalgo, Conrad Lozano, Mark Guerrero, Cesar Rosas and Louie Perez)

Selected Los Lobos You Tube Videos

Los Lobos "La Bamba" (1987)


Los Lobos "Kiki and the Lavender Moon" (1992)


Click here to go to the Los Lobos store at amazon.com



Previous page || Go to next article