Related CDs
Page 2 o 6
Manzo Rally
"Give Love" is a new CD by Manzo Rally, a band led by Malo guitarist Gabriel Manzo. Gabriel is an excellent lead guitarist and lead vocalist, who provides some of the lead vocals. He also wrote or co-wrote all but one of the songs on the album. Sergio Diaz provides some strong lead vocals on the majority of the songs. Gabriel's wife, Dawn Livingston Manzo, contributes to the album as an engineer, keyboardist, and sometimes co-writer. Gabriel's a lucky man! Most of the songs have a Latin groove, with the exception of "Something's Coming," which is hard rock bordering on heavy metal. It's got a nasty guitar riff, a strong rock lead vocal, and some nice harmonies. The song made me smile, it rocks! Other favorites are "Dolores Huerta," a montuno about the great UFW leader and cultural icon; "Don't Come Cryin'," a Latin rock song with some nice changes and harmonies in the choruses; and "Set My People Free," an acoustic guitar song sung by Gabriel and inspired by an experience he had at the Mexican border seeing a child and the poverty in which he lived. "Give Love" is a great album with some strong songs and excellent musicianship. I highly recommend it.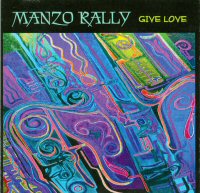 "Give Love"
Manzo Rally (2013)
---
Los Nawdy Dogs
"Lalo's Town" is a new CD by Los Nawdy Dawgs of Tucson Arizona. It's an album dedicated to my father, Lalo Guerrero who was born and raised in Tucson, hence the title "Lalo's Town." They do unique versions of three of my dad's songs on the album, "Los Chucos Suaves," "Tin Marin de do Pingue," and "Marijuana Boogie." The band does my dad's songs in their own style, putting a different spin on them. They do "Los Chucos Suaves" with a two-beat rock drum part behind the familiar Latin bass line to give the song a rock groove while keeping the usual cumbia-like feel. They start "Tin Marin de do Pingue," which they call "El Tin Marin" with a slow swing beat and walking bass line and before falling into the familiar up-tempo swing beat of the original version. "Marijuana Boogie" is done as an up-tempo rock shuffle as opposed to the original slower swing groove. They also wrote their own version of my dad's "There's No Tortillas" putting their own lyric to the melody of "O Sole Mio," becoming "Where's My Tamales." All the rest of the songs, with the exception of a traditional song, were written or co-written by band leader George Landa. Los Nawdy Dawgs can play and their style encompasses rock, Latin, and a touch of Tex-Mex. Some of the songs such as "Tranza Town," "Guero Canelo Special," and the aforementioned "Where's My Tamales" show the band has a fun and humorous side. I got a particular kick out of "Tranza Town," which includes sections which are inspired by The Beatles "Yellow Submarine." The cover of the CD features the three Nawdy Dawgs crossing the street in front of Tucson's Fox Theater, a la The Beatles' Abbey Road cover, led by an 18 year old Lalo Guerrero. Los Nawdy Dawgs are a fun and creative Chicano band. Take a trip to "Lalo's Town." You'll have a good time.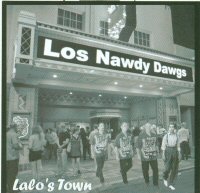 "Lalo's Town"
Los Nawdy Dawgs (2013)
"Copas Con El Diablo" is a previous release by the Tucson-based band who describes itself on its my space page as "South of the Border Pulp Fiction Latin Blues Rock." That's a good description since the songs on this CD includes Latin, blues, and rock with a hard edge. Virtually all the lyrics are in Spanish, even on the bluesy title track. This collection includes "Hey Lupe," which is a Spanish version of "Hang On Sloopy." However, the vast majority of songs are written by members of the band, mainly Jorge Landa. They also sent me a demo of a recording they did of my dad's classic song "Los Chucos Suaves." Their version is very different than others I've heard because they use a hard 2-beat, rather than the more usual Latin cumbia-style beat. I assume it will be on a future CD. For more info on "Los Nawdy Dawgs" go to myspace.com/losnawdydawgs and losnawdydawgs.net.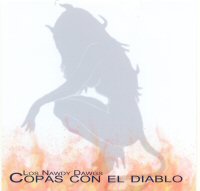 "Copas Con El Diablo"
Los Nawdy Dawgs (2009)
---
Alan O'Day
"I Hear Voices" is a new CD by singer/songwriter Alan O'Day. Alan, who grew up in Indio, California, had a number one hit as a solo artist in 1977 with "Undercover Angel." He also had hits writing for others such as "Angie Baby" by Helen Reddy and "Rock & Roll Heaven" by the Righteous Brothers, which he co-wrote. His new CD spans many styles including rock, blues, country pop and what he describes as "uplifting spiritual songs." My favorites are a rocker called "My Rock & Roll Shoes," the funky "Things That Are Lost," and the melodic "Please Don't Believe Me." This collection of songs show his great songwriting ability and his vocals are excellent, particularly on "Please Don't Believe Me," on which his voice is silky smooth while cleanly reaching some impressively high notes. For more info visit alanoday.com. "I Hear Voices" is available at amazon.com on the button below.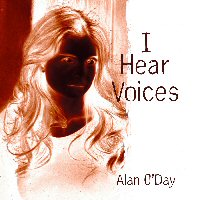 "I Hear Voices"
Alan O'Day (2008)

Click here to go to the Alan O'Day store at amazon.com

---
Trini Lopez
"Romantic & Sexy Guitars" is a release from Tri-Lo Productions. It's got 14 tracks including new versions of "Una Paloma Blanca," "Memories Are Made of This," "Somewhere Over the Rainbow," and "If I Were a Carpenter." Most of the album is Trini playing various acoustic and/or electric guitars, percussion, and singing various parts. This technique works great and Trini is in excellent voice. The only song that has a full band production is my song, "Oh Maria." I provided the track and also played lead guitar. The CD is currently available at amazon.com at the link below and at trinilopez.com.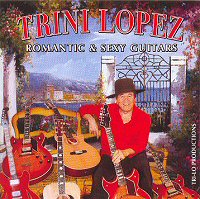 "Romantic & Sexy Guitars" Trini Lopez (2005)

Click here to go to the Trini Lopez store at amazon.com

---
Redbone
The best Redbone compilation ever has been released by Sony Records on their Legacy label. "The Essential Redbone" has 14 of the best songs Redbone recorded in the early 70s, including their hits "Maggie," "The Witch Queen of New Orleans," and their mega hit "Come and Get Your Love." The recordings have been digitally re-mastered and sound better than ever! Pete DePoe, Redbone's original drummer, sent me a copy and tells me Redbone will soon be out on the road again. You can order "The Essential Redbone at amazon.com from the link below.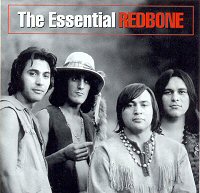 "The Essential Redbone" Redbone (2003)

Click here to go to the Redbone store at amazon.com

---
Carmencristina Moreno
Carmen has a great new CD out called "Lovers & Legends," which she describes as "ballads of heroes, bandits, causes, and lovers." Her voice is as great as ever and her songwriting continues to evolve to new heights. Some of the highlights of the album are "The Battle of Cinco de Mayo," which chronicles the history of the legendary event in Mexican history; "You'll Always Have Sabor a Mi," an English language version of the classic Mexican bolero; a sexy, bluesy song called "Working Man's Woman;" the beautiful and jazzy "Ellen's Song;" a cover of Jack Hanna's "Ballad of Joaquin Murrieta;" and a beautiful Spanish/English version of "America O' Bella/America the Beautiful." This and other Carmencristina Moreno CDs are available at amazon.com at the link below and on her website, carmencristina.com.

"Lovers & Legends" Carmencristina Moreno (2003)
---
"Pachuco Boogie"
(compilation)
a CD released in 2002 on Arhoolie Records, which features the pachuco music of Don Tosti. Also included are pachuco recordings by Lalo Guerrero and others. Read about it on my article about Don Tosti entitled "Don Tosti: Master of Music" and order the CD at amazon.com at the link below or from ArhoolieRecords.


"Pachuco Boogie"
Don Tosti/Lalo Guerrero/others (2002)
---
"Eastside Sound 1959-1968"
(compilation)
an album released in 1996 on the Dionysus label on CD. Some of the East L.A. bands and vocalists featured include The Mixtures, The Premiers, The Romancers, The Blendells, The Jaguars, The Salas Brothers, The Atlantics, and Cannibal & the Headhunters. The CD is available at dionysusrecords.com and at the link below on amazon.com.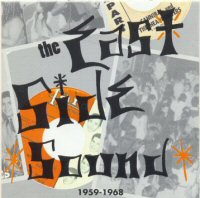 "East Side Sound 1959-1968
Various Artists (1996)
---
"Eastside Sound, Volume 2, Featuring Mark & the Escorts"
(compilation)
an album released in 2000 on the Dionysus label on CD and vinyl entitled "Eastside Sound, Vol. 2, Featuring Mark & the Escorts." Mark & the Escorts was my teenage band from 1963 to '66. We recorded four sides for Crescendo Records in 1965. The songs are reissued on this compilation album. (We're on the cover and I wrote the liner notes). Other artists on the collection are the Blendells, the Premiers, and others. It's available at Tower Records, Virgin Superstores, etc., or can be ordered at your local record store. On the internet you can get it on my website on the Mark Guerrero Recordings page or go to dionysus.com. Once there, click on "Online Store" and then you can find it on CD on the "Bacchus Archives CD" link on the menu and the vinyl album on the "Bacchus Archives LP" link. Click here to read my liner notes for the album.


"Eastside Sound, Vol. 2"
Mark & the Escorts / others (2000)
---
"Mindrocker"
(compilation)
a 13 CD Anthology of 60s US-Punk Garage Psych Box Set with 13 Discs released by Past & Present Records in the United Kingdom. My first official recording is included on Disk 1, "Get Your Baby" by Mark & the Escorts (1965). Also included in the set are recordings by artists who were well known in the 60s such as ? & the Mysterions, The Knickerbockers, The Seeds, Johnny Winter, The Standells, Mark IV, Rising Sons, and Music Machine. The other artists included weren't so well known, but have that exciting punk garage sound that is a genre which has become more and more appreciated and recognized with time as a precursor to the punk movement. The collection is available at amazon.com at the link below.


Mindrocker
The Complete Series: Volumes 1-13 (2007)
---
APB
"Be On the Lookout" is a new CD by veteran East L.A. band APB, led by drummer extraordinaire Aaron Ballesteros. Aaron has played with classic Eastside bands Tierra, Thee Midniters, and Los Lobos, as well as Latin giants such as Tito Puente, Poncho Sanchez, and Willie Bobo. Aaron wrote most of the songs on this collection and sings lead on several of them. Also on lead vocals is Gilbert Stokes, who is a first rate vocalist. The band is rounded out by guitarist Dennis Alvarez and bassist Steve Falomir of Tierra. Guest artists on the CD include Poncho Sanchez, Cesar Rosas of Los Lobos, guitarist Bob Robles of Thee Midniters, and others. Highlights include the title track "Be On the Lookout," an excellent reggae song, the clever and humorous "Oranges," a political anthem ("Huelga"), the musically sophisticated "Freedom Jazz Rap," and a ballad called "For the Rest of My Life." There are also solid cover versions of "How Long" and Led Zeppelin's "Whole Lotta Love." Included with the CD is a DVD of the song "Huelga."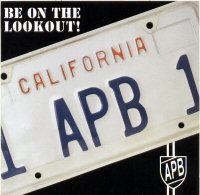 "Be On the Lookout!"
APB (2006)
---
Frankie Firme
(compilation)
"16 Golden Treasures from the Vaults of Rampart Records"- a new eclectic compilation of classic "Eastside Sound," r&b, and tex mex recordings from the Rampart Records group of record labels founded by the late Eddie Davis. Some of the artists included in the collection are The Heartbreakers, Little Ray Jimenez, The Salas Brothers with the Jaguars, The Romancers, and The Atlantics featuring Barry White. It's very well-packaged with a booklet filled with vintage photos and information on the artists and recordings. The CD is available at amazon.com at the link below. Click here to order CD at EastLARevue.com.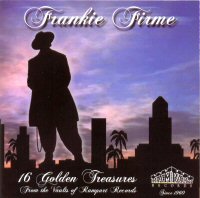 "Frankie Firme
16 Golden Treasures" (2007)