'60s Eastside Flyers
Page 2 of 6
Mark & the Escorts changed its name to the Men From S.O.U.N.D. at this point. The name was a play on the title of a popular spy television show at the time, the Man from U.N.C.L.E. (After the British Invasion, Mark & the Escorts and many other Eastside bands changed their names because the pre-invasion names began to sound passé. The members of The Men From S.O.U.N.D. at various times as it evolved were Mark Guerrero, guitar/vocals; Richard Rosas, bass; Ernie Hernandez, drums/vocals; Richard Morin, guitar/vocals; Steve Verdugo, guitar/vocals; Richard Mojarro, guitar/vocals/harmonica; Tony Rodas, Farfisa organ/vocals; and George Ochoa, vocals.)
The Men From S.O.U.N.D. (1966)


Montebello Ballroom - March 25, 1966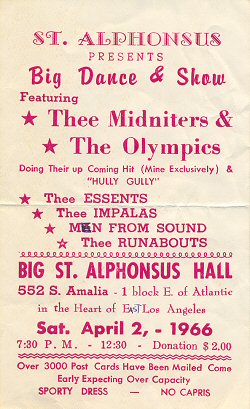 St. Alphonsus Auditorium
April 2, 1966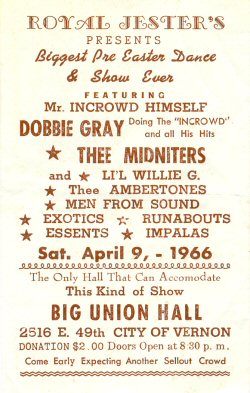 Big Union Hall - April 9, 1966
(note the misspelling of Dobie Gray)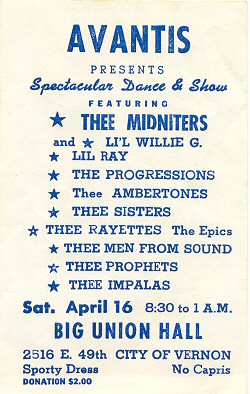 Big Union Hall - April 16, 1966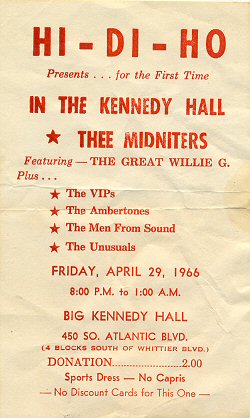 Kennedy Hall - April 29, 1966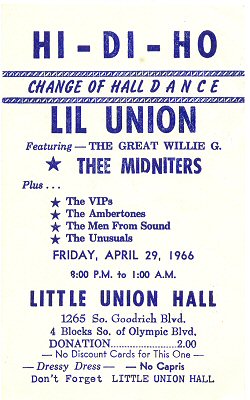 Little Union Hall - April 29, 1966

Kennedy Hall - May 13, 1966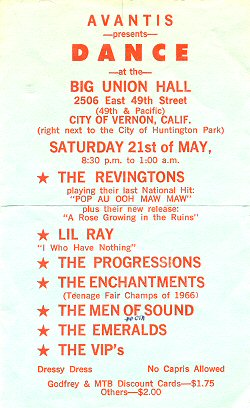 Big Union Hall - May 21, 1966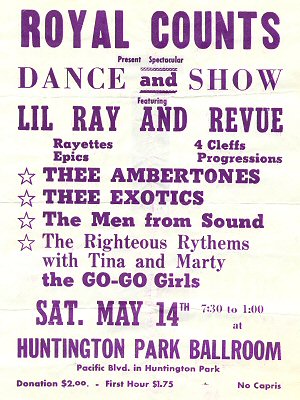 Huntington Park Ballroom - May 14, 1966

Huntington Park Ballroom - August 20, 1966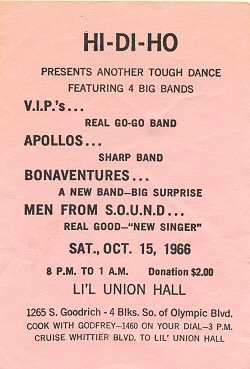 Little Union Hall - October 15, 1966

East L.A. College Auditorium
October 30, 1966

Big Union Hall - November 5, 1966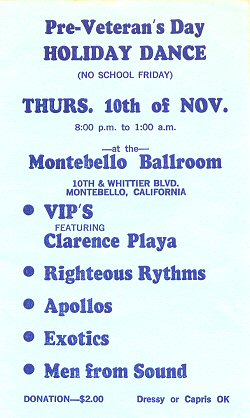 Montebello Ballroom
November 10, 1966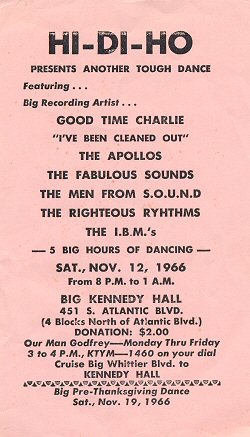 Kennedy Hall - November 19, 1966

Montebello Ballroom
November 18, 1966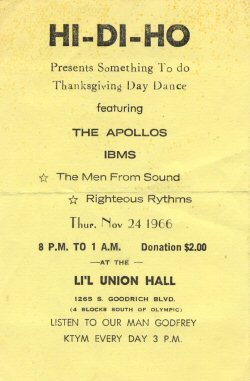 Little Union Hall - November 24, 1966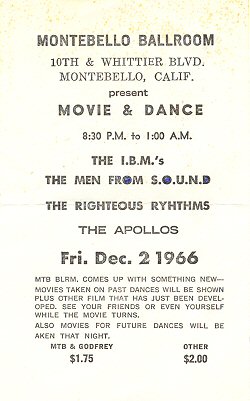 Montebello Ballroom
December 2, 1966

Kennedy Hall - December 9, 1966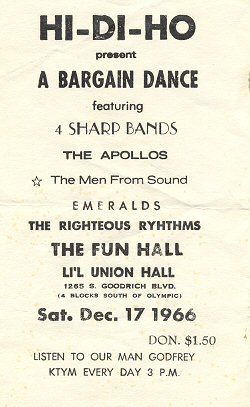 Little Union Hall - December 17, 1966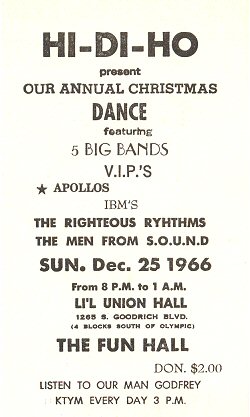 Little Union Hall - December 25, 1966

Little Union Hall - December 31, 1966

The Men From S.O.U.N.D. (1968)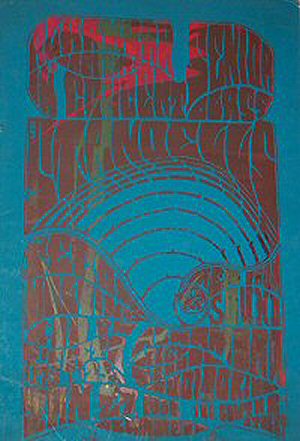 Alhambra High School Auditorium
January 27, 1968

(Standells, Second Helping, and The Men From S.O.U.N.D.)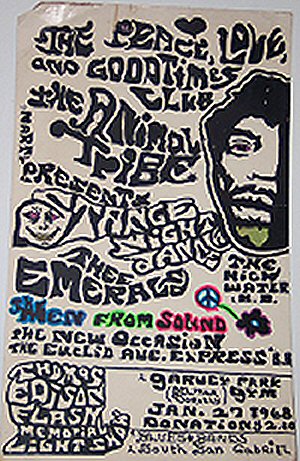 Garvey Park Gym - January 27, 1968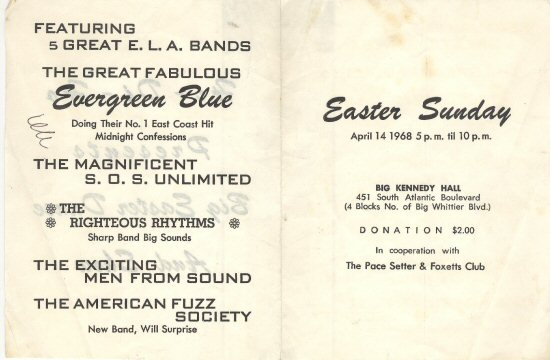 Kennedy Hall - April 14, 1968
(misprint: It should read Evergreen Blues)
The Men From S.O.U.N.D. changed its name at this point to 1984 (Nineteen Eighty Four), inspired by George Orwell's book "1984." (The members of 1984 were Mark Guerrero, guitar/vocals; Tony Rodas, farfisa organ/vocals; Richard Rosas, bass; and Ernie Hernandez, drums/vocals). The highlights for 1984 were a week stint at Gazzari's on the Sunset Strip in Hollywood in December of 1968 and two singles for Kapp Records in 1969.

1984 or Nineteen Eighty Four (1968- 70)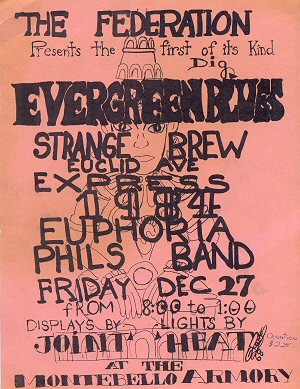 Montebello Armory - December 27, 1968
Mark Guerrero became a solo artist in 1971, with a solo single on Ode Records. This was followed by two singles with Capitol Records in 1972. The flyer below is from the latter period.

Mark Guerrero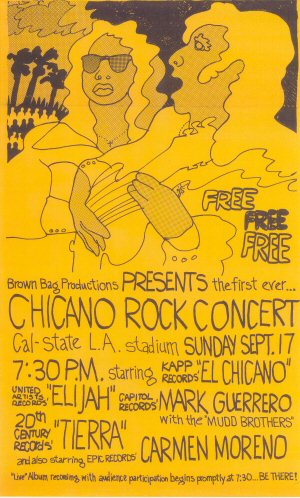 Cal State L.A. - September 17, 1972
When Mark Guerrero moved from Capitol Records to A&M in 1973, it was decided to return to a group concept, resulting in the band Tango. (Members of Tango were Mark Guerrero, vocals/guitar/keyboards; John Valenzuela, guitar/vocals; Richard Rosas, bass; and Ernie Hernandez, drums/vocals. The highlights for Tango were a three night stint at The Roxy Theater in Hollywood and an album and single for A&M Records in 1973-74.)

Tango (1973- 74)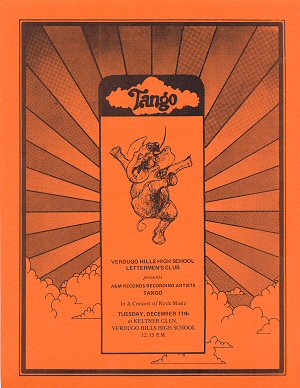 Verdugo Hills High School - December 11, 1973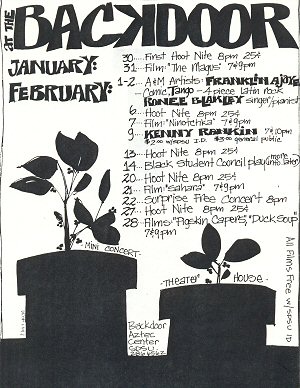 The Backdoor Aztec Center
San Diego State University
February 1 & 2, 1974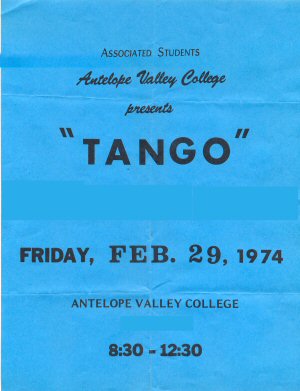 Antelope Valley College
February 29, 1974

Previous page || Go to 60s Eastside flyer page 3