CD Review: "The Chicano Alliance"
by Mark Guerrero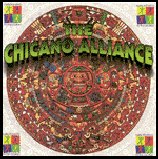 If you want a great survey of Chicano music, go out and buy "The Chicano Alliance" CD. It's a collection of 36 songs by 30 artists put together by Edward Contreras and released on his R-Town Records. This two CD set has songs by artists such as Tierra, El Chicano, Malo, Little Joe y la Familia, and two tracks by yours truly. My songs are "Rosalie," which was written and recorded in 1982, and "On the Boulevard," written in 1979 and recorded in 1988. This album has some old and some new recordings in many styles and genres, which is what Chicano music is all about. It's music created by Chicanos who are as diverse as our different tastes and influences. For example, there is a track by salsa legend Johnny Martinez, country music artist Gabe Nieto, blues singer Randy Garibay, r&b and Latin influenced female vocalist Geree, and a trio in the great Mexican tradition, Los Suspiros, who do a version of my dad, Lalo Guerrero's standard "Nunca Jamas." This collectible CD even has a recent recording by Rosie and the Originals, whose legendary "Angel Baby" is an all-time oldies/low rider classic.
As if all this isn't enough, your purchase of "The Chicano Alliance" CD will provide financial support to the Chicano Alliance Network, Para Los Niños, and the Quezalcoatl Memorial Scholarship. The Chicano Alliance Network (CAN) is a national group promoting Mexican-American unity, it supports and sponsors positive endeavors by Chicanos as they move into the American mainstream culture. In addition, CAN's goal is to raise the consciousness of our younger generations by making them aware of the many positive role models and successful leaders from the Chicano/Latino community. CAN has attracted the interest and support of many prominent entertainers, educators and business people such as national spokesperson, Grammy Award winner "Little Joe" Hernandez. "Little Joe," of the aforementioned Little Joe y la Familia, is one of the pioneers of Tejano music. He's worked with the likes of Willie Nelson and has a Grammy award to his credit.
Para Los Niños, founded in 1980, is a non-profit family support center designed to raise at-risk children out of poverty through positive educational opportunities and support involving families and communities. Each weekday they serve more than 600 children, ages six weeks to 18 years, through child care, after school programs, youth intervention programs, crisis nursery, counseling, career exposure, recreational activities and more. In addition, they provide support services to more than 2,000 families every year. The Quezalcoatl Memorial Scholarship is the creation of radio personality Daniel "Sancho" Castro. It is a non-profit foundation whose sole purpose is to further the educational achievement of the Chicano community. "Sancho" has earned a PhD. and as an educator has witnessed the empowerment which a university diploma offers to those who commit to higher education. He also notes that our community is in need of university trained leadership in order to be more prominently involved in government and business. However, many of our people lack the economic resources to continue their education and this is where the "Quezalcoatl Memorial Scholarship" has stepped in to help.
Update
Unfortunately, "The Chicano Alliance" CD is no longer officially available. It was released in 1998, the year the article above was written and posted on my website. You might find it used on line or at some record show or record store that has used CDs, but it would probably take a great deal of luck at this point. If you do find it, you'll own a piece of Chicano musical history. Fortunately, I found some on line at the link above at amazon.com. They may come and go there, but worth checking.
Front and Back Cover of CD


Previous page || Go to next miscellaneous writings article
Return to miscellaneous writings index page