My Surprise Concert Opening for Rick Nelson In 1970

by Mark Guerrero
In early 1970, I played with a band that opened for Rick Nelson at Antelope Valley College in Lancaster, California. Lancaster is in the high desert of Los Angeles County, about an hour north of the city of Los Angeles. What made the experience interesting was that I was playing guitar and singing lead with a pick up band that hadn't rehearsed for the occasion. I had played a few gigs with the drummer and bass player, Leon and Danny Becken, but the other guitar player had just gotten out of the army and hadn't played a gig in two years. He was Rudy Valona, former lead guitarist of the East L.A. band, the Blendells. They had a hit record in 1965 called "La La La La La" that peaked at number 62 on the Billboard charts and was in the top ten in Los Angeles. Also, we didn't know we were going to be in concert or that we would be opening for Rick Nelson. We thought we were going to be playing for a college dance. We had been booked by an agent who made a career out of booking high school and college dances and concerts. He would often send out bands posing as one hit wonder bands whose individual members were unknown to the general public. The agent's brother happened to be a major record producer who had many hit records with two major bands in the late 60s. None of the famous producer's success apparently rubbed off on his sibling.

I remember the shock of arriving in the big college gymnasium and seeing the folding chairs set up in rows, concert-style, and hearing that we were opening for Rick Nelson. Rick was riding high at the time on his first country rock hit with his new image. He was no longer Ricky Nelson with the Elvis hairstyle doing his hits from the 50s. He was now part of the scene that included bands such as Poco and the recently countrified Byrds. Rick was wearing country western style shirts with embroidery and his hair didn't have a trace of grease. I know this because when I went to the restroom before the show, Rick was there combing his hair. He was talking with one of his musicians so I didn't take the opportunity to meet him. In retrospect, I wish I had. The name of his band was Rick Nelson and the Stone Canyon Band and their hit record was a country version of Bob Dylan's "She Belongs To Me." In case you don't remember the song, it's the one that starts with the lyric, "She's got everything she needs, she's an artist she don't look back." The song had reached number 33 on the Billboard charts and was getting lots of airplay in Los Angeles. (Two years later Rick would score even bigger with "Garden Party," which would peak at number 6 on the national charts.) What made the night even more mortifying for me was Rick had Randy Meisner on bass. Randy had just left Poco, who at the time was one of my favorite bands. I had seen them perform several times at the Troubadour in Hollywood and they were incredible. They were as tight a band as I'd ever heard, with great musicianship and perfect harmonies. Poco also had Jim Messina on guitar and Richie Furay on lead vocals, both formerly of the Buffalo Springfield. I'd seen Randy play with Poco and was blown away by his sound and skill as a bass player, not to mention his clean, high voice soaring above the others in three part harmony. I also loved Poco's first album, "Pickin' Up the Pieces" on Epic Records.

The stage was set and there was no way out. We were introduced as the Electric Indian and went on, a totally unrehearsed band of guys averaging 20 years of age, with a second guitar player who had no confidence in his playing due to his long layoff. We were faced with two or three hundred people staring at us. Even when rehearsed and expecting to be in concert one is a little nervous, but under these circumstances I was wishing I could go home. Feeling an obligation to my fellow band mates, I forged ahead. All we could do was play a bunch of cover tunes to fill our 40 minutes or so. I remember singing some Neil Young songs I'd recently been doing such as "Cinnamon Girl," and "Down By the River." These songs had come out about six months before on Neil's "Everybody Knows This Is Nowhere" album, which was his first hit solo effort. I also did "Oh Darling" by The Beatles from their 1969 album, Abbey Road. I sang and played my best, but remember being embarrassed the whole time because I knew the band wasn't that tight and Rick Nelson and Randy Meisner were standing against a wall checking us out. After our set, I walked by Randy on the way off stage and he said "you guys sounded good." I said "thanks, but I don't think we were very good" or something to that effect. It wasn't until years later that I realized he probably meant what he said. I did give it all I had because Rick and Randy were there and the band probably wasn't as bad as I thought it was at the time. I was just comparing it to the level of Poco, which we couldn't have attained at the time even with rehearsal. Randy Meisner went on to become a founding member of The Eagles and achieved individual recognition as co-writer and lead singer on The Eagles' "Take It To the Limit," which reached number 4 in 1976 and has become a classic. (Unfortunately, Rick Nelson died in a plane crash in DeKalb, Texas on New Years Day in 1985.)

In 1988, I ran into Randy Meisner at a recording studio in North Hollywood called Track Records. I was recording my "On the Boulevard" EP and Randy was rehearsing with David Palmer, former lead singer with Steely Dan. Palmer is best known for his lead vocal on Steely Dan's popular song, "Dirty Work." They were putting together a band which apparently never got off the ground. During a break in recording, I went into the room where one could have coffee and snacks and there was Randy sitting at the table alone. I struck up a conversation and told him the story of that concert in Antelope Valley 18 years before. I told him I thought it was very kind of him to say something positive regarding my performance that day. He probably didn't remember the occasion and most likely didn't care, but I felt good about thanking him for being nice to an unknown kid back in 1970.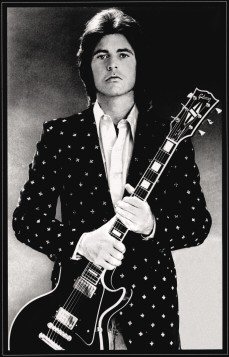 Rick Nelson c. 1970

Previous page || Go to next miscellaneous writings article
Return to miscellaneous writings index page