Book Review: The Mexican American Orquesta

by Mark Guerrero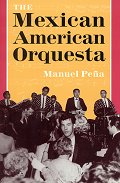 "The Mexican American Orquesta, Music- Culture, and the Dialectic of Conflict" by Manuel Peña was published in 1999 by the University of Texas Press. Mr. Peña has taught anthropology at the University of Texas at Austin and music at California State University, Fresno. He is also the author of "The Texas-Mexican Conjunto." The back cover of the book describes the book best where it states, "Manuel Peña traces the evolution of the orquesta in the Southwest from its beginnings in the nineteenth century through its pinnacle in the 1970s and its decline since the 1980s." The book has a lot of information directly relevant to my website, as to artists I've written articles about or have mentioned. For example, there's a lot of information about the careers of my dad, Lalo Guerrero, and Don Tosti. There are also references to East L.A. Chicano artists Los Lobos, Thee Midniters, and Cannibal & the Headhunters. Artists that I plan to write about are also featured such as, Little Joe Hernandez, Sunny Ozuna, Manny Lopez, and Chico Sesma. Another person who gets well deserved attention in the book is my dad's late record producer, Manuel S. Acuña, whom I knew and recorded for on many occasions. Manuel was an extremely gifted songwriter, arranger, and record producer. Since the book covers back to the late nineteenth century, a couple of pages are dedicated to Tucson's Club Filarmonico. This is the band I've touched on in reference to Tom Sheridan's book, "Los Tucsonenses." It's leader was Fred Ronstadt, the father of popular singer Linda Ronstadt.

Since my experience and expertise is mainly related to Southern California Chicano music, the information and quotes from Texas singers Sunny Ozuna and Little Joe Hernandez were of particular interest to me. Sunny, who's first and biggest hit was "Talk To Me" by Sunny and the Sunglows, went solo after that record and later formed Sunny and the Sunliners. The latter band had a couple of hit records, but none of the magnitude of "Talk to Me." He later attained a steady success in the Tejano music world, playing both Mexican and American music. Mr. Peña calls this hybrid of Mexican and American music played by the orquestas, which also applies to Tejano bands, and some Chicano pop groups, the "dialectic of conflict." The latter phrase refers to the socio-economic, cultural, and musical conflict between the Anglo and Mexican cultures in the Southwest, the wavering between acculturation and ethnic resistance. He also points out that artists such as Little Joe and Sunny Ozuna found that they could find a lasting career with a Chicano audience, who are loyal to their artists over the long haul, unlike the fickle, here today gone tomorrow, American pop field. This has proven to be true with California artists such as El Chicano, Tierra, and Malo. Manuel Peña believes that the Mexican American orquesta's music is neither a Mexican nor an American music. It was created from the repertoire and style of the Mexican orquesta and the American dance band and what resulted is a synthesis of the two.
There is a chapter entitled "The Los Angeles Tradition- Triumph of the Anti-Ranchero." It points out the fact that many Chicano artists such as Don Tosti, Eddie Cano, and Chico Sesma had a distaste, to say the least, for ranchera music. These artists were more influenced by American swing jazz and Afro-Hispanic music, later to be known as salsa. They were more trained and "sophisticated musicians" who looked down their noses at ranchera music. I'm not repeating this to denigrate these great artists, it's simply the way it was. I've heard this personally from Don Tosti recently. My dad, was an exception to this thinking. He played and recorded the swing jazz, the Afro-Hispanic, along with polkas, corridos, and banda music. The book is divided into three parts; "Origins," "The Mexican American Era," and "The Chicano Era." The latter section has four chapters including "The Chicano Generation" and "Music in the Post Chicano Era." These chapters get into the Chicano Movement of the 60s and how that changed Chicano music into a more ethnic, and sometimes political art form.
"The Mexican American Orquesta" is 384 pages in length, has 25 photos, and 10 musical scores, including my dad's "Vamos a Bailar" and Don Tosti's "Chicano Boogie." There are three photos of Don Tosti. One is a photo of a sombrero clad Don Tosti during his brief venture into the world of ranchera music with La Orquesta Muro. The other two are of his early orchestras. There are also two great photos of Little Joe and the Latinaires from 1965 and 1967. There is also a 1990 photo of my dad, who Mr. Peña refers to as a "bimusical eclectic." That's actually a good description of his music. It is "bimusical" because it is very much Mexican and American, with many songs which actually contain both. "La Minifalda de Reynalda" is a good example. It has norteña sections, played by Los Hermanos Arellano, alongside rock & roll sections performed by my rock band, Mark & the Escorts. His music is also "eclectic" because he truly wrote and recorded in virtually all genres, both Mexican and American. "The Mexican American Orquesta" by Manuel Peña is a result of 15 years of field research. He interviewed many of the artists and quotes them throughout the book. I recommend the book highly to anyone interested in Chicano music. It is available in hardcover (ISBN-0-292-76586-X) and paperback (IBSN-0-292-76587-8). You can also order it on line from the University of Texas Press at utexas.edu or at amazon.com at the link below.


Previous page || Go to next miscellaneous writings article
Return to miscellaneous writings index page