Maldita Vecindad: Bridging Mexican and Chicano Rock

by Mark Guerrero
Maldita Vecindad is a rock en Español band from Mexico whose music is a mixture of punk, rap, ska, funk, and Latin. Their presentation is high energy and relentless. They were formed in Mexico City in 1985 and describe themselves as a mambo punk combo. According to their bio, their songs are about "the poor neighborhoods of the city, and about urban characters, such as the marginalized people resulting from the modernizing image of Mexican identity." They are of great importance to Chicano music because they were among the first Mexican rock musicians to express a kindred spirit with the Chicano movement. On their early recordings, Maldita Vecindad y Los Hijos del Quinto Patio (BMG Ariola 1989) and Circo (BMG Ariola 1991), Maldita's music delved into Chicano culture with songs such as "Mojado," "Pachuco," and "Pata de Perro." In addition to the two albums above, Maldita Vecindad released "Baile de Máscaras" (1996), "Mostros" (1998), and "Greatest Hits + Rarities 1989-1999"
(2000).

In 1989, Maldita Vecindad toured the United States for the first time. The tour was in support of their first album, the aforementioned "Maldita Vecindad y Los Hijos del Quinto Patio." Their 1992-93 "Pato de Perro" tour included, Mexico, the U.S. and a six months in Europe. In Europe, they started by playing some small venues but were soon invited to play some major festivals with audiences of as large as hundreds of thousands. These shows also featured such artists as Bob Dylan, Faith No More, Sonic Youth, Hole, Leonard Cohen, INXS, and Madness. The Malditos, as they are also known, played in Portugal, Italy, Spain, Switzerland, Austria, Germany, Belguim, The Netherlands, France, Sweden, Norway, Denmark, England, and Ireland. A live album from this tour was released in 1993, entitled "Pato de Perro." They've toured the United States and Latin America extensive throughout the 90s to the present and played to sold out shows everywhere. They are a very politically conscious and active band, playing for peace in Chiapas and other causes and cultural events. The "12 Serpiente" concert, which took place at the National University of Mexico in May 1995 drew more than 30,000 people in support of peace in Chiapas, Mexico. It featured 16 rock bands, dancers, and dramatic artists. In October 1996, Maldita Vecindad recorded an MTV Unplugged. The program was broadcast in the U.S., Mexico, Central, and South America. Their video for their song Don Palabras was nominated by MTV in the "Best Latin Videw" category for the 1997 MTV Video Music Awards. In 1998, they played the Greek Theater in Los Angeles for an audience of 7200. In addition, they've contributed music to many compilation CDs, including "Reconquista, The Best of Latin Rock in the United States" (Rhino Records), "Juntos por Chiapas" (Polygram), "The Best of Latin Rock" (compilation by David Byrne), "Tributo a Jose Jose" (BMG), and "Homenaje a Los Tigres del Norte" (Fonovisa). They also had a song, "Morenaza," on the "Reality Bites" soundtrack.
In October of 2003, Hector Calderon, an academic (who teaches at U.C.L.A.) and a friend of Maldita Vecindad, wrote a long letter to my dad, Lalo Guerrero, on behalf of the band. It mentioned, among other things, that Maldita admired my dad as a pioneer of Chicano music. He suggested possibly doing a live show with my dad and Maldita Vecindad at some point. At 87 years of age, my dad was not aware of the rock en Español movement, so he asked me to read the letter and advise him on it. I told him they were an important band and that we should reply. I e mailed Hector, who told me Maldita was in Southern California and were going to play at a large night club in Rialto in a couple of days. Since it was about an hour from my home in Palm Springs, I went to check them out. I met Hector there and caught their show. I was impressed with the enthusiasm of their fans, who chant the word "Maldita" over and over again until they appear on stage. Many of them jumped up and down for the whole one hour plus show, which is extremely high energy. After the performance, I met the band and had a great conversation back stage with Roco, their lead singer. He was very politically aware and very enthusiastic about Chicano music and culture. Afterwards Hector and I had dinner with Aldo (the bass player) and their new drummer, Javier Sosa. I found Aldo to be very interesting and also politically aware. The other members of the band are Pato (guitar) and Sax (sax), and Daniel Infanzón (percussion).
It so happened that my dad and I were scheduled to perform a few days later at the John Anson Ford amphitheater in Hollywood. The concert was to be a tribute to my dad that included my band, Mark Guerrero & Radio Aztlán, Trio Los Panchos, my dad, and others. I invited Maldita Vecindad to come to the concert. It so happened they had a concert out of state, but they would be back in the L.A. area the morning of the Lalo tribute event because they were scheduled to play in the area the next night. They all came to the concert and enjoyed it very much. They came backstage after the show and I introduced them to my dad. Afterwards, Hector, Aldo, and I started to talk about doing a concert with Maldita, my band, my dad, and Don Tosti, possibly at U.C.L.A. in 2004. Everyone was in agreement and enthusiastic to do it, but unfortunately it never come to pass. Maldita Vecindad's website is malditavecindad.net.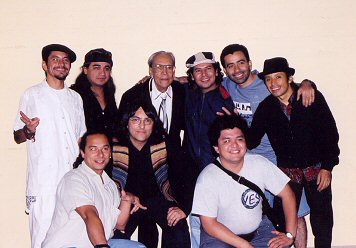 (left to right- Roco, Aldo, Sax, Mark Guerrero, Lalo Guerrero, Javier Sosa, Daniel Infanzon, Jesus Mendez, and Pato)
(backstage at the John Anson Ford Amphitheater, October 4, 2004)

mp3 Sound Bytes
Maldita Vecindad 1989

Click here to go to the Maldita Vecindad store at amazon.com


Previous page || Go to next miscellaneous writings article
Return to miscellaneous writings index page