Book Review: "Encyclopedia of Latino Popular Culture"
by Mark Guerrero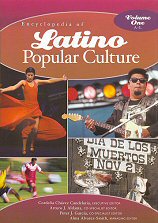 A two-volume hard cover "Encyclopedia of Latino Popular Culture" has been published by Greenwood Press, Westport, Connecticut-London. It was edited by Cordelia Chavez Candelaria, Arturo J.Aldama, Peter J. Garcia, and Alma Alvarez-Smith of the College of Liberal Arts and Sciences, Department of Chicana and Chicano Studies, at Arizona State University in Tempe, Arizona. The official date of publication was October 30, 2004. In May of 2003, I was contacted by Peter J. Garcia to contribute an entry, eventually titled "Chicana/o Rock and Popular Music in Southern California," to this new reference set. My entry is over six pages in length and covers the history of Chicano music in Southern California from the late forties through the 1980s. My entry can be found on pages 135-142 in volume one. A paragraph from the thank you letter I received from the editorial team best describes the two-volume set. "The Encyclopedia of Latino Popular Culture presents accessible information on artists, filmmakers, sports figures, writers, and many other leaders, legends, and popular culture figures, activities, events, places, and artifacts. Designed for general audiences, it will be suitable for use by
educators, journalists, policy makers, and middle to high school and college students. It is the first inclusive reference tool published on Latina/o popular culture." Many of the Chicano musical artists I've written about on my website have entries about them in these volumes, such as El Chicano, Lalo Guerrero, Trini Lopez, Los Lobos, Freddy Fender, and Flaco Jimenez. Others included I have not yet written about include, Ritchie Valens, Carlos Santana, Little Joe y La Familia, Dr. Loco & his Rockin' Jalapeño Band, and Daniel Valdez. This two-volume set of encyclopedias are first rate in research and content, as well as the cover, paper, and graphics.




Below is my enclyclopedia entry:
Chicano/a Rock in Southern California
Contributor: Mark Guerrero
Most major Chicano rock artists have emerged from Southern California and have provided a major source of Latino/a musical entertainment in the United States. To be more specific, most have come from the greater Los Angeles area. The area's enormous population and the proximity to the recording industry in Hollywood are two possible reasons. Some emigrated to the Los Angeles area from other parts of the country, but the majority are native to the area. The following information was gathered by my own experience as a singer/songwriter/musician in Southern California since the early 60s, along with years of interviews and research I've conducted for my Chicano music website, www.markguerrero.com.
In any survey of Chicano music in general, or more specifically Chicano rock, one has to start with the man who is widely considered the "Father of Chicano Music," my dad, Lalo Guerrero. He's also been described by pop singer Linda Ronstadt, who is also of Mexican descent, as "the first great Chicano musical artist." Born and raised in Tucson, Arizona, Lalo came to Los Angeles in 1939, where he recorded virtually his entire catalogue, with the exception of many of the children's records he did in Mexico City with Las Ardillitas de Lalo Guerrero. In a career that began in the late 1930s and continued into the 21st century, he wrote and recorded over seven hundred titles which cover virtually every genre of Latin and American music. Among his composing credits are the classic "Nunca Jamas," covered by Jose Feliciano, Javier Solis, and the Trio Los Panchos, and "Canción Mexicana," recorded by legendary Mexican ranchera singers, Lucha Reyes and Lola Beltrán. Aside from the Latin forms such as the ranchera, bolero, cumbia, corrido, cha cha cha, pachanga, porro, rhumba, samba, tropicál and norteña, Guerrero also recorded rock & roll, blues, boogie woogie, swing, and pop ballads, in addition to comedy songs, parodies, and children's music. Since my topic is Chicano rock, I'll examine the rock-related part of Lalo's creative output. In the late 40s and early 50s, while an artist for Imperial Records, he often wrote Spanish language versions of popular American hits. Some examples are: "La Tamalada" (Saturday Night Fish Fry" by Louis Jordan), "El Bolerito de la Main" and "Chicas Patas Boogie" ("Chatanooga Shoeshine Boy" and "Oh Babe" by Louis Prima), and "Llorar" ("Cry" by Johnny Ray). He also wrote and recorded his own blues, swing and rock songs such as "Muy Sabroso Blues (Very Tasty Blues)," "Marijuana Boogie," "El Hombre Gordo (The Fat Man)," and "Se Fue y Me Dejó (She Left and Abandoned Me)." These songs might be considered pre-rock & roll. Many of Lalo's songs from his Imperial Records era used an original form of Chicano slang called Caló, which was spoken by pachucos and zoot suiters of the time. He first used Caló in the late 40s on his recordings with his Trio Imperial. He later utilized it with his band, Lalo Guerrero y sus Cinco Lobos. It was with this band that he recorded his swing and blues music in the late 40s and early 50s. By the mid-fifties, before the emergence of Ritchie Valens, he was writing and recording outright rock & roll. "Tin Marin De Do Pingue" gives "Rock Around the Clock" by Bill Haley & the Comets a run for its money. One of my favorites of the period is "Do You Believe In Reincarnation," a doo wop song complete with Jordinaires-style background vocal harmonies. Lalo also included rock in his comedy recordings such as "Elvis Perez," which contained within Spanish versions of Elvis Presley hits "Hound Dog," "Don't Be Cruel," and "Heartbreak Hotel." In the 60s, he wrote and recorded a rock song called "Los Greñudos," backed by my teenage band, Mark & the Escorts. He also created rock hybrids (part rock/part norteña) such as "La Minifalda de Reynalda" and "Felipe El Hippie," with Los Hermanos Arellano backing him on the norteña parts and Mark and the Escorts on the rock sections. Another important figure in the pre-rock era is Edmundo Tostado, known as Don Tosti. Don played violin in the El Paso Symphony, upright bass in the big bands in New York, and led a band called The Pachuco Boogie Boys (with the great Eddie Cano on piano). He accomplished all that before forming his popular Latin band in the mid-fifties, known as Don Tosti and his Orchestra. The recordings by The Pachuco Boogie Boys were often swing or boogie woogie songs, also employing Caló. Their lead singer was Raul Diaz, who could scat sing with the best of his Anglo and Black counterparts.
In 1958, Pacoima, California's Ritchie Valens (Valenzuela) burst onto the scene as a rock & roller with "Come On Let's Go" and "Donna," which were his compositions, and his rocked up version of a traditional Mexican son jarocho from Veracruz, "La Bamba." With his tragic early demise, it can never be known what he would have achieved or what direction his music would have taken, but the fact that he created such great records by the age of 17 is astounding. Ritchie influenced many Latino rockers who were to follow, including Chan Romero and Chris Montez. Romero, who grew up in Billings, Montana, came to Los Angeles in the wake of Valens' death. He was invited by Ritchie's manager, Bob Keane, who had heard Chan's demo and thought of him as Ritchie Valens' heir apparent. While recording in Los Angeles for Keane's DelFi Records, Chan was invited by Ritchie's mother to stay at her house, where he became like a family member in the Valenzuela household. One of the songs Chan recorded in those first sessions was a song he had written called "The Hippy Hippy Shake." Unbeknownst to Chan, the record was also released in England, where it was picked up by an unknown Paul McCartney in Liverpool. He liked it and learned it for his young band, The Beatles. They played the song regularly at their club gigs in Hamburg, Germany and eventually recorded it on one of their live B.B.C. radio broadcasts. In 1965, "The Hippy Hippy Shake" was recorded by another English band called The Swinging Blue Jeans, who had a number one record with it on the English charts. The song was revived in 1988 by The Georgia Satellites for the soundtrack of the movie "Cocktail," starring Tom Cruise. Hawthorne, California's Chris Montez (b. Ezekiel Montanez) had met Ritchie Valens, who had performed at a local dance hall. Fueled by the inspiration he got from Valens, Chris went on to have a hit record with "Let's Dance," which reached number four on the national charts in 1962. The success of "Let's Dance" led to a tour of England with The Beatles, who recorded their first album during that tour. In the mid-sixties Chris had more chart success with mellower songs such as "Call Me" and "The More I See You." Like Chan Romero, Trini Lopez had to come to Los Angeles to fill a void left by a fallen star. Trini originally made the trip from Dallas, Texas to join The Crickets in the wake of Buddy Holly's death. When things weren't moving fast enough for Trini, who was running out of money, he began to play clubs as a solo artist. An engagement at the famous P.J.'s in Hollywood led to being discovered by no less than Frank Sinatra. Sinatra signed Trini to a record deal with his Reprise Records. "Trini Lopez Live at P.J.'s" hit number two nationally and launched Trini's career. He had several hit singles that reached the national top 40 in the mid-sixties, the biggest being his version of "If I Had a Hammer," which was number one in 25 countries and enjoyed 48 weeks in the U.S. Top 40. Trini Lopez has recorded over forty albums in his career.
In the 1960s, East Los Angeles became a hot bed of music. Much like Liverpool in the same era, there were scores, if not hundreds of bands, numerous venues for teenage dances, and many records being made. Much of this boom was a result of the efforts of two men, Eddie Davis and Billy Cardenas. Eddie was a producer who owned several small record labels, while Billy produced and managed many of the Eastside teenage bands. They worked together and separately to advance the careers of many musicians and singers. Billy's first band was called the Romancers. They recorded two instrumental albums for DelFi Records in 1963, "Do the Slauson" and "Let's Do the Swim." On these records, The Romancers created the blueprint for what was later to be known as the "Eastside Sound." It featured a tight and funky rhythm section (bass and drums), a "chunka chunka" rhythm guitar, a trebly and poppy Fender Telecaster lead guitar, and a wailing tenor sax. Other features in the original "Eastside Sound" that soon evolved were the baritone sax and Farfisa organ. The standout song on the "Do the Slauson" album was "Slauson Shuffle," written by the band's leader and rhythm guitarist, Max Uballez. Lead guitarist, Andy Tesso, would influence many East L.A. guitarists of the era. The Romancers went on to record many singles with vocals, including their classic rendition of an Etta James recording, "My Heart Cries." Their version featured some sophisticated and well-executed vocal harmonies. Billy Cardenas and Eddie Davis went on to have three of their Eastside bands achieve national hit records. The Premiers reached number 19 in 1964 with "Farmer John," a cover of a Don & Dewey r&b recording. This led to several national tours on which they shared the bill with the likes of the Rolling Stones, The Kinks, The Zombies, and The Supremes. The Blendells scored a hit the same year with a cover of an obscure Stevie Wonder song entitled "La La La La La." It reached number 62 on the national charts, but hit the top ten in Los Angeles. They toured with the Dave Clark Five as part of Dick Clark's Caravan of Stars. In 1965, Cannibal & the Headhunters reached number 30 with their version of a song written by Chris Kenner and Fats Domino called "Land of a Thousand Dances." Lead singer Frankie "Cannibal" Garcia added the "na na na na na" chorus to the song, which had a great deal to do with its success. Riding the momentum of their hit record, Cannibal & the Headhunters toured the U.S. with The Beatles, including their historic concerts at the Hollywood Bowl and New York's Shea Stadium. Although they didn't achieve national status, Thee Midniters, with their lead singer Little Willie G. (Garcia), were the most popular of the East L.A. bands. Their version of "Land of a Thousand Dances" hit number 67 on the charts, but they never toured nationally. However, they enjoyed several local and regional hits, including their instrumental cruising anthem "Whittier Boulevard." Little Willie G. was a charismatic front man, who had a great voice and a cool, smooth stage presence. Although he could belt an up tempo r&b or rock song, his strong suit was the romantic ballad. Another major star on the Eastside scene was Little Ray (Jimenez). Little Ray was a great r&b singer and performer on the level of the best of Motown. He recorded several 45 rpm singles, but never had a hit record. I had a band called Mark & the Escorts, produced and managed by Billy Cardenas, who recorded two singles for GNP Crescendo Records in 1965. They were reissued by Dionysus Records in 2001 on "Eastside Sound, Volume 2." There were other bands and vocal groups who made good records for independent labels such as The Jaguars with the Salas Brothers, The Blue Satins, The Ambertones, Ronnie & the Casuals, The Heartbreakers, The Sisters, The Enchantments, The Village Callers, and The Impalas. Pat and Lolly Vegas (Vasquez), brothers from Fresno, California, came to Los Angeles in the early 60s. They changed their last name on the advice of an agent to avoid racial discrimination in the night clubs on the Sunset Strip in Hollywood. Pat, on bass and vocals, and Lolly, on guitar and vocals, recorded "Live at the Haunted House" for Mercury Records. Pat & Lolly became in-demand session players backing up many artists alongside musicians such as Glen Campbell, Leon Russell, and Dr. John. As songwriters, they wrote a hit for P.J. Proby called "Nicky Hoeky," which led to covers by Aretha Franklin, Bobbi Gentry, and Tom Jones. In the early 70s, Pat & Lolly Vegas formed Redbone, who had two top 40 hit records, including "The Witch Queen of New Orleans," and their mega hit "Come and Get Your Love."
In the 70s, many East L.A. bands with roots in the previous decade emerged with major label record deals. With the raised consciousness brought about by the Chicano movement of the late 60s, bands began to use names that reflected their Latino heritage. El Chicano, Tierra, Yaqui, Tango, and Macondo are examples of this change. El Chicano, who were known as The VIPs in the 60s, scored a national hit with a Latin jazz instrumental called "Viva Tirado." Written by jazz musician Gerald Wilson, it was an homage to Mexican bullfighter Jose Ramon Tirado. The record featured the Hammond organ of Bobby Espinoza and the Wes Montgomery-style guitar work of Mickey Lespron. El Chicano toured the world extensively, with perhaps their most significant highlight being a successful appearance at the legendary Apollo Theater in Harlem, the African-American section of New York City. They had a second top 40 hit in 1973 with a Latin-flavored pop song, "Tell Her She's Lovely." El Chicano released seven albums in the 70s, six of them on MCA Records. Manager/producer Art Brambila succeeded in having three of his artists sign with major labels in 1972. Tierra signed with 20th Century records, Yaqui with Hugh Hefner's short-lived Playboy Records, and yours truly with Capitol Records as a solo artist. Tierra was formed by Rudy and Steve Salas, the same Salas brothers who had sung with the Jaguars in the 60s. Tierra's first self-titled album featured a great song called "Barrio Suite." It included several musical styles which, along with the lyrics, captured the spirit of life in the barrio. Yaqui, whose sound was a mixture of Santana, Led Zeppelin, and Crosby, Stills, and Nash, were fronted by strong lead singers George Ochoa and Eddie Serrano. I recorded two singles for Capitol, including my best song and record of the decade, "I'm Brown." When I moved to A&M Records the following year as lead singer and songwriter for my band Tango, A&M bought the Capitol masters and re-released most of them, including "I'm Brown, as part of our first album. Tango's style included mainly rock & roll and country rock. My main influences at the time were The Beatles, Bob Dylan, and The Buffalo Springfield. In 1971, previous to my Capitol and A&M recordings, I had a single out produced by legendary producer Lou Adler on his Ode Record label. Adler had produced hits for the Mamas and the Papas and Carole King. Another band with roots in East L.A., Macondo had a Latin-flavored album out on Atlantic Records. Macondo was led by Max Uballez, who had been in the Romancers in the 60s. Ruben & the Jets, led by Ruben Guevara, recorded two albums for Mercury Records, "For Real" in 1973 and "Con Safos" in 1974. These albums resulted from a meeting between Guevara and the legendary Frank Zappa. Zappa had previously recorded an album called "Cruisin' with Ruben & the Jets" with his band, The Mothers of Invention. After hitting it off with Ruben Guevara, Zappa suggested Guevara form a "real" Ruben & the Jets. The resulting albums were recorded in authentic 1950s doo wop and r&b styles. Ruben & the Jets toured with artists such as Three Dog Night, T Rex, and Frank Zappa. Another East L.A. artist to surface in the decade was singer/songwriter Hirth Martinez. He was discovered by the great Bob Dylan, who connected him with Robbie Robertson of The Band. Robertson produced Hirth's first album "Hirth from Earth" (1975), and The Band's producer, John Simon, produced the second, "Big Bright Street" (1977). These two albums, on the Warner Brothers label, are filled with extraordinary songs written by Hirth. They run the gamut from Jobim-styled sambas to melodic ballads, blues and jazz. Two female artists also emerged in the 70s. Fresno, California's Carmen Moreno, with a voice that rivals Joan Baez and Linda Ronstadt, recorded for Epic, Capitol, and Boardwalk Records, both in English and Spanish. Geri Gonzalez, who had been a member of the Village Callers in the late 60s in East L.A., sang r&b and Latin styles with a world-class voice. She was signed to MCA Records and recorded an album, which was never released because she was told she didn't sound black enough for r&b.
With the emergence of the punk movement in the late 70s, Chicano groups represented that genre as well. One of the pioneering bands was The Plugz, led by Tito Larriva. The Plugz invaded the Hollywood punk nightclub scene and recorded two albums for Fatima Records. The same record label, started by Larriva and two partners, also released a 5-song 12" record by an East L.A. band who had later hit the Hollywood punk circuit called The Brat, featuring lead vocalist Teresa Covarrubias. The Brat didn't secure a major label deal, but were a good band who many believed deserved to do so. Tito Larriva went on to form The Cruzados, who recorded two albums for Arista Records in the 80s, and Tito and Tarantula in the 90s. Tito & Tarantula have several albums to their credit and have toured the world extensively. Los Illegals formed in East L.A. in 1979. They eventually hit the clubs in Hollywood and secured a record deal with A&M records. Led by world-class visual artist Willie Herrán, Los Illegals' first single was a powerful and energetic punk anthem about the trials and tribulations of an illegal alien in Los Angeles. In 1983, their album "Internal Exile" was released, which included a Spanish language version of "El Lay." The album dealt with issues such as immigration, street gangs, poverty, violence, and alienation. Another band from East L.A. to emerge in the early 80s was Los Lobos. They had formed in the early 70s as a band rediscovering their Mexican musical roots. In the late 70s they picked up their electric instruments and began to play rock & roll alongside their acoustic Mexican music. Their music became a mix of rock & roll, rockabilly, country, Latin, and traditional Mexican music. They played the punk and new wave circuit in Hollywood, which led to their record deal with Slash/Warner Records. As of 2003, they've recorded eight studio albums and have released two major compilation sets. Los Lobos' version of "La Bamba," from the movie of the same name, was number one in the nation in 1987. They've headlined all over the world and have opened for such legendary rock groups as The Grateful Dead, The Clash, The Eagles, and U2. Los Lobos have won the respect of music critics and fans around the world as a band of quality and integrity. In the nineties and into the new millennium, Chicano/a musical artists continue to emerge from Southern California influenced and inspired by those who came before them.
In this essay, I have reviewed the major artists, styles, and genres of Chicano rock music from Southern California. These artists have not only created a niche for themselves in the Chicano/a music scene, but have contributed a significant amount to mainstream rock music since its inception.

SOURCES FOR FURTHER READING
Reyes, David and Waldman, Tom, "Land of a Thousand Dances, Chicano Rock 'n' Roll from Southern California" (University of New Mexico Press/1998)
Loza, Steven, "Barrio Rhythm, Mexican American Music in Los Angeles" (University of Illinois Press/1993)
Guerrero, Lalo and Mentes, Sherilyn Meece, "Lalo, My Life and Music" (University of Arizona Press/2002)
Peña, Manuel, "The Mexican American Orquesta" (University of Texas Press/1999)
Sheridan, Thomas E., "Los Tucsonenses, The Mexican Community in Tucson, 1854-1941" (University of Arizona Press/1986)
Guerrero, Mark, www.markguerrero.com, Chicano music website.


Previous page || Go to next miscellaneous writings article
Return to miscellaneous writings index page