Lalo Guerrero's Posthumous Arizona Music Hall of Fame Induction- Phoenix, Arizona
April 17, 2005
(Also below: Video & photo gallery and the story and text of the Lalo Guerrero Death Resolution read at the Arizona House of Representatives: Phoenix, Arizona- April 18, 2005)
by Mark Guerrero
On Sunday afternoon, April 17, 2005, Lalo Guerrero was posthumously inducted into the Arizona Music & Entertainment Hall of Fame (AMEHOF) at the Dodge Theater in Phoenix, Arizona. Inductees besides my dad included the late Marty Robbins, the late Waylon Jennings, Glen Campbell, Jessie Colter, Dyke & the Blazers, and others. The first annual induction ceremony included live musical performances, along with speakers telling the stories of the careers of the inductees and, in some cases, friends or relatives of the inductees saying a few words of thanks. Hanging out backstage most of the day was legendary goth rocker Alice Cooper, who lives in Phoenix and was a speaker at the event. Alice added some extra color and excitement, along with a surreal quality, to the festivities. I was honored to perform two of my dad's songs at the event, "Los Chucos Suaves" and "Tin Marin de do Pingue." The former song is one of my dad's pachuco songs, recorded around 1949, and revived for the play and movie, "Zoot Suit" in the late 70s. The latter song is a rocker in Spanish written and recorded by my dad around 1956 that rivals "Rock Around the Clock" by Bill Haley & the Comets. Backing me were four great musicians. Three of them are members of my 9 piece band, Mark Guerrero & Radio Aztlán; Robert Dominguez on drums, Leo Valenzuela on bass, and Steve Alaniz on tenor sax. On piano was a local Phoenix musician by the name of Ralph Chavarria on acoustic grand piano. He did a great job. I was on electric guitar and lead vocals. I was extremely pleased with our performance and the reaction of the audience. Since my dad had just passed away exactly one month earlier, it was a very emotional experience. It was tough getting through the songs vocally, but I managed to do it. Just prior to our performance my brother Dan said a few words about our dad, followed by a great two minute video he put together which provided highlights of the life and career of Lalo Guerrero. Other stand out musical performances included Jessi Colter, Rollie Stevens & the House band's three-part harmony rendition of Marty Robbins' classic "El Paso," J. David Sloan & the House Band performing in honor of Waylon Jennings, and Dyke & the Blazers performing their classic r&b hit, "Funky Broadway." The finale of the ceremony/show was Dyke & the Blazers coming back at the end of the show to reprise "Funky Broadway." Some of us were asked to come out and join in so Leo and I, along with a few others, played along with them. It was a lot of fun and ended the event on a happy and funky note. One of the joys of the event was the friendliness and goodwill between the ethnically and musically diverse artists backstage.
After the induction ceremony and show, there was an after party at Alice Cooper's restaurant/nightclub, Cooperstown. The nightclub part of Cooperstown is outdoors and very spacious. There was an excellent live band from L.A. playing hip hop and r&b. My bass player, Leo Valenzuela and I hung out there for an hour or so and then headed for the after after party at a blues club called the Rhythm Room. When we arrived I told Leo I was kind of tired and didn't think I would go up and play. Next thing I knew Leo was up on stage playing with the band. I was then announced by someone on stage so I went up and wound up singing and playing almost a whole set. Some of the other musicians who had played at the Hall of Fame event came up and played also and the jam was on. The music and the fun re-energized me and I had a great time. The Hall of Fame people put us up at a historic hotel which is rumored to be haunted. I heard about it when we first arrived at the hotel in the afternoon, but had forgotten about it by the time I got back after the long day and night. One of my band members and his wife swore the next morning they heard some unusual things in the hallway in the wee hours of the morning. The experience was shared by the wife of one of Dyke & the Blazers. Since I didn't hear anything, I don't have an opinion on the matter.

Photo and Video Gallery
Video
Mark Guerrero performing at Arizona Music & Entertainment Hall of Fame Induction Ceremony

"Los Chucos Suaves," and "Tin Marin de do Pingue"
words and music by Lalo Guerrero


See Program Below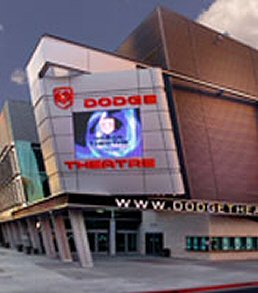 Dodge Theater
(venue for the AMEHOF Induction Cermony)
Photo Gallery

Mark Guerrero
(photos by Ray Bowen)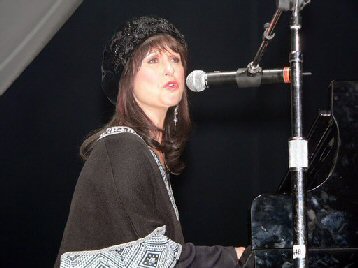 Jessie Colter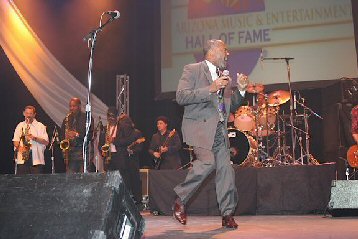 Dyke & the Blazers Finale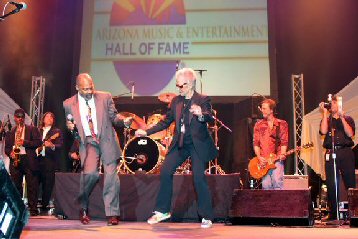 Dyke & the Blazers Finale
(Mark Guerrero second from left)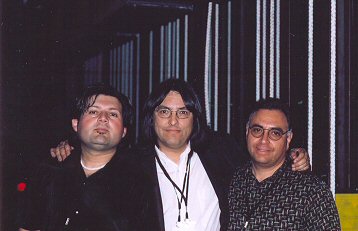 Steve Alaniz, Mark Guerrero, & Bobby Dominguez
(with members of my band backstage)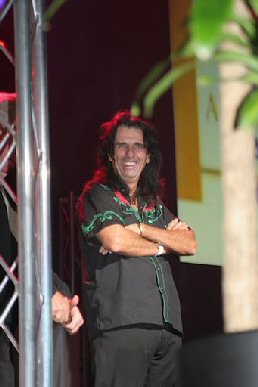 Alice Cooper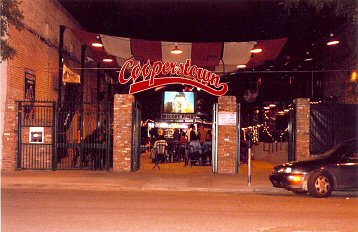 Alice Cooper's Phoenix Restaurant/Night Club
Cooperstown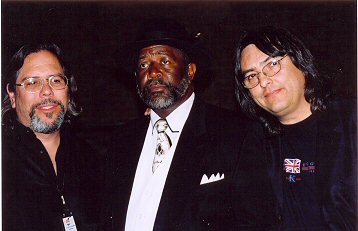 Leo Valenzuela, Alvin Battle (founding member of Dyke & the Blazers), and Mark Guerrero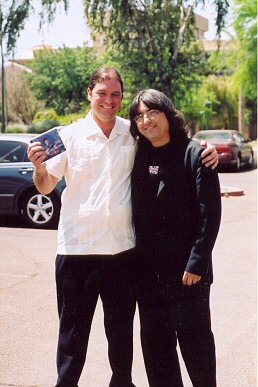 Tom Prezelski & Mark Guerrero
(Tom is a member of the Arizona House of Representatives- holding up my CD)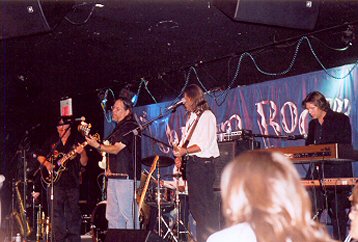 Leo Valenzuela
(member of my band second from left at the Rhythm Room prior to my joining in on the jam session)

The next day, my brother Dan and I went to the Arizona House of Representatives, where a death resolution in honor of our dad was to be read. The resolution was spearheaded by Tucson representative Tom Prezelski, who is half Chicano and half Polish-American. He's very young and hip and is a real friend to the Mexican-American community, which is a big part of his constituency. We spent some time in his office prior to reading of the proclamation and discovered he has an excellent knowledge and appreciation for Chicano music. My brother and I were ushered down to the floor of the House of Representatives, where we sat on either side of representative Prezelski. In the balcony were a couple of my dad's sisters, Teresa and Connie, his brother Ruben, his niece Catarina, his grand niece Chrissy, and my bass player, Leo. Tom Prezelski stood up and read the resolution in honor of my dad and asked for a vote of approval from the other representatives. The entire House of Representatives stood up and unanimously approved the resolution and there was a minute of silence in my dad's honor. It was a great gesture from the legislature of his beloved home state.
See House Resolution 2002 Below
A Resolution on the Death of Eduardo "Lalo" Guerrero
Eduardo "Lalo" Guerrero, the "Father of Chicano Music," died in California at the age of eighty-eight. Born on December 24, 1916 in the Barrio Libre neighborhood of Tucson, Arizona, Lalo Guerrero received musical instruction from his mother and showed remarkable talent from his earliest days. Known far and wide as the "Father of Chicano Music,' he enjoyed an exceptionally diverse career as an entertainer. He wrote and recorded hundreds of songs under different record labels and his records sold millions of copies. Lalo Guerrero's pachuco songs from the 1940s were used in a popular musical and film, and his composition "La Canción Mexicana" became Mexico's unofficial national anthem. He established "Las Ardillitas de Lalo Guerrero" for hispanic children in the 1960s, a time when his songs were tremendously popular in the United States as well as Mexico and Latin America. He appeared in several Hollywood films and in 1993 co-hosted "El Nuevo Show de Paul Rodriguez" on the Spanish language Univision channel.
In recognition of his tremendous contributions to American music, Lalo Guerrero received numerous honors and awards throughout the course of his career. Among his many accomplishments, he received the National Medal of Arts in 1997 from President Bill Clinton, the National Heritage Award from the National Foundation for the Arts in 1991, and a Lifetime Achievement Award from the Mexican Cultural Institute. He was named a National Heritage Fellowship winner in 1991 and a National Folk Treasure by the Smithsonian Institute in 1980.
Lalo Guerrero will be greatly missed by his family and many friends as well as countless admiring fans around the world. Therefore, be it resolved by the House of Representatives of the State of Arizona: That the Members of the House of Representatives sincerely regret the passing of Eduardo "Lalo" Guerrero and extend their deepest sympathies to his wife, Lidia, former wife, Margaret, sons, Dan and Mark, granddaughter, Maya, sisters, Connie, Theresa, and Mona, brothers, Gene and Ruben, and other surviving family members.

Visit the Lalo Guerrero page on the Arizona Music & Entertainment Hall of Fame website

Previous page || Go to next miscellaneous writings article
Return to miscellaneous writings index page