CD Review: "This Time" by Los Lobos
(This review appeared in the Desert Sun newspaper, a Gannett publication, in Palm Springs, California on Sunday, December 10, 2000.)
CD SPIN
Reviewer: Mark Guerrero, leader of local band Hot Rox
Artist: Los Lobos
Title: "This Time"
Label: Hollywood Records
List Price: $16.98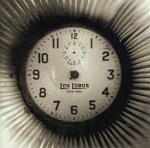 Review: People who haven't listened to a Los Lobos album, or traced their development as recording artists, tend to think of them as a Tex Mex band, or the group that scored a hit with a remake of "La Bamba." Similarly, many think of James Taylor as a mellow folk singer, when in fact he's also recorded great rock & roll, rhythm & blues, and Latin-flavored songs. Los Lobos also do much more than their stereotype would suggest. For example, their latest album, "This Time," has a cha cha, a cumbia, eight songs that I would describe as bluesy or rhythm and blues-styled songs, and a song that defies description. All the songs are written by Los Lobos members David Hidalgo or Cesar Rosas in collaboration with Louie Perez, with the exception of the cumbia, which was written by Cesar on his own. Lead vocals are excellently handled, as usual, by David and Cesar.

My favorite song on the album is the cha cha called "Corazón," but I also particularly like the cumbia, entitled "Cumbia Raza." "La Playa" is in Spanish, but it's not musically quite Latin or blues, but kind of a punky hybrid. Other standout songs are "Turn Around," which has a catchy, Claptonesque melody, and "Why We Wish," a ferocious up tempo blues song, both sung by David Hidalgo. Also noteworthy are "Oh Yeah" and "Some Say, Some Do," both sung by Cesar Rosas, which are bluesy tracks that'll take you to the Southside of Chicago.

With 23 years of recording experience, they know how to make records. Aside from the excellent musicianship, many of the songs have interesting sounds and effects that give them color and create an atmosphere, without being gimmicky. Do yourself a favor and check out this album. You'll understand why they've been recording on major labels since 1983 and are still going strong.



Click here to go to the Los Lobos store at amazon.com


Previous page || Go to next miscellaneous writings article
Return to miscellaneous writings index page