My Concert with Redbone
Lemoore, California: September 6, 2003
by Mark Guerrero
On September 6, 2003, I performed as a member of the legendary Chicano/Native-American band Redbone. The venue was the Palace Casino in Lemoore, California, which is in the central part of the state. The band members, besides myself on guitar and vocals were: Raven Hernandez, lead guitar/vocals; Steve Roybal, drums; George Ochoa, keyboards/vocals; and leader and founding member, Pat Vegas, bass/vocals. Coincidentally, George Ochoa had been a member of my teenage band The Men From S.O.U.N.D. in 1966. Small world and smaller musical world. Getting back to 2003, we'd had several rehearsals which prepared us for the concert, two or three with the full band set up and a couple acoustically. We had worked up more songs than we would need, but it's always good to be prepared for any eventuality. Some of the songs we worked up that we didn't do were Lolly Vegas' "Suzy Girl," on which I was to sing lead with George on harmony, "Maggie," "Clouds In My Sunshine," "Message from a Drum," "Chant 13th Hour," and Redbone's version of "Poison Ivy," It was a lot of fun playing these songs because they're great songs that I really like, my favorites being "Suzy Girl" "Chant 13th Hour," and "Clouds In My Sunshine." The concert took place outdoors in the afternoon. I don't know if the planners took it into account, but the sun was right in our eyes and it was hot! At least in the 90s. The sunglasses helped a little with the brightness of the sun, but there was nothing we could do about the heat. Weather elements aside, we started our set with Redbone's second top 40 hit, "Witch Queen of New Orleans." This is a funky, swampy, voodoo song. Next we played "Wovoka," another of my favorites. Pat Vegas, like many other musical artists, doesn't use a set list because he likes the spontaneity of calling the songs according to what he feels the mood or situation requires. It also keeps the band on their toes and ready for anything, which can add to the energy and excitement of the performance. In my concerts with my own band I prefer to have a set list, but I have been known to stray from it due to the circumstances. Artists work both ways depending on their preference. I understand Bob Dylan doesn't use a set list either. During this concert, Pat called a song I didn't know and hadn't rehearsed, "Nicky Hoeky," written by Pat and Lolly Vegas and a big hit for P.J. Proby in the 60s. This is where my experience came in so I got through it all right. We also played a reggae song called "Sacred Land" written by Raven, the other guitarist in the band. Next I sang lead vocal on the r&b classic "But It's Alright." Redbone had recorded their version of the song on one of their early albums. The finale was Redbone's mega hit "Come and Get Your Love." On the last choruses Pat invited some of the crowd on stage to join us in the refrain. There must have been fifteen or twenty additional people on stage for the last few minutes of the extended version. After the show, Pat Vegas and his brother Lolly, who had come up for the show, were presented with an award. It had something to do with the fact that they were originally from the area and were a source of pride for their accomplishments in music. (Pat and Lolly grew up in the Fresno area which is not far from Lemoore.) For those who don't know, Lolly hasn't been able to play guitar or perform since a stroke he had in the late 90s. Following us on the bill and closing the show was the excellent r&b band Rose Royce.
After a great dinner in the casino's best restaurant, we went back to the hotel. Later, we all went to visit Lolly Vegas in his room. I had spoken to Lolly on the phone a couple of times, but had not met him in person until that afternoon. We were all hanging around and talking with Lolly and in a short time everyone had left the room but me. Lolly and I talked for two or three hours. I also played and sang his song "Suzy Girl" for him. Lolly is a very intelligent man and an extremely talented musician. I had heard of Pat and Lolly Vegas since I was in my early teens so to play with Pat and meet and talk in depth with Lolly was a memorable and significant experience for me. I'm writing this article in July of 2005. Currently, only Pat Vegas and George Ochoa remain in Redbone from the lineup with which I played. Pat just finished a new Redbone CD entitled "One World" with studio musicians and some background vocals provided by George Ochoa. Redbone marches on.

Flyer for Redbone Concert at the Palace Casino
and link to Redbone Concert Photo Gallery below
Redbone Concert Photo Gallery
Palace Casino- Lemoore, California
(September 6, 2003)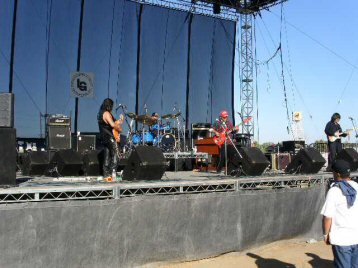 Redbone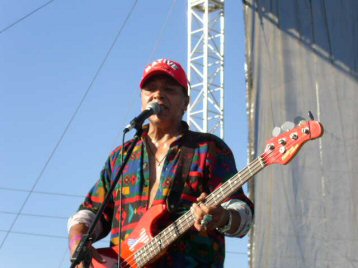 Pat Vegas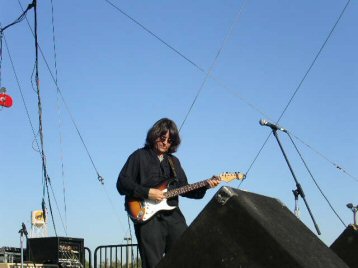 Mark Guerrero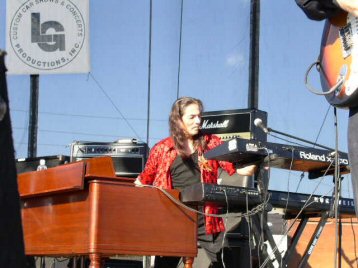 George Ochoa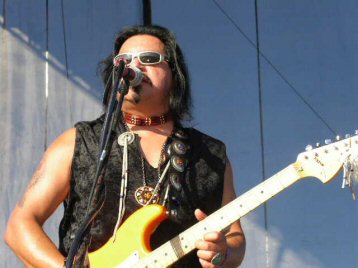 Raven Hernandez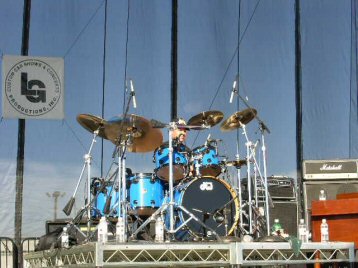 Steve Roybal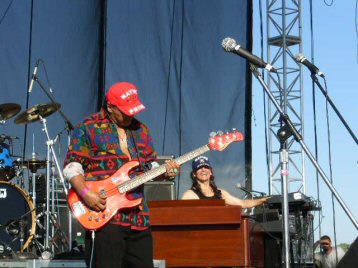 Pat Vegas & George Ochoa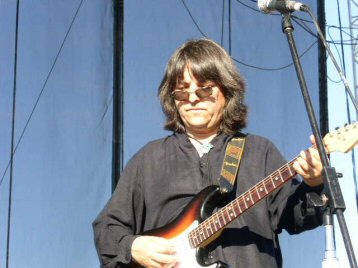 Mark Guerrero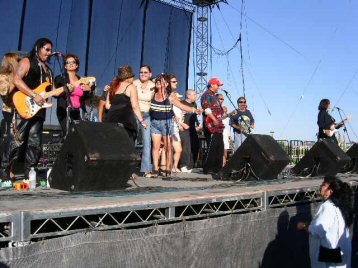 Redbone Finale
"Come and Get Your Love"

Previous page || Go to next miscellaneous writings article
Return to miscellaneous writings index page