Lalo Guerrero Recording Sessions with Ry Cooder
January 29-30, 2003
by Mark Guerrero
On the afternoon of January 29, 2003 my dad (Lalo Guerrero) and I showed up at Village Recorders in West Los Angeles where he was to record three songs for what was to be Ry Cooder's "Chavez Ravine" album. The concept of the album involved the story of the unjust expulsion of the people of the barrio of Chavez Ravine, in the name of eminent domain, in order to build Dodger Stadium. I came to the sessions to help because at age 86, my dad was physically frail and having problems with his memory. My job was to assist him and, when necessary, cue him when to come in vocally. Since I knew his songs intimately, I was also of help cueing the musicians and generally facilitating the recording of his songs. The first song recorded was "Corrido de Boxeo," which my dad wrote specifically for the project. The lyrics were based on an idea by Ry Cooder. My dad happened to remember the names of two boxers who had lived in Chavez Ravine by the name of Carlos and Fabela Chavez. He personalized the song by bringing in real people. It also gave the song a wonderful boxing metaphor. For example, (loosely translated) "they always fought honorably in the ring, but they couldn't win the unfair fight for Chavez Ravine." Musicians on the session were legendary drummer Jim Keltner, Ry's son Joachim (on a second set of drums), Ry Cooder on bajo sexto, Mike Elizondo on upright bass, Joe Rotondi on acoustic piano, and the legendary Flaco Jimenez on accordion. The second song recorded that day was "Los Chucos Suaves," which my dad wrote and recorded around 1949 for Imperial Records. In 1978, it was revived in the play, and later the movie, "Zoot Suit" by Luis Valdez. The new version of "Los Chucos Suaves" for this session included musicians Ry Cooder on guitar, Jim Keltner on drums, Mike Elizondo on upright bass, Joe Rotondi on acoustic piano, and the legendary Gil Bernal on tenor sax. In the 50s, Gil played with Lionel Hampton, Spike Jones, and played the immortal sax solo on Duane Eddy's classic instrumental "Rebel Rouser." Ry Cooder played a vintage hollow body electric guitar through a small vintage tube amp. I suggested the ending of the song that was used, which is one I had utilized in concert for years. During the session that day, much to everyone's shock my dad fell backwards off a stool on to a hard floor. Luckily, a cushion that had been on the stool helped to somewhat break his fall. Even more fortunately, he didn't hit his head on the floor. After the horrifying fall, he got up, did a little shadow boxing, sat down and continued to do his vocals. Everyone was amazed and, especially, relieved. Ry Cooder said, "what a trooper." That he was. Rather than record in the world-class studio, Ry opted to record in a former Masonic Hall upstairs. There was a TV monitor used so the control room downstairs could communicate with the musicians upstairs. Recording in a room with a high ceiling and a hard floor gave the recordings a "live" kind of sound. In addition, there was little or no separation between musicians and everyone played together, with my dad singing "live" with the band. This is the way records were made back in the 40s and 50s. This helped to capture the spirit and magic of the era.
After recording "Los Chucos Suaves," around 9 or 10 o'clock p.m., we broke for the day. Flaco, my dad, and I were put up in a very nice high rise hotel in Santa Monica, with a view from the upper floors of the bay. The three of us went to the restaurant bar on the top floor and had some alcoholic beverages. I had one. Flaco and my dad had several. We had some great conversation, which included Flaco telling us about his session with the Rolling Stones on their "Voodoo Lounge" album. Keith Richards must have heard about Flaco's beverage preference because upon entering the studio Keith handed Flaco a beer on the way in before saying hello. Flaco also talked about jamming with Bob Dylan and his band and recording with The Jordanaires, who often were Elvis Presley's back up singers. He said it was the closest thing to recording with Elvis, whom he admired. One of the great pleasures for me was during down time for the musicians at the "Chavez Ravine" sessions. I had an opportunity to meet and talk with Jim Keltner, who has played with George Harrison, Neil Young, Simon & Garfunkel, Bob Dylan, the Traveling Wilburys, and countless others. He's been one of the best and most respected drummers in the music business for over 30 years. I didn't know until I met him that he is Mexican-American on his mother's side of the family. Being a huge Beatle fan, I asked him about the 1970 "Concert for Bangadesh" at which he played alongside Ringo Starr in a two drum kit set up. He told me some interesting behind the scenes stories of the experience, as well as personal memories of his close friend George Harrison. Jim Keltner also played in the recent "Concert for George."
The next day, we all showed up at the studio and my dad recorded one of his all-time great songs, "Barrio Viejo." The song had been featured in a documentary on the "Chavez Ravine" story on PBS. The documentary was based on photographs of the barrio of Chavez Ravine taken by Don Normark in the early 50s when he was a student at USC. This documentary may have had something to do with inspiring Ry Cooder to make his album and to contact my dad. The session for "Barrio Viejo" included my dad on acoustic guitar, Flaco Jimenez on accordion, Mike Elizondo on bass, and Joachim Cooder on percussion. At a later date, another guitar was added by Ledward Kaapana. After the recording of "Barrio Viejo," my dad and I stayed around until around 9 o'clock p.m. We hung out with the musicians and listened to some of the other tracks being recorded. As I was leaving, Jim Keltner stopped me and said, "I like the way you take care of your dad." That meant a lot to me. The "Chavez Ravine" album required a lot of planning and work, in and out of the studio, to accomplish. It took two and a half years to complete and release. "Chavez Ravine- a Record by Ry Cooder" was released in June of 2005. It was well worth the time it took because it's a magnificent album. Other Chicano artists were brought in to contribute to it such as Chicano music legend Don Tosti, Little Willie G. (of Thee Midniters fame), Ersi Arvisu (of The Sisters and El Chicano fame), David Hidalgo of Los Lobos, Rudy Salas of Tierra, and Ersi's sister, Rosella Arvisu. Other contributing vocalists were Juliette and Carla Commagere, Bla Pahinui, Jacob Garcia (Little Willie G.'s son), and of course, Ry Cooder.
On July 17, 2005, Ry and Susan Cooder hosted a CD release party at the home of Rosella Arvisu in Montebello, California. It took place in her large, lush, and beautiful back yard. Everyone involved in the project was there; musicians, engineers, librarians, journalists, etc. It was catered with great Mexican food and, of course, there was "live" music. A makeshift stage was created on a patio deck. The band was comprised of Ry Cooder on guitar, his son Joachim on drums, Mickey Lespron (formerly of El Chicano) on guitar, Rene Camacho on bass, and a keyboardist. They backed up Little Willie G. and Ersi, Mary, and Rosella Arvisu. The music was great and a good time was had by all. Other musicians in attendance were Jim Keltner, Flaco Jimenez, and Rudy Salas. I had a great time sitting at Jim Keltner's table with his mother, wife Cynthia, and George Harrison's sister in law, Linda. They're all wonderful and down to earth people. I understand the "Chavez Ravine" album is doing very well in the marketplace and is receiving universal critical acclaim. I heard it recently received three and a half stars out of a possible four from Rolling Stone Magazine. It was also featured on ABC's "Nightline" television show. Ry Cooder and Little Willie G. were interviewed for the piece, which had newsworthy significance because of the recent controversial supreme court decision regarding eminent domain. Now the supreme court has ruled that your house and land can be taken away, not only for freeways and parks as in the past, but for private commercial development that is deemed for the public good. Hopefully, this decision will be overturned, but it's probably not likely.
The "Chavez Ravine" album will do a lot by introducing Chicano music and artists to a wider audience and to help the cause of Chicano music in general. The artists on the record will also get some well- deserved attention and recognition. The album also sheds some light on the almost forgotten story and plight of the people of the barrio of Chavez Ravine. Ry Cooder is a brilliant and talented visionary who marches to his own drum. It took a person of his genius to create a record that is both socially significant and immensely entertaining. Some of the songs are in English, some in Spanish, some bilingual, and others use Chicano slang (Caló). Many styles of music are represented on this record, yet it has a natural flow and cohesiveness. The final recording sessions for both my dad and Don Tosti are on this album, which serves as a monumental memorial for both great artists. I highly recommend this record. It'll take you to places you've never been and you'll be glad you went.


Video and Photo Gallery Below


Ry Cooder talks about the "Chavez Ravine" album



Ry Cooder "Chavez Ravine" Photo Gallery

At the Recording Studio

Ry Cooder, Mark Guerrero, and Lalo Guerrero

Ry Cooder, Mark Guerrero, Lalo Guerrero, and Flaco Jimenez

Ry Cooder, Mark Guerrero, Lalo Guerrero, and Flaco Jimenez

Lalo, Mark & Flaco
(hear no evil, see no evil, speak no evil)
At the CD Release Party

Mickey Lespron, Ersi Arvisu, Flaco Jimenez, Ry Cooder & band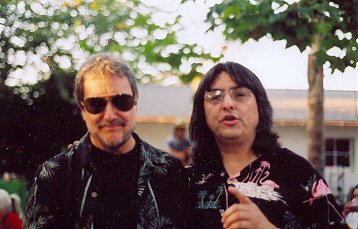 Jim Keltner & Mark Guerrero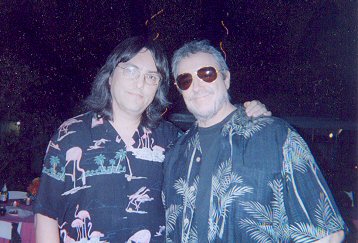 Mark Guerrero & Jim Keltner
(photo by Cynthia Keltner)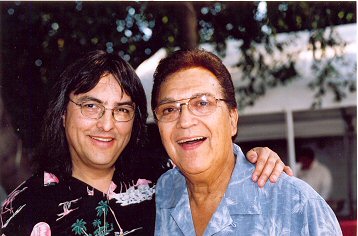 Mark Guerrero & Gil Bernal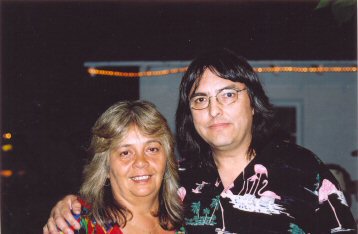 Ersi Arvisu & Mark Guerrero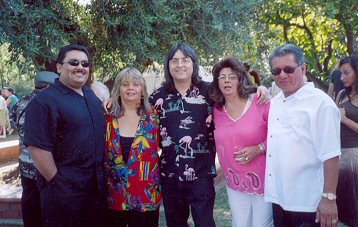 Rene Camacho, Ersi Arvisu, Mark Guerrero,
Rosella Arvisu, and Mickey Lespron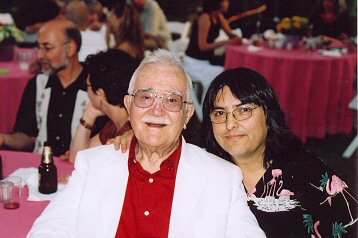 Frank Wilkinson & Mark Guerrero
(Frank Wilkinson was Director of the Housing Authority and for the people of Chavez Ravine)

Previous page || Go to next miscellaneous writings article
Return to miscellaneous writings index page