Book Review: "Mexican and Chicano Music"
by Mark Guerrero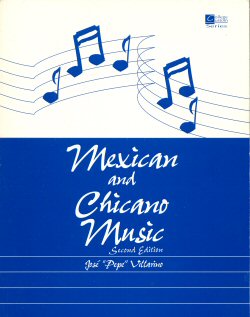 On a visit to a bookstore called Latino Books y Más in Palm Springs, California in January 2006, I came across a book called "Mexican and Chicano Music" by José "Pepe" Villarino. It's published by McGraw Hill/ Primus Custom Publishing and was originally published in 1996, with a second edition in 1999. After browsing around the web for information about the author, I found he has a PhD in ethnomusicology and has some serious academic credentials. He also teaches at San Diego State University. Dr. Villarino writes most of the essays in the book, but there are a few written by others. The book has a lot of good and useful information about the history and evolution of Mexican and Chicano music, beginning with a chapter on Pre-Cortesian music and its instruments. Pre-Cortesian refers to the time before the invasion of Mexico by Hernán Cortez. There are also illustrations of what the instruments looked like. The second section is on the romance corrido. It describes the subject matter covered by such corridos and the structure and form, with many examples with translations. The third section covers the subject of Mexican music. This section has chapters on the evolution of the mariachi, el son Jarocho, nineteenth and twentieth century opera, la rondalla, drug smuggling ballads, and much more. The fourth and final section covers Chicano music. The two chapters in the book that are most germane to my website are chapters 13 and 14. Chapter 13 is about my dad, Lalo Guerrero. The title is: "Lalo Guerrero: The Father of Chicano Music" and its written by Robert Rivera Ojeda. Chapter 14 is entitled "Chicano Rock and Roll" and its author is Al Carlos Hernandez. First I would like to say I'm pleased and grateful my dad was deservedly included in this book, however there were many inaccuracies I would like to correct here. I think it's important because books such as this are used as a text book or a research tool and therefore taken as history. Chapter 14 also had a few inaccuracies I would like to address for the record. I would like to say here that inaccuracies or incorrect facts can occur in many ways. Sometimes the source material that is used is not correct. Sometimes there are typographical errors or mistakes made later by editors. In the case of my dad's chapter, it says the writer interviewed my dad for it. In his eighties, my dad was getting very forgetful and sometimes gave incorrect information himself. Therefore, I'm not criticizing these writers, but trying to set the historical record straight. My corrections and clarifications can be read below this article. Overall, "Mexican and Chicano Music" is a valuable resource full of information that I found useful and interesting. Chapter 15 includes lyrics of many children's songs in English and Spanish. The book is available on the web at campusi.com and at amazon.com at the link below.
For the Record
The following entries are corrections and clarifications of information given in the chapter entitled "Lalo Guerrero: The Father of Chicano Music" by Robert Rivera Ojeda. Below those entries are a few items on the chapter entitled "Chicano Rock & Roll" by Al Carlos Hernandez.
Page 97- My dad is first mentioned on this page in chapter 10, also written by Robert Rivera Ojeda. In paragraph three, my dad's 1940s band is referred to as Lalo Guerrero y Los Siete Lobos. The correct name of the band was Lalo Guerrero y Sus Cinco Lobos.
Page 105- On this page in chapter 11, written by Jose "Pepe" Villarino, by dad's song "Pancho Claus" is referred to as "The Night Before Christmas." "Pancho Claus" was a parody of the poem "'Twas the Night Before Christmas." The music was written by my dad.
Page 149- This is the first page of the chapter on my dad, Lalo Guerrero by Robert Rivera Ojeda. In the first paragraph there is a list of record companies for which my dad recorded. Last on the list is Barrio Libre. Barrio Libre was not and is not a record company, but my dad's song publishing company, which my brother Dan and I inherited when my dad passed in 2005.
In the second paragraph it says that my dad's song "Canción Mexicana" was recorded in 1941 by Lucha Reyes and Lola Beltrán. It makes it sound as if both singers recorded the song in 1941. Lucha Reyes did in fact record the song in 1941, but Lola Beltran recorded some 20 years later. In the same paragraph there is a list of "parodies" written by my dad. Many of the songs listed here are not parodies, but comic songs. Parodies are when an existing song's melody is used with a new comic or satiric lyric. Many of the songs listed here are indeed parodies, but the following are not. "La Minifalda de Reynalda" is a comic song with original words and music about a girl named Reynalda who wore a mini skirt. The song has norteño and rock sections and is very funny. "No Way Jose" is a comic song with a message about immigration and the pitfalls an undocumented worker might encounter north of the border. The words and music are both original so it is also not a parody. "No Chicanos On TV" is another comic song with a message about discrimination of Chicanos in the television industry. It also has original words and music and is not a parody. "There's No Tortillas" is a parody, but it is incorrectly called "No Tortillas." "La Tamalada" is also not a parody, but a Spanish version of "Saturday Night Fish Fry" by Louis Jordan. My dad wrote the Spanish lyric. "El Bolerito de la Main" is also not a parody, but a Spanish language version of "Chattanooga Shoeshine Boy." My dad wrote that lyric as well. "Elvis Perez" is part parody in that the song contains within it parodies of "Hound Dog," "Don't Be Cruel," and "Heartbreak Hotel." However, the melody of the song itself is original. "Pancho Claus" is part parody because it is based on the poem "'Twas the Night Before Christmas, however, the music is all original.
In the third paragraph, regarding my dad's song "Pancho Lopez" it says "he admits that his intention of this recording was to poke fun at the role models of the main stream." The word should be stereotypes, not the phrase role models. The song contains some Mexican stereotypes such as the lazy Mexican. It should be remembered and considered that my dad wrote that lyric as a comedy piece in 1955, long before political correctness was even dreamed about.
Page 150- In the first paragraph, regarding Walt Disney and "Pancho Lopez" it says "representatives of Walt Disney contacted him and claimed that the "Pancho Lopez" melody was stolen from Disney. They settled out of court and to give an idea of the settlement, it must be noted that after this, Lalo went into business and opened Lalo's Place in Los Angeles." First of all, it was obvious that the melody to "Pancho Lopez" was the melody of "Davy Crockett," which was extremely popular at the time. So it wasn't suggested that my dad was trying to steal the melody. It's just that since my dad and his producer, Manuel Acuña, thought that the record would sell only a couple of thousand copies locally, they didn't bother to contact Disney and get the licensing. When "Pancho Lopez" became a huge mainstream hit, Walt Disney's representatives contacted my dad and his producer and asked them to come to the newly opened Disneyland for a meeting. When they arrived, they were ushered into a room with Walt Disney himself, who was very nice to them. Mr. Disney told my dad that he had written a very clever parody, but that they owned the music to the song. He handed them contracts with the proper licensing and giving Disney his rightful percentage of the song. My dad and Mr. Acuña with a sigh of relief signed the contracts and that was the end of it. There was no settlement of any kind. However, the money my dad made from the record royalties did buy him his night club, which was called "Lalo's," not "Lalo's Place" as the book called it. The incorrect name of the night club may have been taken from Steve Loza's book "Barrio Rhythms," which is listed as a source. "Barrio Rhythms" also referred to the night club as "Lalo's Place." It's a minor point, but it is incorrect. I think "Lalo's Place" makes it sound like a corner dive, rather that the big and very nice nightclub where men showed up in suits and ties and the women dressed elegantly.
The heading of paragraph two says my dad's parents were "bi-cultural." This is not true. They were born and raised in Mexico. When they came to the United States they lived in Tucson's Barrio Libre, a place where English was not a necessity. They lived out their entire lives, which extended to their late eighties, in Tucson and never learned or spoke English, nor did they really assimilate to any noticeable degree. In the second paragraph, it says that my dad's father was a boilermaker in the Mexican Navy and later worked in Tucson for Southern Pacific Railroad. This is true, but I would like to clarify and add that he was also a boilermaker for the railroad. He used his same trade, which is how he got the job with the railroad. He was an excellent boilermaker, which is something that is a skill needed by the railroad industry. In paragraph four, it refers to my dad's song about his barrio as "Viejo Barrio." The correct title is "Barrio Viejo." In paragraph five, it says that my dad graduated from high school and moved to Los Angeles. My dad did not graduate from high school. He dropped out in the eleventh grade to earn more money because of the effects of the Great Depression. It also states that my dad wrote and recorded "Canción Mexicana" in 1938. He wrote it in 1937 and never officially recorded the song himself. It was first recorded by Lucha Reyes, who was introduced to the song by a friend of my dad's. The book also states in the same paragraph that he married my mom in 1939 and "during his first years of marriage he tried Mexico City again." Yes, they were married in 1939, but didn't try moving to Mexico City again until 1958, 19 years later.
Page 151- In paragraph three, it says that my dad was signed by an Imperial Records talent scout as a soloist. In fact, he was first signed as a member of his trio, which was to be renamed the Trio Imperial after they were signed. He recorded some 75 songs with the trio before he became a soloist for Imperial Records.
In paragraph four, my dad's night club is once again referred to as "Lalo's Place," instead of the correct "Lalo's." In the same paragraph it states that my dad married his second wife Lidia and had two children, Joe and Patricia. Joe and Patricia were children that Lidia had from a previous marriage. My dad adopted them and raised them to adulthood. The book also mentions in this paragraph that my dad had planned to open a night club in Tucson, but on the way there stopped to visit a booking agent friend in Rancho Mirage, who was looking for a singer for a new restaurant. What actually happened was my dad had already put $10,000 dollars down on a night club in Tucson. However, when he tried to buy a liquor license, he found out the owners of the building he was in were Mormons and wouldn't allow alcohol in their building. The deal fell through and he was heading back to Los Angeles when he stopped in the Palm Springs area and called his friend, who happened to be an agent. She had been looking for him because a new beautiful Mexican restaurant called Las Casuelas Nuevas in Rancho MIrage was looking for a singer/guitarist. She knew he would be great for the job. He wound up working there as a home gig for 24 years.
In paragraph five, it says that my dad's squirrel characters, Las Ardillitas, were recorded 1962-69. He actually recorded Las Ardillitas from 1962 into the early 1990s. The book says he recorded 40 LPs. It was closer to 25 LPs. It also says that they were known as Lalo Guerrero y Las Ardillitas. They were actually called either Lalo Guerrero y Sus Ardillitas or Las Ardillitas de Lalo Guerrero. Another clarification is that my dad first recorded Las Ardillitas on Manuel Acuña's small label called Colonial. They were released on that label from around 1962 through 1968. Sometime in the late 60s, Manuel made a deal with EMI- Mexico to release Lalo Guerrero y Sus Ardillitas in Mexico. For the first few years, EMI- Mexico released compilations of existing recordings from the Colonial Records catalogue. Around the mid-seventies, my dad started to record new albums for EMI with Las Ardillitas and continued to do so into the 1990s. I wrote the music to around a dozen of the Ardillita songs, played on many of the tracks, and sometimes sang as one of the Ardillitas during this period.
Page 152- In paragraph three, it says my dad "began his acting involvement in Boots and Saddle (1935) with Gene Autry. The correct title of the film was "Boots and Saddles" and my dad did not act in that movie, nor most of the others mentioned in this paragraph. He appeared with his group Las Carlistas, singing in the background and then walking into the foreground. In all the early movies mentioned, it was with a musical group or as a solo singer that he appeared. He didn't do any acting until he had a small part in Luis Valdez' "La Pastorela" in 1991. He also had one line in "The Good Girl" with Jennifer Aniston in 2002.
In paragraph five, it says "In September 1998 Lalo Guerrero Avenue was created in Palm Springs, California." It was actually called Avenida Lalo Guerrero and it is in Cathedral City, California, a city adjacent to and east of Palm Springs. It also says that "His elementary school will be changed to Lalo Guerrero School in 1999." What happened was they took the facade of his elementary school and built an elderly housing project on the property, which was named "Lalo Guerrero Barrio Viejo Elderly Housing." It opened in 2003 and is a fully occupied and beautiful place.
The entries below are regarding the chapter entitled "Chicano Rock & Roll" by Al Carlos Hernandez.
Page 156- In the first paragraph, it says "The most notable band was a band fronted by Carlos' younger brother Jorge called Malo, which has success in 1972." Jorge Santana was one of two guitarists in the original Malo. He never fronted the band, nor was he the leader. The band was first fronted by Richard Bean, who was the chief songwriter and the lead singer on Malo's biggest hit, "Suavecito." Arcelio Garcia, who was also a founding member, has been fronting the band for decades, except for a brief time in the mid-seventies when East L.A.'s Little Willie G. fronted the band as its lead singer. In paragraph two, it refers to Malo's other founding lead guitarist as Abel Zurate. On the next page his name is spelled Zuarte. It could've simply been two misprints, but his name is Abel Zarate.
In paragraph four of the same page, it refers to El Chicano's lead guitarist as Mickey Leperson. His name is Mickey Lespron. In the same paragraph it states that "El Chicano had a minor record deal and toured the country several times but never achieved superstar status." The fact is El Chicano were signed to a major record deal with MCA Records and released seven albums with the label in the seventies. They scored two national hits with "Viva Tirado" in 1969 and "Tell Her She's Lovely" in 1973.


Previous page || Go to next miscellaneous writings article
Return to miscellaneous writings index page