Book Review: "The Oracle of DelFi"
by Mark Guerrero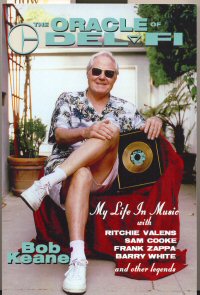 Bob Keane accomplished many great things in the music industry. He did it all with small independent record companies such as Keene, DelFi, Donna, Mustang, and Bronco, and managed to get hit records with many artists. He managed to do it because he had a great nose for recognizing talent. Keane was the first to release records with legends Sam Cooke, Ritchie Valens, and Frank Zappa. However, he's been somewhat of a controversial figure in regard to his reputation among many that his business practices were less than honorable. Whether this view is justified or not, I don't know. However, "The Oracle of DelFi" gives Bob Keane a chance to tell his side of the story. It's an incredible story of a man who made a fortune, lost it, and got it back more than once. Barry White, who in the early part of his career was an artist and A&R man for Bob Keane's Bronco label, was quoted in his autobiography as saying that Bob Keane had the worst karma of anyone he'd known. When you consider that three of Keane's biggest artists died tragically in their prime (Sam Cooke, Ritchie Valens, and Bobby Fuller), Barry may have been right. Bob Keane talks about all three tragedies in some detail in the book. Bob Keane's life story is very interesting, on both the business and personal sides. He went through many ups and downs on both fronts. Since the book is also well written, it's hard to put down. I read it in a couple of days. The book also gives us a glimpse into the workings of the recording business in all its aspects; recording, distribution, marketing, radio promotion, touring, etc. It also exposes the dark underbelly of the business, i.e. the unsavory characters and practices that abound.
Although I think it's an excellent book, I must say I was disappointed that there was no mention of my friend, Chicano rock pioneer Chan Romero, other than his name being listed with Keane's roster of artists at the end of the book. Chan, who wrote and recorded several songs for Bob Keane's DelFi Records, had a lot of success with his song "The Hippy Hippy Shake." Chan recorded it with Bob in 1959 and the song was subsequently performed by no less than The Beatles. It even appeared on their "Live at the BBC" album in 1994. "The Hippy Hippy Shake" was also a number one hit in England for the Liverpool band, The Swingin' Blue Jeans in 1965 resurfaced in the late 80s by the Georgia Satellites, who recorded it for the soundtrack of the hit movie "Cocktail." Chan had been signed to DelFi in the wake of Ritchie Valens' death as his heir apparent. Chan's story is far too interesting to be omitted. Also left out of the book were East L.A.'s 60s artists The Romancers and Little Ray Jimenez, who had some success with Bob Keane. The Romancers' "Do the Slauson" instrumental album and Little Ray's "I Who Have Nothing" both sold well. He merely mentions The Sisters and Ronnie & the Pomona Casuals, also East L.A. artists of the 60s who recorded for Keane's labels. I and I'm sure many others would've been very interested to have read something about all these East L.A. Chicano artists in the book. Another important person who is not mentioned in the book is manager/producer Billy Cardenas, who took most of the Chicano artists to Bob Keane in the first place. Billy Cardenas was my manager in the 60s too and I've interviewed him for an article on my website. I also know and have interviewed Max Uballez of The Romancers, Ersi Arvizu of The Sisters, Little Ray, and Ronnie of Ronnie & the Casuals, who all have told me that Billy took them to Bob Keane. Bob Keane does mention that he worked with a lot of Chicano artists and prides himself on the fact that he was color blind in his musical pursuits. It's true that he also worked with many black artists. It must be acknowledged that Bob Keane definitely advanced the cause of Chicanos in rock with the success of Ritchie Valens, the aforementioned artists, as well as the Carlos Brothers, Rene and Ray, Rosie & Ron, and the Heartbreakers. Eddie Davis was also recording Chicano artists at the time such as the Premiers, Cannibal & the Headhunters, the Blendells, and many others on his own record labels. Bob Keane and Eddie Davis were the two main figures of the era who helped put Chicano artists into mainstream rock and should rightfully be recognized as such.
In 1979, Bob Keane was interested in releasing one of my recordings called "On the Boulevard." He took me to lunch at a Japanese restaurant in Century City, California and we discussed it. I had other parties interested in it as well and wound up going in another direction. The song wound up falling through the cracks and not getting released at all at that time. Given Bob's track record and ability to break artists, I probably made the wrong decision by not letting him run with it. In any case, it means a lot to me that the man who "discovered" Ritchie Valens, Bobby Fuller, Frank Zappa, and other greats thought I had written and recorded a hit record. Despite my disappointment of what was left out of the book, I highly recommend "The Oracle of DelFi."

Bob Keane & Mark Guerrero (2003)
(Bob Keane of DelFi Records produced and managed Ritchie Valens)

Previous page || Go to next miscellaneous writings article
Return to miscellaneous writings index page