The 7th Annual Cesar E. Chavez Awards Dinner
March 28, 2007
by Mark Guerrero
On Thursday night, March 28, 2007, the 7th Annual Cesar E. Chavez Educating the Heart Awards Dinner took place at the Biltmore Hotel in downtown Los Angeles. There were about 600 people in attendance. Educating the Heart Awards were given to California governor Arnold Schwartzenegger and Father Gregory J. Boyle. A posthumous Lifetime Achievement award was given to my late father, Lalo Guerrero. My brother Dan accepted the my dad's award and gave an excellent speech about my dad and his relationship with Cesar Chavez and the UFW. My dad wrote and recorded songs about Cesar, the farm workers (campesinos), and the movement in the 60s. Examples are the following recordings: my dad's compositions "El Corrido de Delano" and "Que Vuelvan Los Braceros" and Tomas Gamez' composition "El Corrido de Cesar Chavez." Cesar Chavez attended and spoke at the 1992 tribute to my dad, "Lalo & Amigos" at the McCallum Theater in Palm Desert, California. In his speech he acknowledged my dad's contribution to the movement and how his songs helped give the UFW inspiration and added strength in their struggle. A clip of Cesar's 1992 comments, was shown to the audience at the Biltmore on this night. The clip came from the portion of the documentary "Lalo Guerrero: The Original Chicano" that touches on Cesar and the UFW. Dolores Huerta, who was in attendance at the Biltmore, was also featured in a clip paying tribute to my dad's music and its positive effect on the movement in some of its darkest hours in the 60s.
Arnold Schwartzenegger was given an award because of his leadership role in aiding farm workers and their communities. For example, in 2004, he supported and signed a UFW-sponsored pesticide bill aimed at protecting farm workers from harmful pesticides. In 2005, he enacted a heat stress regulation that instituted life-saving protections for farm workers working under extreme heat conditions. In 2006, he reinstated funding for the celebration of Cesar Chavez Day that would support 80 service clubs in middle schools, ensuring a year-round celebration of Cesar's legacy through service to communities throughout California. In January 2007, Governor Schwartzenegger acted swiftly in mobilizing the State to provide desperately needed food, shelter and financial assistance to the tens of thousands of farm workers whose lives were devastated by the freeze and to avert a Katrina-type crisis in California's Central Valley. In his speech, the governor said how much he admired Cesar Chavez and his courage and dedication to his cause. Schwartzenegger's father in-law, Sargent Shriver, who founded the Peace Corps, Job Corps, Head Start, and other great programs, also admired Cesar and his work. The governor said that Shriver, who's an in-law in the Kennedy clan, had many conversations with him about Cesar. The late Robert Kennedy supported Cesar by sitting next to him during part of Chavez' hunger strike in the 60s. So I guess you can say, support for Cesar and the UFW runs in the family. It's admirable that the governor does what's right where the farm workers are concerned without regard to political party lines. Father Gregory J. Boyle received an award for his work as director of Homeboy Industries, an employment referral center and economic development program. Established to reach out to at-risk and gang-involved youth. Homeboy Industries is a nationally-recognized center that assists 1,000 people a year in re-directing their lives. By seeking to address the root causes of gang violence, Homeboy Industries creates opportunities so that at-risk youth can plan their futures and not their funerals. "Nothing stops a bullet like a job" is the guiding principal. Father Boyle gave a wonderful speech that enlightened and amused the audience. He's a very hip man with a great sense of humor.
After my brother Dan's acceptance speech on behalf of our dad, I performed a four song set with an acoustic trio. It was the same trio I used for the gala of the Lalo Guerrero Film & Arts Festival in Palm Desert the previous week; Lorenzo Martinez on guitarron, Alex Armstrong on requinto, and yours truly on vocals and nylon stringed guitar. We performed my song "The Ballad of Lalo Guerrero" and my dad's "El Corrido de Delano," "Los Chucos Suaves," and "El Chicano." I sang lead vocal on the first three songs and my brother came up and sang lead on the closer ("El Chicano"), a song about Chicano pride. There were big screens on either side of the stage visually projecting our set throughout the large room. After the show I was invited by Armando Elenes, SJV Regional Director, to perform at a UFW event in Delano, California in May. I told him I would be honored to do so. It was a very inspirational day night for all in attendance. I met the new President of the UFW, Arturo Rodriguez, Cesar's son Paul Chavez, Cesar's brother Richard, and other Chavez family members. I had the honor and opportunity to meet Cesar Chavez himself on two occasions. In the mid-eighties on his birthday at an event at the convention center in Bakersfield, California, and in 1992 at the aforementioned "Lalo & Amigos" show in Palm Desert. Being in his presence on those occasions, I found that he had a calm and spirituality about him that was palpable. Like Ghandi before him, along with that calm and spirituality was a courage and strength that enabled him to achieve what he did against great odds. I believe Cesar is one of the great men of the 20th century and am always happy to be of service to his legacy and the cause of the UFW.

Program Cover Below


Event Program Page Below

(Photos below by Christina Rose)


Rehearsing in Hotel Room
(left to right- Lorenzo Martinez, Mark Guerrero, Dan Guerrero, and Alex Armstrong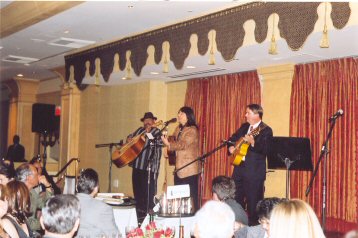 Lorenzo Martinez, Mark Guerrero & Alex Armstrong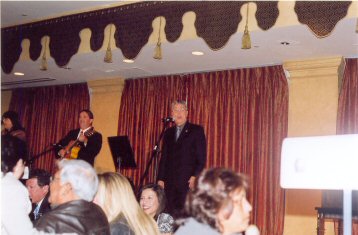 Dan Guerrero Singing "El Chicano"
(left to right-
Mark Guerrero, Alex Armstrong, and Dan Guerrero)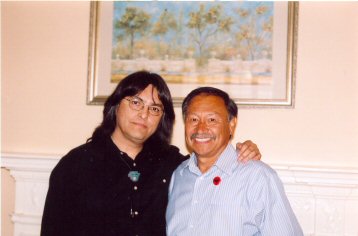 Mark Guerrero & Arturo Rodriguez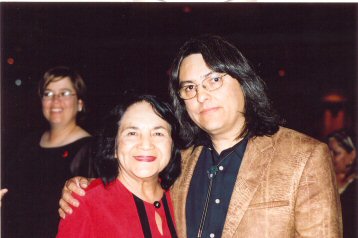 Dolores Huerta & Mark Guerrero
(background left-
Jocelyn Sherman, UFW Internet Communications Director)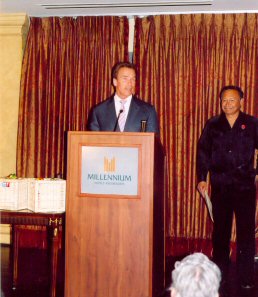 Governor Arnold Schwartzenegger
(on right- Arturo Rodriguez)

(photo by Christina Rose)

Governor Arnold Schwartzenegger
(left- Arturo Rodriguez, right- Iliana Garcia)

(Photos Below by Christina Rose)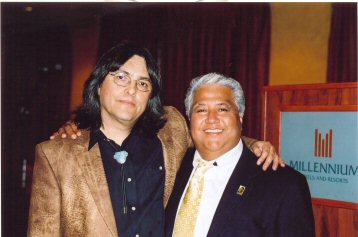 Mark Guerrero & Paul Chavez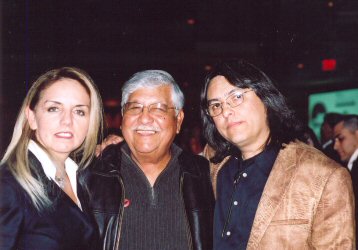 Julz Chavez, Richard Chavez, and Mark Guerrero
(Richard is Cesar's brother)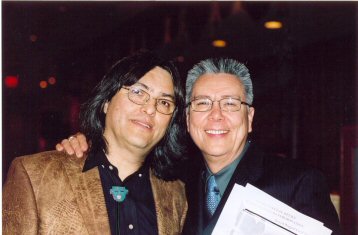 Mark & Dan Guerrero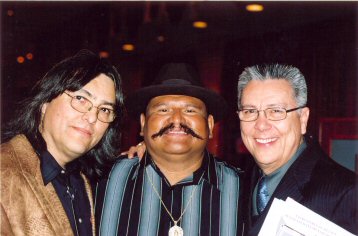 Mark Guerrero, Lorenzo Martinez, and Dan Guerrero

Previous page || Go to next miscellaneous writings article
Return to miscellaneous writings index page