Shin Miyata: Chicano Music's Bridge To Japan
by Mark Guerrero
Shin Miyata, who was born and grew up in Japan, is the owner of Barrio Gold Records/Music Camp, Inc., based in Tokyo, Japan. He has spent a great deal of time, energy, and a lot of his own money over the past twenty years to bring Chicano music to Japanese audiences. Shin has reissued CDs by artists such as Malo, Tierra, East LA Sabor Factory, Slowrider, Mezklah, Ray Sandoval, Queztal, The Village Callers, Eastside Connection, and various compilations. He's also released CDs by rap artists such as Aztlán Underground, Kemo, and Aztlán Nation. In addition, he writes articles on Chicano music and culture for various publications in Japan, including a regular column called "Que Pasa Aztlán" for Lowrider Japan. Yes, you read that right, there is a Lowrider Japan and it has around 70,000 readers. You may wonder how this all came to be. Well, according to Shin, it all started with him being a regular watcher and fan of the 1970s American television show "Chips," starring Eric Estrada, which was very popular in Japan. He liked Eric's character of Ponch and particularly enjoyed the episodes and scenes that depicted Chicanos and the barrios. He liked the way they dressed, talked, and customized their cars. He thought they were cool. This led him to movies such as "Boulevard Nights," starring Richard Ynequez and Danny De La Paz. When Shin graduated from high school, he went to a Japanese University and studied Spanish. Rather than go to Spain to practice and study the language like most other Japanese students would normally do, Shin took a year off from school and headed directly to East L.A.! Orale! The year was 1984 and he was only 21 years of age. He wound up living in the City Terrace and Boyle Heights districts of East L.A. Through a reverend from Japan he met at an English school in L.A., he was introduced to the first of two Chicano families with whom he lived during this period. Through people in these adopted families, he was introduced to the low rider car scene, which included cruising Whittier Boulevard listening to Chicano music. In 1985, he attended a Cinco de Mayo concert at Lincoln Park in East L.A., where he saw Los Lobos at a time they were just starting to break out in a major way.
When Shin returned to Japan, he began writing articles on Chicano music and culture. He interviewed Chicano artists including Rudy and Steve Salas of Tierra, Poncho Sanchez, Freddie Fender, Tejano musician Estevan Jordan, and others for articles in various publications. Eventually Shin got a job with a major record company, BMG Records Japan, for whom he worked for many years. The day came however, when Shin decided to take the leap and leave his secure job with benefits to start his own record company. Barrio Gold Records was born. One of the most significant contacts for Shin in East L.A. was Hector Gonzalez of the Rampart Record Group. Hector inherited the Rampart Records collection of records, publishing, and archives from "Eastside Sound" impresario of the 60s and 70s, Eddie Davis. This collection includes recordings by legendary East L.A. groups Cannibal & the Headhunters, The Premiers, The Blendells, El Chicano, Little Ray Jimenez, The Village Callers, The Mixtures, Little Willie G., The Jaguars with the Salas Brothers, and many others. Shin has reissued various albums and compilations from this treasure trove of seminal and historic recordings. Historic as they are, the excitement and energy still emanate from these recordings thirty and forty years after they were originally recorded. In November of 2006, Shin brought Quetzal to Japan for a promotional tour. (Quetzal is part of a new generation of East L.A. bands who came up in the 90s.) Shin, who's very interested in a cultural exchange between Chicanos and the Japanese, has his own theory as to why many Japanese youth are attracted to Chicano music and culture. He's been quoted as saying that despite their obvious differences, Chicanos and the Japanese similarities. "They have similar skin tones and are both physically small in stature. They also share a love for music, mellow with sabor. Japanese youth also relate to things against the mainstream, against authority, especially because their society is so structured and controlling." Shin has virtually dedicated his life to Chicano music and culture. He loves it himself and wants to share it with others in Japan. Although there are many fans of Chicano music and culture in Japan, at this point it's still a small niche market so he does a lot of work for little monetary gain. Hopefully, it will continue to grow which will be great for Chicano music and for Shin, who deserves any rewards that come to him for his efforts.
I first heard about Shin Miyata from Hector Gonzalez about ten years ago in the mid-90s. I heard about him again around 2005 from Frank Miranda, the owner of the internet radio station from which my show "Chicano Music Chronicles" was broadcast, crnlive.com. Both Hector and Frank had nothing but good things to say about Shin and his efforts to promote Chicano music in Japan. In October of 2007, after performing with El Chicano at the Gibson Amphitheater in Universal City, CA at the benefit for the Garfield High School Auditorium, I was talking with Sal Rodriguez, the drummer for War. He mentioned that I should really meet Shin Miyata. Apparently Sal was the first Chicano music contact with Shin. A week or so later I got an e mail from Shin saying that he enjoyed my Chicano music website and the articles I've written and wanted to know if there was something we could do together to benefit Chicano music. I wrote him back that I would be interested to talk with him about some possibilities. We agreed to meet a couple of months later when he would be in Southern California. Here's the itinerary for his trip that included our meeting. Shin flew to Mexico City for a Chicano film festival, took a bus north to Tucson, Arizona, rented a car, and drove to Los Angeles. Palm Springs, where I live, is on that route 100 miles east of Los Angeles. So Shin drove directly to my house so we could meet in person. After meeting in person for the first time and breaking the ice so to speak, Shin interviewed me on video for a book he's writing on Chicano music for Japan. I, in turn, interviewed him about his life and career for my website. He gave me two of his recent CD releases, "Eastside Soul Classics 1963 - 1977" and "Eastside Connection," which is an album recorded by Hector Gonzalez' band of the same name in the late 70s. The packaging for his releases are first class, with booklets with photos and detailed information on the artists and the songs. Shin puts tender loving care into his releases because he cares and believes the music deserves the respect. I gave him two of my CDs, "Tango," an album I made with my 70s rock/country rock band of the same name, and my solo anthology album, "On the Boulevard."
I took Shin to dinner at a unique restaurant in Palm Springs that serves Mexican and Japanese food, a rare combination in one restaurant. The architecture and motif of the restaurant was Japanese because it used to be exclusively a Japanese Restaurant. It also has a great view of the beautiful mountain that overlooks downtown Palm Springs. After dinner, we went to my gig downtown at Las Casuelas Terraza, where I regularly perform in an outdoor nightclub with my band, Hot Rox. Shin had a drink and enjoyed the music in the beautiful setting that includes palm trees, a tropical thatched roof bar, stage, and overhangs, lovely women, and fresh air to breathe. I know it sounds idyllic, but it is. After hearing a couple of sets, Shin left for his two hour drive to Los Angeles, the final destination of his latest trip. He figures he's made the trip to California from Japan around fifty times to date. I found Shin Miyata to be a very nice and personable guy who is passionate and sincere about Chicano music and culture. He and his story are nothing short of extraordinary. Hopefully, our meeting is just the beginning of a mutually beneficial relationship that will further advance the cause of Chicano music in Japan. Shin asked me to mention that he's interested in finding out about any Japanese-American and Chicano interactions in East L.A., for example, Japanese-Americans who were members of bands, car clubs, or part of the Chicano movement. If you have any relevant information on the subject, please e mail me at info@markguerrero.net and I'll pass it on to Shin. You can visit Shin Miyata's Music Camp Entertainment website at: m-camp.net.
This article is based on an interview by Mark Guerrero with Shin Miyata in Palm Springs, CA on December 9, 2007.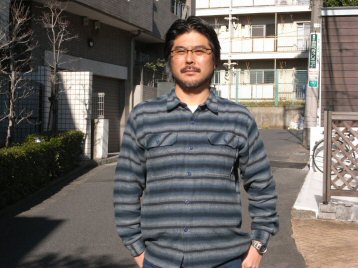 Shin Miyata (2008)

Previous page || Go to next miscellaneous writings article
Return to miscellaneous writings index page