Nineteen Eighty Four: My Band 1968-70
by Mark Guerrero
Just as my first teenage band, Mark & the Escorts, changed with the times becoming The Men From S.O.U.N.D. in the mid-60s, the latter band evolved into Nineteen Eighty Four later in the decade. (I took the name from the title of the classic book by George Orwell.) Of course, there were changes in personnel with each evolution, with the exception of the core group of Rick Rosas on bass, Ernie Hernandez on drums, and yours truly on guitar and vocals. Nineteen Eighty Four, sometimes 1984, started as a four piece band with Tony Rodas on Farfisa organ joining the aforementioned core group. Tony was two or three years younger than the rest of us, but was a talented and formally trained keyboard player. Nineteen Eighty Four was happening at the height of the psychedelic era. Some of the popular bands at the time were Cream, Vanilla Fudge, and Iron Butterfly. Of course, we were playing songs by these groups, while I was starting to improve as a songwriter. I had a couple of songs I had written that I wanted to record so the four of us pooled some money together to buy some studio time. Since one of our favorite bands, the Buffalo Springfield, had recorded at Gold Star Studios in Hollywood, that's the one we chose. Phil Spector and The Beach Boys also had often used the studio so we knew we were going to be recording on sacred ground. Since I still have the original receipt, I know the bill for our four hour session was $187.43 plus $36 for the dubs. We split the cost four ways which came to $55.86 a piece. Since we were just kids, ages 16 to 19, they gave us their third string engineer, a nice guy by the name of Pete, who also did janitorial work at the studio from what we later heard. Nonetheless, he did a good job and seemed to like us and the music. On Monday, September 30, 1968, Nineteen Eighty Four bravely entered the hallowed halls of Gold Star Recording Studios and recorded two of my songs, "Baba" and "Amber Waves." In the latter song I used part of the familiar phrase from "America the Beautiful" ("for amber waves of grain") for the title, which in this case described a girl's amber colored wavy hair. Generally, I pride myself on writing songs that don't sound dated or of a particular time frame, however, "Amber Waves" totally sounds like something written and recorded in the psychedelic late 60s. Despite my slight embarrassment regarding this song and recording, particularly the lyric, many people seem to like it even today because it does have that garage rock style and sound of that era. I think it's musically and melodically interesting, but the lyric and style of the song are definitely at home only in that era. I played lead guitar on my Fender Esquire through a Mosrite fuzz box, which provided a sustain so I could play in the style of Eric Clapton of Cream. Tony played organ much like you might hear on an Iron Butterfly record of the era. It was truly a psychedelic song, not only musically, but it was about an acid trip. "Baba" was a more commercial sounding record about the joys, effects, and benefits of music. The track had a lot of youthful energy and excitement. Being very well rehearsed when we entered the studio, we walked out with a finished product on a 45 rpm acetate within the four hours we'd reserved.
Meanwhile, we were playing gigs around Los Angeles, most of which were filled with hippies, black lights, strobe lights, and the distinct smell of cannabis in the air. We played one memorable gig at the Pasadena Civic Auditorium on the bill with a pretty big recording band of the time, The Fraternity of Man. We did another show opening for the Illinois Speed Press, which featured guitarists Kal David and Paul Cotton. I got to know Kal decades later in the new millennium when we were both living and gigging in Palm Springs, California. Paul Cotton went on to become lead guitarist for one of my favorite bands, Poco. We also did a couple of shows on the bill with a popular local multi-racial hippie band called Euclid Avenue Express. We also played gigs in East Los Angeles with some of the Eastside bands who had also evolved into the new musical era. Perhaps the highlight of our live performances as Nineteen Eighty Four was a week long stint at the famous Gazzarri's on the Sunset Strip. We shared the bill with a great band, who was also the Gazzarri's house band, The Abstracts. The guitarist of The Abstracts was Tony Peluso, a very talented musician. In the 70s, he was to become the lead guitarist with The Carpenters and for a time with Seals & Crofts. In 1981, and again in 1982, Peluso would engineer some sessions for me as a solo artist, backed by a band. He also produced the '82 sessions. Tony Peluso proved to be as talented an engineer and producer as he was a musician. A couple of years later I worked with Tony again when I sang background vocals and he engineered an album for a friend of mine named Jack D'Amore, renamed Jack Street for his RCA album, produced by the legendary Dennis Lambert of Lambert and Potter fame. The songwriting duo of Lambert and Potter wrote many hits in the 70s including "Ain't No Woman Like the One I've Got" by the Four Tops, "One Tin Soldier" by Coven, "Don't Pull Your Love" by Hamilton, Joe Frank, and Reynolds, and many others. Lambert also produced "Rhinestone Cowboy" by Glen Campbell and "Baby Come Back" by Player. While working on the Jack Street album, Dennis Lambert was interested in one of my songs for some major artists he was going to produce, but my lawyer blew the deal out of the water much to my disappointment. (Jack D'Amore, aka Jack Street, and I had played together with a great band, The Emeralds, in East L.A. in 1970.) Getting back to Nineteen Eighty Four's stint at Gazzarri's in 1968, we played six nights, alternating sets with The Abstracts, and were paid a mere $200 for the whole week for the whole band. We got $50 each for the week. Bands were willing to play for such wages because of the prestige and exposure of playing at that venue on the legendary Sunset Strip. Nowadays, bands have to pay to play at many venues on the strip!
The recordings Nineteen Eighty Four had done at Gold Star Studios led us to a recording contract with Kapp Records in 1969. Kapp was a division of MCA. (A year later El Chicano surfaced on Kapp Records with their hit "Viva Tirado." They went on to record six albums for the label between 1970 and 1976.) Our road to Kapp Records started with me pounding the pavement with our acetate in hand. I saw an ad which led to an appointment with manager/producer Stan Silver in Hollywood. Stan thought the recordings were sufficiently good that he hooked us up with producer/engineer Tommy Coe. This turned out to be very lucky for us because Tommy took us under his wing and taught us a lot about recording. Tommy was also a guitarist and songwriter, who had played for some name country artists and had written a hit song called "How the Time Flies" for Jerry Wallace. Stan or Tommy, I'm not sure which one, decided it would be a good idea for us to record a song by a hit songwriter. Tommy brought us a song called "Three's a Crowd" by L.T. Josie. Josie had written "Midnight Confessions," which was a huge hit the year before for the Grass Roots. "Three's a Crowd" was a good song and very commercial like "Midnight Confessions," but I didn't want to sing it. It wasn't really my style and I wanted to sing my own songs so I gave it to our drummer, Ernie Hernandez, to sing lead on it. Ernie had a very strong voice, which stylistically suited the song very well. Maybe it was crazy of me to not sing lead on my first record on a major label, but that's the way it happened. It seemed like a good idea at the time as they say. The sessions for "Three's a Crowd" took place at American Studios in Studio City, California, where Three Dog Night and Steppenwolf were recording hits at the time with producer Richard Podolor. Podolor also owned the studio. We laid down the basic track for "Three's a Crowd" in a couple of hours. I played a 12-string solid body Rickenbacker guitar on it. A few days later, Tommy added a great horn section to our track that really enhanced the record. Ernie then laid on a strong lead vocal and Tommy did a great mix. The recording still sounds good today. Tommy Coe used my song "Amber Waves," which had already been recorded at Gold Star, for the B side of the record, but had to edit it down to the accepted single length of the time, under three minutes. He had to splice out two of my guitar solos to do so.
A few months later, we did a second single for Kapp, the aforementioned "Baba" and another song I had written in the meantime, "No Matter How Long It Takes." In this case, we re-recorded "Baba," rather than using the one we did at Gold Star. These sessions took place at H& R Studios in Hollywood, owned by recording engineer Dave Hassinger, who had recorded the Rolling Stones when he was at RCA Studios in the mid-60s. I believe Hassinger engineered our sessions at H&R. After laying down the basic tracks, Tommy Coe, as he did on our first single, added a horn section to both tracks. This second single was never released, but I have a test pressing of it. We were very young and didn't know exactly what happened with our Kapp Records deal. We didn't get any promotion that I'm aware of and didn't do any touring, or any TV or radio shows for that matter, to promote our first single. We also didn't have a manager, which could've helped. "Three's a Crowd" sounds like it could have been a hit record, but for whatever reason it didn't happen for us. At this point, Tommy Coe and Stan Silver parted ways. Stan Silver found success a year or two later managing the career of his wife, country singer Donna Fargo. Donna, a very nice lady, was a teacher at the time we were recording "Three's a Crowd" and would sometimes be at the studio correcting school papers in the studio office. Donna's first major hit was "Happiest Girl In the Whole U.S.A." She followed that success with another hit, "Funny Face," and went on to have a long and successful career. Tommy Coe still liked our band, musically and as people, so he decided to continue working with us. Tommy secured us some recording time on speculation so we could record an album. Our keyboard player, Tony Rodas, left the band at this time to go to college so we decided to continue as a trio.
What was to follow was six months of recording eleven of my songs. With Tony gone, I played various keyboard parts on the sessions when needed, along with my guitar and lead and background vocal parts. Tommy was working as an engineer at a studio on Santa Monica Blvd. in Hollywood, called Mark Studios. (Four years later when we were recording for A&M Records as Tango, we were to record in the same building at that time called Clover Studios.) Tommy had made arrangements with Mark Studios that we could record any time the studio was not in use by paying customers. As a result, we usually were recording from midnight to 6 or 8 a.m. During those kind of hours we could take our time, light one up, eat, and hang out during the sessions. We spent many hours in the studio during the six months and had a great time. It was also like going to recording school for free. Tommy taught us how to lock in a groove and many other musical and technical aspects of recording. He was like a father figure to us and we loved him. Looking back on it, it's amazing he put so much time into our projects with no pay. I'm forever grateful for what Tommy Coe did for us. Another bonus for us was we got to meet so many incredible artists who were also working at the studio or dropping in for a visit. The list includes, Buck Owens, Larry and Merle (the rhythm section for Loggins & Messina), future record producers Michael Omartian and Bill Schnee, and Hal Davis, producer of the Jackson Five. We once saw the Jackson Five, who were kids at the time, running around the studio.
The songs we recorded were "Lila, Love Me Tonight" (a funky rocker), "Dare I Touch You, Marylou?" (a song about Jamaica), "Not There At All" (an up tempo country song), "Waiting Too Long" (a rock shuffle), "Out In the Cold" (a slow country song with three part harmony that we would re-record in 1972 during the Capitol sessions), "Give Me Time" (an up tempo three part harmony song with a country flavor), "Tugboat Tommy" (a song for Tommy Coe, who had been a tugboat captain for a while), "Do You Know What's Really On My Mind?" (a Poco-style up tempo two beat country song), "Falling Dove" (a complex ballad with a lot of harmony and some time changes), "Little Lonely Lady" (a one verse ditty), and "Big Brother Blues" (a reference to the Big Brother watching over us all in George Orwell's book). I sang lead vocals on all the tracks with the exception of "Waiting Too Long," on which Ernie Hernandez sang lead. When we finished the album, Tommy went out and tried to secure us a record deal, but couldn't make it happen. One of the problems was that as talented a singer/songwriter and engineer/producer he was, he was not a business man or salesman. With the disappointment of not getting a record deal, Nineteen Eighty Four broke up in 1970. Ernie and Richard continued on for a while recording with Tommy and playing with other musicians. I was able to get a solo record deal with legendary record producer Lou Adler on Ode Records, Adler's record label. The two songs I recorded for Ode were two that I had first done with Nineteen Eighty Four and Tommy Coe, "Lila, Love Me Tonight" and "Dare I Touch You, Marylou?" Two years later Richard Rosas, Ernie Hernandez, and I reunited to record my two solo singles on Capitol Records and an album and single in 1973 and '74 with A&M Records, under the band name of Tango. Guitarist John Valenzuela was also on the Capitol sessions and a member of Tango. Richard Rosas eventually played extensively with Joe Walsh and Neil Young. In 1989, almost twenty years after working with Tommy Coe and not having seen him in all those years, I found out he was living in Florida and was no longer in the music business. I called him and thanked him for all he did for me and the band and he was touched and as happy to hear from me as I was to talk with him again. I've since lost touch with Tommy and would like to connect with him again.
During our sessions with Tommy Coe at Mark Studios, we also recorded a single backing up my father, Lalo Guerrero. The songs we recorded were his second version of his parody "Pancho Claus," that this time mentioned The Beatles, rather than Elvis, and "The Burrito," a comic rock song in Spanish about a guy and his sweetheart sharing a burrito. The chorus says: "I'll bite on one end, you'll bite on the other, we'll meet in the middle and then oh brother, we'll kiss and kiss until we smother, and when it's gone, we'll order another." The session went so well that my dad's producer, Manuel Acuña, hired us to play on a session with a Mexican trio called Los Apolo, who were recording for the same label my dad was with at the time, Cap Latino, a Latin subsidiary label of Capitol Records. It was interesting because our electric guitar, bass, and drums were on the same track with a Mexican acoustic trio and it worked great. The "A" side of the record was a rock song in Spanish called "Que Linda Eres." It became a hit record and got a lot of play on Spanish language radio stations. Another record that comes to mind that we did with my dad, was his Spanish language version of Ray Steven's comedy song, "Guitarzan." A fun and funny part of this session was that besides his lead vocal, my dad had to simulate a gorilla doing a vocal bass line, Tony Rodas did the Tarzan shout, and I had to simulate a woman's voice with a high falsetto. During the early parts of the song each of us had our solo part doing our character. Near the end of the record we're all doing our parts at the same time.
I'm writing this story of my late '60s band almost four decades after it happened. I'm pleased that after all these years, the Nineteen Eighty Four recordings still sound good to me and that we were able to make these records while still in our late teens. It was a special time and a great learning experience for me and the other guys in the band.
mp3 Sound Byte
Three's a Crowd || Amber Waves || No Matter How Long It Takes
Nineteen Eighty Four 1969
Ernie Hernandez lead vocal on "Three's a Crowd"
Mark Guerrero lead vocal on "Amber Waves" and "No Matter How Long It Takes"

Nineteen Eighty Four Gallery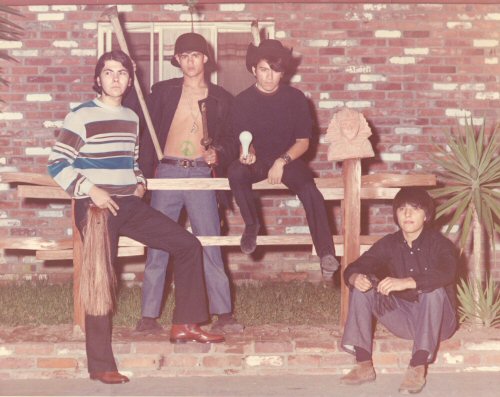 Nineteen Eighty Four (1969)
(left to right- Rick Rosas, Tony Rodas, Ernie Hernandez, and Mark Guerrero)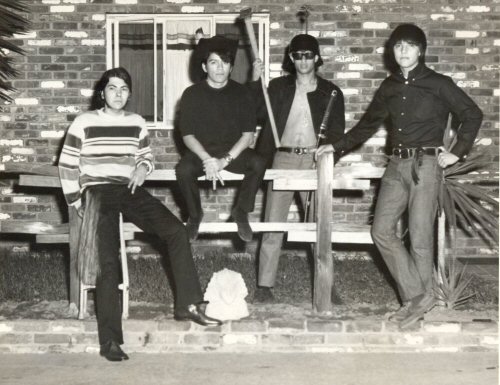 Nineteen Eighty Four (1969)
(left to right- Rick Rosas, Tony Rodas, Ernie Hernandez, and Mark Guerrero)

1984 at the Montebello Armory
December 27, 1968
(Euphoria's bassist was Conrad Lozano, later to be a member of Los Lobos and Strange Brew had Ron Reyes and Art Sanchez, later to play with Yaqui, Cannibal & the Headhunters, and yours truly.)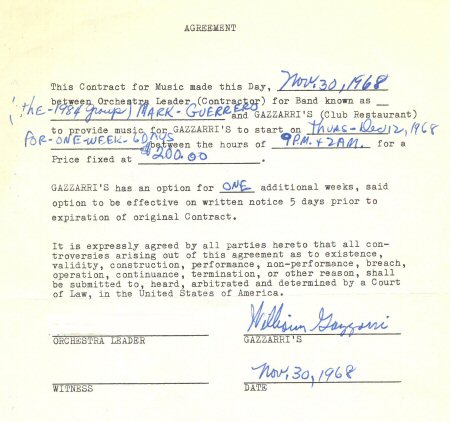 Contract for 1984's stint at Gazzarri's
November 30, 1968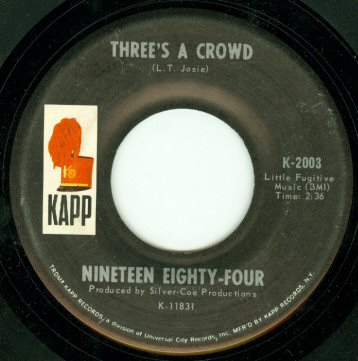 Nineteen Eighty Four - 1969
Kapp Records
A side - "Three's a Crowd" - songwriter (L.T. Josie)
Lead vocal - Ernie Hernandez
Produced by Silver-Coe Productions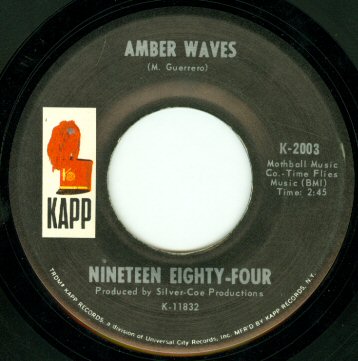 Nineteen Eighty Four - 1969
Kapp Records
B side - "Amber Waves" - songwriter (Mark Guerrero)
Lead Vocal - Mark Guerrero
Produced by Silver-Coe Productions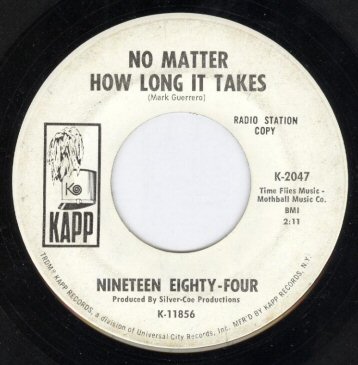 Nineteen Eighty Four - 1969
Kapp Records
A Side - "No Matter How Long It Takes"
6 photos below at Mark Studios (1969)

Tommy Coe & Mark Guerrero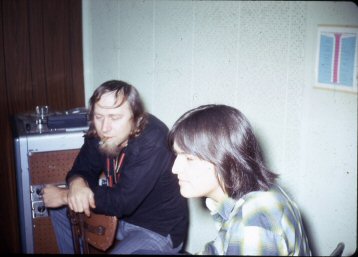 Tommy Coe & Mark Guerrero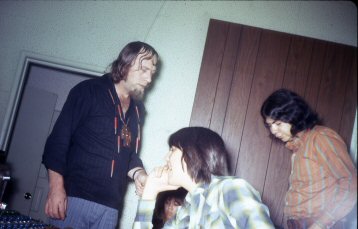 Tommy Coe, Mark Guerrero, and Rick Rosas
(undentified girl in background, lower center)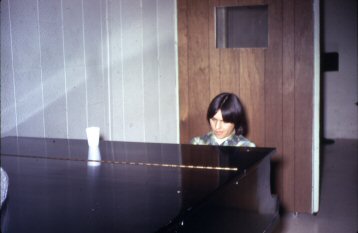 Mark at the piano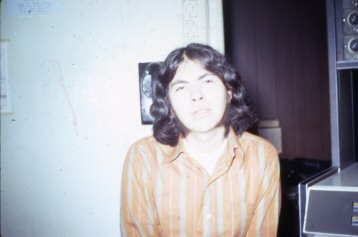 Rick Rosas

Random photos from the period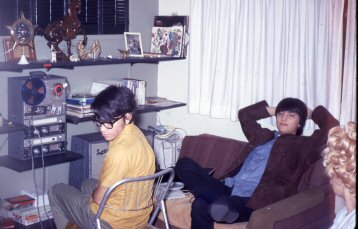 Ernie & Mark
(at Ernie's house with his Roberts tape recorder)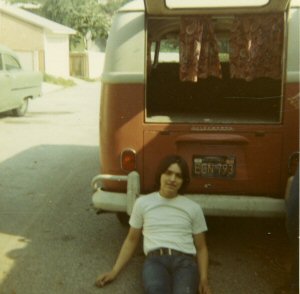 Mark
(with Richard Rosas' Volkwagen van)

Ernie & Mark
(on roof of rehearsal garage)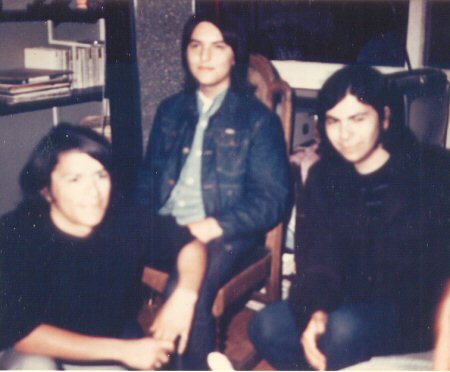 Ernie, Mark and Richard c. 1969

Previous page || Go to next miscellaneous writings page
Return to miscellaneous writings index page