Corrido Conference
Santa Barbara, California: May 8, 2008
by Mark Guerrero
On May 8, 2008, my brother Dan and I presented a lecture/performance at the University of California Santa Barbara in the McCune conference room. It was part of a three day corrido conference, which took place on May 8th, 9th, and 10th. The event, which was organized and hosted by Maria Herrera-Sobek and assisted by Theresa Peña, was in memoriam and honoring our dad, Lalo Guerrero, and Professor Guillermo Hernandez. My brother and I screened parts of my brother's documentary, "Lalo Guerrero: The Original Chicano," spoke, took questions, and performed some corridos. I sang my dad's "El Corrido de Delano" and my tribute song to my dad, "The Ballad of Lalo Guerrero." I accompanied myself on acoustic guitar on both songs. "El Corrido de Delano" was written and recorded by my dad in the mid 60s in support of Cesar Chavez and his farm worker's movement. My song, "The Ballad of Lalo Guerrero," although in English is a corrido, in this case the story of a person's life and career. Generally speaking, a corrido is a musical composition that tells the story of a person, place, or event. We closed our presentation with my dad's "El Chicano," a corrido about joys as well as the trials and tribulations of being a Chicano. My brother did the vocal and I accompanied him on acoustic guitar. Our presentation was very well received.
Also making presentations on our day were the following speakers, whose names are followed by their lecture topics: Jose Limon- "Singing it Back to the People: The Discursive Ride of Gregorio Cortez"; journalist Elijah Wald- "Vuelva Cyberpalomita: You Tube Gives New Life to the Corrido Tradition"; Jaime Nicolopulos- "Ignacio Parra: New Light on an Old Corrido"; and Luis Leal- "Corrido de Lucio Blanco's en su Contexto Historico." What amazed me was the level of knowledge about corridos that these and other people in the audience possessed. Many of them were Anglo-Americans, who spoke Spanish fluently and could quote chapter and verse about a certain corrido written in 1890 about a certain person or event. They would quote lines from various verses and translate them. Many of these people attend the annual corrido conference every year, traveling to the host city wherever that may be. The previous conference took place in Monterrey, Mexico. Also making a fine musical presentation on our day was Manuel Unzueta, who teaches at Santa Barbara City College, He played guitar and sang a couple of corridos. Also attending the conference was Chris Strachwitz, owner of Arhoolie Records, who was also a sponsor of the event. I had spoken to him on the phone on various occasions over the years, but had never met him in person until this day. Also in attendance was Peter Garcia, a professor currently teaching at U.C. Santa Barbara. I had often spoken with him on the phone regarding an entry I wrote for the Encyclopedia of Latino Popular Culture back in 2003. At the time he was teaching at the University of Northern Arizona and was involved in putting the two volume set together for Greenwood Press. This was the first time I'd met him in person as well. I also had the pleasure of meeting Christine Chavez, a granddaughter of Cesar Chavez, who was also in attendance. Half way through the program, we had an excellent buffet lunch at the faculty club, where we were able to mingle and have some good conversation with participants and audience members. After the day's presentations, we all went to the Davidson Library for a reception hosted by Sal Guereña, Director of the California Ethnic and Multicultural Archives (CEMA), which is based there at the Davidson. My brother Dan and I had donated my dad's archives to CEMA several years ago and have since started our own archives at the facility. At the reception was a great collection of people; writers, scholars, musicians, poets, and academics. There was another buffet, music, and some great conversation at the reception and everyone seemed to have good time.
In the evening most of the conference participants went to the Casa de La Raza a few miles from the campus. There was a band and many people getting up and singing corridos. Earlier at the conference I had met a nice woman by the name of Dorothy Littlejohn, who after hearing my performance of my song, "The Ballad of Lalo Guerrero," asked me if she could video tape me singing the song at some point in the day. I told her I was going to the Casa de La Raza that evening so we agreed to meet there. We found a quiet room away from the music and revelry in the main room that we could use for the taping. She used one camera and somehow made the video look like a three camera shoot. We did it in two takes. Days later she edited the tape and put it up on you tube. After the taping my brother and I, accompanied by the aforementioned Elijah Wald and another writer whose name I've forgotten, went to a nice restaurant/bar in downtown Santa Barbara and had some liquid refreshment and some more conversation. Participating in the corrido conference was an inspiring and fulfilling experience for my brother and I. We worked well together and enjoyed the whole event.
Whenever I make a trip, be it for a concert or lecture, I try to tie in as much as I can within reason to make the most of the journey. In this case, I had a chance to meet with four different people who lived in the general area. On the way up to Santa Barbara via Los Angeles, I met with Moses Mora, one of the originators of the Tortilla Flats Mural Project in Ventura that includes a painting of my dad with his Trio Imperial and a glossy tile with another image of him taken from a publicity photo circa 1950. (The artist who created the mural is MB Hanrahan.) The mural, which is made of state of the art materials, is on both sides of a freeway underpass near Figueroa and Thompson. It also depicts many people who were displaced from their barrio, Tortilla Flats, for the building of a freeway system in the late 40s and through the 50s. Their story parallels what happened to the people displaced from Chavez Ravine to make room for Dodger Stadium. The mural also has paintings of other musical artists who performed at the Green Mill Ballroom in Ventura during that time frame, artists representing a wide range of styles such as Chuck Berry , Fats Domino, Spade Cooley, Bob Wills & the Texas Playboys, the Lawrence Welk Orchestra, Harry James, Luis Alcaraz, Maria Victoria, and Lalo Guerrero. Moses showed me the mural and told me some of the stories behind the images. We then had coffee at a restaurant next to the mural and enjoyed some conversation about Chicano music, Bob Dylan, rock & roll, and other topics of mutual interest. It turns out we know some people in common, including the recently deceased Native-American actor/musician/activist, Floyd Red Crow Westerman.
While in Santa Barbara, I met with two local singers on the first night. I had corresponded with them for awhile via e mail and featured their CDs on my website's "What's New" pages. Pepe Marquez and Anthony Prieto are both very good singers who live in the Santa Barbara area. We had dinner at a down home Mexican restaurant that featured some good Mexican and Chicano artwork, including a large painting of Frida Kahlo. The food was also excellent. We talked about various subjects including the music scene in Santa Barbara, which sometimes does not welcome them with open arms. In one case they were told they wouldn't be hired because the owners are afraid they would attract "the element." Pepe and Anthony both also occasionally do shows outside of the area, including in Los Angeles, where they've been on the bill with Tierra and other top Chicano artists. They're good guys with talent whose work I will continue to support on my website. On my way back to Palm Springs, I stopped in Ventura and met with Dan Pollock for breakfast. Dan was a guitarist for The Mixtures in the early 60s. The Mixtures, although from the Ventura area, are often considered part of the "Eastside Sound" because they were managed by Eddie Davis, who also managed and/or recorded East L.A. artists such as Cannibal & the Headhunters, The Premiers, The Blendells, The Jaguars with the Salas Brothers, and many more. The Mixtures are often included in CD compilations with East L.A. groups and their music fits right in. I had interviewed Dan for an article I wrote on The Mixtures for my website a couple of years before and had spoken to him on other occasions prior to the interview. This was our first opportunity to meet in person. Dan is a very bright man with a very interesting personal story, which includes having played for a time with Ike & Tina Turner. We had some great conversation over breakfast, mostly about music. My trip to Santa Barbara was very worthwhile and fulfilling because in addition to the great corrido conference, I got to meet with Moses, Pepe, Anthony, and Dan.


Santa Barbara/Ventura Photo Gallery
Photos below at UCSB Corrido Conference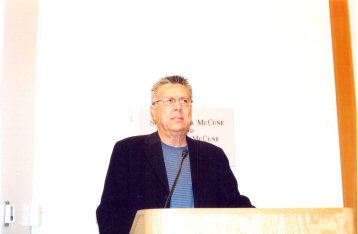 Dan Guerrero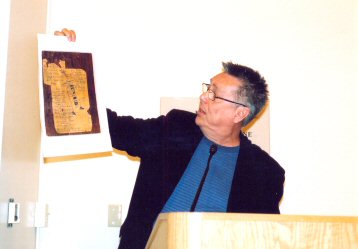 Dan Guerrero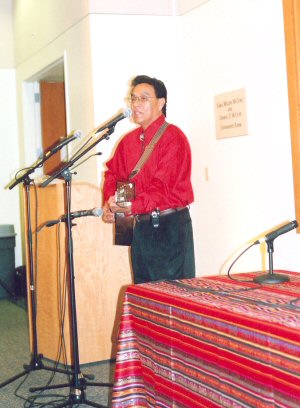 Manuel Unzueta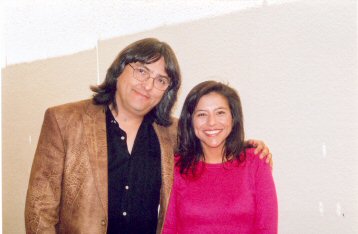 Mark Guerrero & Christine Chavez
(Christine is a granddaughter of Cesar Chavez)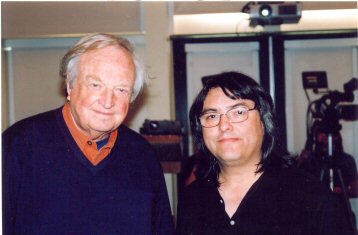 Chris Strachwitz & Mark Guerrero
(Chris Strachwitz is the owner of Arhoolie Records)

Santa Barbara photos below


Pepe Marquez, Mark Guerrero & Anthony Prieto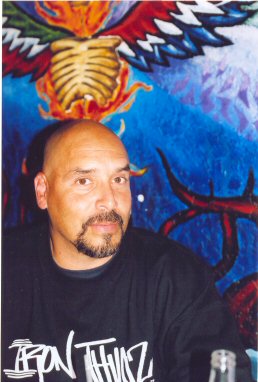 Anthony Prieto

Ventura photos below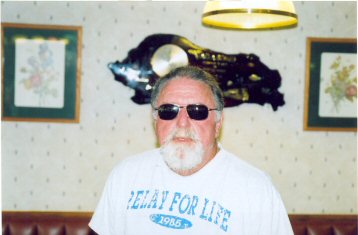 Dan Pollock

Mark Guerrero & Dan Pollock
Sections of the Moses Mora / MB Hanrahan Tortilla Flats mural below
(Mora and Hanrahan were project originators, Hanrahan is the artist)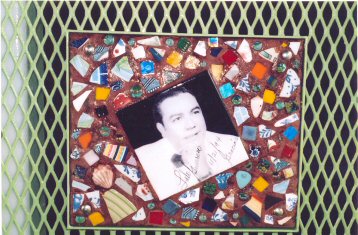 Lalo Guerrero publicity photo in tile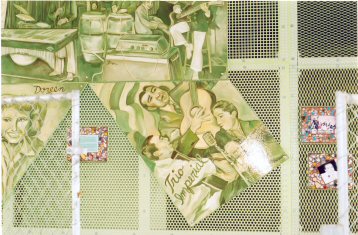 Lalo Guerrero's Trio Imperial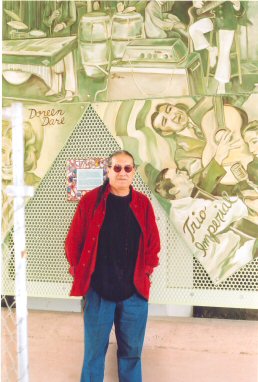 Moses Mora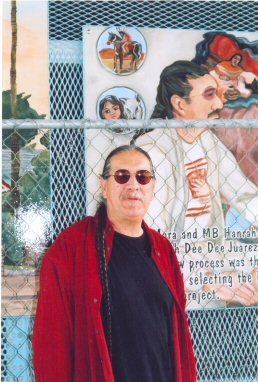 Moses Mora

Painting of The Estrada Brothers Band

(Cougar Estrada, current drummer with Los Lobos is the son of one of the brothers.)

Jerry Garcia waving top center

(Jerry Garcia & the Grateful Dead frequently played in Ventura)

Related Links
Click here to see a video of the corrido conference beginning with Dan & Mark Guerrero's presentation.
Click here to see a slide show of the images from the Tortilla Flats mural on the website of the artist,
MB Hanrahan.
Pepe Marquez Facebook page: Click here


Previous page || Go to next miscellaneous writings page
Return to miscellaneous writings index page