Tribute Concert For 1960s Record Producer Billy Cardenas
February 11, 2001
By Mark Guerrero
In December of 2000, I got a phone call from pioneer Chicano rocker Chan Romero about putting together a tribute concert/party for 1960s record producer, Billy Cardenas. Billy had managed or produced 60s East L.A. bands such as, The Premiers, The Blendells, Cannibal & the Headhunters, The Romancers, Ronnie & the Casuals, The Jaguars with the Salas Brothers, (my teenage band) Mark & the Escorts and many others. Chan had worked with Billy in the 90s when they recorded an excellent, yet still unreleased, album that features Chan Romero backed by The Premiers. Chan felt compelled to do the tribute because it was deserved and because Billy's life had taken a detour away from music business due to personal circumstances. I agreed to help so we set about organizing the event. We secured a night club, the Hacienda del Desierto in North Palm Springs, California, set a date, and began to call musicians to participate. The Premiers, who scored a hit with Billy in 1964 ("Farmer John"), agreed to come as did Cannibal & the Headhunters, (my dad) Lalo Guerrero, and my current cover band Hot Rox. Not only was it a tremendous show, but it was a great reunion of musicians and friends. Everyone performed for no pay since it was a non-profit event.

The Sunday afternoon concert started with The Premiers, who did some cover tunes including "Viva Tirado" by El Chicano, as well as their own classic recordings "Duffy's Blues" and "Farmer John." My band came on next performing "Get Your Baby" and "Dance With Me" by Mark & the Escorts, "Los Chucos Suaves" and "Tin Marin de do Pingue" by my dad, and two of my later recordings "Orale" and "On the Boulevard." We then had the pleasure of backing up Chan Romero, who rocked the house with several of his songs including "My Little Ruby" and his hit song "The Hippy Hippy Shake." My dad came on next with his acoustic guitar, backed by guitarist Skip Heller and me. He did some of his pachuco songs such as "Chicas Patas Boogie" and "Muy Sabroso Blues," his classic love song "Nunca Jamas," and his hilarious parody "There's No Tortillas," sung to the melody of "It's Now or Never." Cannibal & the Headhunters came on last, resplendent in classy suits and doing classic doo wop and r & b songs, including their 1965 hit "Land of a Thousand Dances." Cannibal & the Headhunters today feature two original members Robert "Rabbit" Jaramillo and Richard "Scar" Lopez, along with two excellent young vocalists, Gregory "Lucky" Esparza and Cesar "DJ" Lemus. Their harmonies are perfect and each member is a strong lead singer in his own right. Their back up band is great, led by legendary guitarist, Andy Tesso. Andy is considered the father of East L.A. guitar players, pioneering the funky Fender Telecaster style that influenced many a guitarist in East L.A. in the sixties, including me. At the time he played lead guitar for the Romancers, whose instrumental album "Slauson Shuffle" still sounds great today. It's available of DelFi Records (P.O. Box 69188, Los Angeles, CA 90069) or www.del-fi.com.

Billy Cardenas had a great time and was touched by the event. He came up and sang a couple of songs with Chan and my band and later danced a routine with Cannibal & the Headhunters. It was a very emotional day and there was great camaraderie between the musicians. Two of the members of Mark & the Escorts showed up as well; our drummer, Ernie Hernandez, and sax player, Trini Basulto, who played a couple of songs with my band and also with the Premiers. Legendary Chicano musician/composer Don Tosti also attended. At the end of the show, Lawrence Perez of The Premiers, Andy Tesso, Chan, Robert Jaramillo and yours truly, said some kind words on the microphone about Billy Cardenas and Billy closed the day with his own stories about the old days.

After the show many of us went over to my gig at Las Casuelas Terraza in downtown Palm Springs, including Chan and Billy, and the party continued. The beautiful outdoor Mexicantina was a great setting for Cannibal & the Headhunters as they did their show again to great response. The "Tribute to Billy Cardenas" event did wonders for Billy and got him fired up to produce records again.
Update: In 2001, Billy Cardenas co-produced a CD with Bob Keane on the legendary Del-Fi record label, Ritchie Valens' former producer and label, with a young band called Brown Bag. Read more about it on my "what's new" page.
See Flyer for the Billy Cardenas Tribute Concert Below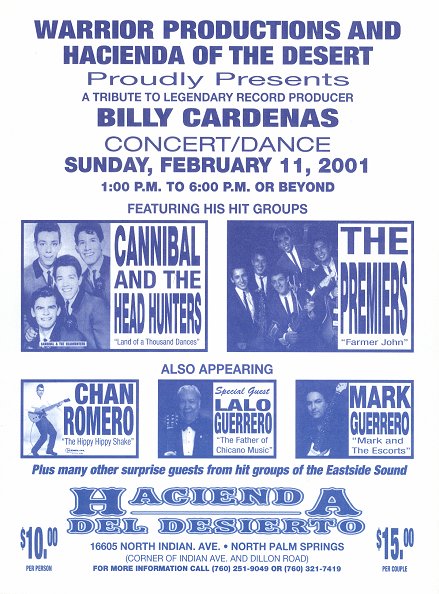 Previous Page || Go to next miscellaneous writings article
Return to miscellaneous writings index page