Mark & the Escorts Reunion: February 21, 2009
by Mark Guerrero
On February 21, 2009, my first band, Mark & the Escorts, performed together publicly for the first time since 1966! The event was "Blowout 2009," a garage rock bash which included thirteen bands. Of the thirteen, only two were Chicano bands, Mark & the Escorts and Thee Ambertones.. The other thing both bands had in common was we both originated in East L.A. in the 1960s. We were also the only two bands with members in their 50s and 60s. The other bands all looked to be in their twenties. The audience was composed of about 90% white hip young people in their early 20s and 10% middle aged Chicanos, an interesting mix. The event was held at the Elk's Lodge in Van Nuys, California. I would estimate the crowd to be between three and four hundred people. Given the demographics of the audience and the other bands on the bill with names such as the The Troublemakers, The Phantom Surfers, and the Tuff Titties, I was a little concerned about how we would be received. As it turned out they responded to us enthusiastically. Thee Ambertones were also well received.
You might ask how this unusual reunion show came about. I had been contacted by the promoter, Jorge Ojeda, in 2007 wondering if I could help him secure The Premiers for his show in 2008. I hooked him up with The Premiers, but at the time they weren't interested in reuniting for a performance. In late 2008, he contacted me again wondering if I could reunite Mark & the Escorts for the 2009 show. I thought about it for a few minutes and realized I could get the original band together and wanted to do so. Within a couple of days, I contacted and got commitments from original members Robert Warren (guitar), Trini Basulto (sax), Ernie Hernandez (drums), and Richard Rosas (bass). With me, that made five of the original six members. (The sixth member was Ricky Almaraz, our singer, who passed away in 1971.) To fill the spot of our Farfisa organist who I'd lost track of, John Valenzuela, the guitarist from my 70s band Tango volunteered to play keyboard with us. Our original bassist Richard Rosas couldn't rehearse do our first two rehearsals because he was on the road with a guy named Neil Young. In his place at those rehearsals was John Valenzuela's younger brother Leo. Richard was able to make our final rehearsal where we decided that Leo and Richard would split the show, each playing half the set. As it spontaneously turned out at the show, they both played the whole set together. Two bass players is unusual, but not unheard of. In this case it worked fine. Jorge and I started thinking about having a second East L.A. band of the '60s for the show. I first called one of The Premiers, who once again declined the offer. Thee Ambertones were arrived at through circumstances. I had performed in a show at the Million Dollar Theater in Los Angeles in October of 2008 for the premiere of the documentary "Chicano Rock: The Sounds of East Los Angeles," where the lead singer of Thee Ambertones, Charlie Muñoz, was singing with Frankie Garcia's Cannibal & the Headhunters. In the audience was the lead guitarist of Thee Ambertones, Henry Hernandez, who I met that night. A month later I was at the retirement party for Bob Hernandez (no relation to Henry), a former guitarist of another East L.A. band of the 60s, the Romancers. Lo and behold, sitting across from me at the party were Henry Hernandez and Charlie Muñoz. I knew that Jorge had heard of Thee Ambertones because he had seen a web page about them on a garage rock website, so I asked them right there if they would be interested in reuniting for "Blowout 2009." They were interested and were able to get the band back together and start rehearsing within a couple of weeks. As it turned out Charlie didn't do the show for personal reasons so he was replaced by Art Hernandez, a singer/guitarist from a band called the In Crowd.
The evening of Blowout 2009, I arrived early while the first band was performing. There were very people there so I was a little concerned about the turnout. By the time we went on around 11 p.m. there was a good crowd a lot of whom gathered right in front of the band. We started our set with "Rock & Roll Music" by Chuck Berry (the Beatles version), on which I sang lead. Next we did "I Wanna Do the Jerk" by another Eastside band of the 60s, Ronnie & the Casuals. Our drummer Ernie Hernandez sang lead on that one as he did back in 1964. We followed that with "La La La La La" by our old friends The Blendells, who scored a hit with the song in 1965. I sang lead on that one. Next we did "Drive My Car" by The Beatles. I chose that song because Ernie and I used to sing it back in 1966 and I wanted to have at least one Beatle song in our set to represent the British Invasion, which was part of what we did in Mark & the Escorts in the 60s. Next we did three songs in succession that we recorded back in 1965 on GNP Crescendo Records, "Dance with Me," "Silly Putty," and "Get Your Baby." I sang lead on "Dance with Me" and the other two songs were instrumentals. Our recording of "Get Your Baby" has appeared on several CD compilations in recent years. We followed the Mark & the Escorts trilogy with "We Gotta Get Out of This Place" by The Animals. Ernie sang lead on that one as he did in the mid-60s. He always sang the heck out of the song and did so again on this night so many years later. I sang lead on the last two songs we did, "Nadine" by Chuck Berry, which we did with a new and funky groove that we all enjoyed, and "Land of a Thousand Dances" by East L.A.'s Cannibal & the Headhunters. Their version of the song was a big national hit in 1965, which led to them touring with none other than The Beatles. It was a good song to close our set with because of its uptempo groove and familiar sing along chorus of na na na na na. The people responded very well to our set, by clapping along, dancing, and shouting their approval between songs. Thee Ambertones followed us with a good set of covers from the mid-60s era and some of their recordings from that time. The crowd responded favorably to them as well and enjoyed their set. After our set we signed a lot of autographs, mostly on our Mark & the Escorts vinyl albums and CDs which were on sale. The album/CD I'm referring to is "Eastside Sound, Vol. 2 on Dionysus Records, which features four Mark & the Escorts recordings from 1965 and features us on the cover.
The experience was really like stepping into a time machine not only because we were playing songs we were playing some 35 years ago, but the p.a. system had no monitors and our drums and amplifiers were not miked. Back then bands showed up at gigs, plugged in and played. Monitors weren't even thought of in those days. Even The Beatles didn't have monitors when they were touring in the mid-60s. Some friends and relatives of ours videotaped our performance albeit not with great quality, most of the video came out distorted as far as the audio was concerned. However, the videos served the purpose of documenting the memorable event for posterity. Another great thing about the experience is the reunion aspect of the event. I hadn't seen Ed Delgado, the bassist for Thee Ambertones in many years. Ed's younger brothers Bobby, Steve, and Joey showed up to catch the show as well. They have their own great band called the Delgado Brothers. Joe McSweyn, bassist for two great East L.A. bands The Evergreen Blues of the 60s and Elijah of the 70s, also showed up to check out the show. Also in attendance was Joe Wissert who produced some of the recordings of my 70s band, Tango, of which John Valenzuela, Richard Rosas, and Ernie Hernandez were also members. A week or so later I spoke with Henry Hernandez of Thee Ambertones on the phone. According to Henry, they enjoyed the experience as much as we did. It was great getting our old bands back together and we enjoyed playing and doing the songs we did back when we were teenagers. We also enjoyed the camaraderie with the band members, some of whom we hadn't hung out with since the 60s. Since we've played together again and are back in touch, who knows, Mark & the Escorts may play again sometime.


Blowout 2009 Photo Gallery
(Photos by Anna Valenzuela)


Trini Basulto, Robert Warren, and Mark Guerrero

Ernie Hernandez & Rick Rosas

Rick Rosas, Leo Valenzuela, and John Valenzuela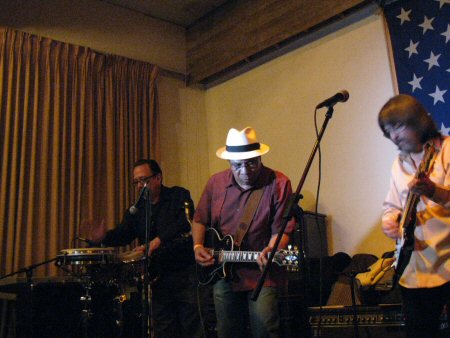 Trini Basulto, Robert Warren, and Mark Guerrero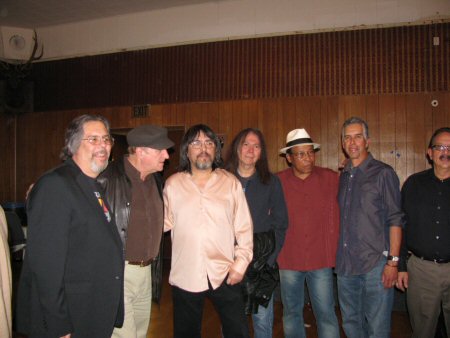 Leo Valenzuela, Joe Wissert, Mark Guerrero, Rick Rosas,
Robert Warren, John Valenzuela, and Trini Basulto
(Joe Wissert produced my early 70s band, Tango.)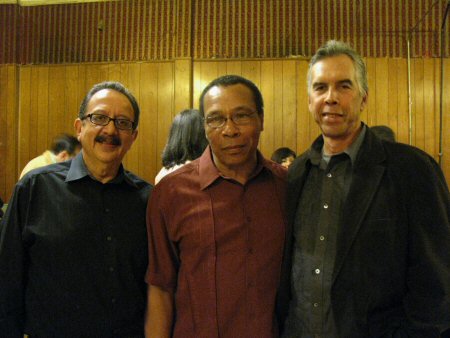 Trini Basulto, Robert Warren, and John Valenzuela

(Photos by Paul Ruiz)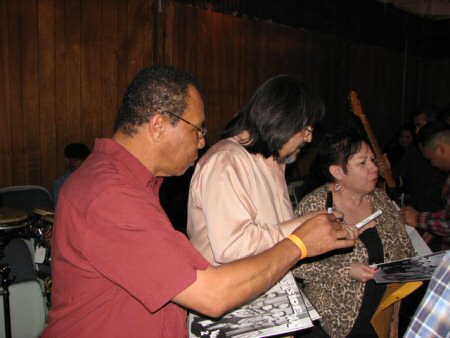 Robert and Mark signing a Mark & the Escorts album and photo

Joe Wissert, Mark, and Ernie Hernandez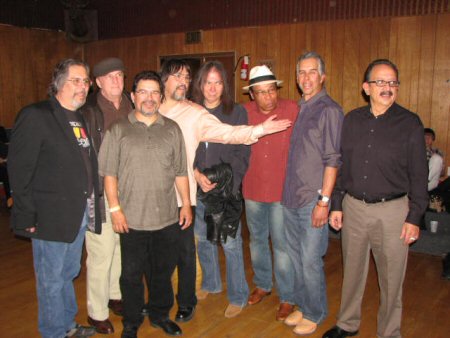 Leo Valenzuela, Joe Wissert, Ernie Hernandez, Mark Guerrero,
Rick Rosas, Robert Warren, John Valenzuela, and Trini Basulto

Mark & Gary Simson
(Gary's is a documentary filmmaker.)

Eddie Delgado, Bobby Delgado, Steve Delgado, Henry Hernandez, and Joey Delgado
(The Delgado Brothers- Eddie was bassist for Thee Ambertones;
Bobby, Steve, and Joey currently play in the Delgado Brothers Band.
Henry Hernandez was guitarist for Thee Ambertones.)
Update
Since "Blowout 2009," Mark & the Escorts have played four other reunion shows:

Paramount Ballroom- March 20, 2011, benefit concert with other reunited East L.A. bands of the '60s.
Crown Plaza Hotel- August 19, 2011, "Tiki Oasis 11," San Diego, California.
Viva Cantina- March 31, 2013, "Real Boss Hoss Blowout," Burbank, California
The Echo- April 13, 2013, "Norton Records Benefit," Los Angeles, California
Mark Guerrero Interview by Jorge Ojeda for the "Blowout 2009" Program
1. Who were your biggest influences?

No question, The Beatles were the biggest. To this day they're an influence and inspiration. I was also influenced by Bob Dylan, Buffalo Springfield, Steely Dan, CSNY, and of course Lalo Guerrero. As a guitarist I was influenced by Chuck Berry, Freddy King, Eric Clapton, George Harrison, Neil Young, and Stephen Stills. As a teenage guitarist with a band growing up in East L.A. I was also influenced by East L.A. guitarists such as Rudy Valona of The Blendells and Andy Tesso of The Romancers.
2. The Beatles? The Rolling Stones? The Kinks? Who's the best in your opinion?
The Beatles of course hands down. One can prefer the Stones or the Kinks better because that's a matter of taste, but those bands can't touch The Beatles in terms of talent, creativity, originality, versatility, vocal and songwriting ability, world cultural influence, etc.
4. What is your favorite band of all time?
The Beatles.
5. Did your Dad approve of "your music" in the 60s and 70s or did he not like it?
Yes he did. My dad was always very hip to new music. He loved rock & roll, particularly Elvis Presley, Chuck Berry, and The Beatles. He liked my bands and hired us for many of his recordings throughout his entire career. My first band Mark & the Escorts made several records with my dad starting in 1964. He also liked my songwriting and we co-wrote many songs over the years.
6. Did Mark & the Escorts ever tour?
We were so young that we couldn't go out on tour on our own. However, we did tour a few times with my dad's band. We played around California and some in Arizona. Places that come to mind in California are Indio, Bakersfield, Stockton, and San Jose. In Arizona, we played Yuma, Chandler, and Tucson. It was great experience for us. We were about 14 years old at the time!
7. What have some of The Escorts done after the band split up in the 60s?
Our drummer, Ernie Hernandez and bass player Richard Rosas, played with me thoughout the 60s and into the mid-70s with my bands The Men From S.O.U.N.D., Nineteen Eighty Four, and Tango. Richard Rosas, now known as Rick Rosas, went on to play extensively with Joe Walsh and Neil Young. Most of the members went on to jobs and careers that were not musically related. Our original lead singer, Ricky Almaraz, unfortunately died of a drug overdose at the age of 21. I went on to record for Capitol, Ode, and A&M Records and have made a living as a musician and singer/songwriter.
8. Was there ever any serious rivalries between the East LA bands in the 60s?
Yes, there was. The chief rivals of Mark & the Escorts were The Exotics, The Impalas, and The Emeralds. We were once unplugged in the middle of our performance by a rival band. Another time there was a band that was hired to play our breaks at a high school dance. They asked us if they could equally share the gig, meaning they wanted to alternate sets with us. We said no, that we were hired to play the main sets and that's what we were going to do. When the gig was over, two of their biggest members were waiting outside to get physical with us. Luckily we had a couple of big roadies with us that night so they backed off.
9. Which East LA band was your favorite band to play with?
In the golden age of the "Eastside Sound," c. 1964-'66, the favorite bands Mark & the Escorts liked to play with were The Blendells, Ronnie & the Casuals, Little Ray & the Progressions, and Thee Midniters. We also liked playing with The Exotics, eventhough it was an emotionally charged rivalry. I think we made each other better with the competition.
10. Any wisdom or advice for the kids?
If you mean musically, I would say play as much as you can and keep on learning, i.e. take lessons, major in music, learn from records and other musicians. Play with a lot of different musicians and record as much as you can even if it's just on home recording equipment. You can grow a lot listening to what you sound like. I would also say stay off of hard drugs and don't abuse alcohol. If you mean advice for kids in general, I would say make an honest living, get an education, and once again stay off of hard drugs and don't abuse alcohol.

Go To Blowout 2009 Video Gallery


Previous page || Go to next miscellaneous writings page
Return to miscellaneous writings index page