Tango Reunion
East Los Angeles College: April 23, 2009
by Mark Guerrero
On Thursday, April 23, 2009 there was a reunion of my 1970s band, Tango. The occasion was the celebration of the publication of the second edition of the book "Land of a Thousand Dances" by David Reyes and Tom Waldman. The event was held at one of my alma maters, East Los Angeles College. Lysa Flores and Quetzal also performed. We had three of our four original members that night; myself (lead vocals/lead and rhythm guitar/keyboard), John Valenzuela (lead guitar/vocals), and Ernie Hernandez (drums/vocals). Our fourth original member Richard Rosas, was not available because he was on tour with Neil Young in Canada. Subbing for him on bass was John's brother, Leo Valenzuela. We needed a second keyboardist because many songs we recorded for Capitol and A&M Records between 1972 and 1974 had one or two keyboard parts. Filling the keyboard spot with us was Alex Del Zoppo, who in the 60s and 70s was a member of Sweetwater. Sweetwater performed at the original Woodstock in 1969 and recorded for Warner/Reprise Records.
Originally, the event was going to take place in the foyer of the auditorium. Due to the response to the event, it was moved to the gymnasium. The program began with a lecture/presentation by the authors of the book "Land of a Thousand Dances," the aforementioned Reyes and Waldman. The first band up was led by Lysa Flores, an alternative rock singer/songwriter. Backing Lysa were Dr. Dre bass player Daniel Sheef, Jaguares guitar player Marco Renteria, and Beastie Boys drummer Alfredo Ortiz. Following Lysa Flores was the East L.A. fusion band Quetzal, featuring lead vocalist Martha Gonzalez. They're an excellent band whose music fuses Mexican, Afro-Cuban, r&b, and rock. While we were getting ready to go on, Reyes and Waldman screened a dvd with vintage footage of my band Tango, which was projected onto the wall behind the stage. While I was tuning up, I looked up at the wall and saw 10 foot images of us thirty six years ago. I also glimpsed the gigantic image of my then girlfriend Pat, who was my first love. Seeing those humungous images of my past at the college I attended 40 years ago was surreal to say the least. Speaking of a blast from the past, there was a girl I spoke with at the event that told me we had band together at Humphrey's Avenue Elementary School in East L.A. She played violin and I played clarinet. This goes back to the third grade!
In the audience were many talented veterans of the East L.A. music scene of the 60s and beyond including Bobby Espinoza (keyboardist of El Chicano), Larry Rendon (sax player of Thee Midniters), Bill Reyes and Jesus "Xuiy" Velo (drummer and bassist of Los Illegals), Geree (vocalist for the Village Callers), and Eddie Ayala of the Odd Squad. I was also pleased that Joe Wissert, who produced some of our recordings in 1973 on A&M Records, came to the show. Before the show, I took him and John Byrnes, a Hollywood publicist friend of mine, to The Hat, a legendary East L.A. burger and pastrami place, which is now near the college on the corner of Cesar Chavez Blvd. and Atlantic Blvd. When I was a kid, The Hat was on the corner of 3rd St. and Ford Blvd. Back then one could buy seven hamburgers for a dollar! It was another blast from the past and an opportunity to show my west side friends a taste of down home East L.A. culture. Before the show I was interviewed on camera for a new Los Angeles television show called Liv'N DiverseCity, which will soon began airing.
Tango closed the show with a seven song set that included six songs I had written and recorded with the band between 1972 and '73 and one Beatle song, "Drive My Car." David Reyes had asked me to do a Beatle song for him and Tom Waldman. Ernie and I used to sing that song back in 1966 and had recently done it at a reunion of our previous band, Mark & the Escorts just two months before. So it was ready to go. Our set went as follows: "Brown Hair Growin," "Livin' Off the Land," "Rock & Roll Queen," "Lonely," "Walk On Down," "Drive My Car," and "I'm Brown." The styles covered by this list included country rock, rock & roll, and blues rock. I think we played really well and I was in very good voice that night. I was able to do all the songs in their original keys and felt I was in command of my voice. Everyone played very well and John Valenzuela played some mean guitar, particularly his slide guitar work on "Rock & Roll Queen"" and "Walk On Down." Of course, we missed not having our original bassist Richard Rosas, but Leo did a great job filling in. It felt like 1973 all over again. I was reminded that this is a special band with a style all its own. It funky and in the pocket. It has county, rock, and blues elements. We also played so many years together that we know what each other does and feel comfortable playing together. We can get together after years apart and the music and style is still there and it falls together immediately. The response to our set was great in terms of applause and especially comments we got at the venue and later on in e mails and phone calls. We signed a lot of autographs on our CDS and the "Land of a Thousand Dances" books that were purchased that night. It was a great night filled with nostalgia, but also the feeling and belief that band and the music I wrote back then is still vibrant, relevant, and alive. Hopefully, we'll play together more in the future and that Richard Rosas will be available for the next show.
See Flyer Below


See review of event from PBS website below
Movie Miento
Rockeros
By Adolfo Guzman-Lopez
April 30, 2009
The Chicano rock tribes gathered at East L.A. College's gym last week. There in the bleachers sat sax player Larry Rendon of Thee Midniters and keyboardist Bobby Espinosa of El Chicano. Eddie Ayala of Odd Squad and a couple of members of early 80s punk rockers Los Illegals walked around among fans, signing pages from the new edition of "Land of a Thousand Dances: Chicano Rock 'n' Roll from Southern California."

On stage, Mark Guerrero (who as a teenager led Mark & the Escorts) tore it up with his band Tango. Mean guitar player Lysa Flores rounded up a few of her frineds to perform: Dr. Dre bass player Daniel Sheef, Jaguares bass player Marco Renteria, and Beastie Boys drummer Alfredo Ortiz. Later, Martha Gonzalez stomped a fusion of jarocho and Chicano beats on the cajon as she led the East L.A. fusion band Quetzal.
(Photos below by Anna Valenzuela)

Tom Waldman & David Reyes
(co-authors of "Land of a Thousand Dances" book)

Mark interviewed by Julian Reyes
(for new television show called Live N' Diversity)

(Photos below by Vicente Mercado)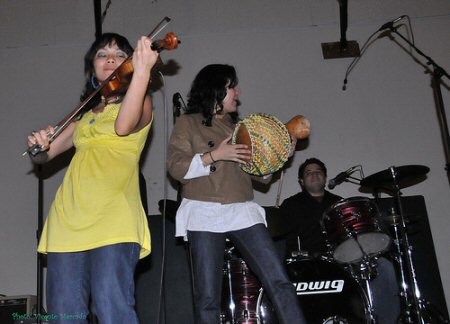 Quetzal

Tango

(left to right- Alex Del Zoppo, Ernie Hernandez, Leo Valenzuela, Mark Guerrero, and John Valenzuela)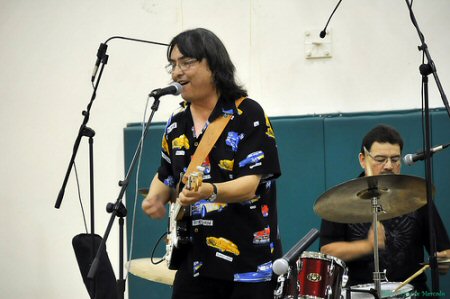 Tango
(Mark Guerrero & Ernie Hernandez)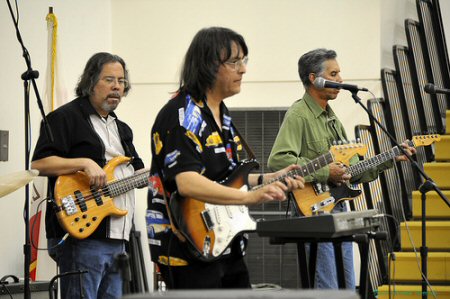 Tango
(Leo Valenzuela, Mark Guerrero, and John Valenzela)

(Photos below by Vicente Mercado)


Joe Wissert
(Joe was Tango's producer when we were at A&M Records in 1973)

Bobby Espinoza & Larry Rendon
Bobby (organist of El Chicano) and Larry (saxophonist of Thee Midniters)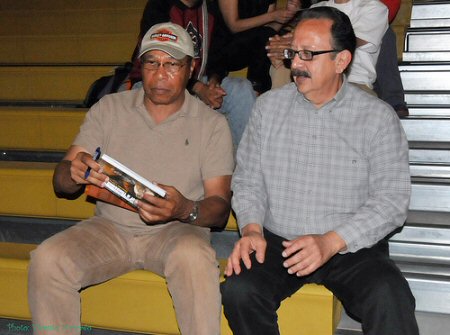 Robert Warren & Trini Basulto
(Robert and Trini were members of my first band, Mark & the Escorts)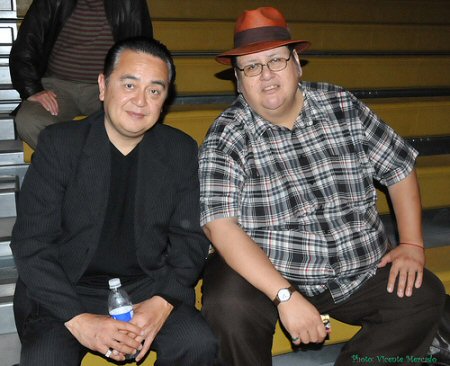 Gene Aguilera & Manny Gonzales
(Manny was a founding member of The Blazers and Gene was their manager.)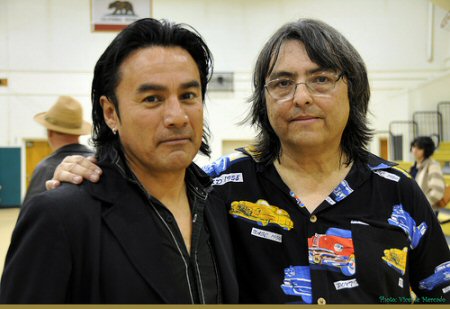 Eddie Ayala & Mark Guerrero
(Eddie was a member of Los Illegals and Odd Squad in the late 70s/early 80s)

Leo Valenzuela, Ernie Hernandez, Mark Guerrero, Alex Del Zoppo, and John Valenzuela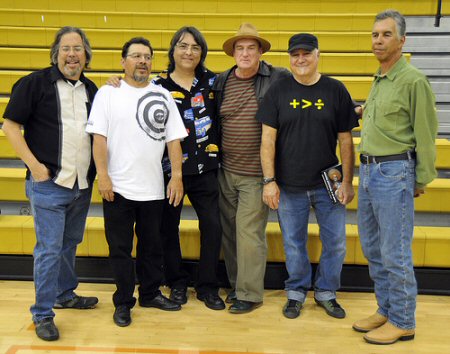 Band with Joe Wissert (4th from left)

Go To Tango Reunion Video Gallery


Return to miscellaneous writings index page