Book Review: "Lalo- My Life and Music"
by Mark Guerrero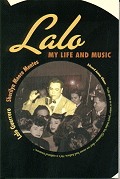 It's here! The long awaited book on the life of my dad, Lalo Guerrero. Written by Lalo Guerrero and Sherilyn Meece Mentes and published by the University of Arizona Press, it's written in a comfortable narrative style with my dad telling his story in the first person. He tells of our family history, which began in Mexico and moved to the United States, when his parents immigrated to Tucson, Arizona, where he was born in 1916. It's an incredible story of a man who came from financially humble beginnings and became a cultural icon to Chicanos and Mexicanos alike. There are great stories from his childhood, travels with his musical groups, recording career, and family life. The stories range from the very humorous to some of the most difficult and challenging experiences of his life. Regarding yours truly, he tells of buying me my first guitar, my first band Mark & the Escorts, and our recording and "live" performance experiences, including our concert in Paris. He also writes about my brother Dan and I accompanying him to the White House, where he received the National Medal of the Arts from President Clinton. The book also includes lots of great photographs from every phase of his life and career. I was honored to be handed the almost impossible task of putting together my dad's discography. It was a Herculean task gathering and organizing all the information on his recordings, from whatever source available. I wound up with around 700 titles! I included a few pages of information on some of his most successful songs, the record labels for which he recorded, his musical groups, and definitions of the styles of music. His musical legacy is awesome, incredibly diverse and unparalleled.

The following is the text that is printed on the back of the book that gives a good overview of the book: "He has been called "the father of Chicano music" and "the original Chicano hep cat." A modest man in awe of his own celebrity, he has sung of the joys and sorrows, dreams and frustrations of the Mexican American community over a sixty year career. Lalo Guerrero is an American original, and his music jubilantly reflects the history of Chicano popular culture and music. Lalo's autobiography takes readers on a musical roller coaster, from his earliest enjoyment of Latino and black sounds in Tucson to his burgeoning career in Los Angeles singing with Los Carlistas, the quartet with which he began his recording career in 1938. Through the years, Lalo mastered boleros, rancheras, salsa, mambos, cha-cha, and swing; he performed protest songs, children's music, and corridos that tell of his people's struggles. Riding the crest of changing styles, he wrote pachuco boogies in one period and penned clever Spanish parodies of American hit songs in another. For all of these contributions to American music, Lalo was awarded a National Medal of the Arts from President Clinton. "Lalo" is an often funny sometimes sentimental story that traces the musical genius of a man whose talent has taken him all over the world but who still believes in giving back to the community. His story is a gift to that community and an enduring testament to a life in music."

"Lalo: My Life and Music" is available, in soft and hard cover, at major bookstores (or ordered, ISBN 0-8165-2214-6), at uapress.arizona.edu.


The following are sound bytes of Lalo Guerrero recordings: "Tin Marin de do Pingue" is a rock & roll song recorded c. 1955; "No Chicanos on TV," a comedy song with a message recorded c. 1982; and "Cuando Me Muera Por Ti," a ballad recorded c. 1964. All three songs were written and performed by Lalo Guerrero.
mp3 Sound Bytes
Tin Marin de do Pingue || No Chicanos on TV || Cuando Me Muera Por Ti


Previous page || Go to next miscellaneous writings page
Return to miscellaneous writings index page