Introductory Article: Mark Guerrero
by Mark Guerrero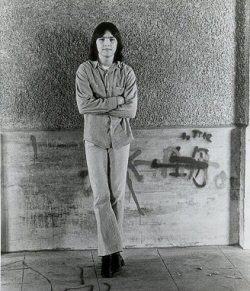 In 1998, I was asked to do a column for a local Palm Springs, California rock newspaper by a long-time friend, drummer/recording engineer, Leon Becken. At first I was very reluctant because I'm so busy with my musical and personal activities and don't enjoy the pressure of deadlines. However, after much prodding from Leon, I came to realize it could be a unique opportunity. I decided I'd like my column to be about Chicano music and musicians. Aside from the fact that I am a Chicano musician who writes and records in many musical styles including Chicano rock, I know there are many talented Chicano musicians who have not received their fair share of mainstream attention in the music industry and the media. In my experience I've found that if you're Chicano and want to record mainstream rock, the record companies don't think you'll be accepted nationally, and if you want to record Chicano music, they think there's not a big enough market for it. So you are neither fish nor fowl and wind up either not recording or recording and not promoted because they don't know how to market you. Despite these obstacles, some have enjoyed some notoriety such as Los Lobos, Tierra, and El Chicano, but you don't really hear them on the radio or see any of them on MTV or VH1 either. Therefore, the following articles are to spotlight various Chicano musical artists, many of whom I've known or worked with over the years. When I started my website in December of 1998, it made sense to put my articles up on internet to give them a permanent home and to reach a wider audience.
At this point I would like it understood that I love rock & roll, reggae, r&b, and country music and have performed and written songs in all those genres. The artists that most influenced and inspired me are The Beatles, Bob Dylan, Buffalo Springfield, Crosby, Stills, Nash & Young, James Taylor, and Steely Dan. On the other hand, I grew up in East L.A. in the midst of a musical renaissance in the '60's that produced Chicano rock groups such as The Premiers, The Blendells, and Cannibal & the Headhunters. All these groups enjoyed national hits and Cannibal & the Headhunters even toured with The Beatles in 1965. I had a popular teenage band at the time called Mark & the Escorts, who was managed by Billy Cardenas, the same manager of the aforementioned groups. Also my father is Chicano music legend Lalo Guerrero.
By way of introduction, I'll give you some of my musical background. In the 70's, I recorded as a solo artist for Ode Records, produced by the legendary Lou Adler, who also produced The Mamas & the Papas and Carole King. I also recorded solo for Capitol Records and, with my group Tango, for A&M Records. My songs have been recorded by artists such as Herb Alpert, Trini Lopez, and Chan Romero and I've written and recorded many songs with my father. I've performed live with my dad many times, the most memorable being a concert in Paris, France in February on 1998 and a show in his hometown of Tucson, Arizona in May of 1999. I've also performed live with artists such as Eric Burdon, Ry Cooder, Denny Laine, Redbone, El Chicano, Tierra, and Flaco Jimenez, in addition to recording with Chan Romero, Harry Nilsson, and Cesar Rosas of Los Lobos. I'm one of the featured artists in a book called "Land of a Thousand Dances" by Tom Waldman and David Reyes, which chronicles the history of Chicano rock in Southern California (University of New Mexico Press). I also have two songs on a CD entitled "The Chicano Alliance" on Our Town Records (1998), which also features recordings by Tierra, Malo, and El Chicano.
In January 2001, an album was released entitled, "Eastside Sound, Vol. 2, Featuring Mark & the Escorts" on the Dionysus record label. It contains four songs recorded by my teenage band, Mark & the Escorts, in 1965. Mark & the Escorts 1965 instrumental recording "Get Your Baby" is now a garage-rock classic, having been included on five different compilation CDs around the world. In 2009, my song and recording "I'm Brown" was enshrined in the Grammy Museum in an exhibit called "Songs of Conscience, Sounds of Freedom." I'm also featured in the documentary "Chicano Rock: The Sounds of East Los Angeles" and the television special "Trini Lopez Presents Latin Music Legends." Articles I've written on my website have appeared in magazines in the U.S. and England, as well as on other websites. I look forward to introducing you to many interesting and talented artists on my website and hope that meeting them through my articles will lead you to their music.
Selected Mark Guerrero You Tube Videos

Mark Guerrero "I'm Brown" (1972)
(words & music by Mark Guerrero)

Mark Guerrero "What You Gonna Do (When the Well Runs Dry)" (1995)
(words & music by Mark Guerrero)

For more information on Mark Guerrero, click here to see a more extensive and updated bio.


Return to articles index page || Go to next article