Chan Romero: Rock & Roll Pioneer
by Mark Guerrero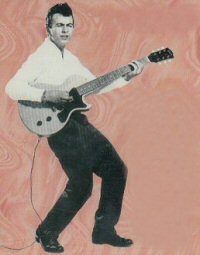 It's my pleasure to introduce you to my friend, Palm Springs resident and rock & roll pioneer, Chan Romero. If you haven't heard the name, there's an excellent chance you've heard of his most famous song, "The Hippy Hippy Shake," which has a long and storied history. Chan first recorded the song in 1959 for DelFi Records, the label immortalized by Ritchie Valens. It was also released in England on Columbia records, where it was picked up by no less than The Beatles, who performed it in the early 60's at venues such as the Cavern Club in Liverpool and the Star Club in Hamburg, Germany. In 1965, "The Hippy Hippy Shake" was a number one hit in England by another band from Liverpool, the Swingin' Blue Jeans. In 1988, it appeared on the soundtrack for the movie "Cocktail," with a version by the Georgia Satellites. In 1994, "The Hippy Hippy Shake" appeared on "The Beatles Live at the BBC" album. The song has endured and stood the test of time.
Robert Lee Romero was born and raised in Billings, Montana. His parents, who were from Colorado, went to Montana for employment as migrant workers. Ethnically, he is a mixture of Mexican, Spanish, Apache and Cherokee Indian, with a little Irish thrown in for good measure. He got the name Chan from his grandfather, who affectionately called him Chano. Chano eventually shortened to Chan and it stuck. As a child he used to listen to country music on the radio, his early heroes being Hank Williams, Hank Snow, and Jimmy Rodgers. It was while listening to the Grand Ol' Opry that he first heard Elvis Presley. Later Chan saw Elvis performing "Hound Dog" on the Steve Allen Show and knew he wanted to be a rock & roll singer. In the summer of 1958, at age 16, Chan hitchhiked to East L.A. to stay with relatives and check out the music industry. It was there he wrote "The Hippy Hippy Shake." His uncle took him to Specialty Records, the label for which Little Richard recorded at the time, and presented several of Chan's songs to the A&R man, who happened to be a very young Sonny Bono. Sonny liked a song called "My Little Ruby" and asked Chan to polish it up a little bit and come back in a couple of weeks. Chan had to go back to school in Montana and never returned to Specialty Records.
When Chan got back home, he formed his first rock & roll band and was shortly thereafter introduced to the music of Ritchie Valens. Many people in Billings, including his manager local DJ Don Redfield, thought Chan looked and sounded a lot like Ritchie. Indeed Chan and Ritchie had a lot in common, both being Chicano and rock & roll singer/songwriters. Inspired by Ritchie and encouraged by the response to his music in L.A., Chan and his band tightened up and began working regularly around Montana. After the tragic plane crash that took the life of Ritchie Valens, along with Buddy Holly and the Big Bopper, Don Redfield sent a tape of Chan's music to Ritchie Valens' manager in Los Angeles, Bob Keane. Bob loved it and flew Chan out to L.A. Mr. Keane thought of Chan as a successor to Ritchie Valens and signed him to a recording contract. Chan was living a dream come true, recording in the same studio with the same musicians on the same label as his idol. He was introduced by Bob Keane to Ritchie Valens' mother, who was still reeling from the loss of her son two months earlier. She invited Chan to come and stay at her house, which became his L.A. home when in town over the next two years. He became part of the family, even sleeping in Ritchie's room. He remains close to the surviving family members to this day, often playing at the annual Ritchie Valens Memorial Concert in Pacoima, California.
"The Hippy Hippy Shake" was released in July of 1959, first in the U.S. and later in England and Australia. It sold so well in Australia that Chan did a tour there in 1960 with the great Jerry Lee Lewis. When he returned, he toured the U.S. and Canada. It was the release of the song in England that found its way to the Beatles, who used to buy American imports for material for their club gigs. Paul McCartney liked the song and sang it during the early years of the group. In the mid 60's, the Swingin' Blue Jeans' version was not only number one in England, but also in Sweden, Norway and other European countries. In 1964, Chan toured for six weeks with the Beach Boys and the Four Seasons as a member of Buddy Holly's former group, the Crickets, substituting for Glenn D. Hardin. It was the same year that he first visited the Palm Springs area and decided he'd someday like to live here. He finally made the move to the desert in 1986. Since 1993, he's divided his time between Palm Springs and Billings, Montana.
Chan Romero today is better known and appreciated in England, Europe and Australia than in the U.S. In recent years, he has performed in Holland, England and Australia, where he gets airplay and his recordings are available. I've had the pleasure of playing guitar with Chan on some live appearances as well as on recording sessions, including co-producing several tracks on his "Fifties Flashback" CD in 1994.
This article was based on an audio taped interview by Mark Guerrero with Chan Romero in May of 1998 in Palm Springs, California.
Update
In November of 2004, Chan Romero began working on a new CD with producer Billy Cardenas. Some of the musicians involved in the project include Andy Tesso (formerly of The Romancers), John Perez (of The Premiers), Willie Mondragon, Louie Durazo, and yours truly. Cardenas is using musicians with roots in the East L.A. music scene of the 60s to capture that authentic Eastside sound. Most of the songs were written by Chan, with a couple of covers and a Little Richard inspired rocker that I wrote especially for Chan called "Rockin' Like There's No Tomorrow." I played rhythm guitar on the basic track of my song and overdubbed a lead guitar part. I also brought in a great sax player by the name of Steve Alaniz, who frequently plays with my band. He played some incredible sax solos and fills on most of the songs on the album, including an appropriately screaming solo on my song. He also played a beautiful flute part on one of the other songs. In the middle of the project Billy Cardenas dropped out due to scheduling and availability issues. After many delays, the CD was completed and will be available in 2008. In May and June of 2005, Chan toured Australia for the second time in the last few years.
In December of 2005, I interviewed Chan Romero for my internet radio show, "Chicano Music Chronicles." I played twelve of my favorite Chan Romero tracks and we talked about them. The interview gives insight into Chan's life and career. It aired multiple times in the month of February on crnlive.com. You can hear it at your convenience on my website on my "Chicano Music Chronicles" page" where it is archived. A high speed internet connection is recommended. Click here for a shortcut to the page. To read my article on my experience recording my song "Rockin' Like There's No Tomorrow" with Chan in 2004, click here. In 2007, I interviewed Chan on video for an exhibition (and oral history archives) of the Experience Music Project Museum in Seattle, Washington. On May 15, 2007 Chan Romero was inducted into the Rockabilly Hall of Fame at the Riverside Ballroom in Green Bay, Wisconsin, the venue which hosted one of Ritchie Valens' last performances. Chan Romero has the distinction of being the first Latino rocker to be inducted into the Rockabilly Hall of Fame, which is based in Burns, Tennessee: rockabillyhall.com. To go straight to Chan's page at the rockabilly hall's website, click here.
On June 1, 2008, Paul McCartney opened his show in Liverpool, England with Chan Romero's "The Hippy Hippy Shake." Click here to see Paul's performance on you tube. In August of 2011, England's Mojo Magazine had an issue with Paul McCartney on the cover. In an article called "The Roots of Paul McCartney," Paul gives his top 15 early influences. Chan Romero is number three on the list. A CD is included with the magazine that includes "The Hippy Hippy Shake" by Chan Romero.
mp3 Sound Bytes
The Hippy Hippy Shake - Chan Romero 1959
The Rooster - Chan Romero 1996


Chan Romero (1959)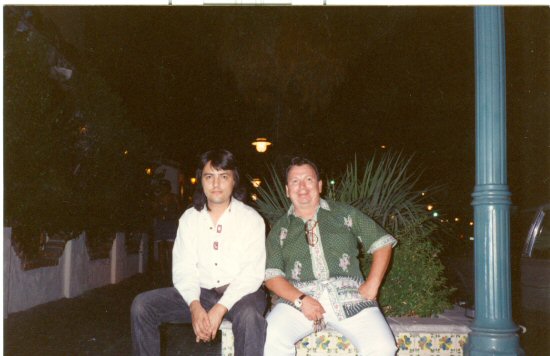 Mark Guerrero & Chan Romero (1996)

Chan Romero Recording Session (2004)
(Sanctuary Studios- Montebello, California)
(left to right- Mark Guerrero, Andy Tesso (formerly of The Romancers), Louie Durazo,
Chan Romero, John Perez (of The Premiers), Billy Cardenas, and Willie Mondragon)

Chan Romero (2006)
(left to right- Rick Cowling, Brian Pim, Chan Romero, and Mark Guerrero)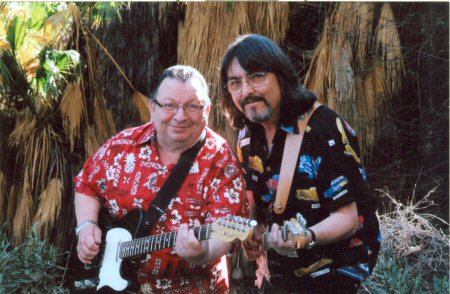 Chan Romero & Mark Guerrero (c. 2009)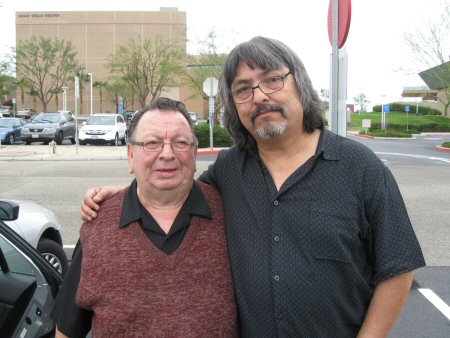 Chan Romero & Mark Guerrero (2014)


Selected Chan Romero You Tube Videos


"The Hippy Hippy Shake" video (2018)




"Hippy Hippy Shake" live in Liverpool, England (2018)
with Mark Guerrero & Firewheels





Click here to go to the Chan Romero store at amazon.com



Previous page || Go to next article