The Premiers: 1960s Chicano Rock Hit Makers
by Mark Guerrero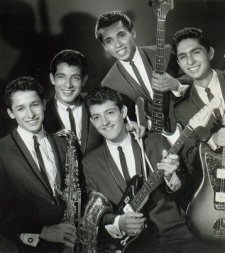 The story of the Premiers is similar to that of Cannibal & the Headhunters and as fate would have it, their careers would intertwine. The Premiers, like Cannibal & the Headhunters, grew up on the east side of Los Angeles in the barrios, formed a musical group, and within a couple of years had a record that made the national charts. In The Premiers' case, their record, "Farmer John," reached number 19 in July of 1964. They have the distinction of being the first east side Chicano rock group to achieve national success in the 60s. This helped open the door for The Blendells, Cannibal & the Headhunters and El Chicano who followed.

The Premiers were born in San Gabriel, California in 1962 when the Perez brothers, John and Lawrence, decided to form a band. John, who had been banging on pots and pans for years went to a pawn shop and purchased a Pearl drum set for $100, while John bought a Sears Silvertone guitar. George Delgado, who lived a few blocks away, came from a musical family and played guitar. Another friend from the neighborhood, Frank Zuniga, played bass and rounded out the group. They practiced in the Perez brothers back yard and soon started drawing crowds to their rehearsals. One of the kids watching them rehearse was Mickey Lespron, later to be lead guitarist of El Chicano. They began to play house parties, weddings and dances, wearing standard cholo attire, khaki pants, Pendletons and Sir Guy shirts. Lawrence stresses that they were not juvenile delinquents or in gangs, but just liked to dress this way. John and Lawrence's mom came up with the name Premiers based on the idea of a movie premiere. She heard about Billy Cardenas, who was managing popular east side bands, and gave him a call. He came out to see them and liked what he heard. Billy first got them to change their appearance on stage. They soon found themselves wearing matching suits and playing better venues, like the Paramount Ballroom, the Rhythm Room in Fullerton, and Rainbow Gardens in Pomona. At times, they backed up artists such as, Johnny "Guitar" Watson, Kathy Young and Chris Montez. Cardenas introduced the band to record man Eddie Davis and brought them a song he wanted them to record for Eddie's label. It was called "Farmer John" and had been previously recorded by Don & Dewey. At first Lawrence didn't like it, but after a few rehearsals and a new arrangement he changed his mind. Believing they didn't have a strong singer, the lead vocal was done by John and George singing in unison. Contrary to what it said on the label, "Farmer John" was recorded at Stereo Masters in Hollywood, not "live" at the Rhythm Room in Fullerton, California. Girls from The Chevelles car club were used to make background noise on the record to give it a live sound. According to Lawrence, it was Eddie Davis' idea to put photos of the band member's faces on the record label of the 45, which was unheard of at the time.

After the success of "Farmer John," Eddie Davis made a deal with Warner Brothers Records to take the record to the next level of marketing and distribution. Warner Brothers wanted an album by The Premiers right away to maximize profits on their hit single, so the band quickly recorded one, using the same formula with the car club girls giving it the sound of a live album. Lawrence was not happy with the album and even today feels that only one song captures what The Premiers were really about, a Johnny Ace song entitled "Cross My Heart" sung by George Delgado. Nevertheless, on the strength of their top 20 hit, they set out on the road. Their first tour was a Dick Clark "Caravan of Stars" show that started in St. Louis and continued through the Midwest and East Coast. Other artists on the bus tour included, Diana Ross and the Supremes, Bobby Freeman, Major Lance, Fabian, Gene Pitney, Brian Hyland and The Crystals. The Premiers were teenagers at the time and could hardly believe what was happening to them. Their second tour was in the South, where they opened for The Rolling Stones in Alabama and for The Kinks and The Zombies at other stops. They also encountered racial segregation, for example, dealing with separate restrooms for black and white and not being sure which one to use. They often traveled with Cannibal & the Headhunters, backing them up on their songs as well as performing their own. Being fellow Chicano musicians from the east side of L.A. and mere teenagers, The Premiers and Headhunters bonded and became like brothers on the road. The Premiers third tour was with The Dave Clark Five and included New York, Chicago, Minneapolis and various cities in California. The Premiers had several tenor sax players over the years, starting with Joe Whiteman, Phil Ruiz, and for their tours, Tony Duran. Baritone sax was played by Whiteman on "Farmer John" and Joe Urzua on their album. During the second tour, Frank Zuniga was drafted and went to Viet Nam, where he was assigned to artillery. He was replaced by Billy Watson, formerly of The Rhythm Playboys. In 1968, Lawrence was drafted and also went to Viet Nam, where he was a machine gunner on a ground unit. As Lawrence put it, "the war broke us up."

My band at the time, Mark & the Escorts, played at the "West Coast East Side Revue" at the Shrine Auditorium in 1965 with The Premiers and all the other top east side groups on the bill. We played a couple of other dances with The Premiers on the bill as well, but I don't remember seeing them play because we often had other gigs on the same night as did they. I didn't get to meet The Premiers until about 1992 when pioneer rocker Chan Romero took me to an afternoon block party at Lawrence's house, where I jammed with Chan, John, and Lawrence in his front yard. In 1999, I went to another gathering at Lawrence's house in honor of "Yo Yo" Jaramillo of Cannibal & the Headhunters. Former members of The Premiers, The Blendells, The Romancers, and Headhunters were there and we all played together in different combinations. The highlights of the day were when The Headhunters sang "Land of a Thousand Dances" and all four original Premiers played "Farmer John" in the small living room. I have since gotten to know the Premiers better while interviewing them for this article and a better group of guys would be hard to find. In February of 2001, The Premiers performed at an event I helped organize to honor record producer Billy Cardenas. You can read about the event on my miscellaneous writings page, (article 7). They still occasionally do a gig as the Premiers and Lawrence and George occasionally play with other bands on weekends. Recordings by the Premiers are available on several compilation CDs, including, "The East Side Sound 1959-1968" on Dionysus Records and "East Side Sound, Vol. 1,2,3 &4" on Varese Sarabande Records. You can purchase these and other Premiers recordings from the amazon.com links below.
This article was based on interviews by Mark Guerrero with two of the four original Premiers- Lawrence Perez and George Delgado in March of 2000.
Updates
On June 22, 2003, I attended a concert at Frank G. Bonelli Regional Park in San Dimas, CA where John and Lawrence Perez performed as The Premiers backed by the East L.A. All Star Revue. You can read about the event on my miscellaneous articles page (article 23). On November 1, 2003, I performed on the bill with John and Lawrence performing as The Premiers, once again backed by the East L.A. All Star Revue, at the Latin Oldies Festival 2003 in San Bernardino, CA. You can also read about that event on my miscellaneous articles page (article 26).
In 2006, I interviewed founding Premier George Delgado as part of a radio show I did on the "Eastside Sound" of the 60s. It was part of my radio series "Chicano Music Chronicles," which aired on crnlive.com and is now archived on my website on my chicano music chronicles page. In early 2007, I interviewed three founding members of The Premiers Lawrence Perez, John Perez, and George Delgado for an exhibit called "American Sabor: Latinos in U.S. Popular Music," which opened in October of 2007 at the Experience Music Project museum in Seattle, Washington. The interviews will also find a permanent home in the museum's oral history archives.
mp3 Sound Byte
The Premiers 1964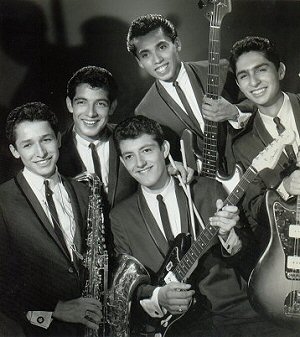 The Premiers (1964)
(left to right- Tony Duran, John Perez, Lawrence Perez, Frank Zuniga and George Delgado)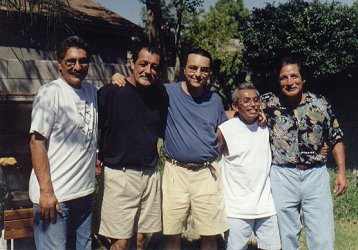 The Premiers & Mark Guerrero (1999)
(left to right- George Delgado, Lawrence Perez,
Mark Guerrero, Frank Zuniga and John Perez)

Premiers You Tube Video

Previous page || Go to next article