Little Willie G.: Thee Midniters and Beyond
by Mark Guerrero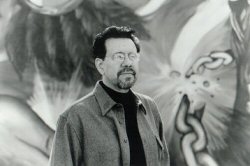 Legendary Chicano vocalist Little Willie G., whose fantastic musical odyssey began in the early 60's, has a brand new CD out on Hightone Records, produced by David Hidalgo of Los Lobos. It's entitled "Make Up for the Lost Time." He does exactly that on this soulful collection of r&b, jazz-tinged and gospel-flavored songs that show that his vocal abilities have continued to evolve. The musicians are top of the line, including David Hidalgo and Conrad Lozano of Los Lobos, Kid Ramos and Rev. Charles Williams, among others. The arrangements are excellent, done by Willie's former Midniter band mate, Romeo Prado, David Hidalgo and others, often in collaboration with Willie himself.

Little Willie G., along with "Little Ray" Jimenez, were the brightest singing stars in East L.A.'s golden age of rock & roll, the 1960s. At a time when several other east side bands enjoyed national hit records, Little Willie G. and his band, Thee Midniters, always managed to be the headliners everywhere they performed. They had the sound, image, showmanship, and charisma to do so. Their musical style was a mix of r&b, ballads and British invasion music. Little Willie G. & Thee Midniters made several albums and many singles that were very popular, particularly in Southern California. Their version of "Land of a Thousand Dances" reached #67 on the national charts and they enjoyed several local and regional hits. The fact that many of their recordings have been bootlegged to this day, both on vinyl and CD, is a testament to the popularity of their music.

Little Willie G. (Willie Garcia) grew up in South Central Los Angeles at a time when it was racially mixed. His neighborhood was near the area where the infamous "Sleepy Lagoon" incident took place in the 40s. The story was depicted in the Luis Valdez play and movie, "Zoot Suit." Willie started singing at the age of eight with the encouragement of his older brother "Guero," who played guitar. At age nine, Willie won a talent show as part of a singing group. The prize was $20, which was used to buy cheeseburgers and 78 rpm records. The experience left him bitten by the show biz bug. Willie's first band was called The Gentiles, whose name came from a Jewish member's father who was not happy his son was playing with "those Gentiles." The Gentiles played around Los Angeles and often ventured into Orange County, where they once played in a battle of the bands with The Spats, who had Bill Medley and Bobby Hatfield as vocalists that day. (Medley and Hatfield were later to become the Righteous Brothers). Willie soaked up all he could from the groups he saw, but also from his record collection. He learned from the recordings of r&b artists like Jackie Wilson, Jesse Belvin, James Brown, and Hank Ballard; Latin artists, such as Pedro Vargas, Juan Mendoza, Javier Solis and Miguel Aceves Mejia, as well as popular singers, Frank Sinatra, Tony Bennett, Nat King Cole and Johnny Mathis. He also learned a great deal about stage presence and live performing from watching the great Latin artists of the time at downtown L.A. venues like the Million Dollar Theater.

When Thee Midniters broke up in 1969, Willie started hanging out on the Sunset Strip in Hollywood, where he saw the Doors, Byrds and Buffalo Springfield perform. He began to do solo gigs at the Ash Grove, Whiskey and Troubadour, sporting long hair and going by the name Antonio Garcia. In the early 70s, Willie teamed up with "Little Ray" Jimenez to form a group called God's Children. (They had previously worked together in the early 60s when Ray did a stint with Thee Midniters). God's Children, who were a secular group, recorded for Uni Records and sang the theme song for the TV series "Matt Lincoln." Willie's next break came when a photographer friend brought members of the group Malo to see him perform at Kabuki's Night Club in Eagle Rock, California. Malo, who were in town to play at the Santa Monica Civic, were impressed and asked Willie to join the band. At first he declined due to previous commitments, but when they asked him again six months later he was available. Willie moved to San Francisco and sang lead vocals on Malo's "Asencion" album. He toured with the group for a year, sharing the stage with the James Gang, Rare Earth, Dr. John, The Temptations, Tower of Power, and Harry Chapin. Willie left Malo due to road burn out, cocaine abuse, and to assume the responsibility of his parent's house.
When he got back to L.A., he rejoined Thee Midniters and began to use heroin. For four years he used heroin, cocaine, and abused alcohol. His dreams were abandoned and he was living in denial. What saved him was a chance gig at TBN (Christian Television) in Orange County, which led him to attend various services and hear testimonials. Willie became a believer after a profound religious experience and found he no longer wanted or needed to do drugs and alcohol. He stopped cold and has been clean since 1980. In 1981, Willie began to minister for Victory Outreach Church and spread the word to inner city youth. (He went to seminary and was ordained in 1984). He has recorded two Christian albums as Willie G. and toured extensively over the last 16 years ministering and singing Christian music. One of the albums, entitled "Listening For Your Heart," has a great version of Bob Dylan's "You Gotta Serve Somebody" with some new lyrics added by Willie to bring the song's meaning home to the Chicano community. Willie also sang on the Grammy Award winning "Mercy" album with Andre Crouch.

I first saw Little Willie G. & Thee Midniters at St. Alphonsus Auditorium in East Los Angeles in 1963 when I was about 13 years old. "Little Ray" Jimenez was also singing with them at the time. At that show, I witnessed one of the half a dozen or so times they did the following routine: The curtains opened to the sound of Booker T. & the MGs' "Green Onions" with the dark-suited and glittery-masked Midniters in step to the music. At the conclusion of the bluesy instrumental they threw their masks into the audience, which was very effective in bringing the audience to a near frenzy. Within a year or so, my bands, Mark & the Escorts and later the Men from S.O.U.N.D., would be sharing the stage with Thee Midniters many times over the next few years. We played east side venues such as the Big and Little Union Halls, St. Alphonsus Auditorium, Montebello Ballroom, Kennedy Hall, Boulevard Theatre, and even in the parking lot of Jonson's Market on Whittier Boulevard. The most memorable was at the "West Coast East Side Revue" at the Shrine Auditorium in Los Angeles. East L.A.'s most popular bands performed, but Little Willie G. & Thee Midniters, in particular, inspired a "Beatlemania" kind of response. Little Willie G. was only in his teens during Thee Midniters' heyday, yet he already had a mature voice and a Sinatraesque relaxed command on stage that is extremely rare in someone so young.

I reconnected with Willie after meeting his manager, Gene Aguilera, at a Chicano music conference at U.C. Riverside in the summer of 2000. We set up a meeting with Willie at Gene's house in Montebello, California, where we did the interview for this article. Willie was articulate, candid, and had a tremendous memory for details of events that transpired throughout his life. His new CD is getting good reviews in the U.S. and Europe and he's performing live to promote it while continuing his work with Victory Outreach. Some of Little Willie G. & Thee Midniters' recordings are available on Rhino/Zyanya Records on vinyl. "The Best of Malo" is available on GNP Crescendo Records and includes five songs sung by Little Willie G. His current CD "Making Up for the Lost Time" is available on Hightone Records. If you want to hear one of the great voices in Chicano music history, pick up his new CD and while your at it, check out some of his previous recordings.
This article was based on an audio taped interview by Mark Guerrero with Little Willie G. in Montebello, California on May 15, 2000.
Update
Little Willie G. is once again performing with Thee Midniters on an occasional basis. To celebrate the release of "Thee Midniters Greatest" on Thump Records, Little Willie G. and Thee Midniters performed together at the House of Blues in Hollywood on January 28, 2003. They were phenomenal and brought down the house. You can read about the event and the compilation CD in article 11 on my "Miscellaneous Writings" page. My band, Mark Guerrero & Radio Aztlán, performed on the bill with Thee Midniters with special guest Little Willie G. at the 2003 Latin Oldies Festival in San Bernardino on November 1, 2003. Click here to read about that show.
In 2004, Little Willie G. was featured as the lead vocalist on a track entitled "Is This All There Is" on an album by Los Lobos called "The Ride." Little Willie G. is also featured on several tracks of a new CD by legendary guitarist/producer Ry Cooder called "Chavez Ravine." Released in 2005, it also features my dad, Lalo Guerrero, Ersi Arvisu (formerly of The Sisters and El Chicano), Don Tosti, and other Chicano musical artists. I also helped on my dad's sessions for a couple of days. It's a great album which will further advance Willie's career, as well as the cause of Chicano music in general.
In late 2006, Little Willie G. was a guest on my "Chicano Music Chronicles" internet radio show. We played recordings from throughout Willie's career and talked about both the recordings and his career. The show is archived on the "Chicano Music Chronicles" page on my website to hear at your convenience. A high speed internet connection is recommended. Click here to get to the page. On November 11, 2008, I performed on the bill with Little Willie G. & Thee Midniters on a taping of a PBS television special called "Trini Lopez Presents Latin Music Legends," which will air in March of 2009. Also on the bill were Trini Lopez, Tierra, El Chicano, and the Greg Rolie Band.
In 2012, Little Willie G and I were invited by Louie Perez of Los Lobos to perform as guest artists in a show which followed a performance of a play Louie co-wrote called "Evangeline- The Queen of Make Believe." The play, which is inspired by Los Lobos' song "Evangeline," is about an East L.A. devoted daughter by day and Hollywood go go dancer by night. The story takes place in the 1960s amid the political turbulence of the Viet Nam War and the East L.A. student walkouts, featuring the songbook of Louie Perez and David Hidalgo of Los Lobos. The play and our performances took place at the Bootleg Theater in the Echo Park district of Los Angeles. Willie and I were backed by the band Cava.
You can purchase CDs by Little Willie G and by Thee Midniters featuring Little Willie G from the amazon.com links below.
mp3 Sound Bytes
That's All - Little Willie G. with Thee Midniters 1964
Gotta Serve Somebody - Little Willie G. 1996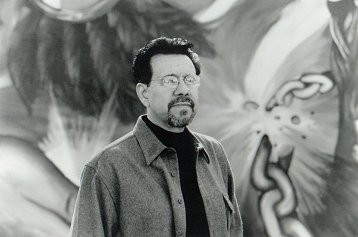 Little Willie G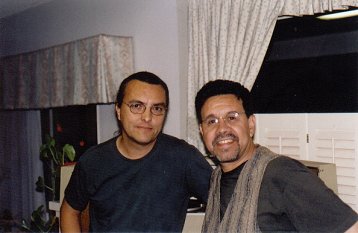 Mark Guerrero & Little Willie G (2000)

Little Willie G & Thee Midniters You Tube Video

Little Willie G & Thee Midniters "That's All" (2008)

Go to next article