Trini Lopez: From the Barrio To International Stardom
by Mark Guerrero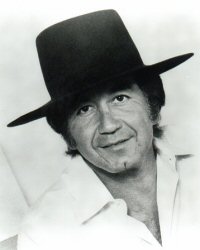 The Trini Lopez story is more than a "rags to riches" story. It's so fantastic that it reads like fiction. Trinidad Lopez III was born and grew up in a barrio in Dallas, Texas. He had four sisters and a brother and remembers sometimes having barely enough food for the family. His parents sometimes plowed fields together and his mother would often wash the clothes of neighbors to help make ends meet. (His father had been a singer and musician in Mexico, where he married Petra Gonzalez and moved to Dallas to better their lives). From these humble beginnings, Trini would achieve international fame, perform on the same bill with The Beatles, become friends with Elvis Presley, and be mentored by Frank Sinatra.

As a kid, Trini was running around with the wrong crowd and started getting into trouble. When he was around eleven years old, his father grew tired of this behavior and spanked him severely. Trinidad Lopez, Sr. felt so bad about the spanking he had given his son, he purchased a black Gibson guitar for him, at a cost of $12. The experience changed his life. His father taught him a few chords and Trini took it from there. He formed his own group and by the time he was in high school, started to play around town. At a gig in Wichita Falls, he met Snuff Garrett, who was a disk jockey at the time. (Snuff Garrett later became a legendary record producer). Snuff liked Trini's show and one day brought Buddy Holly in to see him perform. Buddy also liked what he heard and offered to introduce Trini to his record producer, Norman Petty. At the time, Buddy Holly already had several hits and was riding high. Trini and his band traveled to Clovis, New Mexico, where Petty had his recording studio. After meeting Norman Petty, Trini felt that the producer was racially prejudiced against him. Although Trini was lead singer of the band, they wound up recording instrumentals for ten days. One morning the guys in the band woke Trini up and told him that from then on they were all going to sing lead and make equal money. Trini felt like leaving town that day, but at age 18 he didn't want to drive back to Texas alone. When they did return to Dallas, Trini left the band and formed a new one.

One night while performing with his new group at the Millionaire's club in Lubbock, Texas (Buddy's home town), Snuff Garrett called and asked him if he wanted to join Buddy's band, the Crickets. (Buddy Holly had recently died in the infamous plane crash that also killed Ritchie Valens and the Big Bopper). They offered him a plane ticket to Los Angeles, but Trini said he'd take the cash and drive instead. The Crickets were living in a nice house in the Hollywood Hills and being young men with record royalties coming in, were more interested in partying than working. When Trini's money ran out he auditioned as a solo performer at Ye Little Club in Beverly Hills. The owner hired him before he finished his first song. He was hired for two weeks and wound up staying a year. His next club gig was at PJ's in Hollywood. Hired for three months, he stayed a year and a half. Frank Sinatra, who was Trini's idol, used to frequent PJ's. Sinatra liked Trini's act and signed him to his label, Reprise Records for a term of eight years. Mr. Sinatra assigned his own producer, Don Costa, to produce Trini's first album. Don decided to record the album live at PJ's to capture the excitement that Trini was generating. The album was an immediate hit. The first single, "If I Had a Hammer," became number one in 25 countries and the album spent 48 weeks in the national Top 40. Trini picked his own material and says that he recorded folk songs like "If I Had a Hammer," "This Land Is Your Land," and "Lemon Tree," because folk music was what was happening in the early 60's, with groups like The Kingston Trio and The Limeliters enjoying great success. This was also the era that spawned Bob Dylan, Joan Baez, and Peter, Paul and Mary. Trini took folk songs he liked, electrified them and added a Latin flavor. The public ate it up.

One day word got to Trini that Frank Sinatra wanted to meet him. He was taken to Warner Brothers Studios, where Frank was filming a movie called "Four for Texas." From then on Trini considered Sinatra a mentor and "like a father to me." Trini hung out with Frank and the rest of the "rat pack" (Dean Martin, Sammy Davis, Jr., Peter Lawford, Joey Bishop, etc.), traveled with Sinatra on his Lear jet, and was a frequent guest at his house. Sinatra put Trini in a movie entitled "Marriage On the Rocks," which starred Sinatra and Dean Martin, for which Trini wrote a song. Later, Trini landed a major role in what would turn out to be a classic movie, "The Dirty Dozen." Filming was supposed to last four months, but took much longer. After seven months, Sinatra advised Trini to leave the movie because Frank feared Trini's recording career would suffer. Trini took the advice and left the movie. It is for this reason that his character was killed off in the film.

After the success of "Trini Lopez, Live at PJ's," he was booked to work a month in Paris at the Olympia Theater. He was told he would be sharing the bill with a group called The Beatles. Trini had never heard of them. The year was 1963 and the Beatles had not yet come to America. The gig was for six nights a week, two shows a night and three on Saturday. He got to know the young Beatles and when asked by the British press if he thought they would be a hit in America, Trini said he didn't think so because there was a better group in the United States called The Beach Boys. Trini first met Elvis Presley when the latter was filming "G.I. Blues." Two years later they met again when Elvis would catch Trini's shows in Las Vegas. They would party together in Vegas, and when in Los Angeles, Trini would play football with Elvis and his friends, Ricky Nelson, and Johnny Rivers.

Trini Lopez to date has recorded more than forty albums. Aside from his biggest hit album, "Live at PJ's," some of his other albums that hit the Top 40 include: "More Trini Lopez, Live at PJ's," "The Latin Album," "The Folk Album," "On the Move," Trini Lopez, Live at Basin Street East," and "The Love Album." Top 40 singles include, "If I Had a Hammer," "Kansas City," "Lemon Tree," and "I'm Coming Home Cindy." Trini also has many television shows to his credit, such as, "Adam 12" and a TV Movie of the Week entitled, "The Reluctant Heroes" for Aaron Spelling Productions. He has also performed in storied venues such as the Waldorf Astoria and the Copa Cabana in New York, as well as major Las Vegas hotels. Trini was honored on the floor of Congress by Congressman Thomas Rees of California "in recognition of his work on behalf of international relations," and he has the honor of sharing prestigious company with Louis Armstrong and Frank Sinatra in being named Goodwill Ambassador for the United States. Coming full circle from his first $12 Gibson guitar, the Gibson guitar company honored Trini in the mid-sixties by issuing a Trini Lopez signature model line of guitars.

I first met Trini Lopez in late 1964 when I was about 14 years old. I had gone with my dad, Lalo Guerrero, to a recording session at Western Recorders in Hollywood, where Trini was recording an album. My dad was invited because he had written a lyric for a song called "Chamaka" that Trini was recording that night. (Trini also once recorded my dad's song "Pancho Lopez"). It was a memorable experience for me to meet Trini and later that same night, the Beach Boys, who were recording down the hall. When I moved to Palm Springs in 1990, Trini was already living here. We met again and he invited me to lunch, where he told me a lot of these stories for the first time. A few years ago, my band played at one of the events for a Golf Tournament he hosted. These days I see him quite often. He comes in to see my band play at Las Casuelas Terraza and I've gotten to know him better.

Trini Lopez retired in 1981, however, it was not a complete retirement. He merely stopped the grind of regular touring. Between 1963 and 1981 he traveled all over the world almost continually. Since his "retirement," he has recorded three albums, including "Trini Lopez 25th Anniversary Album," and occasionally does concerts around the world. In 1987, he started to get a lot of offers because of the success of the movie "La Bamba," since he also had a well known version of the song. These days he relaxes and plays golf in Palm Springs, where he still resides. He's a long way from hanging it up though. He's got a brand new album out on Sony International and is scheduled to do some more concerts.
This article is based on an audio taped interview by Mark Guerrero with Trini Lopez on June 14, 2000 in Palm Springs, California.
Update
On March 21, 2003, Trini Lopez was honored by the City of Los Angeles for his four decades of performing, music, acting, and his generous humanitarian work. On that day the city proclaimed "Trini Lopez Day." The mayor and city council members were present for the award ceremony at city hall. In addition, Trini Lopez was inducted into the International Latin Music Hall of Fame on April 2, 2003. The 5th Annual Induction Award Ceremony and Concert took place at Hostos Center for the Arts and Culture in the Bronx, New York at 7:30 PM. I had lunch with Trini on 3-26-03 and he gave me his two new CDs which are now available. "Trini Lopez Legacy: My Texas Roots," which features Trini with his Texas Roots Combo, Art Greenhaw and Trini's brother, Jesse Lopez. The CD also has the legendary Jordanaires and steel guitarist, Tom Brumley, formerly of Rick Nelson's Stone Canyon Band, as guest artists. Also, "Trini Lopez 36 All-Time Greatest Hits" (Warner Special Markets OPCD-3610), a three CD boxed set. It has all his hits including, "If I Had a Hammer," "Lemon Tree," "La Bamba," and "Kansas City."
On June 20 and 27, 2004, Trini Lopez recorded my song "Oh Maria" for his latest album called "Romantic & Sexy Guitars," released in May 2005. It was the first song recorded for the project. I also played bass, 12 string acoustic guitar, and electric rhythm and lead guitar on the session. It was recorded at a studio in Rancho Mirage, CA owned by a friend of mine, Leon Becken, who was also the engineer on the recording.
In January of 2006, I interviewed Trini Lopez for my internet radio show, "Chicano Music Chronicles." I played twelve of my favorite Trini Lopez tracks and we talked about them. The interview gives insight into Trini's music and career. It aired multiple times in the month of January 2006 on crnlive.com. You can hear it at your convenience on my website on my "Chicano Music Chronicles" page" where it is archived. A high speed internet connection is recommended. Click here for a shortcut to the page.
On November 11, 2008, I performed on the bill with Trini Lopez on a taping of a PBS television special he hosted called "Trini Lopez Presents Latin Music Legends," which will air in March of 2009. Also on the bill were Tierra, El Chicano, Little WIllie G. & Thee Midniters, and the Greg Rolie Band. For more info on Trini Lopez, visit his website: trinilopez.com. Trini Lopez CDs are available from the amazon.com links below.
mp3 Sound Byte
Trini Lopez 1963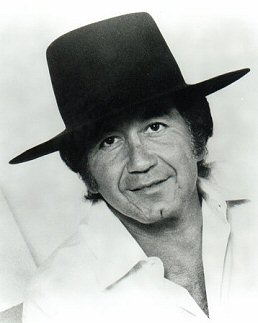 Trini Lopez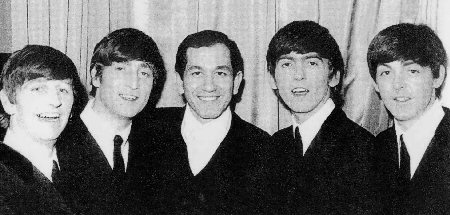 Trini Lopez with The Beatles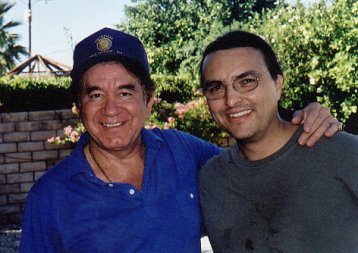 Trini Lopez & Mark Guerrero (2000)

Selected Trini Lopez You Tube Videos

Trini Lopez "If I Had a Hammer" (1963)


Trini Lopez "La Bamba" (2008)
(Finale "Trini Lopez Presents Latin Music Legends" TV show)
(with Mark Guerrero, Jerry Salas, Rudy Salas, Little Willie G, and others)




Click here to go to the Trini Lopez store at amazon.com


Previous page || Go to next article