Freddy Fender: Tex Mex Superstar
by Mark Guerrero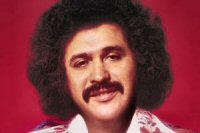 Freddy Fender's musical career has been a long and winding road that began in the late 1950's and is still going strong. The chapters in his story include being a Spanish language pop star in the 50's, a country western and pop star in the 70's, and a member of the hugely successful Texas Tornados and Los Super Seven in the 90's. He's been featured in motion pictures, TV commercials, numerous major television shows, and has toured with his live shows for decades.

Freddy Fender was born Baldemar Huerta in the Rio Grande Valley town of San Benito, Texas. He grew up in a barrio called "El Jardin," a poor Latino neighborhood near the Texas/Mexico border. The first music he heard was traditional Mexican music, mostly the Tejano conjunto or Tex Mex style of music, which was influenced by polka music originally brought to Texas by German settlers. He also heard a lot of blues, some on the radio and some in the fields where his parents were migrant workers. Many of the black workers sang and played the blues which affected him deeply and contributed to his unique musical style. At 16, he joined the Marines for a three year hitch. After his discharge, he began to play the honky tonks, bars and dance halls of South Texas. His first successful recordings were Spanish versions of Elvis Presley's "Don't Be Cruel" and Harry Belafonte's "Jamaica Farewell." The recordings released on Falcon Records achieved the number one position in Mexico and South America in 1957. In 1959, he signed with Imperial Records in Hollywood, the home label of the likes of Fats Domino and Rick Nelson. (My dad, Lalo Guerrero, recorded for Imperial Records in the late forties and early 50's). Hoping to reach the Anglo audience he changed his name, taking the name Fender from the trade name of his electric guitar and Freddy for the alliteration.

In 1960, Freddy had his first national hit with "Wasted Days and Wasted Nights." Later that year he and his bass player were busted for possession of two joints of marijuana. He served 3 years in prison. After serving his time, he went to New Orleans, where he spent five years soaking up rhythm and blues and Cajun music. He returned home in 1969, where he worked as a full time mechanic and enrolled in a community college, playing music only on weekends. He struck gold in 1974 when a recording he had done in Houston entitled "Before the Next Teardrop Falls," was purchased and released by ABC-Dot Records. On April 8, 1975 it reached number one on Billboard Magazine's pop and country charts. His remake of "Wasted Days and Wasted Nights," which was virtually the same rock & roll arrangement he used in the 50's, shot to number one on the country charts.

I met Freddy Fender in 1980 in Las Vegas, Nevada, where I was working with a cover band at the Union Plaza Hotel, while he was doing a stint at the Silverbird Hotel. Linda Peace, the female vocalist in the band I was playing with, knew Freddy and took me and her husband, Dave Wendels (one of the guitarists in the band), to visit him before his show. We went up to his room to meet him and then saw a little bit of his show before we had to go to our gig. After our gig, we went back to Freddy's room and hung out. We were sitting around passing the guitar and talking. When the guitar got to me I played one of my songs, "You Gotta Thank the Black Man (for Your Rock & Roll)," a bluesy song that traces the evolution of rock & roll. Freddy liked it and asked me to send it to his office in Corpus Christi, Texas. I was pleased that Freddy appreciated the song and wanted a personal copy. I mentioned that my dad is Lalo Guerrero and Freddy recalled hearing my dad's records when he was growing up in Texas. He particularly remembered a recording my dad did which was a Spanish version of "Itsy Bitsy Teenie Weenie Yellow Polka Dot Bikini," called "La Bikini de Mi Tia Trini." Freddy gave me an autographed picture of him in the 1950's, which I still have hanging in my studio. A few months later our band ran into Freddy and his band again at a gig at Tahitian Village in the Los Angeles area.

In the 90's, Freddy joined with Flaco Jimenez, Doug Sahm and Augie Meyers to form The Texas Tornados. Doug and Augie had been members of The Sir Douglas Quintet and Flaco is a Tex Mex accordion legend. They proved to be very successful with record sales and as a live act. The Texas Tornados recorded four albums before disbanding. Freddy returned to his solo career and then joined up with members of Los Lobos, Rick Trevino and Flaco to form Los Super Seven.

Freddy Fender has won many awards including a Grammy with the Texas Tornados in 1990, the Academy of Country Music "Most Promising Artist" in 1975, the Country Music Association "Single of the Year" in 1975, and induction into the Tejano Music Hall of Fame. He has appeared in movies such as Robert Redford's "The Milagro Beanfield War in 1989 and Luis Valdez' "La Pastorela" in 1991. (My dad also had a part in the latter movie and shared a scene with Freddy). His television credits include "Austin City Limits," "Late Night with David Letterman," "The Tonight Show," and "American Bandstand." He's been featured in magazines such as Newsweek, Rolling Stone, People, and Playboy. The highlights of his performing career include the White House, Carnegie Hall, and the Montreaux Jazz Festival. Many of his CDs are available in stores and on the internet, including various compilations as well as his recordings with The Texas Tornados and Los Super Seven. Freddy is still performing on the road as a solo artist.
Freddy Fender (Baldemar Huerta) passed away Saturday, October 14, 2006 in his hometown of Corpus Christi, Texas. He was diagnosed with lung cancer in early 2006. You can purchase Freddy Fender CDs from the amazon.com links below.
mp3 Sound Byte
Freddy Fender 1974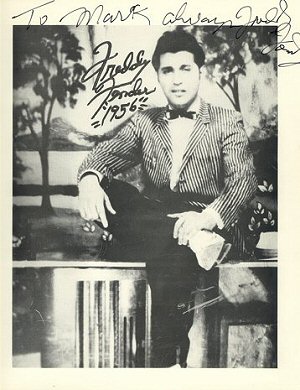 Freddy Fender (1956)
(Baldemar Huerta)

Freddy Fender & Mark Guerrero- Las Vegas (1980)

Selected Freddy Fender Video

Freddy Fender "Before the Next Teardrop Falls"
Click here to go to the Freddy Fender store at amazon.com



Previous page || Go to next article