Little Ray: East L.A. Superstar of the 60s
by Mark Guerrero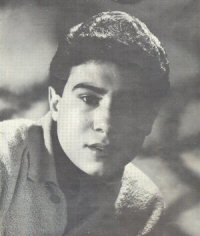 Little Ray, along with Little Willie G., was the biggest star in the East L.A. firmament in the 1960s. His forte was rhythm and blues and he sang, danced and performed with energy, excitement and professionalism that was beyond his teenage years. He had a great voice that could sing up tempo R&B tunes with the proper emotion and style, and croon a ballad that would rival anyone on the national music scene. He made records on mostly small independent labels that had an impact on the local scene, but didn't achieve the level of stardom his talent warranted.

Little Ray Jimenez was born and grew up in Delano, California, where some of his relatives were farm workers. His older brother was friends with the legendary Cesar Chavez before Cesar became famous for his work as a labor leader for the farm workers. As a small boy he demonstrated a talent for singing when he would sing along with a jukebox located behind a fast food stand next door to a store where his brothers worked. Ray would memorize the words to the songs on the jukebox by artists such as Elvis Presley, Little Richard and Fats Domino. His brother Vincent took the seven year old Ray to a dance at the Philippino Hall in Delano, where The Rhythm Aces (later to become Al Garcia & the Rhythm Kings) were playing. Vincent convinced the high school age band to let his little brother sing. They let Ray sing and he was a sensation singing "Hound Dog" by Elvis and "Reddy Teddy" by Little Richard. He started to be featured with the band, billed as "Little Elvis." He was such an attraction that he became a regular member of the band, eventually billed as Little Ray. When he was about eleven years old, Ray was approached by Ed Cobb of the famous Four Preps to cut a record. His first record was "There's Something On Your Mind," a song originally recorded by Big Jay McNeely.

When Little Ray was about 13 years old, he would spend his summers with his brother Robert in Los Angeles. Robert would take him to rhythm and blues shows featuring the legendary Johnny Otis band. Robert convinced Otis to let Ray sing. Ray got a good response and began to sing regularly in these shows, usually promoted by Art Laboe or Hal Ziegler. Little Ray got a great education watching the likes of Jackie Wilson, Brook Benton and Ray Charles perform at these shows. When Little Ray was about 15 years old, he moved to L.A. to stay. He attended my alma mater, Garfield High School, where I had gym class with him one semester. By this time he was singing with Thee Midniters alongside Little Willie G. I was fortunate to see one of the shows they did together in 1963 or '64. It was the show I alluded to in my article on Little Willie G., where the band and vocalists wore Lone Ranger style masks adorned with glitter to the sounds of "Green Onions" by Booker T. & the M.G.'s. It was a great band with two great lead singers. Ray did one recording with Thee Midniters, a version of Mary Wells' "My Guy," changed to "My Girl," backed by a Little Ray original called "Loretta." Little Ray's career with Thee Midniters ended 6 months to a year later when Ray missed a gig at a rock & roll show at East L.A. College due to being caught in a snow storm on the way down from Delano. Ray had been scheduled to sing "Land of a Thousand Dances" in the show which was to be recorded live. It was inspired by the Cannibal & the Headhunters version that Ray had recently heard them do at a show. When Ray didn't show up, Little Willie G. did the lead vocal which wound up on the national charts. At that point Thee Midniters felt they didn't need Ray, and Ray wanted to pursue a solo career anyway.

Ray went on to form his own group called Little Ray & the Progressions. I saw their debut at an East L.A. College rock & roll show and they were very polished and professional. Little Ray did a great record with them, a version of the Ben E. King classic recording "I Who Have Nothing," originally a French song to which legendary songwriters Lieber and Stoller wrote English lyrics. Tom Jones covered it later, but I didn't like it as well as Ray's version. The flip side of Ray's record was "I Been Trying," a great song written and produced by Arthur Lee, lead singer of the popular 60s band, Love. Love's big hit was the Burt Bacharach/Hal David song, "My Little Red Book." Ray's vocal on "I Been Trying" is phenomenal. Little Ray & the Progressions evolved into the Little Ray Revue, which included two four-man vocal groups, the Epics and the 4 Clefs, and female back up singers called the Rayettes. I saw the Revue as well and it was an exciting show in the spirit of the Motown Revue. I have a collection of flyers from East L.A. dances and shows of the 60s where my bands performed, and found that I had 18 where my bands, Mark & the Escorts and the Men from S.O.U.N.D., were on the same bill with Little Ray. Some of the venues were the Montebello Ballroom, Big Union Hall, Huntington Park Ballroom, Boulevard Theater and Shrine Auditorium.

In the late sixties, Ray got an opportunity to write and produce for Seymour Stein, who later discovered such artists as Madonna, The Pretenders and Talking Heads. Ray, who liked my original material and band of the time called the Men from S.O.U.N.D., tried to get us involved in a project. Neither Ray nor I remember why the project never happened, but I do remember doing a session for Ray at Columbia Recording Studios in Hollywood where I played a 12 string Rickenbacher guitar on some songs. Ray then moved to New York, where he worked on projects as a writer and producer for Stein. One of the artists he worked with at the time was a band from Boston called Chain Reaction, who later became Aerosmith. He also did a few gigs with Cannibal & the Headhunters, when they were based out of New York, and produced some recordings by them. Those recordings, as well as some by Little Eva of "Locomotion" fame, were never released. After about a year and a half to two years, he returned to L.A. where he had a wife and kids by then. In the early 70s, Ray teamed up with his old friend Willie G. to form a group called God's Children, which included three female singers. It was a secular group who recorded a single for Uni Records, which became the theme song for the television series "Matt Lincoln."

Since the 60s, I didn't see Ray until I ran into him in 1980 at a gig in Stanton, California where I was playing with a cover band. In 1985, he came to hear a band I was with at the time called the Armstrong & Guerrero Band at a gig in Fountain Valley, California. I reciprocated by going to see Ray perform with his current group, Ray & the Idols in Long Beach, California, where he proceeded to show me that he still possessed his vocal and performing powers. A couple of weeks after that, the Armstrong & Guerrero Band were scheduled to do a gig following a band Ray was booking at the time. Ray saw to it that we could use his band's P.A. system so we wouldn't have to bring ours. It was a very thoughtful courtesy on his part. In the early nineties, I was a guest on a cable TV show called "Rock & Roll House Party" hosted by disk jockey Steve Propes, on which Little Ray and his band also performed. I did some of my songs acoustically, backed by musicians Alex Armstrong and Leo Valenzuela. Ray squeezed his whole band into the studio and blew the roof off the place with his version of Al Green's "Take Me To the River" and other r&b classics. I didn't see him again until we reconnected when I called to interview him for this article in 2001.

Little Ray has always made his living as a singer and performer, since the eighties with Ray & the Idols and Ramon & the L.A. Band. He's played mostly night clubs and the country club circuit. However, Ray Jimenez has not had a recording released since the early 70s. Happily, this will soon change since he now owns his own professional recording studio in East L.A. called Sanctuary Studios, where he's already begun his first project and is starting his own label. He bought a two story building several years ago and customized it to accommodate a rehearsal and recording studio. It'll be great to hear new recordings by one of the great singer/performers in Chicano music, Little Ray. Talent runs in his family so the legacy continues. Ray's son, Dennis, is a singer in a band, and his daughter, Stacy Chavez, sings in Ray's shows. One of his nephews, Michael, has been a member of Chicano rock band Tierra.

There are very few recordings available by Little Ray today. You can find one of his recordings from 1964 entitled "Karen" on the Chicano Alliance CD, which is featured on this website. "Karen" and "Come On and Swim" are featured on the Varese Sarabande volume two of the four CD collection called "Eastside Sound, Vol. 1,2,3 and 4 (Varese Sarabande VSD-6018). After writing this article, I called a friend who owns a reissue label and asked him if he'd be interested in a Little Ray compilation CD, and he is. I spoke to Ray about it and, with a little luck, it looks like we might all be able to enjoy such a CD in the future. In addition to Sanctuary Studios, Ray has a management company called Vista Entertainment Group and a booking agency by the name of Total Performance. All three companies can be reached at 323-888-9884.
This article is based on an audio taped telephone interview by Mark Guerrero with Little Ray on September 25, 2001.
Update
In 2004, Ray and I met up again when I was working on an album with Chan Romero at Ray's Sanctuary Studios. I was initially involved because Chan recorded a song I wrote for him called "Rockin' Like There's No Tomorrow." As it turned out, Chan, Ray, and I sang all the background vocals for the project and had a great time doing it. It also sounded great. At the same time, Ray was releasing the first CD on his new label, Cosa Buena Records. It's a Christmas CD in Spanish entitled "Nuestra Navidad" and features lead vocals by several artists, including Little Ray going by his full name Ramon Perez Jimenez. He's also planning a new CD of his own in English which will have R&B and Latin elements. It's great to see Little Ray Jimenez recording again.
mp3 Sound Byte
Little Ray 1965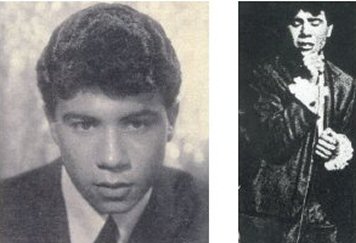 Little Ray Jimenez (c. 1964)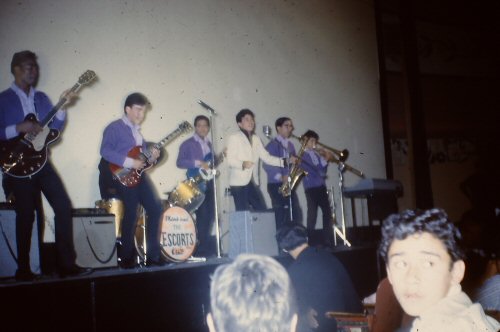 Little Ray & the Progressions (1965)
(Boulevard Theater- East Los Angeles)
(using our Mark & the Escorts drum set)
(far left- Clarence Playa, center- Little Ray Jimenez)

Previous page || Go to next article