Tango: My 70s Band From East L.A., Not Argentina
by Mark Guerrero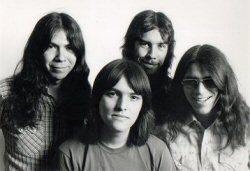 Tango was my band who had an album out on A&M Records in 1973. It contained ten of my original songs and featured appearances by the legendary John Hartford, writer of "Gentle On My Mind" on banjo and fiddle, and "Sneaky Pete" Kleinow, formerly of the Flying Burrito Brothers, on pedal steel guitar. A separate single called "Holy Moses" was released the following year. The songs we recorded were mostly rock and country rock. The story of Tango is a classic example of all the things that can go wrong on the business side of music. We were a very tight band that made some very good records and at least one that was great, my personal favorite, "I'm Brown." "I'm Brown" can stand alongside James Brown's "Say It Loud (I'm Black and I'm Proud)" and Helen Reddy's "I Am Woman" in that they're all anthems about positive self-image and identity. It was recorded and first released in 1972 on Capitol Records with me as a solo artist. "I'm Brown" is essentially a protest song with a chorus which says "don't you know I'm brown can't you see my face, but I'm first a member of the human race." I'm pleased that when I wrote the song at the tender age of 22, I had the wisdom to say in the lyrics that I'm proud to be brown, but I'm first a human being. In those early days of minority movements, there was a lot of reverse racism and sexism, the "my group before and above all" mentality. Unlike most other Chicano groups of the early 70s whose styles were a mix of Latin, r&b, and doo wop, we were influenced by artists such as The Beatles, Buffalo Springfield, Bob Dylan, The Band, and Poco. We did, however, acknowledge our Latino roots with songs such as the aforementioned "I'm Brown" and "Allesandro," which was bilingual. I did all the lead vocals and played rhythm and lead guitar, as well as keyboards. John Valenzuela played lead guitar with great style and taste. Richard Rosas was on bass and Ernie Hernandez on drums, a very tight and rootsy rhythm section.

Tango was a band that had evolved over a ten year period. My first band was the Escorts, later Mark & the Escorts, which started in 1963 when I was 13 years old. The rhythm section of Mark & the Escorts was the same one mentioned above, Richard Rosas and Ernie Hernandez. (Ernie, Richard and I played together with various other musicians from 1964 through 1974, with a break from 1970 through '72.) Mark & the Escorts evolved into the Men From S.O.U.N.D. in 1966, morphed into Nineteen Eighty Four (named after George Orwell's classic book) in 1969, and then had the two year split described above. We reconvened as the Mudd Brothers, with the addition of the aforementioned John Valenzuela on guitar, and were re-christened Tango in 1973 when we recorded for A&M Records. I had split from Richard and Ernie in 1970 after we recorded ten of my earlier original songs with producer/engineer Tommy Coe, who had written a hit song for Jerry Wallace called "How the Time Flies." Tommy Coe was a great guy and talented musician and engineer, who took us under his wing and taught us a lot about the studio and how to lock in and be a tight band. We did the recordings on speculation in 1969. Even though Tommy was not able to secure us record deal, it was a fun time and a great learning experience. We spent months in the studio, often recording all night. We also met some amazing artists who recorded there at the time, such as the young Jackson 5 and country legend, Buck Owens.
After Nineteen Eighty Four split up, with the help of East L.A. manager/producer Art Brambila who shopped my demo, I went on to record a single on Ode Records as a solo artist with legendary producer Lou Adler of The Mamas and the Papas and Carole King fame. The single consisted of two of my original songs, "Lila, Love Me Tonight" and "Dare I Touch You, Marylou?." The sessions featured myself on vocals and lead and rhythm guitar, accompanied by Joe Osborne on bass and Hal Blaine on drums, a rhythm section who had played on some of the biggest hits of the 60s, including "Mr. Tambourine Man" by the Byrds and "California Dreamin'" by The Mamas and the Papas. My record got lost in the midst of the phenomenal success of Carole King's classic "Tapestry" album on the same label. Ernie and Richard had meanwhile put together a tight band with John Valenzuela on guitar and Steve Verdugo on piano that was playing around town. I saw them play at a small club in Pasadena and was very impressed. When I got my next opportunity to record, I asked them to back me and they agreed. Art Brambila had convinced Capitol Records that there was a wealth of talent in East L.A. and got a budget to record Eastside artists with Capitol getting the right of first refusal. Several artists were recorded and, fortunately for me, Capitol picked my recordings to release. We recorded eleven of my original songs for Capitol Records with me as a solo artist in 1972. The engineer on eight of the eleven songs was B.B. Cunningham of Memphis, Tennessee, who had scored a hit in the 60s with "Let It All Hang Out." He wrote and sang lead on the song by The Hombres, which was covered by John Mellencamp in the late 80s. We got along great with B.B. and he captured the sound we wanted. Two singles (four sides) were released, "Rock & Roll Queen" backed with "Lonely," and "I'm Brown" backed with "Livin' Off the Land." The eleven songs could have been released as an album, but Capitol didn't think America was ready for a Chicano band sounding like a country rock band.

With that setback, along with a falling out with Brambila, with the help of my lawyer I moved to A&M Records, who purchased all the masters from Capitol. John, Richard, Ernie, and I recorded four more of my songs at A&M with Joe Wissert as producer. Joe had produced such diverse artists as Earth, Wind and Fire, Gordon Lightfoot, The Turtles, and Boz Scaggs. The "Tango" album wound up being the four new songs along with six of the original eleven. The powers that be then decided they wanted a band concept rather than me as a solo artist. We wanted to use the name "Mudd Brothers" we had been using on gigs around Southern California. They didn't like the name and wanted us to come up with one that had a Latin sound since we were Chicanos, even though the music had almost nothing to do with Latin music. The movie "Last Tango In Paris," starring Marlon Brando, was the rage at the time so I thought why not Tango. The record company went along with it, but I was never happy about the name. The album cover was the result of another compromise. The A&M staff photographer, Roland Young, wanted us to pose with our moms and dads! When we didn't show any enthusiasm for that idea, he said "how about with your cars." Ever the diplomat, I said "how about at each of our houses." He agreed so we each posed at our respective domiciles. These photos appeared on the back cover. The front cover wound up resembling the front of a cereal box, with a lady, left hand cupping her mouth, shouting the word "Tango." In retrospect, I don't think the name or the cover was any help to our cause. In fact they were major detriments. If you saw the album in a record store with a cover that said the word "Tango" with no picture of the band on the front, you would most likely think it was an album of Argentine Tango music. The name, or album cover, didn't reflect what our music was all about. We were part of the Southern California sound of the time, contemporary to first albums of The Eagles, America, and Jackson Browne. We just happened to be Chicano. Aside from the fact that Capitol and A&M couldn't see past our ethnicity, many unfortunate things occurred. Our master tape was stolen and held hostage by our previous manager, which led to dueling lawyers and a two month delay in finishing the album. A new manager came in to represent us and left just as quickly in the midst of the chaos, pulling the proverbial rug out from under our feet that were still not wet in the business. The record company didn't know what to make of us or how to promote us and we were too young and inexperienced to know what to do about it. I remember a meeting with a major figure at the label, who asked me to describe our music and image in terms of other artists. I said, "maybe the Buffalo Springfield or the Eagles." He replied, "I disagree. I think it's more like Tony Orlando." No offense to Tony, whom I've met, but our music and image had absolutely no similarity to his. I figured the executive must have thought that Orlando looked Latino and his last name also ended with an "o," the only two things Tony and I had in common. It was then I realized the record company had no clue who we were or what we were trying to do.
We were booked into the brand new Roxy Theater in Hollywood, where we were mismatched with Flash Cadillac and the Continental Kids. They were a 1950s revival band, so their audience was surprised to see four young Chicanos playing 70s rock and country rock music. We went over reasonably well, but it was definitely not our crowd. Our weekend engagement as the opening act at the Roxy received some good reviews in the press. We got positive reviews from Richard Cromelin in the L.A. Times, Billboard Magazine, Todd Everett in the L.A. Free Press, and the Daily Variety. With no manager, we had no one to lobby for our interests at the record company. We got very little, if any, promotion and were not given the opportunity to tour to support the album. The only shows we did besides the Roxy was one at UCLA on the bill with comedian Franklin Ajaye and another at San Diego State University on the bill with singer/pianist/actress, Ronee Blakely. Blakely shortly thereafter was in the Robert Altman movie "Nashville" and subsequently was part of Bob Dylan's 1975 Rolling Thunder Revue. Not surprisingly, with all the problems outlined above, the Tango album got some scattered airplay and faded. The band broke up in 1975. In 1983, the members of Tango all got together in Richard Rosas' studio in Laurel Canyon and recorded two of my songs, "Hollywood" and "Song and Dance Man." It was like we'd never stopped playing together. In 1990, the Tango album was reissued in Japan on CD, but to my knowledge it's currently unavailable unless you find a used copy at a record show or on line. However, I'm working on getting all nineteen of the recordings we did reissued.

I think the Tango album still sounds good today and the songs stand up and don't sound dated. I'm also happy with most of the arrangements and performances to this day. There are three or four that, if I knew then what I know now, I would have added or subtracted some things in the arrangements. There's also one lead vocal, which was recorded live in the studio, I would have redone. Richard Rosas, later known as Rick "the Bass Player" Rosas, went on to play for about 15 years with Joe Walsh. He also did a stint with Neil Young in the late eighties, touring and playing on the "Neil Young and the Blue Notes" and "Freedom" albums. The latter album included the classic "Rockin' In the Free World." In 2005, Richard joined Neil Young again to tour and play on his next four albums; "Prairie Wind," "Living with War," "Chrome Dreams II," and "Fork In the Road." He also played bass in Neil Young's "Heart of Gold" movie/DVD, the 2006 Crosby, Stills, Nash, & Young tour, and the 2011 Buffalo Springfield reunion tour. I take pride in the knowledge that I got him started in music in 1964 by presenting him with the opportunity that if he bought a bass he could join my band. Also, playing and recording the first ten years of his career with my bands from Mark & the Escorts to Tango, gave him the experience necessary to play with Walsh and Young. (During that time span we recorded for G.N.P. Crescendo, Kapp, Capitol, and A&M Records.) Ernie Hernandez, after touring around the Southwest and Midwest with cover bands for several years, went into the construction business. John Valenzuela, after playing a few more years, also went into construction. John married Ernie's sister Anna. They had two sons and two daughters who turned out very well; a doctor, a teacher, a chef, and a recording engineer. I went back to school in 1976 and got a bachelor's degree in Chicano studies at Cal State L.A. and have continued to make a living playing music. I've continued to write and record my own songs as a solo artist and my songs have been recorded by artists such as Herb Alpert, Trini Lopez, Chan Romero, and Lalo Guerrero. Because of my Chicano music website and subsequent internet radio show, "Chicano Music Chronicles," I've been asked to do lectures on Chicano music at universities and my articles have appeared in magazines in the U.S. and England. I've performed at venues such as the Cavern in Liverpool, England and with my dad at the Cite de la Musique in Paris, France. I also played as a member of the legendary Native-American band, Redbone in 2004 and 2010-11 and toured with the Cannibal & the Headhunters Band, backing classic rock artists such as Denny Laine (Moody Blues, Wings), Joey Molland (Badfinger), Terry Sylvester (Hollies), Dennis Tufano (Buckinghams), and Sonny Geraci (Outsiders, Climax) (2011). My current group, the Mark Guerrero Band, occasionally do concerts around the Southwest.
Update
In March of 2004, Tango reunited at the wedding of John Valenzuela's son James. Held in the back yard of John's home in Hacienda Heights, CA, all four original members of Tango (Mark Guerrero, John Valenzuela, Richard Rosas, and Ernie Hernandez) played for about a half and hour. With no rehearsal, we did three songs from our 1973 A&M album ("Rock & Roll Queen," "Brown Hair Growin'," and "I'm Brown") and they sounded great. They kicked right in. Apparently, the songs are permanently wired to our hard drives. We also did Hank Williams' "Honky Tonk Blues," sung by John, and I sang Van Morrison's "Tupelo Honey." Playing with the guys again after all those years reminded me that Tango has a distinct style and sound that has a bluesy, funky edge.
In 2009, Tango had our first public reunion at East Los Angeles College for the re-issuing of the book "Land of a Thousand Dances" by Tom Waldman and David Reyes. Rick Rosas was not available since he was on tour with Neil Young, so John Valenzuela's brother Leo sat in on bass. (Rick has however played with us for three Mark & the Escorts reunion shows since 2009.) In April of 2012, all four original members of Tango reunited at a rehearsal hall in North Hollywood to play all my songs we recorded back in the early 70s. We video taped it and had a great time. Once again, the songs were still readily available in our memories and sounded great. We plan to get together again soon to play them again, this time "live" in a recording studio.
I'm pleased to say "I'm Brown" has gotten some cultural and historic recognition in two major museum exhibits. The "Tango" album cover was on display in 2009 on the album wall with "I'm Brown" on an ipod, at the Experience Music Project Museum in Seattle, Washington. It's part of a 5,000 square foot multi-media exhibit called "American Sabor: Latinos In U.S. Popular Music," which opened in October of 2007 and ran for eleven months before traveling to Miami, San Antonio, Phoenix, and the Smithsonian Institution in Washington D.C. In 2009, the Mark Guerrero solo single of "I'm Brown" on Capitol Records was on display, along with the original manuscript of the lyric, at an exhibit called "Songs of Conscience, Sounds of Freedom" at the National Academy of Recording Arts and Sciences' Grammy Museum in Los Angeles.
mp3 Sound Bytes
Tango 1972


Tango album cover (1973)
(A&M Records)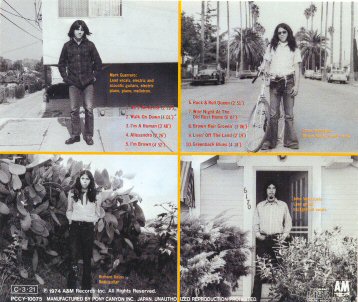 Tango album cover backside
(top left- Mark Guerrero / top right- Ernie Hernandez
bottom left- Rick Rosas / bottom right- John Valenzuela)

Tango A&M Photo (1973)
(left to right-
Ernie Hernandez, Rick Rosas, Mark Guerrero, and John Valenzuela)

Tango (1973)
(left to right-
Rick Rosas, Mark Guerrero, John Valenzuela, and Ernie Hernandez)

Tango "live" at the Roxy Theater in Hollywood, CA (1974)


(left to right-
Rick Rosas, Ernie Hernandez, Mark Guerrero, and John Valenzuela)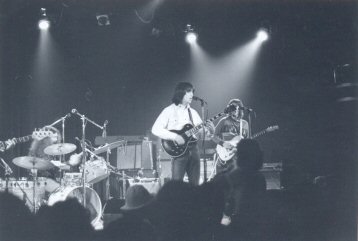 (left to right- Rick Rosas' left hand and bass neck,
Ernie Hernandez, Mark Guerrero, and John Valenzuela)

(left to right-
Ernie Hernandez, Rick Rosas, John Valenzuela, and Mark Guerrero)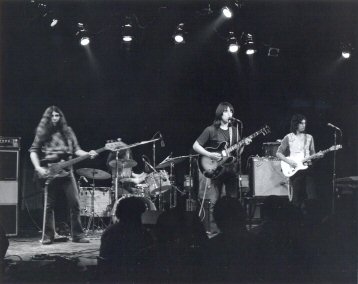 (left to right- Richard, Ernie, Mark, and John)

(left to right- Richard bass head, Ernie, Mark, and John)

top left- Richard left hand and bass neck, Ernie, Mark, and John)

(left to right- Ernie, Richard, John, and Mark)

Joe Wissert
(producer of our A&M recordings sitting at the board at our performance at the Roxy)


Tango at U.C.L.A. (1973)


Tango at U.C.L.A. (1973)
(left to right- Mark and John)
(Ernie and Richard to left out of picture)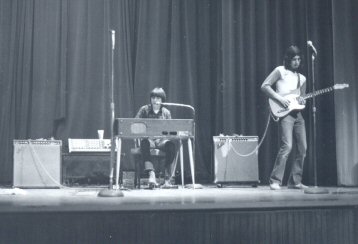 Tango at U.C.L.A. (1973)
(left to right- Mark and John)
(Ernie and Richard to left out of picture)


Tango ad in Cashbox Magazine (March 2, 1974)


This was the one ad in which we appeared. It was one of six A&M artists advertised on one page, along with Humble Pie, Peter Frampton, Toots and Svend, Roger Kellaway, and Esperanto.

The copy which is blurry on this scan says: Tango is four young rock musicians from Los Angeles who've been playing together for almost nine years. On their first album they make tight, hard, and loud rock & roll. Production is by Joe Wissert who brought Earth, Wind and Fire to the charts.
Tango bio written by A&M publicity man Bob Garcia (1973)

Tango in concert at Verdugo Hills High School (1973)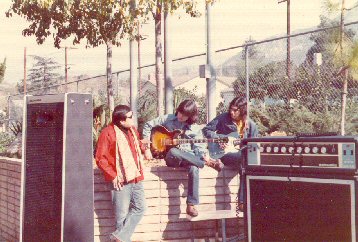 Bob Garcia, Mark Guerrero, and John Valenzuela (1973)

Recording at Independent Studios- Studio City, CA (1972)
(During this period I was a solo artist and Ernie, Richard, and John were backing me on the sessions. We became Tango when we went to A&M Records in 1973.)


(left to right-
Mark Guerrero, Ernie Hernandez, Rick Rosas, and John Valenzuela)

(left to right- Mark, Richard, Ernie, and John)

(left to right- Mark, Ernie, John, and Richard)

(left to right- Rick Rosas, B.B. Cunningham (engineer), Phil Sonnichsen (ethnomusicologist), Art Brambila,
Mark Guerrero, Ernie Hernandez, and John Valenzuela)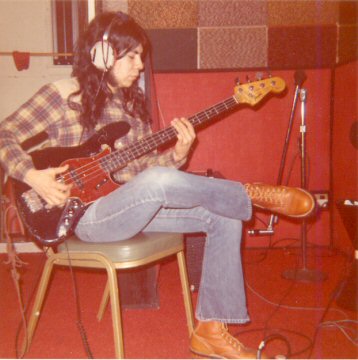 Rick Rosas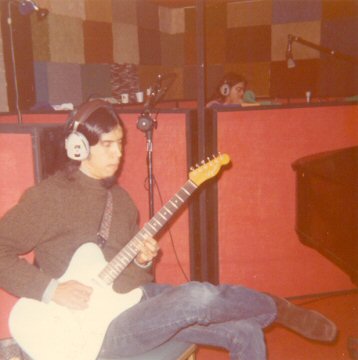 John Valenzuela
Flyers / Photos
The flyer below was from an historic concert at Cal State L.A. in 1972 during the period when Mark Guerrero was a solo artist backed by Ernie Hernandez, Rick Rosas, and John Valenzuela (pre-Tango). Anthony Baray of the popular East L.A. band the Emeralds performed with us on Hammond organ. El Chicano, Tierra, Elijah, and Carmen Moreno were also on the bill.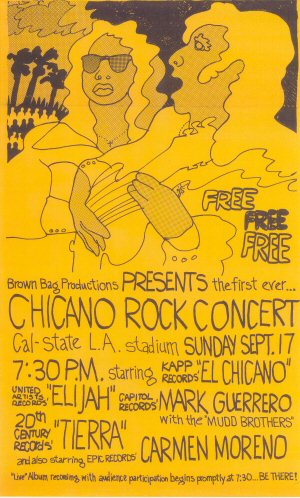 Cal State L.A. - September 17, 1972

Photos from Chicano Rock Concert at Cal State L.A.


Photo collage of Mark Guerrero & the Mudd Brothers at Cal State L.A.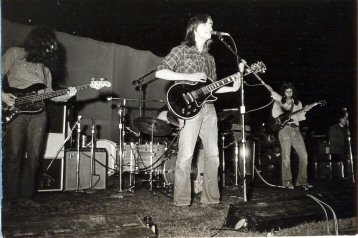 Rick Rosas, Mark Guerrero, and John Valenzuela
(Ernie Hernandez behind Mark and Anthony Baray far right)

Rick Rosas, Mark Guerrero, Ernie Hernandez, and John Valenzuela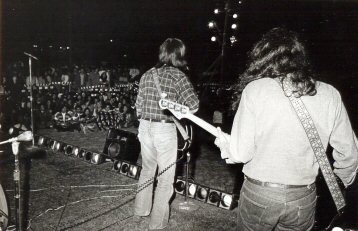 Mark Guerrero & Rick Rosas


Tango flyers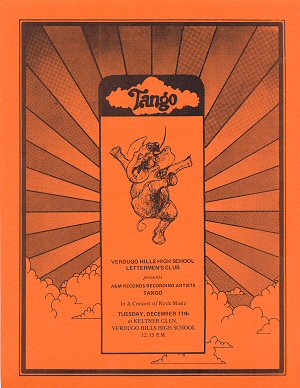 Verdugo Hills High School - December 11, 1973

The Backdoor Aztec Center
San Diego State University
February 1 & 2, 1974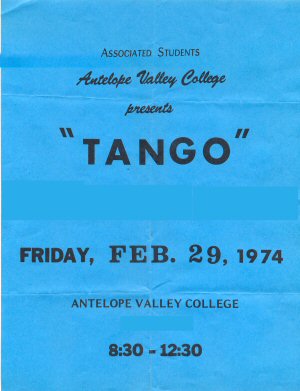 Antelope Valley College
February 29, 1974
Reviews
(The Tango Reviews are in the last paragraph of the two clippings below)

Click on CD image below to order "Mark Guerrero Solo & with Tango 1972-74"


Click here to read about the Tango Reunion in 2009

Previous page || Go to next article