Redbone: Cajun Funk with a Touch of Latin Soul
by Mark Guerrero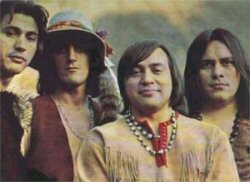 Redbone was a funky band whose music was a mixture of r&b, Cajun, Latin, and Native-American tribal elements. They were founded in the late 60s by brothers Pat and Lolly Vegas, born Pat and Lolly Vasquez. Lolly is actually the diminutive form of the nickname for the name Eduardo, which is Lalo. The name Redbone came from a derogatory Indian slang term meaning half-breed. However, they chose to bear the name with pride and a touch of humor. Although the heritage of the band members was a mixture of Chicano and Native American, they emphasized the latter with their name and image. They dressed in full Indian regalia; buckskins, moccasins, and headdress. Redbone signed with Epic Records in 1970 and went on to have two top forty hits, the biggest being their million seller "Come and Get Your Love" in 1974. They performed on the major television shows of the day and toured extensively in the United States and Europe.

Pat and Lolly Vasquez, Mexican-Americans who grew up in Fresno, California, started their professional music careers in the touring band of Jimmy Clanton. Pat played bass and Lolly guitar. Clanton had scored hits with "Just a Dream" and "Venus In Blue Jeans." After leaving Jimmy Clanton in 1961, Pat and Lolly headed for Hollywood, where they secured the services of Bumps Blackwell as their manager. Bumps was best known for his work with Sam Cooke and Little Richard on Specialty Records. Due to the racial discrimination at the time in the clubs on the Sunset Strip, Blackwell convinced Pat and Lolly to change their surname for easier access. The name Vegas was chosen because they had an uncle with that name and they enjoyed the reference to the gambling town in Nevada. Over the next ten years, Pat and Lolly shared the clubs on the strip with such legendary bands as The Doors, Buffalo Springfield, and The Byrds. On one occasion they jammed all night with the Rolling Stones. They also became in demand studio musicians and worked alongside Dr. John, Leon Russell, Glen Campbell, Johnny Rivers, and many others. A major break came in 1964 when they became regulars on the hit ABC-TV series, "Shindig." "Shindig" was the biggest pop music show of the era, which featured the major rock and pop artists of the U.S. and Britain. In 1966, their first album, Pat and Lolly Vegas "At the Haunted House" was released by Mercury Records (Mercury SR-61059). They also got into the hot rod music scene as part of the Deuce Coupes, who recorded an album for Bob Keane's Del-Fi Records. As songwriters, Pat and Lolly (with Jim Ford) wrote a hit for P.J. Proby called "Nicky Hoeky," which led to other covers by artists such as Bobbie Gentry, Aretha Franklin, and Tom Jones. (Tom Jones covered "The Witch Queen of New Orleans," which earned him a gold record in England.)

Although they may have been unaware of it, Pat & Lolly Vegas were an inspiration and had a strong influence on East L.A. bands of the 1960s. According to the book "Land of a Thousand Dances" by Tom Waldman and David Reyes, during Pat and Lolly's time playing on the Sunset Strip, many musicians from East L.A. came to check them out, including members of Thee Midniters, Cannibal & the Headhunters, and The Premiers. Andy Tesso of The Romancers, who happened to be Pat & Lolly's cousin, has told me he was heavily influenced by Lolly's guitar style. Andy, in turn, went on to influence many Eastside guitarists. Another East L.A. band, Elijah, who were later influenced by Redbone, recorded one of Pat & Lolly's songs called "Prehistoric Rhythm" on their 1972 United Artists album entitled "Elijah."

In the late 60s, Pat and Lolly Vegas formed their own group called The Crazy Cajun Cakewalk Band. Their original drummer was Ed Greene, who went on to become one of the top studio drummers in Hollywood. When they added Tony Bellamy on guitar and Peter "Walking Bear" DePoe on drums, who was of Cheyenne Indian heritage, the four decided on the name Redbone. Tony Bellamy, born Tony Avila, was a Mexican-American who had an uncle who was Navajo. Pat and Lolly claimed their Yaqui heritage. (The Yaqui Indians are from what is now Sonora, Mexico). Their first single on Epic Records was "Maggie," which became a regional hit in September of 1971. Then came "The Witch Queen of New Orleans," which reached number twenty one in the States and number two in England. This success paved the way for their mega hit "Come and Get Your Love" in 1974. "Come and Get Your Love" was a catchy pop song with a definite Latin groove. It also had a string section and a strong lead vocal by Lolly Vegas, who also wrote the song. To this day "Come and Get Your Love" can pack a dance floor with many doing the cha cha cha. The song remains particularly popular with Mexican-American baby boomers. During the recording of "Come and Get Your Love," Peter DePoe and the other three had a parting of the ways. His replacement on drums was Butch Rillera, who was my main source of information for this article. Butch, a cousin of Tony Bellamy, is Mexican-American on his mother's side and of Philippino descent on his father's. He also has a great grandmother who, according to his research, was a Seneca Indian princess. The Senecas are part of the Iroquois Nation. Butch joined Redbone in 1973 and played on the "Wovoka" album, which was built around "Come and Get Your Love." The basic tracks had already been recorded for "Come and Get Your Love," but Butch added cowbell and sang background on the classic recording. Rillera toured the United States and Europe with Redbone and stayed with the band through 1975. He also played on their "Beaded Dreams Through Turquoise Eyes" album, as well as a European release, which was recorded live in the studio. He also appeared with them on the network television shows "In Concert" and "The Midnight Special," which were the major rock & roll shows of the day. (For the record, according to Butch, Redbone had another drummer named Artie Perez, who had replaced Pete DePoe for one album and tour before Butch joined the band.)

Butch Rillera's musical background is a story in itself. His older brothers, Barry and Rick, had a band in Orange County, California in the 50s called The Rhythm Rockers. One of their lead singers was Richard Berry, who wrote the enduring classic party song "Louie Louie." Berry, who was African- American, got his inspiration for the song from a song The Rhythm Rockers used to play called "El Loco Cha Cha Cha by Rene Touzet. Barry Rillera worked as a furniture mover with a guy named Bill Medley, who eventually started singing with The Rhythm Rockers. Bobby Hatfield, who was attending Long Beach State with Barry, invited Barry to play at a fraternity party at the school. Barry brought Bill Medley to sing and Butch played drums. That was the night Bill Medley and Bobby Hatfield, later to be known as the Righteous Brothers, first sang together. Butch and his brothers played on the Righteous Brothers first album called "Right Now" on the Moonglow Record label. The Rillera Brothers played and recorded with the Righteous Brothers throughout the 60s. However, they didn't play on the Phil Spector singles such as "You've Lost That Lovin' Feelin'," where Phil used his "wall of sound" studio players. Butch also played with Bill Medley and Bobby Hatfield individually, after the two broke up and went on to solo careers, and then again after they reunited with their hit "Rock and Roll Heaven." Before joining Redbone, Butch had a band called Fatback and later played about a year with White Trash with Jerry LaCroix, after Edgar Winter left. Butch Rillera first met Pat and Lolly in the early 60s when he played a surf concert in Fresno, California with a band called the Lively Ones. Pat and Lolly's Crazy Cajun Cakewalk band were also on the bill, with The Beach Boys headlining.

Butch did a lot of touring with Redbone between 1973 and '75. In Europe, they performed in Holland, France, Germany, Sweden, Norway, and Spain. They shared the stage at various times with Dr. Hook, Albert Hammond, and others. Highlights on U.S. tours include playing at Carnegie Hall in New York with Argent and Kiss, opening for Marvin Gaye at the Forum in Inglewood, California, sharing the bill with Parliament Funkadelic in Philadelphia, and playing with Steely Dan at the Convention Center in Las Vegas. They also played with Graham Central Station at Howard University and the J. Geils Band and Tower of Power at other venues. Butch left Redbone in 1975 because he was unhappy with the business arrangement. In 1995, Lolly left the band due to a stroke and Pat and Tony continued. Eventually they broke up and Pat later reformed Redbone and is keeping the flame alive to this day. There are four Redbone CDs currently available. One is a greatest hits collection called "Redbone, Greatest Songs" on Curb Records, released in 1995 (Curb Records D2-77746). Aside from the hits, the CD features the self-explanatory "We Were All Wounded At Wounded Knee," a good pop song with a great lyric called "Suzi Girl," and covers of Leiber and Stoller's "Poison Ivy" and J.J. Jackson's "It's All Right." There's also a song called "One More Time," which has a similar groove, structure and instrumentation as "Come and Get Your Love." It was apparently intended to be the follow up to their mega hit. The second is another compilation, released in 1996, called "Redbone, Golden Classics" on the Collectibles label. The third is "Redbone Live" on Rhino Records, which was recorded live in Corpus Christie, Texas and Los Angeles, California in 1977. Additionally, some of their vinyl albums can be found on amazon.com and other internet sites. When you get to the bottom of my "Update" section of this page, about Pete DePoe, you'll find a link to Redbone's latest compilation (2003) on Sony's Legacy label called "The Essential Redbone."

Redbone was an excellent band with solid musicians, two strong lead vocalists in Pat and Lolly, and a distinctive style. They were swampy, bluesy, and combined the Latin and Native American elements of their heritage in a way that was hip, but at the same time pop and commercial. Their albums include, "Redbone" (1970), "Potlatch" (1970), "Message from a Drum" (1971), "Already Here" (1972), "Wovoka" (1973), "Beaded Dreams Through Turquoise Eyes" (1974), and "Cycles" (1977). Hopefully, their original albums will be reissued, or perhaps a comprehensive box set released so their musical legacy will be readily available.
This article is based on an audio taped telephone interview by Mark Guerrero with Butch Rillera on November 30, 2002.
In May of 2003, I got an e mail from Peter "Last Walking Bear" DePoe, who had read my article on Redbone. This resulted in some back and forth correspondence which led to a telephone conversation and eventually a phone interview. It was interesting to see how his story dovetailed perfectly with Butch Rillera's, who was his successor on drums with Redbone. Butch's story with Redbone starts with the completion of the "Come and Get Your Love" track and the "Wovoka" album. Pete's ends at that very point, but starts at the very beginning of the band.

Peter "Last Walking Bear" DePoe, a Native American from the Neah Bay Reservation near Seattle, Washington, went to Los Angeles the first time in the mid-sixties to visit his girlfriend, who had recently moved to Hollywood. While there, he happened to walk into a nightclub called the "Haunted House." As fate would have it, on stage were Pat and Lolly Vegas. Pete loved what he heard and mystically somehow felt he would someday play in a band with them. Without meeting the Vegas brothers, he went on his way. He returned to Washington and didn't get back to L.A. until several years later to play with a singer by the name of Dave Holden, whom he had known in Seattle. Pete credits Holden with teaching him about playing time on the drums. He emphasized the importance of time and directed Pete to play simply and in the groove with feeling. This laid the groundwork for his future success. He eventually joined Bobby Womack's band and was playing around town, mainly in the South Central part of the city. Meanwhile, Pat and Lolly Vegas were forming a new band. Their drummer, Wayne Bibbs, didn't feel his style of playing was right for the band. Wayne suggested that Pete go audition for them. DePoe didn't know until he got to the house in the Hollywood Hills, where Lolly and Tony Bellamy were living, that it was the Vegas brothers for whom he was auditioning. Pete set up and began to play with Lolly and Tony, Pat hadn't shown up yet. Unbeknownst to Pete, Pat arrived and stayed outside listening for a half an hour. When Pat came in, he announced "he's the one." With that Pete became a member of the band that would become Redbone.

They began to rehearse for about a year at a mansion in the Hollywood Hills owned by a man who was an investor in the band. The house was next door to the home of Michael Nesmith of the Monkees, where they would sometimes hang out or swim in his indoor/outdoor pool. Paul Lagos, who was drumming for the band Kaleidoscope, knew the West Coast President of Epic Records, Larry Cohen. One day Paul brought Larry Cohen to hear the Vegas brother's band, who in the meantime had become Redbone. The next day, they were signing contracts with Epic Records. They got an advance, recorded their first album, "Redbone," and went on a promotional tour. Pete went on to play on the next four albums, "Potlatch," "Message from a Drum," "Already Here," and "Wovoka." Pete toured the U.S., Canada, and Europe with Redbone and remembers being on the bill with artists such as Joe Cocker with Mad Dogs and Englishman, Ike and Tina Turner, Small Faces (featuring Rod Stewart), Miles Davis, Alvin Lee, Edgar and Johnny Winter, Mountain, and Black Sabbath. A highlight for Pete was selling out the 19,000 seat Spectrum in Philadelphia when Redbone headlined a show that also featured War and The Paul Butterfield Blues Band. Pete recalls that Redbone was never intimidated by any artists they shared the bill with because they were a tight, powerful, and confident band. That great confidence was temporarily shaken at another memorable concert which took place at Holmesburg Prison, also in Philadelphia. The event was broadcast "live" on public television all over the east coast from the old prison built in the style of the prisons in old England. As one would expect, the inmates were a tough audience to win over. The concert started off with the inmates not responding at all. Pete admits that the band was very nervous about the situation in which they found themselves. Finally Tony Bellamy decided to aggressively and enthusiastically perform in front of the obvious leaders in the crowd. Once the leaders started to enjoy themselves, the rest followed. Redbone had won over the toughest audience imaginable. Update: As of 2009, Pete "Last Walking Bear" DePoe is living and performing in Holland with his new band.
The above is based on an audio taped telephone interview by Mark Guerrero with Peter "Last Walking Bear" DePoe on June 6 and 7, 2003.
Update
Good news for Redbone fans! On June 10, 2003, Sony released a brand new Redbone compilation CD called "The Essential Redbone" on their Legacy label. Its got 14 tracks including "Come and Get Your Love," "The Witch Queen of New Orleans," "Maggie," and "Niki Hokey." The cover features a photo of Redbone from their first album.
In July of 2003, I joined Redbone as a member, along with founding member Pat Vegas, Raven Hernandez, Steve Roybal, and George Ochoa. I hadn't played with George Ochoa since we were teenagers in the 60s in my band The Men From S.O.U.N.D. However, our vocal harmonies were still intact. We rehearsed 6 or 7 times over about a six week period and in early September played a gig at The Palace Indian Gaming Center in Lemoore, CA on the bill with Rose Royce. We played a set that included Redbone classics "Witch Queen of New Orleans," "Wovoka," and "Come and Get Your Love." I sang lead on Redbone's cover of the r&b classic "But It's Alright." The highlight of the experience was meeting Lolly Vegas, who was along for the trip. I hung out in Lolly's room after the gig and we spoke for 2 or 3 hours. I found Lolly to be a highly intelligent and interesting man, with enormous musical knowledge and talent. For personal reasons I left the band, but continue to be an ally of the band and in touch with Pat and Lolly Vegas.
In 2006, Redbone was revamped with new members joining up with Pat Vegas. Two of the new members have played in my band Mark Guerrero & Radio Aztlán, Karl Carrasco on keyboard and my old friend Ron Reyes on lead guitar. Also added to the lineup is another old friend Art Sanchez on bass. Art and Ron were both fellow Eastside Sound musicians from East Los Angeles in the 60s. Another East L.A. musician Robert Zapata is on drums. They also have a second keyboard player by the name of Dave Goldstein. I understand the band is sounding great and doing concerts around the country, primarily at Indian Casinos.
In December of 2009, I played again with a slightly revamped from the 2006 version of Redbone described above. The lineup was Pat Vegas, Robert Zapata (drums), Karl Carrasco (keyboard), David Goldstein (keyboard), Louis Ruiz (bass), Ron Reyes (guitar), and yours truly on guitar. We did a show up at the Red Hawk Casino in Placerville, California (outside of Sacramento). The show went well and I enjoyed playing the great Redbone repertoire once again. On August 21, and 22 of 2010, the same lineup, with the exception of Ron Reyes, did two more shows at Speaking Rock Casino in El Paso, Texas. On these shows I was the only guitarist so I had the honor of playing all of Lolly Vegas' parts and doing all the guitar work.
Sadly, on on Christmas morning, December 25, 2009 Tony Bellamy, guitarist/vocalist and founding member of Redbone, passed away at the age of 69 in Las Vegas, Nevada. On Thursday, March 4, 2010, Lolly Vegas passed away at his home in the San Fernando Valley after a battle with cancer. He was a great singer, songwriter, and guitarist. They will both be missed, but the musical legacy they left behind will live on.
mp3 Sound Byte
Redbone 1974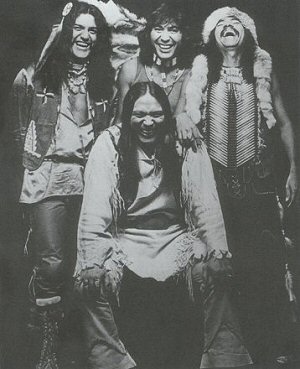 Redbone (1974)
(front- Lolly Vegas)
(back- Tony Bellamy, Pat Vegas, Butch Rillera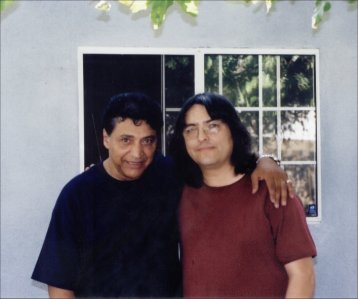 Pat Vegas and Mark Guerrero (2003)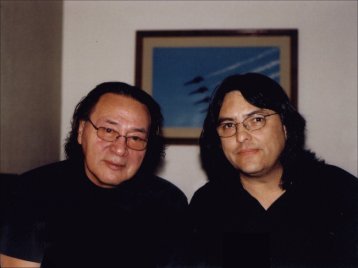 Lolly Vegas and Mark Guerrero (2003)
(Lemoore, California)

Redbone (2003)
(left to right- Raven Hernandez, Steve Roybal, Pat Vegas, Mark Guerrero, and George Ochoa)

Selected Redbone You Tube Videos

"Come and Get Your Love" on the "Midnight Special" 1974
Click here for "Come and Get Your Love" (on "Don Kirchner's Rock Concert")
Click here for "Witch Queen of New Orleans" live on German television
Click here for "Custer Had It Coming"
Click here for "Wounded Knee"
Below is a Redbone fan site:

Click here for Christian Staebler's site from France

Click here to go to the Redbone store at amazon.com



Previous page || Go to next article