Yaqui: East L.A. Chicano Rock Band of the 70s
by Mark Guerrero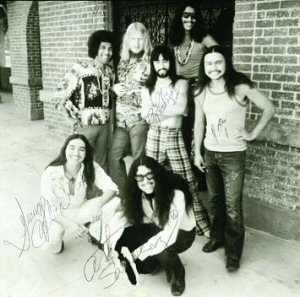 Yaqui was a rock band of the 70s from East L.A. whose roots went deeply back into the golden age of the East L.A. music scene of the 60s, as did many other Eastside bands of the early 70s such as El Chicano, Tierra, Macondo, and my band of the same era, Tango. Yaqui recorded and released a self-titled album, "Yaqui," on Hugh Hefner's Playboy Records in 1972 that was extremely well played, well sung, with some very good songs. Yaqui was part of a stable of artists, managed by Art Brambila, which also included Tierra and yours truly, when I was a solo artist. Art secured major record deals for all three of his artists. It was the beginning of what we all hoped would be a Chicano Motown. For various reasons that's not the way it worked out, but that story is perhaps for another time and place. The members of Yaqui were George Ochoa, lead vocals; Eddie Serrano, lead vocals; Ronnie Reyes, lead guitar; Art Sanchez, bass; Ray Rodriguez, drums; Larry Cronen, keyboards; and Rudy Regalado, timbales and percussion. It's bands like Yaqui that give me fuel and inspire me to work on my website. I enjoy writing about Chicano artists who have had hits and made a name for themselves, but I'm even more passionate writing about the artists who were very good, or in some cases great, who slipped through the cracks because they didn't happen to get a hit record. By writing about such artists, I'm doing my small part to ensure they, along with their music, will not be forgotten. Yaqui's musical style had Latin elements, but also showed the influence of artists such as Led Zeppelin and Crosby, Stills, & Nash. Their rock had a hard edge, but they had excellent vocals and harmonies.
The evolution of Yaqui is indeed an interesting story. The band evolved directly from a band called Old Tyme Religion, which contrary to what their name might suggest, was not a gospel group. Before I get into the story of Old Tyme Religion, I want to give you some background information on the individual members of Yaqui. George Ochoa, one of the lead vocalists, with his brother John, were known as the Slauson Brothers, who were popular in the mid-sixties in East L.A. Naming themselves after a popular dance of the time, they were one of the artists featured on the classic "West Coast East Side Revue, Volume 1," which had tracks by most of the best and most popular bands of the period. Their track was a doo wop ballad called "Rosalie." George later became lead singer in my mid-60s band, The Men From S.O.U.N.D., who were very active on the Eastside circuit. In the late 60s, George Ochoa became a member of Cannibal & the Headhunters during a period when they were based in New York City. Eddie Serrano had been the lead singer in a very popular Eastside band called The Enchantments. They made several records, "I'm In Love with Your Daughter" perhaps being the best known, was also featured on the "West Coast East Side Revue" album. Eddie also became a member of Cannibal & the Headhunters with George, later becoming Cannibal with the original Cannibal's blessings when Frankie Garcia decided to leave the music business. (In 1968, when I was around 18 years of age, I visited my brother Dan, who was living in New York City at the time. While there, I visited Cannibal & the Headhunter's apartment, running into Eddie Serrano on the street as I arrived. We went upstairs and hung out with George Ochoa. Unfortunately, Frankie "Cannibal" Garcia wasn't home. My best memory was George and I riding the subways. I remember thinking it was pretty cool and exciting that a couple of teenagers from East L.A. were wandering around the Big Apple.) Ronnie Reyes had been lead guitarist in The Impalas, who often backed up The Slauson Brothers, including on their aforementioned recording of "Rosalie." So George and Ronnie went way back together.
Ronnie Reyes was later a member of a late 60s band by the name of Strange Brew, who did an album for ABC Records entitled "A Very Strange Brew." Strange Brew, who were named after a song by Cream, was first managed by none other than George's real brother and former fellow Slauson Brother, John Ochoa. However, when they were with ABC Records, Strange Brew was managed by Jimmy King, who wrote the Grassroot's hit song "Midnight Confessions" under the name L.T. Josie. Both Strange Brew and my late 60s band called 1984, recorded an L.T. Josie song called "Three's a Crowd." Getting back to future Yaqui members, Art Sanchez had played bass for several East L.A. bands in the mid-60s including The Unusuals and The Runabouts. Both bands played many of the Eastside venues in the circuit we all played. The Unusuals even went uptown and opened for The Yellow Pages at Hollywood's Kaleidoscope Theater. Art later was a member of the aforementioned Strange Brew with Ronnie Reyes. (Other members of Strange Brew were keyboardist John Mckenian and lead vocalist Tommy Lozano. Lozano also sang with Cannibal & the Headhunters in New York with Frankie "Cannibal Garcia, George Ochoa, and Eddie Serrano in 1967, the year before my visit.) As you can already see, members of Yaqui had played together in various bands throughout the 60s. Ray Rodriguez played drums in several popular Eastside bands in the 60s, including The Royal Checkmates and The Fabulous Sounds. Larry Cronen was the son of the owner of Cronen's Music Store in Montebello, which was one of the music stores on the Eastside that was frequented by East L.A.'s rock bands. Rudy Regalado, Venezuelan drummer, timbalero, and percussionist extraodinaire, had been a member of El Chicano before joining Yaqui. Another significant figure in the Yaqui story is Steve "Sparks" Millspaugh, who was a roadie, road manager, and sound man for many years, eventually becoming president of Yaqui, Inc.
Getting back to Old Tyme Religion as promised, George Ochoa, Eddie Serrano, Ronnie Reyes, and Art Sanchez had all been members prior to the formation of Yaqui. Other members of Old Time Religion were singer/songwriter/keyboardist, Steve Verdugo and three successive drummers; Andy Orozco, Leon Becken, and Mark Mora. Old Time Religion recorded and released two 45 rpm singles for Warner Brothers Records in 1971. The first was "Glori I Enjoy Being With You," written and sung by George Ochoa, with "47 Cents," written and sung by Steve Verdugo on the flip side. The second single consisted of "The Swimmer," written and sung by Steve Verdugo, and "Itchy Feeling," written and sung by George Ochoa, on the other side. Steve Verdugo was and is a talented singer/songwriter, who had also previously been a member of my aforementioned mid-60s band, The Men From S.O.U.N.D. He had joined after George Ochoa had left. Old Time Religion was a very good band, who aside from making records, played a lot of night club gigs at the time, including a long stint at Carolina Lanes in Inglewood, California. It was a night club in a bowling alley. Carolina Lanes was near L.A. International Airport and was an interesting place. Previous to seeing Old Time Religion rock the house there several times, I had seen Chuck Berry and the Bobby Fuller Four of "I Fought the Law" fame perform there at different times in the mid-60s. After the two singles on Warner Brothers, Steve Verdugo and the other members of Old Time Religion parted company due to creative differences. Steve went on to record a single as a solo artist with producer Eddie Davis on Davis' Gordo label. It was a very good record with two Steve Verdugo originals, "Hollywood," and "My Lady." The latter song was later recorded by Tierra on their second album, "Stranded." The remaining members of Old Time Religion added Larry Cronen on keyboards, Ray Rodriguez on drums, and Rudy Regalado on timbales and percussion and changed their name to Yaqui. The name Yaqui was inspired by a book by Carlos Castañeda, "The Teachings of Don Juan- A Yaqui Way of Knowledge," which was very popular at the time. The book was about the spiritual life and knowledge of the Yaqui Indians of Sonora, Mexico, who often used peyote, mushrooms, and other substances growing freely in nature to help them achieve enlightenment.
Yaqui's album was produced by Art Brambila and recorded at several different studios, including Capitol Studios in Hollywood and Ike and Tina Turner's Bolic Studios in Inglewood, California. Remix production was done by Mario Panagua, who was a significant figure in the Eastside Sound of the 60s and 70s. Mario had been the leader and guitarist for The Jaguars with the Salas Brothers in the mid-60s and lead guitarist and composer on their classic instrumental "Where Lover's Go." Mario also did remix production of Tierra's first album, "Tierra." The Yaqui album consisted of songs written by members of Yaqui, with the exception of their covers of "Brown Baby," which had previously been recorded by Little Willie G. on Eddie Davis' Gordo Records, and "She Caught the Katy (And Left Me a Mule To Ride)," written by Taj Mahal and Yank Rachel. The latter song is my favorite cut on the album. It's a mid-tempo blues song that has some great vocals by George Ochoa and Eddie Serrano that sounds as good as a young Righteous Brothers on a good day. That's not a knock on the Righteous Brothers for whom I have the highest respect, but I think George and Eddie simply kicked it up a notch. Sometimes Eddie got into Robert Plant territory in terms of the intensity, high notes, and screaming in his vocals. The band's arrangement and execution is also flawless. "It's Time For a Change (Es Tiempo Para un Cambio)," written and sung by George Ochoa, is a high energy song, with La Bamba style 1-4-5 chord changes and lyrics which cry out for a change in the status quo. This song re-appeared on the 1998 compilation CD "Ay Califas! Raza Rock" on Rhino Records and again in 2009 on Tierra's "On the Right Track" CD. Tierra recorded the song for a video in support of the election of Barak Obama. "Blue Harbor," also written and sung by George Ochoa, is another excellent track obviously inspired by Crosby, Stills, and Nash, who were at their peak at the time. Keyboardist Larry Cronen wrote two fine songs for the album, "Street Fight" and "Rich Keep Getting Richer." "Mitote," written by Ronnie Reyes, Eddie Serrano, and Art Sanchez, is another high energy song that has George and Eddie testifying with everything they've got. This song is one of several that is sufficiently musically sophisticated to allow the players to exhibit their prowess on their instruments. The album's opening and closing songs are instrumentals entitled "Sunrise" and "Sunset," written by Ronnie Reyes and Art Sanchez. These tracks have a definite Led Zeppelin influence with excellent guitar work by Ronnie.
After recording their album, Yaqui did some live gigs, most memorably opening for Linda Ronstadt in Spokane, Washington. They also played at the famed Whiskey a Go Go in Hollywood, where they were complimented by Terry Kath and other members of the already hugely successful band, Chicago. Yaqui also played a lot at the Starwood Club, also in Hollywood, where they held their own on the bill with such diverse artists as Cheap Trick and George Clinton. According to Art Sanchez, some of the executive staff at Yaqui's record label were replaced right after their album came out and the replacements didn't promote the record. This is a very common and unfortunate occurrence in the business, which has happened to many artists I've known. The new executives want to bring in their own artists and would not want the artists signed by the previous administration to succeed. That would make the old staff look good. With the album not performing as they'd hoped, Yaqui played on for a time and then broke up. George Ochoa and Eddie Serrano went on to play again with Cannibal & the Headhunters, as did Ronnie Reyes in their back up band. In the early 2000s, George played with Redbone of "Come and Get Your Love" fame. (I played with George in Redbone for a short time in 2004). Eddie Serrano tragically lost his life when he was hit by a car while riding his bicycle in the late nineties. Ronnie Reyes has also toured extensively backing up classic rock stars such as Mickey Dolenz, Bobby Kimbal (formerly of Toto), Mitch Ryder & the Detroit Wheels, The Coasters, The Drifters, and many more. Ronnie also has been playing in my current band, Mark Guerrero & Radio Aztlán since 2002. Art Sanchez went on to play with a power trio with Ronnie Reyes called Josiah Blue for a time before joining Madison Avenue Jones, which featured the Elijah horn section. Art remembers playing a club called Smokey Stover's in Newport Beach with the latter band when Buddy Miles came up and jammed with them. Buddy had such a great time, he came back every night for a week to jam. In the 90s, Art Sanchez played a lot with Cannibal & the Headhunters, along with Ronnie Reyes, where he was part of the band who backed many other artists including Brenda Holloway, Roy Head, Al Wilson, Pat Upton of the Spiral Staircase, Spencer Davis, and many more. Art also has played with Little Ray Jimenez from the 70s to the present. Ray Rodriguez has continued to play, working for a few years with Redbone in the 90s. Rudy Regalado has been very successful with his own Latin band, Chevere, with whom he has toured the world. Rudy has also shared the stage with Carlos Santana, Tito Puente, Ruben Blades, Chick Corea, and many others. Rudy Regalado also continues to play with El Chicano. Larry Cronen is currently working with the reunited Evergreen Blues. who were known as Elijah in the early 70s when they made two excellent albums. They're the subject of an article on this website ("My Chicano Music Articles," article 30).
In April of 2005, I was talking on the phone with Art Brambila and mentioned I had recently heard the Yaqui album and it sure sounded good. I said it was a shame it's not available anymore. Since Art now owns the Yaqui masters, on the spot he decided to put it out in a limited release. Art called Ray Rodriguez about the idea, who in turn called the other former members of Yaqui and they decided to reunite for the release. This turned into a CD release party at The Hop in Puente Hills, California. The members of Yaqui asked me to sit in with them to do some of the late Eddie Serrano's vocals and I agreed. We then decided to do a few of my songs as well and the rehearsals were on. The very first rehearsal sounded really good right away so we knew this would work out and be a lot of fun. On Thursday, May 26, 2005, we performed at The Hop and it went great. The band sounded excellent and we all enjoyed ourselves. It's very gratifying to me to have had something to do with getting these guys back together again even if just for one night.
This article is based on an audio taped telephone interview by Mark Guerrero with Art Sanchez on May 4, 2005.
mp3 Sound Bytes
It's Time For a Change (Es Tiempo Para un Cambio)
She Caught the Katy (And Left Me a Mule To Ride)
Yaqui 1973

Photos on back of album cover (c. 1972)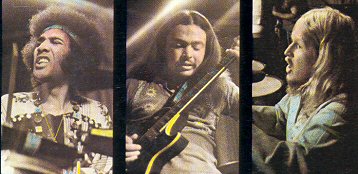 Rudy Regalado, Ronnie Reyes, and Larry Cronen


George Ochoa, Art Sanchez, Eddie Serrano, and Ray Rodriguez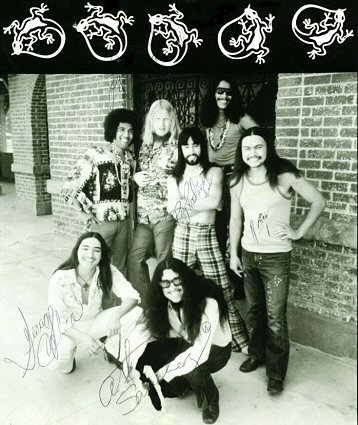 Yaqui
Official publicity photo (1973)
(standing left to right- Rudy Regalado, Larry Cronen, Ray Rodriguez, Eddie Serrano, and Ronnie Reyes)
(squatting left to right- George Ochoa and Art Sanchez)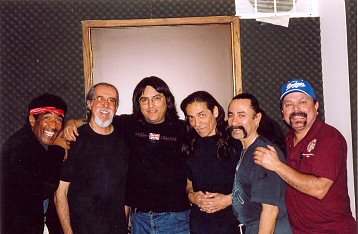 Mark Guerrero with Yaqui (2005)
(left to right- Rudy Regalado, Art Sanchez, Mark Guerrero, George Ochoa, Ray Rodriguez, and Ron Reyes)

Yaqui You Tube Video
Mark singing with Yaqui at The Hop in Puente Hills, CA (2005)

"She Caught the Katy"
words and music by Taj Mahal and Yank Rachel
(Mark Guerrero on guitar and vocal)

Read about the Yaqui reunion concert at The Hop and see two pages of concert photos and a page of videos from the concert on my "Miscellaneous Writings" page, article 42.


Previous page || Go to next article