The Sisters: Ersi, Rosella, and Mary Arvizu
by Mark Guerrero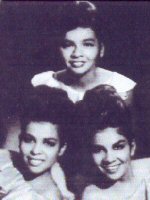 In the mid-1960s in East L.A., The Sisters were the Eastside's answer to Motown's Supremes. Like The Supremes, they were three well-dressed, classy, female vocalists who could sing extremely well. The Sisters were actually formed several months before The Supremes burst on the national scene. However, according to Ersi and Rosella, although they liked and were influenced by The Supremes, they were more influenced by other female vocal groups such as Martha & the Vandelas and The Ronettes. The Sisters recorded three singles in 1965 for Bob Keane's DelFi Records and were a fixture on the East L.A. music circuit of the era. Ersi went on to sing with El Chicano on their second album, "Revolution," where she provided the lead vocal to their classic recording of "Sabor a Mi." Rosella, a great singer herself, has done very well recording and performing ranchera music with some of the great mariachi bands in the world. In 2005, Ersi and Rosella sang on Ry Cooder's Grammy nominated album, "Chavez Ravine," along with my dad Lalo Guerrero, Little Willie G., and others. Ersi, Rosella, and Mary Arvizu are once again singing together in La Chicana and Her Revue, where they sing pop and r&b songs from the era of The Sisters with a rock band, as well as ranchera music with mariachi.
Ersi, Rosella, and Mary Arvizu grew up in East Los Angeles. Their parents were musical performers who went by the name Dueto Arvizu. They played parties, weddings, and concerts, including appearances at the legendary Million Dollar Theater in Los Angeles. Their father, Arturo, was a singer/guitarist and their mother, Rita, a singer/songwriter/guitarist. Their father was raised in Tucson's Barrio Libre, where my father, Lalo Guerrero, also grew up. My dad knew Arturo Arvizu and family in those years. In fact, Arturo's sister Aurora was my father's brother Frank's second wife. In my dad's classic song "Barrio Viejo," my dad mentions Chalita, Turo y Manuel. Chalita was Rita's sister (aunt of Ersi, Rosella, and Mary) and Manuel was her husband. Turo was their dad, Arturo Arvizu. ("Barrio Viejo" appears on Ry Cooder's 2005 album, "Chavez Ravine.") When Ersi, Rosella, and Mary were kids, their parents would take them to their gigs at parties and weddings where they would sing, at that point exclusively in Spanish. As they got older they would learn to sing the pop and r&b songs of the day. Arturo Arvizu was very strict with his daughters and would not allow them to go out and sing on their own, even when they were already teenagers. Rosella had gotten an offer to sing with a band and play at East L.A.'s Garfield High School Sports Night, which was a big deal of a gig at that time. (I remember being very excited, along with my Mark & the Escorts band mates, when we got our first Sports Night gig.) Rosella convinced her dad it would be alright and that she would be chaperoned. He allowed her to do it. As fate would have it, at that performance she was seen by manager/producer Billy Cardenas. Billy was very impressed with her and asked if she had any sisters. It sounds like the classic pick up line, but Billy had a vision of creating a Chicana female vocal group in the mold of some of the great black female vocal groups of the day. She told him she did have two sisters that sang and The Sisters were born. Billy got them gigs at the major venues of the Eastside circuit. They were at first backed up by The Premiers, who later were to score a national hit with "Farmer John." The Sisters performed on the bill with artists such as Tina Turner, Stevie Wonder, the Righteous Brothers, Sonny & Cher (when they were known as Caesar & Cleo), and Brenda Holloway.
When Billy Cardenas thought The Sisters were ready, he took them to Bob Keane at DelFi Records, where Billy had The Romancers signed to a deal already. Keane liked what he heard and The Sisters went on to record three singles for DelFi. The first single's "A" side was "Gee Baby Gee," which was an obscure track on an album by The Dixie Cups that Billy liked. Studio musicians were brought in to back The Sisters. "Gee Baby Gee" became very popular, particularly in East of Los Angeles, and remains one of the classic Eastside sound recordings. Their second single featured "Ooh Pooh Pah Doo," which enjoyed similar local success and is also a classic Eastside sound recording. On the second record they were backed by another Eastside band managed by Billy Cardenas, Ronnie & the Casuals. The Sisters and Ronnie & the Casuals went on to record and perform together on live shows. In the mid-sixties, after a run of only a couple of years, The Sisters broke up. Rosella stayed with Ronnie & the Casuals as their lead vocalist. Ersi first sang in a band with David Torrez, who later was to be a founding member of Tierra and later pianist and musical director for Poncho Sanchez. In the late 60s Ersi went on to sing with the very popular East L.A. band, The Village Callers. Mary didn't really like show business and wanted to be a nun. She spent summers at a convent, but her father did not allow her to became a nun. Rosella eventually married Ronnie and they had two daughters who grew up to be excellent professional singers in their own right. (Rosella is presently happily married to Desi Barraza, a successful retired contractor.) In 1969, Ersi joined an Eastside band by the name of The VIPs. This band was to become El Chicano, who went on to have two national hit records and record six albums for MCA Records in the 70s. El Chicano's first album was an instrumental record due to the success of their first hit "Viva Tirado," which was a Latin jazz instrumental. Ersi sang on El Chicano's second album, "Revolution," which featured her on the classic Mexican standard, "Sabor a Mi." Ersi's version with El Chicano has also become an Eastside sound classic. On the same album, Ersi also was featured on "I'm a Good Woman," where she had the opportunity to show off her blues chops. Rosella eventually returned to her roots by singing ranchera music, which she feels is her forte. Rosella has recorded and sung with mariachi groups, most notably the great Mariachi Sol de Mexico de Jose Hernandez. In 2002, she released "Sin Tu Querer." In 2003, came "A los Cuatro Vientos," which was arranged and produced by Jose Hernandez Mariachi Sol de Mexico. Rosella is a world-class ranchera singer and her CDs bear that out.
My teenage band, Mark & the Escorts, played many shows on the bill with The Sisters. There are five flyers on my "60s Eastside Flyers" page on which we share the bill with them in 1965. The venues include Belvedere Park Auditorium, the parking lot of Jonson's Market (with 9 other bands!), the Big Union Hall, St. Alphonsus Auditorium, and the Boulevard Theater. I remember another gig we did with The Sisters at the Great Western Exhibit Center in the City of Commerce. However, I don't have the flyer for that one. At one of these shows, we backed up The Sisters, but I don't remember which one. I had forgotten that we backed them until my drummer from Mark & the Escorts, Ernie Hernandez, recently mentioned he distinctly remembers us backing them. He was sure because he remembered having a crush on Ersi at the rehearsal. Ersi confirmed that we had backed them because she remembered rehearsing with us at our rehearsal space in the basement of our bass player, Richard Rosas. These remembrances triggered my memory, however we all seem to have more recollections about the rehearsal than the show itself. It was all a very long time ago.
In 2004, Ersi was contacted by legendary guitarist/producer Ry Cooder to be a part of his "Chavez Ravine" CD project. My dad, Lalo Guerrero, had already participated, as had Little Willie G. Ersi sang on three tracks on the album. She sang solo lead on "Muy Fifi," lead vocal and duet choruses with Little Willie G. on "Soy Luz y Sombra," and a duet with Rosella on their mother's composition "Ejercito Militar." The "Chavez Ravine" booklet has photos of mother Rita Arvizu at age 23 and Rosella and Ersi, at ages 8 and 6 respectively, backed by a mariachi. The "Chavez Ravine" CD was released in June of 2005 to much critical acclaim and a subsequent 2006 Grammy nomination. In 2005, Ersi and Rosella musically reunited with sister Mary and formed La Chicana and her Revue. The featured guitarist in the revue is former lead guitarist for El Chicano, Mickey Lespron. The show features The Sisters doing some of their 1960s songs such as "Gee Baby Gee" and "Ooh Pooh Pah Doo," along with other classic r&b songs, as well as ranchera songs with mariachi. They bring the house down every time with the Mexican classic "Volver Volver." La Chicana and her Revue have done several shows to date, the highlight so far being a concert at the legendary Greek Theater in Los Angeles on the bill with Tierra, Malo, and Tower of Power. This time around Mary seems to be enjoying performing. The Arvizu sisters were taught by their mother that "if you can quiet an audience down to where you can hear a pin drop, you go it." "If you can get a tear in their eyes, you got it." The Arvizu sisters can do both things and have proved time and time again that they've got it.
This article is based on an audio taped telephone interview by Mark Guerrero with Ersi Arvizu on June 10, 2005 and Rosella Arvizu on June 28, 2005.
mp3 Sound Bytes
Gee Baby Gee - The Sisters 1965
Sabor a Mi - Ersi with El Chicano 1971
Sufriendo a Solas - Rosella with Mariachi Sol de Mexico 2003
Muy Fifi - Ersi on Ry Cooder's "Chavez Ravine" 2005


The Sisters (1964)
(clockwise from top- Ersi, Rosella, and Mary Arvizu)

Ersi (center) with El Chicano (1971)
(on the cover of El Chicano's "Revolution" album)
Pancho Villa and Zapata are superimposed in the foreground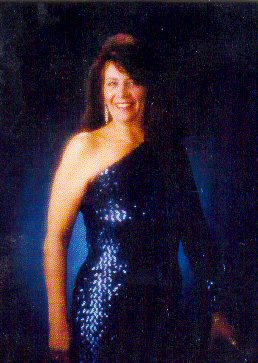 Rosella Arvizu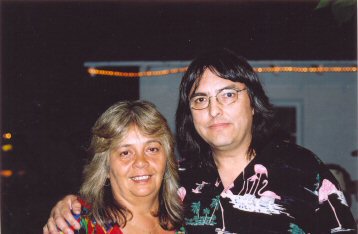 Ersi Arvizu and Mark Guerrero (2005)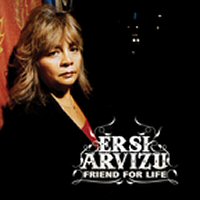 "Friend For Life"
Ersi Arvizu (2008)
(Produced by Ry Cooder)

Previous page || Go to next article