The Village Callers: East L.A. Latin Rock Innovators
by Mark Guerrero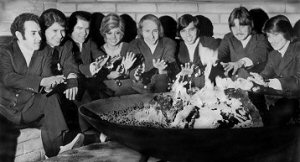 The Village Callers were one of the best bands in East Los Angeles in the late 60s. They were also arguably the first band with members with roots in the "Eastside Sound" of the early to mid-60s to utilize Latin percussion. Their repertoire was a mix of r&b, Latin, and Latin jazz. They recorded an album in 1968 for Eddie Davis' Rampart Records called "The Village Callers Live." The album included an instrumental with a Latin jazz feel named after their manager called "Hector," which did very well at the time and has become one of the Eastside Sound's classic recordings. It's been reissued on several compilations, used in movies, and sampled by many current and recent rap artists such as Cypress Hill and the Beastie Boys. "The Village Callers Live" has also been reissued on the Vampisoul record label, which is based in Spain and internationally distributed, and on Barrio Gold Records, based in Japan. The Village Callers also have the distinction of having recorded a Latin rock version of "Evil Ways" before Santana.
The Village Callers were born out of a band in East L.A. called Marcy & the Imperials. Marcy Alvarado was a bluesy singer, guitarist, and band leader. (Marcy went on to get a masters degree from U.C.L.A, but passed away in the late 70s.) Future Village callers Joe Espinoza and Adolfo "Fuzzy" Martinez were members. Joe Espinosa joined first as the bassist in 1960 or '61. Fuzzy joined later on. Fuzzy remembers being asked to sit in with them the first time when their regular sax player, Joe Farfan, didn't show up for a gig. (Joe Farfan later played with Thee Midniters for a time in the early 60s.) Fuzzy had to learn how to improvise on the spot because up to then he had only been a music reader in school. Other members of Marcy & the Imperials were Art Guzman on guitar, Richard Sanchez on sax (who later became a journalist for the L.A. Times), and Kenny Roman on drums. Kenny, who joined Marcy & the Imperials as a 13 year old phenom, later was the founding drummer with Tierra. Kenny Roman was a dynamo who played with great technique and power on Tierra's debut album in 1972. One humorous footnote about Marcy & the Imperials: At one point they ordered some band cards, which came back from the printers with the name Marcy & Them Iperials. The letter "m" was obviously misplaced. The band decided it was kind of cool and actually called themselves Them Iperials for a while. (I remember seeing Marcy & the Imperials play at the Cleland House in East L.A. around 1964. My band at the time, Mark & the Escorts, played there a few times in the battle of the bands.)
Gradually, Marcy & the Imperials evolved into the Village Callers and no one I spoke to from the band remembers exactly how. Everyone seems to remember it differently. The name came from Ernie Hernandez, who joined the band on guitar. Ernie got the name from a Willie Bobo album called "Village Caller." Johnny Gonzalez and Manny Fernandez also joined the band on keyboard and drums, respectively. Marcy was out of the mix by now. The lead vocalist who wound up being a fixture with the band in its heyday was a mulato girl by the name of Angie Bell from San Pedro. She would sing Aretha Franklin songs and other r&b hits of the day. Other great singers had stints with the Village Callers in the 60s and 70s including Ersi Arvisu, until she joined up with El Chicano, Al Anaya, until he joined Thee Midniters, and Geri Gonzalez, now known as Geree. The Village Callers were a completely different band stylistically from Marcy & the Imperials. The new members brought different influences into the mix. Ernie Hernandez loved the music and style of guitarist Wes Montgomery. Johnny Gonzalez was into the blues organ style of Jimmy Smith. The music of Latin artists such as Mongo Santamaria and Willie Bobo were also added to the brew. At this time, Johnny Gonzalez was taking classes at L.A. City College where he met a Latin percussionist by the name of Chuck Masten. He was a chemical engineer from New Jersey studying music in Los Angeles. Chuck heard the Village Callers and wanted to join. He was the final piece to the puzzle. With lively Latin percussion they could really pull off their Latin repertoire with the energy, excitement. and authenticity they needed. With the new lineup in place they could play Latin, Latin jazz, rhythm & blues, and oldies but goodies. They became very popular in East Los Angeles, playing all the top venues such as the Big Union Hall, Roger Young Auditorium, and Montebello Ballroom. Winning the battle of the bands at East Los Angeles College in 1966 or '67 also led to more gigs for the band. They also enjoyed a long run at the Plush Bunny nightclub in Pico Rivera, despite the fact they were underage. The Village Callers were an extremely dedicated band. They rehearsed five days a week, five hours a day. Already out of high school at this point, they also had a no drinking or smoking rule.
The manager of the Village Callers, Hector Rivera, knowing that the band was ready to record, invited producer and record company owner Eddie Davis to come and hear the band at the Plush Bunny. Eddie had produced and released records on many East L.A. bands and singers such as Cannibal & the Headhunters, The Premiers, The Blendells, The Jaguars with the Salas Brothers, and many more. Eddie loved the band and wanted to do a "live" album recorded right there at the Plush Bunny where they were creating such excitement. (Davis may have been influenced by the tremendous success of "Trini Lopez Live at PJs.") The band's lineup on the record was Joe Espinosa (bass), Charles Masten (congas & sax), Johnny Gonzalez (organ & piano), Manuel Fernandez (drums & timbales), Ernie Hernandez (guitar), "Fuzzy" Martinez (sax), and Angie Bell (lead vocals). Aside from the original composition "Hector," the album was made up of cover tunes such as "I Heard It Through the Grapevine," "Stoned Soul Picnic," "Ninety Nine and a Half (Won't Do)," and a load of Aretha Franklin songs that were Angie Bell's specialty. "The Village Callers Live" also had a version of Willie Bobo's "Evil Ways," which was enjoying a lot of airplay, particularly in San Francisco. Word later got to them that Santana's producer heard their version on the radio and got Santana to record it. This is something that can never be proven with certainty, however, the fact The Village Callers did it first is undeniable and significant. Willie Bobo's version was totally salsa. The Village Callers did it in a Latin rock style. Santana's own Latin rock version of "Evil Ways" launched his career and the Latin rock revolution that was to follow with bands like Malo, El Chicano, and Tierra.
The Village Callers recorded most of their album, "The Village Callers Live," in one night. It was recorded very simply with a few overhead microphones and a "live" mix. The band did go into a studio and record a few songs, including "Hector." The melody to "Hector" was written by keyboardist Johnny Gonzalez. Joe Espinosa also got a writers credit for his contributions. The song is an instrumental featuring organ lines and solos with some sax sections. Like the song "Tequila," "Hector" would break and a voice would say the name Hector in an exaggerated way with a humorous Mexican accent. While Fuzzy Martinez was doing the voice track he started goofing around making fun of Hector, their manager. All this good natured fun was done in Spanish and English. Eddie Davis liked it and kept the comments during the outro of the record. One of the things Fuzzy says is "Hector, you're our manager, but you sure are ugly. Tienes la cara de lastima Hector." The latter phrase meaning "you have a face that's a sorry or pitiful sight." To add fatness to the record, the bass was tripled! The song wound up being so long that it was divided into "Hector Part 1" and "Hector Part 2" for the single. "Hector" with its hip Latin groove and Fuzzy's comedic spoken word contribution caught on in East L.A. and began to get airplay on the big time am radio stations in Los Angeles. With the record taking off, the band was contacted by a rival East L.A. manager, who was trying to steal the band away from Eddie Davis. He offered the Village Callers $10,000 to go with him and they agreed. $10,000 was a lot of money to kids just out of high school, particularly in 1968! According to Joe Espinosa, Eddie Davis got angry and got an injunction with which he had the record pulled from the radio stations. In retrospect, Joe regrets having left Eddie Davis and Eddie expressed some regret to Joe about handling the situation as he did. Eddie thought he should have either fought to keep the band or made a partnership deal with the other manager because the Village Callers would've probably had a hit record and gone onto some major things.
As the Village Callers' popularity grew they found themselves playing in Hollywood at venues such as the Haunted House on the Sunset Strip and and The Cave on Hollywood and Vine. They would often be on the bill with the 103rd Street Rhythm Band, a black band from South Central L.A., who were to score hits with "Loveland" and "Express Yourself." The bands got along and appreciated each others music. Pat & Lolly Vegas, later to found the band Redbone, also played the Haunted House. They even released an album, "Pat & Lolly Vegas at the Haunted House." The Village Callers also played the legendary PJs in Hollywood, where Trini Lopez was discovered. Like with most bands, there were some tumultuous times. Angie left the band and was replaced by a new female vocalist who insisted she bring in her own rhythm section, exit Joe Espinosa and Manny Fernandez. With this, the band lost their Latin sound so Chuck and Ernie soon left. The Village Callers, which was now a rock band, changed its name to Silvanus (the last name of the new leader). When this band broke up, Fuzzy, John Gonzalez, and Geri Gonzalez, who had previously sung with the Village Callers, joined a band called Poverty Train. This new band toured extensively around California and in Alaska and Hawaii. Ernie Hernandez joined a band called Orange Colored Sky, a show band who played Las Vegas with Burt Bacharach and Frank Sinatra. Meanwhile, Joe Espinosa was playing with a popular Latin band called the Sal Chico band. A couple of years later, when Sal decided to retire, Joe bought the music arrangements, some equipment, and the name from him for the princely sum of $1200. Joe shortened the name of the band to Chico and moved forward. Gradually, former members of the Village Callers joined in including Fuzzy Martinez, Johnny Gonzalez, Ernie Hernandez, and Manny Fernandez. Ernie Hernandez eventually moved on to play with different bands and had a booking agency for a while called Calendar Entertainment. He also played with a reunited Orange Colored Sky for a few years. John Gonzalez, now known as John Livingston, also moved on achieving success with his company, Livingston Classics, putting out CDs featuring a blending of keyboards and sounds from nature. Hector Rivera, manager of both Marcy & the Imperials and the Village Callers, became a horticulturalist for the city of Los Angeles and is now retired. Joe, Fuzzy, and Manny continue to play in the band Chico to the present day.
Here's Chico's current lineup with the number of years in the band: Joe Espinosa on bass (36 years), Adolfo Martinez on saxophone (29 years), Bertha Oropeza on vocals & percussion (13 years), Manuel Fernandez on drums & percussion (25 years), Danny Diaz on guitar (30 years), Gilbert Avila on trumpet & congas (31 years), and Bill Keis on keyboards (8 years). Bertha Oropeza is a great vocalist, who has sung with El Chicano and was in the original cast of "Zoot Suit." Bill Keis, who's played with the Pointer Sisters, Chaka Khan, and Edgar Winter, also has his own jazz quartet. Bill is good naturedly called Guillermo Llaves, a literal translation of his name into Spanish. Joe has kept Chico going for 36 years, combining authentic Latin styles with rock, rhythm & blues, and funk. They continue to be one of the best and most popular bands in Chicano music in Southern California. They've recorded three cds and are working on a Christmas album. For more information on Chico, visit chicoband.com.
This article is based on audio taped telephone interviews by Mark Guerrero with Joe Espinosa on November 19. 2007, and Adolpho "Fuzzy" Martinez on December 12, 2007.
mp3 Sound Byte
Hector - The Village Callers 1968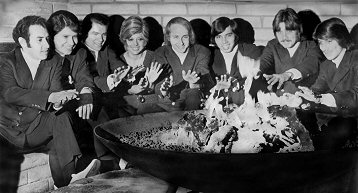 The Village Callers (c. 1970)
(left to right- Adolfo "Fuzzy" Martinez, Ernie Hernandez, Johnny Gonzalez, Geree Gonzalez, Jeff "Dino" Dean,
Charles Sarceda, Sonny Ray, and Michael Mercado)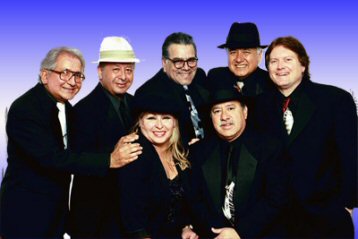 Chico (2007)

(left to right back row-
Danny Diaz, Gilbert Avila, Manny Fernandez, Joe Espinosa, and Bill Keis.
front- Bertha Oropeza and Adolfo "Fuzzy" Martinez)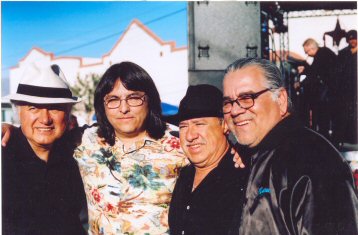 Joe Espinosa, Mark Guerrero, Adolfo "Fuzzy" Martinez & Manny Fernandez (2007)

Previous page || Go to next article