The Blazers: The Other Band From East L.A.
by Mark Guerrero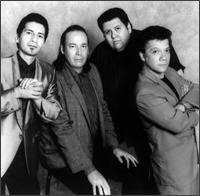 The title of this article comes from the many comparisons to Los Lobos The Blazers heard after their inception in 1988. The Blazers' style was in fact similar to that of Los Lobos in that they also played musica Norteña, Tex Mex, and cumbias, alongside rockabilly, blues, and rock & roll. They were also friends of Los Lobos and Cesar Rosas of Los Lobos produced The Blazers' first two albums. The Blazers, however, had their own distinct style in those genres, wrote most of their own songs, and made their own way. They recorded four albums on the Rounder record label, toured the U.S. and Europe multiple times, and continue to record and perform. Their most recent release was "17 Jewels" on Little Dog Records in 2008.
The Blazers' story started when Ruben Guaderrama and Manny Gonzales met at Roosevelt High School in East Los Angeles around 1970. They both played guitar and shared a love for music. They also both had musicians, mostly guitar players, in their family trees. Ruben was born in Juarez, Mexico, but grew up in the U.S., arriving here at the age of two. His mom and older brothers had large record collections that included everything from Pedro Infante to Fats Domino. Hearing Mexican music mixed in with rock & roll was not an unusual thing to his ears. Ruben played trumpet in grammar school and took up the guitar at age 12, after seeing The Beatles on the Ed Sullivan show. His brother, when he was a senior in high school, bought a St. George electric guitar. When he joined the air force, he gave it to Ruben, who was thrilled to get it. Some of Ruben's favorite artists were The Beatles, Rolling Stones, and Bob Dylan. Little did he know he was to meet Dylan later on.
Manuel Gonzales was born and raised in East L.A. Like Ruben and so many American musicians, he was inspired when he saw The Beatles on the Ed Sullivan show. He would also tune into the local Los Angeles country & western music television show, "Cal's Corral," where he would watch the guitar players with great interest. He also remembers seeing a rock & roll show in the parking lot of Jonson's market in East Los Angeles when he was a kid. In the company of his mom, he watched Thee Midniters, Little Ray, Ronnie & the Casuals, The Ambertones, my teenage band, Mark & the Escorts, and others.
Ruben and Manny formed their first band, Long John Silver, in high school and over the next few years played in bands together and sometimes in different bands. In the early 70s, they struck up a friendship with future Los Lobos members David Hidalgo, Louie Perez, and Cesar Rosas and often jammed with them. They would sometimes jam at drummer Victor Bisetti's house. Victor would later play with both The Blazers and Los Lobos.
In the late '80s, when Los Lobos' career was in full swing, Cesar Rosas would often go jam with The Blazers at a Casino in Bell Gardens, California where they were the house band. By this time, Ruben and Manny were writing their own songs and putting them into their set lists on the gig. The name Blazers came about in a serendipitous and perhaps cosmic way. Manny was in the back seat of a car, when he was in a near traffic accident on an L.A. freeway. As the car in which he was a passenger swerved back into it's original lane, a Chevy Blazer passed by at break neck speed barely missing the car he was in. The word "Blazer" flashed before him as it sped by. He immediately thought that would be a great name for the band. He and Ruben had been trying out different names that they weren't happy with. When Manny told Ruben about the name Blazers, he agreed and the name stuck. They then decided to pool their money together and make a record. They recorded two songs, "Come On Baby," a country song, and a ska song called "I Feel So Happy." The record was produced by their drummer and engineered by a drummer from the Doobie Brothers. They found a local record pressing plant and ordered 300 copies to sell at their gigs. It didn't take them too long to sell them out. Next they decided to record a whole album, which was produced by Cesar Rosas and recorded in Cesar's home studio. The album had a couple of covers, "Ooh Poo Pah Doo" and "Tiburon, Tiburon," a classic cumbia. All the rest of the songs were original compositions. They self-released the collection on audio cassette only. That cassette, even though it had no distribution, would still lead to a slot at the important South by Southwest Festival in Austin, Texas, and ultimately their first record deal.
Enter Gene Aguilera. Gene was and is a music lover, record collector, boxing enthusiast, banker, musical artist manager, and lyricist. Back around 1989, Gene got a call from Cesar Rosas inviting him to go with him to hear a "cool little band" down at the Bell Club at the Bell Gardens Casino. Gene went and enjoyed the band, so much so that he returned the next night and stayed for all four sets. Gene remembers The Blazers repertoire included rock & roll, rockabilly, and cumbias. They also did covers by The Beatles, Rolling Stones, and Creedence Clearwater Revival. He was impressed by their "potent cocktail of a musical mix." He became friends with the band and by 1991 as their manager he had helped them secure their first record deal with Rounder Records. The first two Blazer albums came out on vinyl and CD. Aguilera battled the company to release the vinyl at a time when CDs had taken over the market. He also booked the band at "underground" clubs in Southern California such as Raji's, Anti Club, King King, and Blue Cafe. Through another manager by the name of Kevin Morrow, they were booked into the legendary Palomino Club in North Hollywood. It was there that Gene invited the Rounder executives to come and check out the Blazers show. The Blazers also had their fans do a write in campaign to Rounder Records to bolster their chance at getting signed to the label. It all worked and so began their four album run with Rounder.
The Blazers' first album was entitled "Short Fuse" and was released on January 1, 1994. It was produced by their old friend Cesar Rosas of Los Lobos. The album featured three Spanish language songs, along with their usual blend of rock & roll, r&b, and rockabilly. One of the songs in Spanish was the classic cumbia "Tiburon Tiburon," which means "Shark Shark." The band lineup for "Short Fuse": Manny Gonzales (vocals, guitars, bass, and harmonica), Ruben Guaderrama (vocals, guitars, lap steel, tres, and bass), Lee Stuart (bass), and Ruben Gonzalez (drums). Additional musicians: Cesar Rosas (guitar, bajo sexto, bass, and backing vocals, Victor Bisetti (drums), and Rudy Rosas (keyboards).
After "Short Fuse" The Blazers toured the U.S. traveling by van with stops in San Francisco, San Diego, Phoenix, Tucson, Albuquerque, San Antonio, Houston, Dallas, Miami, and New York. This was followed by a European tour which included Sardinia (an island off of Italy), Belgium, Austria, and Germany. They were surprised many people in those countries were familiar with their music already. Their manager Gene Aguilera accompanied them on what was to be the first of several European tours. Their second album, "Eastside Soul," also produced by Cesar Rosas, was released on December 31, 1994. It received the following review from the Boston Globe. They described the album "as raw, primal and doggone brilliant as any roots album that year." It featured covers of Canned Heat's "Going Up the Country" and the r&b classic "Ooh Poo Pah Doo." "Eastside Soul" proved to be the best reviewed and best selling album by The Blazers. It is also widely considered their best. The band lineup for "Eastside Soul": Manny Gonzales, Ruben Guaderrama, Lee Stuart (bass), and Mando Goss (drums). Additional musicians: Victor Bisetti (drums), Cesar Rosas (percussion), Eddie Baytos (keyboards), and Gene Aguilera (backing vocals). After the release of the first two Blazers albums on Rounder Records, the label released a Blazers "live" six-song E.P. entitled "Going Up the Country," which they released on their Netherlands-based affiliate label, CRS Records.
The Blazers third album, "Just For You" was released on January 1, 1997. By this time Gene Aguilera was no longer involved as their manager. This album was produced by Pete Anderson, who had produced artists such as Dwight Yoakam, Roy Orbison, K.D. Lang, and Flaco Jimenez. The Blazers on "Just For You": Ruben Guaderrama, Manuel Gonzales, Raul Medrano (drums) and Lee Stuart (bass). Guest artists: Lee Thornburg and Greg Smith (from the Tower of Power horn section), Juke Logan on blues harp, and the aforementioned Pete Anderson on slide guitar. The fourth and final album on Rounder Records was "Puro Blazers," released on January 1, 2000. This collection was all in Spanish, which included cumbias, polkas, and a bolero. There was a heavy use of instruments such as the bajo sexto, tres (a three stringed guitar), and button accordion. It also featured the classic Mexican bolero, "Crei." The album, which was produced by Ruben and Manny, also covered genres such as cha cha cha, cumbia, salsa, as well as Cuban and Bolivian styles and a couple of originals. The Blazers' lineup on "Puro Blazers": Ruben Guaderrama (vocals, guitars, requinto romantico, tres, bass, percussion), Manuel Gonzales (vocals, guitars, bajo sexto, orchestral accordion), Jesus Cuevas (vocals, button accordion, bass), and Mike Molina (drums). Additional musicians: Raul Medrano (drums, timbales, percussion), Armando Goss (drums, timbales), Lorenzo Martinez (drums, bass), Tony Garcia (clarinet), and Barney Floyd (trumpet).
One of the highlights of The Blazers career was when they opened for Bob Dylan at the Pantages Theater c.1995. According to Gene Aguilera, a friend of his by the name of Lydia Montano knew the bass player of the Fabulous Thunderbirds who knew the music director of Bob Dylan's band. Gene was tipped off by Lydia that Bob Dylan might come into the Palomino Club where The Blazers were playing that night. He did indeed appear at the club and sat at the bar. According to Ruben Guaderrama, after The Blazers set he walked up to Dylan and said "hello Mr. Dylan." Dylan turned to Ruben and said "Man I dug your set. You kinda remind me of Los Lobos." Dylan then asked Ruben if they'd like to open for him at the Pantages. The night of the Pantages show happened to be Dylan's birthday. George Harrison and Ringo Starr showed up and were backstage. It was a pretty heady night for Ruben and The Blazers to be in the company of such luminaries as Bob Dylan and two former Beatles. Another fond memory for Ruben was a time The Blazers played at a festival in New Hampshire, which took place out in the woods. Doug Sahm, who was on the bill, and Emmylou Harris, who had performed another day at the festival, were dancing up a storm together as The Blazers were jamming on some cumbias.
According to Ruben, The Blazers toured Europe once or twice a year for about 10 years, playing in Norway, Italy, Spain, Germany, Austria, France, England, Belgium, and Holland, which was their home base for a while. They also toured the U.S. extensively putting 425,000 miles on the second Blazers van alone. He didn't say how many miles were put on the first one. On their tours they would sometimes play sixteen out of seventeen days. They've shared the bill with artists as diverse as the aforementioned Bob Dylan, Alvin Lee, The Blasters, Los Lobos, The Fabulous Thunderbirds, Booker T., Doug Sahm Band, and the Texas Tornados.
In 2002, The Blazers signed with Pete Anderson's Little Dog Records. By this time The Blazers were Ruben and Manny and various sidemen and guest artists. Their first CD for Little Dog was "17 Jewels," which was released in January 1, 2003. This collection includes their cover of the low rider classic "Leavin' It All Up To You." My favorite cut on the album is The Blazers' version of The Beatles' "I Don't Want To Spoil The Party," which works perfectly in a Tex Mex-style polka. Additional musicians on "17 Jewels": Mike Molina (drums), Jesus Cuevas (button accordion, vocals), Jim E. Christie (drums), Bob Gluab (bass), Skip Edwards (keyboards, accordion), Pete Anderson (percussion, bass, casio), Lee Thornburg (trumpet), and Roberto Gaytan (background vocals). After "17 Jewels," Manny left the band due to some health issues. In 2008, Ruben went ahead and recorded a second album on Little Dog called "Dreaming a Dream." Although this album is credited to The Blazers, it's more like a solo album by Ruben Guaderrama. Additional musicians on this collection: Patrick Kahl (vocals, button accordion, bass), Michael Murphy (keyboards), Armando Goss (drums), Bob "Boo" Berstein (pedal steel), and Pete Anderson (percussion). Little Dog's website says of this record "the Blazers clearly demonstrate the breadth of their musical range from searing blues to funky R&B grooves to up-tempo conjunto raves."
Ruben Guaderrama still does Blazer shows and teaches music at the Fender Center for the Performing Arts in Corona, California. Manny Gonzales currently has his own band called the Big Manny Band and occasionally plays with The Blazers. Happily, all six Blazers albums are still available. You can buy them at many sites on line including amazon.com, which you can access from the links below.
This article is based on an audio taped telephone interview by Mark Guerrero with Ruben Guaderrama, Manny Gonzales, and Gene Aguilera in August of 2009.
mp3 Sound Bytes
The Blazers 1994
The Blazers 2003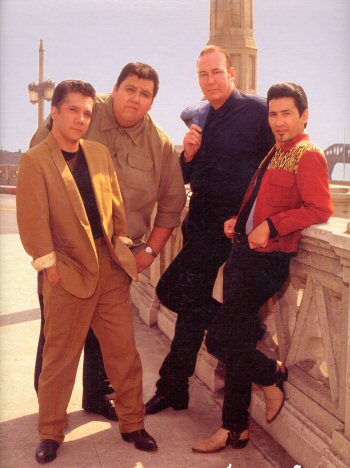 The Blazers (1994
(left to right-
Ruben Gonzalez, Manny Gonzalez, Lee Stuart, and Ruben Guaderrama)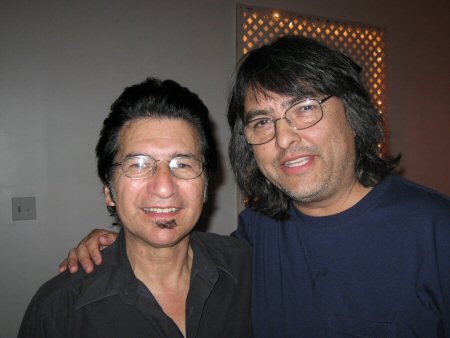 Ruben Guadarrama & Mark Guerrero (2009)
(Ruben's a founding member of The Blazers)

Click here to go to The Blazers store at amazon.com



Previous page || Go to next article