The Delgado Brothers: Blues and Beyond
by Mark Guerrero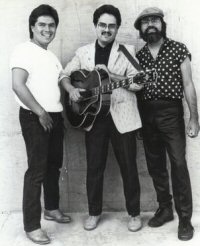 The Delgado Brothers are a great band, the real deal. Their style is bluesy, but they're much more than a blues band. Their musical palette also includes elements of r&b, and Latin. The majority of their songs are bluesy in nature, but some are simply melodic ballads. They have a Latin percussionist, who plays congas, timbales, and shakers so their "bluesy" music has a Latin rhythmic bed on which to lay. I think they've referred to their music as Latin blues, a description that has validity. They can sing, play, and write great music. The eldest Delgado brother in the band is Bobby, who lays down solid and lively bass lines most of the time on a small upright electric bass. Joey, who is the second oldest, is a great guitar player and a strong lead vocalist. His guitar solos are soulful and melodic and his sound is excellent, especially on his Gibson 335. He's an authentic blues guitarist. The youngest Delgado in the band is drummer and lead singer Steve. Steve Delgado is a great lead vocalist and lays down solid grooves while he sings. There are few drummer/lead vocalists in rock that can do both things so effortlessly and well. Don Henley of the Eagles and Levon Helm of The Band come to mind. The brothers have four albums to their credit, which have received glowing reviews. They've played many shows and festivals to enthusiastic and appreciative audiences. They've shared the bill with blues greats such as Robert Cray and Buddy Guy and their songs have been recorded by British blues legend John Mayall. The Delgado Brothers roots go way back to the East L.A. music boom of the 1960s.
The Delgado brothers grew up in East L.A., first living in the Maravilla projects and then moving close to the Eastside Boys Club on McDonnell Avenue before moving across the street from the projects on 1st and Mednick. The latter house was a converted malt shop. Bobby Delgado remembers people walking into their house to use the restroom thinking it was still a malt shop. While Bobby and Danny Delgado were at Garfield High School, the family moved to El Monte, a few miles down the 10 freeway from East L.A. They found themselves unhappy students of Rosemead High School, where the culture was completely foreign to them. The music scene was not like at Garfield and the racial mix was such that they felt like a tiny minority. The Delgado family has six brothers and five sisters. All six brothers became musicians. The first time all six brothers played together was at a Muscatel Jr. High School talent show in Rosemead, California c.1969. The eldest brother Eddie had just returned from Viet Nam and Danny from his military service. At that show the youngest brother Steve sang Carole King's "I Feel the Earth Move" without playing an instrument. Eventually he would become the drummer in the family. The sixth brother is Jimmy. All six Delgado Brothers went on to perform together for about ten years after that. Before his stint in Viet Nam, Eddie played bass with the very popular East L.A. band of the 1960s, The Ambertones, who made several records including a popular version of Ray Charles' "You Don't Know Me," a rendition of The Romancers' "Huggies Bunnies," and some recordings on the White Whale label. (The Turtles, the hugely successful band of "Happy Together" fame, were also on White Whale.) Jimmy, another great guitar player, played with the brothers on and off over the years, eventually going off on his own and playing with different bands. Danny (rhythm guitar) and the aforementioned Bobby (bass) played with another very popular 1960s East L.A. band, The Exotics. Between 1964 and 1966 I had a band called Mark & the Escorts. The Exotics were our chief rival and competitor in that period. Both bands were from Garfield High School in East L.A., were in the same age group, and played on the same bill all over the East L.A. circuit at venues such as the Montebello Ballroom, the Big Union Hall, Huntington Park Ballroom, and shows at our school, Garfield High.
In 1966, when we changed our name from Mark & the Escorts to The Men From S.O.U.N.D., we continued to play on the bill with The Exotics and the rivalry continued. The first time I remember sharing a stage with them was at the battle of the bands at a community center called the Cleland House in East L.A. in 1964. We had three battles with them that year and won two of the three. I still have the trophies. Both bands were equally good in their own style and the verdicts could have gone either way all three times. In addition to Danny and Bobby Delgado, members of Thee Exotics were Marty Caling on guitar, Felix Reyes on Farfisa organ, Henry Brumfield on drums, and Richard Alvarez and Larry Avila on lead vocals. George Marchello was also a vocalist for a time after Alvarez left the band. We would see the Exotics and hear them do a given great song and think we'd better learn it too, and from conversations I had with them years later they would do the same when they heard us. The Exotics style was always more bluesy than ours, although we also played r&b and bluesy material. They sounded best doing Rolling Stones and Kinks covers for example, while although we also did Stones and Kinks songs, we did our best with Beatles covers and songs with more harmonies. They were also lively performers, particularly Danny and Bobby Delgado. It was the kind of rivalry that ultimately made both bands better, one band striving to outdo the other.
One of my greatest memories is The Men From S.O.U.N.D and The Exotics, along with three other bands, playing for a Garfield High School assembly, actually two assemblies on the same day which included the entire student body. We were at our very best during that time and on that show. We played The Beatles' "Taxman," "96 Tears," "See See Rider" and "I Only Have Eyes For You." Our lineup was yours truly on guitar and lead vocal, George Ochoa on lead vocal, Ernie Hernandez on drums and lead vocal, Richard Rosas on bass, and Tony Rodas on Farfisa organ. The Exotics also played great that day. A third band was called Euphoria and their bass player was Conrad Lozano, the future bassist for Los Lobos. In the late 60s after the breakup of Thee Exotics, Bobby, Danny, and Henry Brumfield formed a power trio and played some East L.A. venues as Hiram Josh. They played psychedelic music covering the music of artists such as Cream and the Jimi Hendrix Experience. They also dressed like those artists, wearing flowing robes, feather boas, and other hippie garb of the period. Danny was now free to let loose and play lead guitar and flourished in the role. As good as they were, they found that they were not re-booked a lot because the music wasn't danceable in venues where dancing was the thing.
In the early 70s, Bobby started a blues jam at the family house. Guitarists would line up sitting on their amps waiting for their turn to play. Some great East L.A. guitarists would come and play including Danny Diaz (later with Chico), a teenage Bobby Robles (later with Thee Midniters), Rick Zamora, and a young Louie Perez (later of Los Lobos) who sometimes didn't get to the front of the line and would go home without playing. Joey and Steve Delgado, young kids at the time were influenced, inspired, and taught by these guitarists. It had a lot to do with their love for blues and future style. In 1979, I saw the Delgado Brothers play at a club on the outskirts of Hollywood. Five of the brothers were playing together again and were great. Bobby had left the group because he was married and raising two daughters. As always, they had their bluesy style and great showmanship. I recall them playing a great version of the Rolling Stones' hit of that year, "Miss You." I also remember being particularly impressed with the younger crop of Delgados, Steve, Joey, and Jimmy, whom I hadn't seen before. The German owner of the club insisted as part of their deal that he sing "Just the Way You Are" by Billy Joel every night with the band. This was a price they reluctantly had to pay for the gig. Fortunately, I didn't have to endure his performance that night, probably having arrived after his rendering of the classic song.
In 1984, I took a trip to Hawaii with my then girlfriend. While at a small airport waiting for a commuter plane to take us from Oahu to Kauai, sitting a few seats away was none other than Danny Delgado. Danny was with his current band who were on their way to a hotel gig on Kauai. I made myself known to him and in a friendly good natured way Danny said to his band mates "I used to hate this guy." We all laughed about it, but the comment illustrated that our former rivalry was very strong, almost as if we were in separate enemy camps. I wound up going to their gig that night and sitting in with them for a few songs. After the show, we hung out in one of their hotel rooms, reminisced, and smoked the peace pipe. Danny then told me that his brother Eddie was in Oahu playing at the Hilton Hotel. When I returned to Oahu I showed up at Eddie's gig. I tapped Eddie on the back and said "do you guys know Huggie's Bunnies?" He turned around in total surprise that anyone there could know of that song. I told him I was Mark from Mark & the Escorts and he was once again surprised to say the least. Eddie wound up staying in Hawaii for many years, as did Danny, who is still there as of this writing. Eddie currently lives in Nashville, Tennessee. Jimmy also spent years in Hawaii, where he learned lap steel guitar in both Hawaiian and blues styles. Joey and Steve did one six week stint there and opted to come back home. The club where they went to play folded after their first week so they had to scramble and get another gig, which they kept for the remainder of their short stay. They refer to that experience as "Disaster in Paradise."
In the mid-80s, the Delgado brothers had a band called Aircraft, which included brothers Joey, Steve, and Jimmy, along with Tom "Slick" Macias on bass and Eddie Carone on vocals. They were scheduled to play at L.A. Street Scene, an annual music festival that took place on the streets of downtown Los Angeles, but there was a cancellation over the terms of the contract . A couple of years later, brother Bobby returned having formed the new Delgado Brothers Blues band with Joey and Steve. Added to the band's lineup was Billy Steinway on keyboards. This new incarnation of the band made the best of a second chance to play the Street Scene. On the bill with them was Joe Louis Walker, who was an artist with Hightone Records. Unbeknownst to the band, Dennis Walker (no relation) was in the audience. This was significant and fortuitous because he happened to be the writer of one of the songs on the Delgado Brothers' song list that day, "Where Do I Go From Here." Dennis Walker loved their version, which led to a record deal with Hightone. When Bobby Delgado received the call from Hightone's owner Larry Slovan, Bob didn't believe it was him and hung up the phone. Fortunately, Larry called back and a meeting was arranged with Dennis and Bruce Bromberg, who would be their producers. The Delgados only had four original songs at the time so Joey began writing songs in collaboration with Dennis Walker. The album simply called "The Delgado Brothers" was released in 1987. A single was also released of a Joey Delgado/Dennis Walker song called "Fair Warning." The album sold in the neighborhood of 25,000 copies, which is a good number for a small independent label. Nonetheless, after about a year the Delgado Brothers were let go by the label.
In 1994, the Delgado Brothers broke up having tired of the music business. In 1997, John "Juke" Logan, a great blues harp player, started a record company called Mocombo Records. The Delgados had recently reunited to do the Chicano Music Awards in Pasadena, California, an event put on by a Chicano radio host and educator known as Sancho. On that show Logan sat in with them and according to Joey, "got their juices going." This led to the Delgado Brothers co-producing a CD with Logan called "Let's Get Back" on his label. The band members on this CD were Joey, Steve, and Bobby Delgado, with "Reverend" Ray Solis on percussion. Guest musicians included two members of Los Lobos; David Hidalgo (accordion/guitar/vocals) and Victor Bissetti (timbales), Michael Thompson on keyboards (now performing with The Eagles and Don Henley), and The Texacalli Horns (Taj Mahal Phantom Blues Band). One of the first songs written for the album was "Church of El Monte." Joey and Bobby wrote the music and Juke attempted to write the lyric. The brothers weren't too happy with the lyric because in invoked images of low riders, El Monte Legion Stadium, and the old school Chicano culture. Steve Delgado wound up writing the lyric and in the process the brothers realized Steve was the lyricist of the band. The church of El Monte became the name of their backyard studio and really the family homestead itself where all the music was made. The name fit because it was a congregation of musicians playing music for its own sake and enjoyment. It was soulful and there was a lot of musical testifying going on, a secular gospel music. Music is very spiritual and in its own way a religion to many. There was jamming in the garage and playing in the open air in the backyard. Sometimes there would be several bands playing for eight solid hours without complaints from the neighbors. This story and spirit is what the brothers wanted the lyric to "Church of El Monte" to convey. "Let's Get Back" is an excellent album that heralded the return of the Delgado Brothers after their break as the title of the collection suggests. One of my other favorite songs on the CD is "No Regrets," a song written for percussionist Ray Solis' father Ramon, who lived his life with that philosophy.
The best thing that came out of the "Let's Get Back" album is that two songs from it were later recorded by no less than English blues legend John Mayall. Mayall has had some of the greatest English musicians in his band over the years including Eric Clapton and Peter Green of Fleetwood Mac. A friend of Juke's was the drummer for John Mayall's Blues Breakers. He took the songs to Mayall who loved them included them on his next album "Along For the Ride." John Mayall was having a bit of a problem recording one of the Delgado tracks so he invited them down to the studio to help. Joey and Bobby showed up with their gear, but Steve couldn't make it due to responsibilities at his day job. Joey and Bobby wound up playing guitar and bass respectively on "If I Don't Get Home." Mayall was happy with the results and made them honorary Blues Breakers. The brothers also got to watch and cheer on Billy Gibbons of ZZ Top as he played guitar on one of the other album tracks. It was quite a day for the kids from East L.A.
With the money the Delgado Brothers made from their songs on the John Mayall album, they recorded an a CD called "A Brother's Dream," which was released in 2003. It's the next evolution of the brothers in songwriting and performing. All songs in the collection were written by Joey and Steve Delgado and cover lots of different grooves and styles. (David "B" Kelley, the band's keyboardist co-wrote a couple of the songs.) Although most of the songs are blues-based, their song "Picture of You" is not a blues, but a melodic ballad with a conga driven groove with an acoustic guitar in the mix. "Jennie" is another such example. One of the highlights on the album is "Talk To My Friend," a gospel-style song written for a departed friend. The Delgado Brothers band lineup on this CD is Joey (guitar, vocals), Steve (drums/vocals), and Bobby Delgado (bass), along with David Kelley (B3 organ), and Ray Solis (percussion).
The Delgado Brothers took five years to record their next album, "Learn To Fly," which was released in 2009. It was worth the wait. It's the best work they've done. The songs are great as are the musicianship and vocals. Once again Joey and Steve wrote all the songs, but this time David "B" Kelley co-wrote the music on all tracks. David "B" Kelley is also great Hammond B3 player, a white boy from Indiana who plays like a black Chicago blues man. Many of the tracks on "Learn To Fly" have amazing horn arrangements by Lee Thornburg, who tastefully and brilliantly layered French horn, trombone, trumpet, and sax parts which enhanced the songs. There's no better example of this than the title track, "Learn To Fly." The horns are reminiscent of a style one might hear on a Steely Dan record, which is about as good as it gets. On a gospel style song, "If the World," the legendary Chambers Brothers testify along with Steve Delgado's soulful vocal. Here's how this musical blessing came to be. The Delgados were playing a benefit and the Chambers Brothers were also on the bill. Joey told Lester Chambers he was a fan to which Lester replied "I've seen you many times at Cozy's," which is a club in the San Fernando Valley where the Delgado's had often played. This led to the Delgados asking the Chambers Brothers to sing on their album. At first the Lester didn't want to do it because the Chambers Brothers hadn't recorded together in ten years and currently were only singing gospel music. Joey had to sing part of the song to them on the phone before he finally came around. On the day of the session, the Chambers Brothers showed up in a limo dressed to the nines in suits. They proceed to sing their hearts out on the track to such a level that Steve had to leave the studio for a spell because it was so overwhelming hearing them. The song musically comes off as a gospel song and the message is a sermon of its own. "An infant's eyes see no color, a mother's heart knows nothing but love, a father's trust can never be broken, a lonely child is held through the night, If the world could be like this, no more sorrow would exist." On "Learn To Fly" Victor Bisetti was a member of the band on percussion and drums. Both "A Brother's Dream" and "Learn To Fly" albums were mixed by John Avila, former bassist for Oingo Boingo.
I went to the CD release party for "Learn To Fly," which took place at a hotel in Monrovia, California in 2009. The place was packed to see the Delgado Brothers play the entire album live. It was a great show and the Chambers Brothers were there for "If the World." Steve Delgado was standing between the Chambers Brothers who towered over him like a couple of redwood trees, but his singing made him stand just as tall. I next saw them at the Taste of Texas in Covina on the bill with Tierra and the Big Manny Band. The most recent time was in a city park in Monrovia, California for the 4th of July celebration of 2011. This time on percussion they had the great Walfredo Reyes, who's played with Steve Winwood and Lindsey Buckingham. He's also the current drummer for El Chicano. As always, The Delgado Brothers are just as good live as on record and very enjoyable. They play with incredible groove and soul. I'll repeat what I said in the first paragraph, the Delgado Brothers can play, sing, and write. They're the real deal. Their CDs are available at cdbaby.com and amazon.com, which you can access from the links below. Their website is delgadobrothers.com.
This article is based on an audio taped telephone interview by Mark Guerrero with Joey and Steve Delgado on September 22, 2009 and Bobby Delgado on July 7, 2011.
mp3 Sound Bytes
The Delgado Brothers 2003
The Delgado Brothers 2009


Delgado Brothers (2008)

(left to right- David Kelley, Victor Bisetti, Joey Delgado, Steve Delgado, and Bobby Delgado)
(photo by Martin Coen)

Bobby Delgado, Joey Delgado, Mark Guerrero , and Steve Delgado (2009)

Delgado Brothers (1972)
(left to right- Eddie, Carlos De La Paz, Steve, Joey, Jimmy, Danny, and Bobby)
(photo by John Deleon)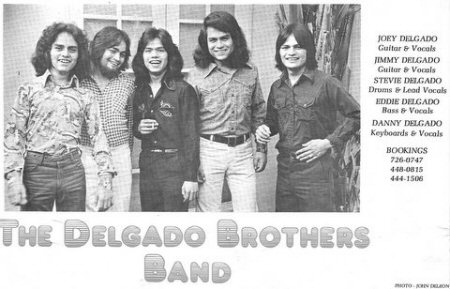 (1975)
(left to right- Joey, Jimmy, Steve, Eddie, and Danny)
(photo by John Deleon)

Delgado Brothers (1975)
(left to right- Joey, Eddie, Steve, Danny, and Jimmy)
(photo by John Deleon)
(1985)
(photo by Mike Butorac)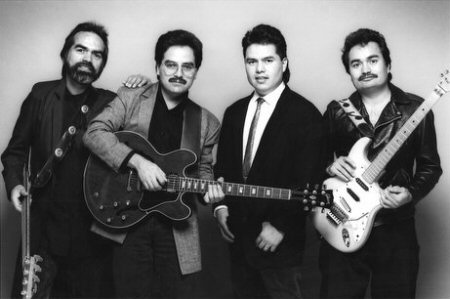 Delgado Brothers (1989)
(left to right- Bobby, Joey, Steve, and Jimmy)
(photo by John Deleon)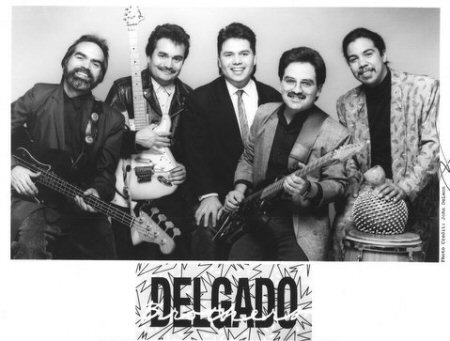 Delgado Brothers (1989)
left to right- Bobby, Jimmy, Steve, Joey, and Ray Solis)
(photo by John Deleon)

Selected Delgado Brothers You Tube Videos


Delgado Brothers "Man Without a Plan" (2010)


Joey Delgado Jamming with the Dave Mason Band (2010)

Click here to go to The Delgado Brothers store at amazon.com



Previous page || Go to next article