Manny Lopez: East L.A.'s King of the Cha Cha
by Mark Guerrero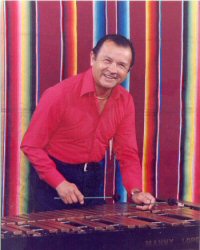 Manny Lopez was known as the "King of the Cha Cha Cha" in the late 1950s and early '60s in Southern California and beyond. He recorded two albums for RCA Victor, two for Imperial Records, and two for Indigo Records. He shared the bill and performed with the top Latin and jazz musicians from New York and Los Angeles of the era, such as Tito Puente, Tito Rodriguez, Machito, Rene Touzet, and George Shearing. He toured with Tony Martin in Florida and the Caribbean and recorded in Mexico City and Los Angeles. He coached Elvis Presley in Spanish pronunciation for a movie and was featured in a major film with the popular Cuban band leader Perez Prado, of "Cherry Pink and Apple Blossom White" fame, and Luis Alcaraz, known as the "Glenn Miller of Mexico." Manny Lopez was a songwriter and musician who played the vibes and guitar, and was a well-known and respected band leader. Manny also owned a own popular night club in East Los Angeles.
Manny Lopez was born in 1927 in Downey, California, a suburb of Los Angeles. His father and mother played the guitar and would entertain at family gatherings. His older brother Jess "Chuy" Lopez also became a musician. Manny started out singing and performing mostly boleros with his brother and a friend, Mexican trio style with guitars and vocals. He was also in a couple of other bands when he was in high school. The first band was with Joe Matorena, known as Joe May. (Coincidentally, Joe Maytorena was one of my high school music teachers at Garfield High School in the late 1960s.) Manny had no real formal training, learning music by listening to recordings and other good musicians who were in town such as Tony Olvera (bass), Manuel Cerecedes (piano), and Francisco "Chico" Guerrero (vibes). He enjoyed big band music, both American and Latin, disparate artists such as Benny Goodman, Tommy Dorsey, Stan Kenton, Count Basie, Duke Ellington, Tito Puente, and Tito Rodriguez. He also favored vocalists such as Frankie Laine, Tony Martin, Nat "King" Cole, and The Modernaires. Manny started as a guitarist then took up the vibes at the age of 20. His musical preferences were sophisticated jazz and Latin. In 1946, Manny joined the navy just after World War II. He was in the navy band as a guitarist on the U.S.S. Princeton, an aircraft carrier. In the navy band with him was a bass player by the name of Alfonso Arias. Alfonso's father, Jose Arias, was a great and well-known musician. Manny would work with Alfonso when they got out of the service as well. While in the navy, Manny spent some time in Shanghai, China. At the time he didn't enjoy the experience because he was missing his fiancé, Jenny. In later years, he appreciated that he got to experience such an exotic part of the world.
When Manny got out of the navy, he formed the Manny Lopez Quintet, which included a trumpet player, a saxophonist, a percussionist, a female vocalist, and Manny on vibes and vocals. In 1957 Manny was working with his band at Club Baion on Atlantic Boulevard in East Los Angeles when a&r (artist and repertoire) men from RCA Victor came in and liked what they heard. In short order Manny and his quintet were recording in Hollywood for the label. For the recordings, Manny added three violins, a viola, a cello, two flutes, and a full rhythm section. The first album was called "Cha-Cha-Cha If You Please" and was credited to Manny Lopez and his Orchestra. RCA Victor promoted Manny Lopez as the "King of the Cha Cha Cha." Manny continued to play around the Los Angeles area in venues such as the Capri Club on 4th and La Cienega, The Hollywood Palladium, and the legendary Garden of Allah on Sunset Blvd. At the Palladium Manny's band would play alongside the biggest names in Latin music. Manny and his band, featuring female vocalist Nita Cruz, also performed a lot in Las Vegas during its golden age at the Flamingo Hotel. The great Louie Prima and Keely Smith, along with other entertainers, used to come in and catch his show. Manny also played Lake Tahoe a lot during this time. Manny's second RCA Victor album was called "Cha Cha Pops," which included many American classic songs that he Latinized, "Stairway To the Stars" and "There I Said It Again" are two examples. Manny Lopez then signed with Lew Chudd and his Imperial Records. My dad, Lalo Guerrero, was one of the first artists on the label in the late 1940s. My dad started with the Trio Imperial and then went on to record for years as a solo artist. In later years, Fats Domino and Ricky Nelson would record on the label. Manny recorded two albums for Imperial Records, "Why Not Cha Cha Cha" and "Cha Cha Cha and More." He went on to record two albums for the Indigo label, one of which was entitled "Just For You."
In the late '50s, Manny toured with popular singer Tony Martin, along with seven musicians and two female dancers. They played in Miami, Florida, Puerto Rico, the Bahamas, and Havana, Cuba. They were performing in Havana, while Fidel Castro was still up in the mountains fighting his revolution. There were bombings of police stations and government buildings, but Manny felt safe because there was a lot of security at the hotel in which they were staying. Hours after Manny left Cuba, Castro took over Havana and the rest in history. In 1956, Manny Lopez and his Orchestra appeared in a major motion picture released by Columbia Pictures called "Cha Cha Cha Boom." Also appearing were Perez Prado and Luis Alcaraz, whose orchestras perform in the movie. About a third of the way into the film when the main character arrives at a nightclub in Havana, Manny welcomes the audience and then he and his orchestra perform a couple of songs for the dancers, who demonstrate the current state of the art cha cha cha moves. In 1962, Manny was asked to coach Elvis Presley on how to play and sing the song "Guadalajara" in Spanish for his film "Fun In Acapulco." Manny says Elvis was a nice guy and was dedicated to learning the song. Manny is on the cover of the DVD of the movie to the left of Elvis. Francisco "Chico" Guerrero is on the right.
In 1973, Manny bought a night club on Atlantic Boulevard in East Los Angeles, which he christened simply the Manny Lopez Club. It was a very popular venue which featured the Manny Lopez Orchestra. The great pianist Eddie Cano of the instrumental "Taste of Honey" fame often played his club as did Gil Quesada, who played trumpet, bass, and piano. One night when Manny couldn't play the club, he asked his friend Tito Puente if he would cover for a night. Tito Puente, who was at the height of his fame and popularity, gave Manny a great price and brought his whole orchestra to play the Manny Lopez Club. The musicians couldn't all fit on the stage, so some had to play on the dance floor. The place was packed with people waiting outside the door, unable to get in because of fire department codes. Manny sold his club in 1983 to take care of his wife, who was diagnosed with cancer. She had it for seventeen years before she succumbed to the disease. Manny and his wife, Jenny had five boys and a girl. His son Steve often played bass with Manny and Manny Jr. played in teenage rock bands, but never went professional as a musician. Manny and his wife had lived in Montebello, California in East Los Angeles since they were first married.
In 1994, after his wife's passing, Manny moved to Palm Springs, California, in the desert one hundred miles east of Los Angeles. There he played in country clubs, hotels, and restaurants into the 2000s. He also played events for the Stroke Recovery Center and the Heart Association. In 1994, recording artist and jazz vocalist Mark Winkler immortalized Manny when he wrote a song about his experiences in L.A. in the 50s as a child. In his song "Everybody Cha Cha" from his "Tales From Hollywood" CD, Winkler wrote about hearing Manny at the Garden of Allah and watching his older siblings dance to the hot Latin sounds of the Manny Lopez Quintet." As of this writing, Manny is still in Palm Springs, but is retired from performing. His recordings are available on line. Click here and type in his name in the artist box for one such site that has most of his recordings.
This article is based on an audio taped interview by Mark Guerrero with Manny Lopez on November 18, 2009.
mp3 Sound Bytes
Below are three Manny Lopez Orchestra recordings from the late 50s/early 60s, representing his musical diversity; a cha cha cha, an American pop song, and a tropical (salsa).

Mark Guerrero & Manny Lopez (2009)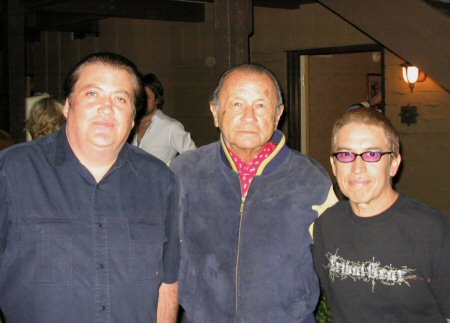 Manny Lopez with David Hidalgo and Louie Perez of Los Lobos

U.S. Navy Band (c. 1946)
(Manny Lopez 3rd from right on guitar, Alfonso Arias on upright bass)

Manny Lopez with Perez Prado
(Perez Prado top left, Manny Lopez top right)

Manny Lopez with Stan Kenton
(Manny Lopez 2nd from left, Stan Kenton center)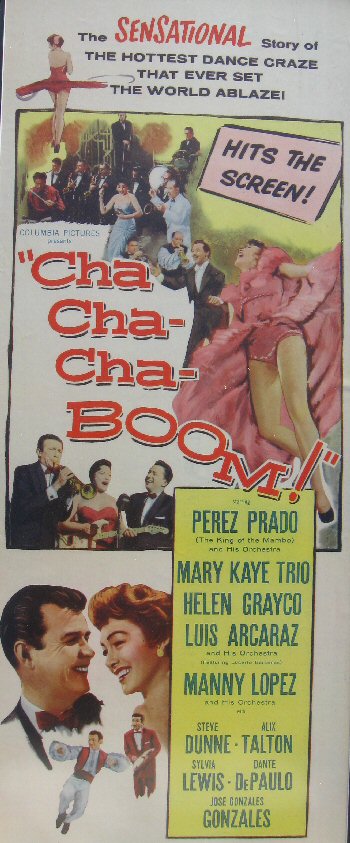 Cha Cha Cha Boom motion picture poster (1956)

Manny Lopez to the left of Elvis Presley
(from "Fun In Acapulco" movie poster)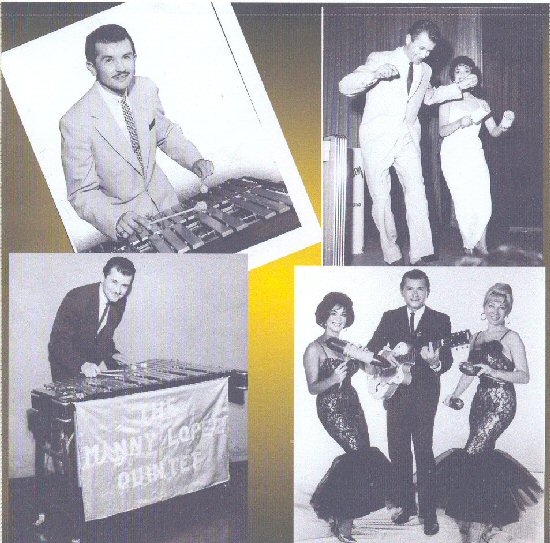 Manny Lopez Collage

Manny Lopez (early 2000s)

Previous page || Go to next article