Question Mark & the Mysterians: The First Punk Rock Band
by Mark Guerrero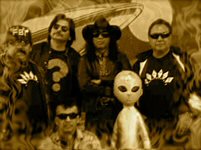 Question Mark & the Mysterians was a pre-punk rock band that was formed in Michigan in the early '60s. It is widely believed that the term "punk rock" was first used in reference to them by Dave Marsh, a writer who often contributed to Rolling Stone magazine. The band was mysterious by design. They named themselves after a Japanese science fiction film called "The Mysterians," in which aliens from the destroyed planet Mysteroid come to conquer the earth. Question Mark was the lead singer of the band, who was born in Texas in 1945 and grew up in Saginaw, Michigan. He always wore sunglasses and claimed he was from Mars and in a past life lived among the dinosaurs. The other members of the band were also from the Saginaw area and like Question Mark had come north with their migrant worker families from Texas. Question Mark & the Mysterians will always be remembered for their classic garage rock gem, "96 Tears," which hit #1 on the national charts in the fall of 1966.
The original band members of The Mysterians were Mexican-Americans Larry Borjas on guitar, Robert Martinez on drums, and Bobby Balderrama on lead guitar. They formed in Bay City, Michigan in 1962 inspired by surf bands and artists like Link Wray and Duane Eddy. (After Question Mark & the Mysterians' success with "96 Tears," Bobby met Duane Eddy on one of their tours at a hotel. Bobby was nearly speechless meeting one of his guitar heroes.) Needing a bassist in the band , Larry volunteered to switch to bass. They began playing gigs in and around Adrian, Michigan. After seeing English bands they admired such as the Dave Clark Five and The Animals with organ players, The Mysterians added 14 year old Frank Rodriguez, Jr. on Farfisa organ. Needing a strong lead singer and front man, The Mysterians added a friend of Robert Martinez who was to be known as Question Mark. Just before the band was scheduled to begin recording, Robert Martinez on the verge of being drafted, joined the army. Larry Borjas decided to enlist with him using the buddy system to keep the two friends together. They were replaced in The Mysterians by drummer Eddie Serrato (Question Mark's brother in law) and bassist Frank Lugo, a member of a local Mexican band. The classic "96 Tears" lineup was now in place.
Question Mark had written a poem called "Too Many Teardrops" several years before the band was formed. He eventually put a melody to it, but since he didn't play an instrument the song had no chord structure behind it. Meanwhile, The Mysterians had created what was to be the music bed and arrangement for which Rudy Martinez' song would fit. According to Bobby Balderrama, Eddie Serrato suggested they call the song "69 tears" because it would be different and more interesting to have the number of tears that had fallen. The band thought the song could be banned from radio airplay with the suggested title so Eddie suggested "96 Tears, a simple reversal of 69." Everyone agreed and the rest is history. The idea of the name Question Mark came from David Torrez, who worked for Dow Chemical in Midland, Michigan. He was interested in managing the band at the time and thought Question Mark & the Mysterians was a great name since the ? gave additional mystery to the band's image. He also suggested that the other members be known as X, Y, and Z, but that didn't take hold for very long.

Question Mark & the Mysterians recorded "96 Tears" on March 14, 1966 in a back room of a private
house in Bay City, Michigan as a single for local Pa-Go-Go Records, owned by the group's manager Lillian Gonzales. Bobby Balderrama remembers having to move a pool table to make room for the band. Bobby thinks they did about 10 or 11 takes at the insistence of their producer, Rudy Gonazalez, who was also a musician with his own popular Texas-based band, Rudy & the Renobops. Since the record was recorded on a two-track machine, the band played and Question Mark sang live at the same time, no overdubs. For their first single it was originally intended as the "B" side of "Midnight Hour." At Question Mark's insistence, "96 Tears" was picked as the "A" side. Lillian Gonzalez initially manufactured only 500 records and told the guys to start promoting it. Question Mark and Bobby Balderrama took "96 Tears" to the local Saginaw rock station WSAM, who started to play the record and get some positive reaction from their listeners. Question Mark and Bobby then sent one hundred postcards to the station with made up names and addresses requesting "96 Tears." This brilliant marketing move got them more airplay and local stores where Question Mark and Bobby had already placed records started to sell them out. They then hit other stations in nearby towns such as WTAC in Flint with the same positive result. Eventually the record got picked up by CKLW in Detroit, where it became #1. At this point Lillian Gonzalez and the band realized they needed national distribution. Offers came in from several record companies, but Lillian and the band went with Cameo-Parkway, a label made famous by Chubby Checker and Bobby Rydell. "96 Tears" eventually sold over a million copies.
After the band's success, the lead singer legally changed his name to ?, not Question Mark, but the symbol. In interviews he would not give his given name and continued to say he was from Mars. He did this in all seriousness and never broke a smile. He always wore sunglasses while performing, recording, being interviewed, or photographed and still does to this day. Question Mark & the Mysterians second single in 1966 was "I Need Somebody," which peaked at number 22 on the national charts. Subsequent singles, including "Can't Get Enough Of You Baby," and an album called "Action," didn't do so well commercially even though the band's musicianship was maturing and improving. "Can't Get Enough of You Baby" was brought to the band by Neil Bogart, who later had great success in the disco era with his Casablanca Records. Question Mark & the Mysterians went on to record for other labels such as Capitol, Tangerine, Super K, Chicory, and Luv, but by 1973 the band had run its course. "Can't Get Enough of You Baby" would eventually reach #14 on the U.S. charts in 1998 when covered by a Southern California band, Smash Mouth. Mel Shacher, later to play with Grand Funk Railroad, played bass for a time with ? and the Mysterians. He was replaced by Richard Schultz, who co-wrote a song with ? called "She Goes To Church On Sunday," which is currently with Paul McCartney's publishing company. "96 Tears" has been covered by many artists and has become a classic rock standard. With a major hit on their hands, Question Mark and the Mysterians toured around the country and did a lot of television shows. One six week tour had them on the bill with Sky Saxon and The Seeds (Pushin' Too Hard"), The McCoys ("Hang On Sloopy"),and Sonny Geraci and The Outsiders ("Time Won't Let Me"). They were also brought to Hollywood to appear on Dick Clark's "American Bandstand." While in Hollywood Question Mark & The Mysterians opened for the Leaves ("Hey Joe") at a popular Hollywood venue.
In the early '70s, Question Mark & the Mysterians reformed with a new lineup with two guitars, bass, and no keyboards. Their sound and style inspired writer Dave Marsh to coin the term "punk rock" in a 1971 article he wrote about Question Mark & the Mysterians for Creem Magazine. Question Mark had always claimed he'd been to the future and was ahead of his time. Maybe he wasn't so far off base when one considers even the early Question Mark & the Mysterians were punk rock and their sound on "Can't Get Enough of You Baby," copied by Smash Mouth thirty two years after Question Mark & the Mysterians recorded it, still sounded hip and shot up the charts. In 1980, "96 Tears" was covered by Garland Jeffreys and became a minor hit. In 1984, Question Mark & the Mysterians had a reunion in Dallas, Texas, where they opened for Joe "King"Carrasco. A recording was made of their performance entitled "96 Tears Forever: The Dallas Re-Union Tapes" and released by a New York City label called ROIR. In 1997, the original members of the band reunited once again and this time began to play shows. They collaborated with promoter Jon Weiss, who made the band headliners at his CaveStomp Garage Rock festivals. CaveStomp revived many garage rock and psychedelic bands of the 60s. The revitalized Question Mark & the Mysterians established themselves as one of the best and strongest re-formed bands on the circuit and played many mid-sized concert venues from 1997 through 1999. They also made two trips to Europe, where in November of 1998 they blew away the audience at the Wild Weekend Garage Rock show in London. They returned to Europe in the summer of 1999, culminating with a show at the Royal Festival Hall classical music venue as part of the "Meltdown 1999" music festival.
Since Question Mark & the Mysterians were unable to secure the rights to their original master tapes, they recorded a new version of the entire "96 Tears" album in 1997 and released it on the Collectables label in 1997. "Do You Feel It Baby," a live album was released in 1998 on Norton Records. Another studio album followed called "More Action," produced and recorded by Jon Weiss in 1999. Due to some dissatisfaction with the record and some business issues, Question Mark & the Mysterians went on another hiatus. In the 2000s Question Mark & the Mysterians still play occasional shows. On January 9, 2007, Question Mark's home burned down and he lost all his possessions, including his memorabilia. Also lost in the fire was the original Farfisa organ used on "96 Tears."
In September of 2008, I had a long phone conversation with Question Mark in regards to a PBS show on which I was a talent coordinator and performer, eventually called "Trini Lopez Presents: Latin Music Legends." I was trying to secure the participation of Question Mark & the Mysterians for the show, which also included El Chicano, Tierra, Thee Midniters, The Greg Rolie Band, and of course Trini Lopez. I sang a song backed by Tierra on the show, which aired on some PBS stations in 2009. I could not convince him to come out to California to do the show. Part of the reason was he didn't want to fly. He said he would come by train and needed his manager to come with him. As it turned out the producers and Question Mark did not come to terms and consequently he didn't do the show. However, on my long conversation with Question Mark, which lasted at least an hour and a half, he told me his history and philosophy. I heard tales of his time travel, Martian origins, and got an insight to his limitless self-confidence as a performing artist. As fate would have it, less than a year later, I met him while doing a show on the same bill with Question Mark & the Mysterians. On May 22, 2010, I was playing as a member of Cannibal & the Headhunters at a taping of another PBS special in Pittsburgh, Pennsylvania. Question Mark & the Mysterians were also taping on that night. As it turned out, they were the second to last band to perform and we were the last, doing our song around midnight. Cannibal & the Headhunters and Question Mark & the Mysterians were the only Mexican-American groups on the bill. We spent some time hanging out with some of the members. I mainly spoke with Bobby Balderrama, the lead guitarist, and we exchanged cards. I, along with members of the Headhunters, also posed for photos with Question Mark.
A few years after Question Mark & the Mysterians broke up in 1969, Bobby Balderrama joined Joe "King" Carrasco's band in Texas. Carrasco was doing well recording and touring the country. They also played the college circuit, sometimes on the bill with Stevie Ray Vaughn and the Fabulous Thunderbirds. Interestingly enough, Joe "King" Carrasco is not Latino, but German-American. He took the name Carrasco from a modern outlaw. He described his music as Tex Mex Rock. The music and his attitude also had some '80s rock elements. He would jump into the crowd, mosh pit style, in the days before the practice had really caught on. Bobby Balderrama currently has a smooth jazz band called The Robert Lee Revue, Robert Lee being Balderrama's first and middle name. Also in the band is Mysterians keyboardist Frank Rodriguez, Bobby's wife on percussion, his son Nicolas on rhythm guitar, and a sax player. The Robert Lee Revue has an album out entitled "For the Love of Smooth Jazz," which is getting a lot of internet radio airplay, including in London, England. A second album is in the works and will be out shortly. Bobby first got interested in jazz when George Benson burst on the scene in the '70s. Bobby admired Benson's guitar style and virtuosity on recordings such as his jazzy version of "On Broadway." Smooth jazz has become a passion for him Balderrama. So much so, he plans to do a podcast called "Great Lakes Bay Jazz Radio" in the near future. For more information on the Robert Lee Revue, visit myspace.com/robertleerevue.
In 2011, Question Mark & the Mysterians are still occasionally performing. Sadly, Mysterians drummer, Eddie Serrato passed away on February 24, 2011 of a heart attack at the age of 65. Because of their timeless classic "96 Tears" and the unique and mysterious image they've portrayed, Question Mark & the Mysterians will always be remembered in the annals of the history of rock & roll. They are considered by many to be the first punk rock band and are often referred to as "the world's greatest garage rock band." Happily, their music is still available on many reissues such as: "96 Tears Forever - The Dallas Reunion Tapes '84" (1995 ROIR), "Question Mark & the Mysterians (1997 Collectables), "Do You Feel It Baby" (1998 Norton Records), "More Action" (1999 Cavestomp! Records), "Feel It! The Very Best of Question Mark & the Mysterians (2001 Varese Sarabande), and "The Best of ? and the Mysterians - Cameo Parkway 1966-1967" (2005 Cameo-Parkway/ABKCO). There's also a documentary on Question Mark & the Mysterians in progress by Terry Murphy called "Are you For Real?"
This article is based on a telephone conversation with Question Mark by Mark Guerrero in September 2008 and a phone interview with Bobby Balderrama on July 24, 2011.
mp3 Sound Byte
Selected Question Mark & the Mysterians You Tube Videos
Click here for "96 Tears" (1966)
Click here for "96 Tears" (late '90s)
Click here for "I Need Somebody" (1966)


Question Mark & the Mysterians with Dick Clark (1966)
(left to right top row- Bobby Balderrama, Frank Lugo, Eddie Serrato, and Frank Rodriguez; foreground left to right- Question Mark and Dick Clark)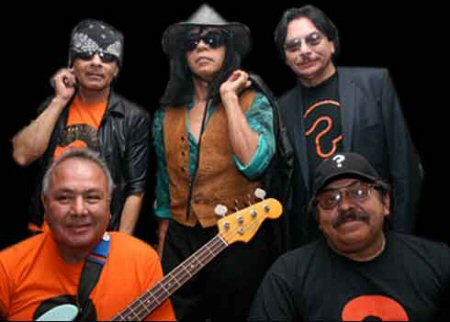 Question Mark & the Mysterians (2009)
(left to right top- Robert Martinez, Question Mark, and Bobby Balderrama; foreground left to right- Frank Lugo and Frank Rodriguez)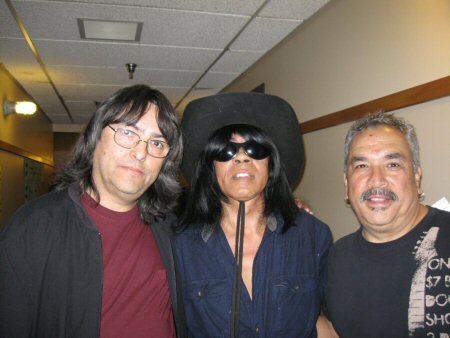 Mark Guerrero , Question Mark, and Robert Zapata (2010)
(Benedum Theater- Pittsburgh, PA)
Selected Question Mark & the Mysterians You Tube Videos
Click here for "96 Tears" (1966)
Click here for "96 Tears" (late '90s)
Click here for "I Need Somebody" (1966)
"96 Tears" (1966)

"96 Tears" (late 90s)

"I Need Somebody" (1966)
Click here to go to Question the Mark & the Mysterians store at amazon.com



Previous page || Go to next article