Mickey & the Invaders: More Than a Surf Band
by Mark Guerrero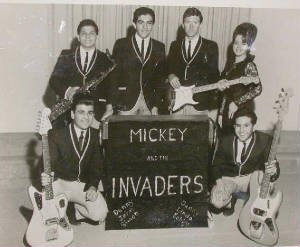 Mickey & the Invaders have gotten a raw deal. When their name is brought up, the first thing most people say is "you mean that surf band?" The mission of this article is to refute the knarly misconception that unfairly pigeon-holes them and pay tribute to a versatile and excellent band, which was also part of the "Eastside circuit" of the 1960s in East Los Angeles. Mickey & the Invaders indeed played the "circuit" and went far beyond, recording three singles for MCA using a new name, Dyna-Might. Mickey & the Invaders and Dyna-Might also backed up and toured with some of the premier artists of their time.
Mike "Mickey" Aversa grew up in Montebello, California, a stone's throw from the cradle of the "Eastside Sound," the unincorporated part of East Los Angeles where most of the music venues were located. Also in the neighborhood was the strip of Whittier Boulevard, whose cruising scene has been made legendary in story and song. Mike's musical journey began with guitar lessons from his brother in-law when he was seven years old. Later he took formal guitar and piano lessons. Learning to read music made much of his later musical exploits possible. His first band was called Mickey and His Cavaliers. They were managed by his father, who also came up with the name. The band formed in 1961. One of the venues they often played was Auction Village in Baldwin Park, California. Like many bands in the early '60s, Mickey and His Cavaliers played a lot of surf music. However, they also played R&B and even country music. They were soon regular guests on the "Squeekin' Deacon" radio show, which was a country western show. Members of Mickey and His Cavaliers were: Mickey Aversa (guitar, vocals), Don Vena (drums), Edward Matisoff (sax), Dave Irwin (bass), Nancy Maldonado (vocals), and Pat Richardson (vocals).
In 1963, the band changed its name from Mickey and His Cavaliers to Mickey & the Invaders. The name gave them a more modern and other worldly dimension. Their band cards even proclaimed "music out of this world." They played weddings, parties, dances, and naval bases. By this time they added some standards to their song list. Band members came and went until the members of Mickey & the Invaders were Mickey Aversa (guitar), Simon Casas (bass), Sonny Lathrop (guitar), Denny Robinson (guitar), Linda Robinson (vocals), Barry Ward (drums), John Ortiz (sax), and Mario Sosa (trumpet). (Drummer Barry Ward would later play for a while with Three Dog Night.)
Two other members of Mickey & the Invaders give them major East L.A. street cred, Bobby Espinoza and Danny Lamont. After a couple of years with Mickey & the Invaders, Bobby Espinoza went on to play with the popular East L.A. band the V.I.P.s, who later evolved into the hit band El Chicano. Bobby's Hammond B3 organ style became the heart and soul of El Chicano's sound. Mickey & the Invaders was the first band Bobby ever played with. Here's how it happened: Mickey Aversa was taking piano lessons at Lew Salter's in East L.A. on Atlantic Boulevard, just south of Whittier Blvd. Mickey told Mr. Salter that he was looking for a keyboard player for his band. Mr. Salter recommended Bobby, who was also one of his students. According to Mickey, Bobby was a very shy kid at the time, but with a little prodding he agreed to join the band. This was the genesis of Bobby's musical career. Drummer Danny Lamont went on to become a member of Thee Midniters during their heyday in the mid-'60s. Thee Midniters were the most popular band in East L.A. in that era. In the early '70s, La Mont joined Bobby Espinoza as a member of El Chicano for a time. Danny La Monte played on El Chicano's fourth album, "El Chicano," released in 1973.
It's true Mickey & the Invaders played surf music and depending on the venue could indeed morph into an authentic surf band. They're even included in the 1996 book entitled, "Surfin' Guitars," by Robert J. Dalley and published by Popular Culture, Ink. However, it would be more accurate to describe the band as musical chameleons. On the "Eastside circuit" they would play R&B and hits by some of the East L.A. bands of the era. At a wedding dance, they could play standards or Mexican music. (Bassist Simon Casas' father was a guitarron player in a mariachi and his mother was part of a Mexican vocal duo with her sister, Las Hermanas Fraga, who recorded for Columbia Records.) Mickey & the Invaders even played Gypsy music at Gypsy weddings! They were very good musicians, most of whom could read music.
Getting back to the subject of surf music, many bands in East L.A. played surf music at the time. In the early '60s, surf music was extremely popular. Dick Dale & the Deltones were huge. Just about every guitar player in East L.A. was doing his best to play "Miserlou" with Dick Dale's rapid-fire picking style. Songs like "Wipeout" by the Surfaris and "Pipeline" by The Chantays were monster hits. The Ventures were extremely popular with "Walk Don't Run" and many other reverb-laden guitar anthems. My first band, Mark & the Escorts, started with surf songs in 1963. Virtually our entire list was comprised of surf instrumentals. Yet somehow no one has ever referred to my band as "that surf band." There was also an East L.A. band called the Vesuvians, who played surf songs and even dressed the part. Mickey & the Invaders somehow got stuck with the moniker. Mickey & the Invaders definitely had a surf side, no pun intended, but they were much more than that and went beyond as the '60s progressed and their name changed once again.
Mickey & the Invaders played a variety of venues. In the surf world they played the legendary Rendevous Ballroom, where they opened for Dick Dale himself. They played other Orange County surf venues, such as the Pavalon Ballroom in Huntington Beach and Retail Clerks Hall in Buena Park. They also put out a surf single called "Blast Off" on the small Lap Record label. It was actually the "B" side to a song called "Land of Broken Hearts," but a DJ flipped it over and started playing "Blast Off." At the same time they were playing the the appropriate music that served the tastes of the people on the East L.A. circuit, at venues such as the Big and Little Union Halls, Montebello Ballroom, Kennedy Hall, and El Monte Legion Stadium. They also played one of the now legendary rock & roll shows at East Los Angeles College. (Mickey also played bass on East L.A. singing star Little Ray's classic recording of "I Who Have Nothing" on Bob Keane's Donna Label.)
In 1965, Mickey & the Invaders released a second single, "Love Is a Wonderful Thing" and "You'll Never Know" on Yardbird Records. Both songs were written by Mickey. Outside the East L.A. "circuit," Mickey & the Invaders played the Pasadena Civic Auditorium on the bill with an up and coming band called The Association. They also played shows at Disneyland. In 1967, Mickey & the Invaders won the prestigious Battle of the Bands at the Teen Age Fair at the Hollywood Palladium. This was a major annual event which always had stiff competition from bands all over Southern California.
The next break for the band was meeting KRLA disk jockey Dick Biondi. Mickey was giving guitar lessons to a kid who "moved on up" from the eastside to Beverly Hills. There the boy befriended child actor Jon Provost, best known as the kid on the "Lassie" television show. Mickey became Provost's guitar teacher, which led to Mickey meeting Biondi through Provost's agent. (The universe works in mysterious ways.) Dick Biondi, impressed with Mickey & the Invaders, began to book the band on the Dick Biondi KRLA Road Shows. On these and other shows, Mickey & the Invaders backed artists such as The Righteous Brothers, Sonny & Cher, Brenda Holloway, Johnny Burnette, Brenton Wood, Paul and Paula, April and Nino Tempo, and The Blossoms.
The Blossoms were a great black female vocal group, who provided background vocals for countless major artists of the time. The legendary Darlene Love was one of the Blossoms. Darlene Love was the lead vocalist on the Phil Spector produced recordings by The Crystals. There's a movie out now in 2013 called "20 Feet From Stardom," featuring Darlene Love and other great black female background singers of the 60s and 70s, Merry Clayton, Lisa Fischer, Claudia Lennear, Tata Vega, and others. These were world-class singers who were literally and figuratively twenty feet from stardom. Well, Mickey & the Invaders and The Blossoms hit it off because they backed the vocal group often, including stints at the Chi Chi Club in Palm Springs and the Sands Hotel in Las Vegas. When Mickey & the Invaders went to rehearse with The Blossoms for the first time, they met The Blossoms young musical director, the now legendary guitarist Larry Carlton.
Dick Biondi also hired Mickey & the Invaders on tours of Job Corps camps. The shows would have a comedian, female dancers, and a pre-Three Dog Night Chuck Negron, then billed as Chuck Oberon. Mickey & the Invaders would do their set and back Chuck Negron. On each tour they would do two or three shows a day in different places for a couple of weeks. They hit Job Corps sites in California, Oregon, Nevada, Montana, and Wyoming. Simon remembers one camp that was all women where the band was mobbed like the Beatles.
In the period of 1968-69, the band did nightclubs in Los Angeles and Hollywood as the Mike James Quintet. The quintet's members were all former Invaders; Mike Aversa, Simon Casas, Barry Ward, John Ortiz, and Mario Sosa. Their most memorable night club gig was at The Factory in Beverly Hills, a major Hollywood celebrity hang out. The directors of The Factory were Peter Lawford, Sammy Davis Jr., and Paul Newman. During the Mike James Quintet's run they entertained and provided dance music for luminaries such as James Mason, Omar Sharif, Martha Raye, Dick Smothers, Barbara Feldon, Barbara Eden, Ricky Nelson, and Hugh Hefner.
In 1969, Dick Biondi lost his job at KRLA and moved on to a rock station in the South. He kindly turned Mickey & the Invaders over to a couple of other KRLA DJs who became their managers, Charlie O'Donnell and Humble Harve (Harvey Miller). Their new managers helped secure a major record deal for the band with MCA Records. Their managers also gave them a new name for their new deal, Dyna-Might! Band members at this time were Mickey Aversa, Simon Casas, Barry Ward, John Ortiz, Mario Sosa, and Nick Bradley (keyboards). Bradley was in the band for about a year. Their first single was on the label's Congress subsidiary. "You Got Me Groovin" and "Soul Has No Color" were released on January 1, 1970. Their second single was "Borracho" and "Need You" released September 1, 1970 on MCA's Uni label. On "Borracho" the prominent Hammond B3 organ is played by saxophonist John Ortiz, who was now playing some keyboard in the band. Their third single was "Sunshine Goddess," written by Alan O'Day, and "Message To My Brother."
As Dyna-Might they were also the house band at Magic Mountain amusement park in Valencia for their opening season in 1971. It was there they were on the bill with performers such as comedienne Phyllis Diller, impressionist Rich Little, and the great singer Bobby Darin. They also did "live" shows for Wolfman Jack; backed Freddy Cannon on a record ("Rock & Roll ABCs" written by Alan O'Day and "Superman" written by Mickey Aversa); and appeared on The Real Don Steel's dance TV show. Other guests on that show were The Ides of March of "Vehicle" fame and the great Little Richard. Dyna-Might also played clubs in the Western U.S. and in Canada.
After their stint with MCA, Dyna-Might decided to record a single on their own label, Dyna-Might Records. They picked a song they liked from an album by Hamilton, Joe Frank, and Reynolds. It was an album cut called "Fallin' In Love Again." The flip side was "A Rose By Any Other Name." They presented the recording to Playboy Records, who showed some interest in releasing the recording themselves. Before a deal could be made, Hamilton, Joe Frank, and Reynolds released their own recording of the song as a single and it quickly went to number one! Dyna-Might was on the road in the Northwest and constantly heard the song on the radio. They had picked the song as a hit apparently before anyone else, but were beaten to the punch. Simon Casas left the group around this time and Mickey kept the band going for a while. Dyna-Might disbanded in 1977. In 1978, Mike Aversa and John Ortiz joined with Mike O'Brien & Don Hoover to form a Christian band, The Agape Brothers. They recorded an album and performed together until 1981.
Mickey & the Invaders and Dyna-Might accomplished a lot in their musical careers. They played dances, shows, and concerts; created their own music and made records; played many different musical styles; and backed and played alongside legendary artists of the 60s and 70s. They were part of and witness to a special time in rock & roll history.
This article is based on audio taped telephone interviews by Mark Guerrero with Mike Aversa on July 29, 2013 and Simon Casas on August 5, 2013.
mp3 Sound Bytes
Blast Off - Mickey & the Invaders 1965
Borracho - Dyna-Might 1970
Fallin' In Love - Dyna- Might 1973
Selected You Tube Videos
Click here for "Love Is a Wonderful Thing" - Mickey & the Invaders (1965)
Click here for "You Got Me Groovin'" - Dyna-Might (1970)
Click here for "By Lord and I" - Agape Brothers (1977)


Mickey & the Invaders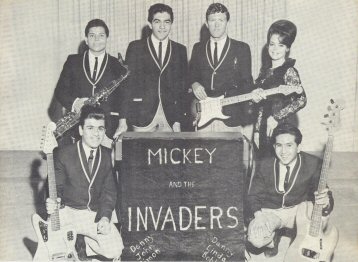 Mickey & the Invaders
(top row, left to right- John Ortiz, Bobby Espinoza,
and brother and sister, Denny and Linda Robinson)
(kneeling in front, left- Mickey Aversa, right- Simon Casas)

Mickey & the Invades with The Blossoms
(The Blossoms backed up artists such as Elvis Presley and The Righteous Brothers.)


Dyna-Might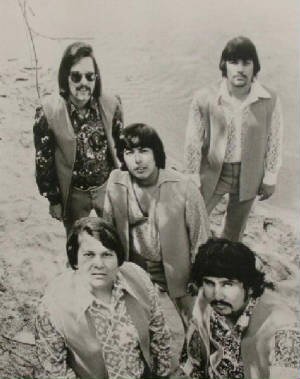 Dyna-Might (1969)
front- John Ortiz and Simon Casas
middle- Mario Sosa
back- Barry Ward and Mike Aversa
Mickey Aversa and his Cavaliers
(Mike Aversa's first band)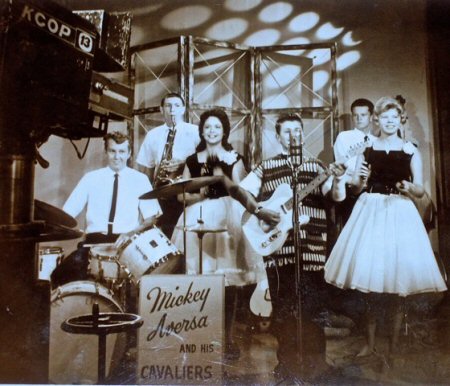 Mickey Aversa and his Cavaliers (c. 1962)
(On KCOP's "Hispanorama")
left to right- Don Vena, Edward Matisoff, Nancy Maldonado,
Mike "Mickey" Aversa, Dave Irwin, and Pat Richardson
Mike "Mickey" Aversa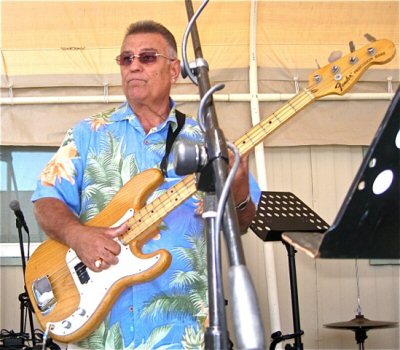 Mike "Mickey" Aversa (2011)

Click here to visit Mike Aversa's webpage "Memories of the '60s."
Click here for his "Memories of the '70s" webpage.
Mike Aversa's website: aversamusic.com
Click here to visit Simon Casas' website.
Click here to visit Guy Aversa's blogspot, which has a history of Mike Aversa's bands of the '60s and '70s with scans of records, photos, posters, etc. (Guy is Mike Aversa's cousin.)


Previous page || Go to next article