Flaco Jimenez: The Patron Saint of Conjunto Music
by Mark Guerrero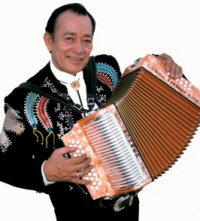 Flaco Jimenez, accordion virtuoso, has taken traditional conjunto music and turned it into a contemporary favorite. He has won three Grammys and has a career that has spanned four decades. His talents have been utilized on recordings by the likes of Dwight Yoakum, Ry Cooder, Linda Ronstadt, Emmylou Harris, Los Lobos, The Mavericks, John Hiatt, Bryan Ferry and The Rolling Stones (Voodoo Lounge) just to name a few.
Born in San Antonio, Texas as Leonardo Jimenez on March 11, 1939, Flaco learned to play the accordion by watching his father, Santiago Jimenez Sr., who is one of conjunto music's pioneers of the 1930's. By age seven, Flaco was performing alongside his father before live audiences. At the age of eighteen, he recorded his first album as a member of the group "Los Caporales." It was soon afterwards that he was given his father's nickname, "Flaco" (which means skinny in Spanish).
Flaco's pop music journey began when he teamed up with Doug Sahm, previously of the Sir Douglas Quintet, and went to New York to jam with Bob Dylan and Dr. John. Flaco played for Anglo audiences for the first time with Peter Rowen and traveled the world with Ry Cooder. He received international acclaim for his contributions to Cooder's landmark album, "Chicken Skin Music."
Flaco won his first grammy in 1986 for the remake of his father's song, "Ay Te Dejo En San Antonio." He then teamed up with Freddie Fender, Doug Sahm and Augie Myers, to form the super group, "The Texas Tornadoes" and won another Grammy in 1990. Flaco won his third Grammy in 1996 for "Best Mexican-American Performance." He has appeared on numerous television shows, including; "Late Night with David Letterman," "Austin City Limits," "Primetime Country" and "MTV News." Flaco's most memorable career performances, include; the "1996 Inaugural Ball," "Peter Gabriel's WOMAD Festival" in Yokohama, Japan, the "Montreux Jazz Festival" in Montreux, Switzerland, "Central Park" in New York and the "San Antonio Symphony" in 1998.
In February of 1998, I had the pleasure and privilege to work with Flaco Jimenez in Paris, France at the Cite de la Musique. Flaco's band was on the bill with my father, Lalo Guerrero. I was there as lead guitarist and musical director of my dad's band. The two bands did a finale of three songs together for which I rehearsed with Flaco the previous afternoon. I would sing him a part and he'd play it back note for note. At one point in our band's rehearsal, we were playing a bluesy song and Flaco walked in and joined us playing blues on the accordion. He jammed with us on a few songs and showed why he's a legend. We also did a radio show together, where he accompanied me on one of my songs, "Oh Maria." At the concert, Flaco's band invited me to join them on their finale, "La Bamba" and "Twist and Shout." The two bands stayed at the same hotel and hung out for the few days we were in Paris. We had a great time. Flaco Jimenez is one of the most unique instrumentalists of our time. Check out one of his many solo CDs or his work with the Texas Tornados. You'll have a great time.
Update
In January of 2003, I had the pleasure of working with Flaco Jimenez once again, this time on Ry Cooder's "Chavez Ravine" CD. I spent a lot of time talking with Flaco at the studio and especially at the hotel where my dad, Flaco, and I were staying in Santa Monica, CA. We had a great conversation at the restaurant/bar at the top of hotel after the first day's session. I asked Flaco what were some of his most memorable musical experiences. He told me stories about recording with the Rolling Stones on their "Voodoo Lounge" album, jamming with Bob Dylan at one of Dylan's concerts, and recording with Elvis' legendary back up singers, The Jordanaires. On the Ry Cooder sessions, Flaco backed my dad on the latest version of my dad's song "Barrio Viejo." Ry Cooder's "Chavez Ravine" CD was released in 2005. In July of the same year, Ry Cooder hosted a CD release party for "Chavez Ravine" in East Los Angeles. Flaco Jimenez was there, along with just about everyone who participated in the project. By this time, my dad had passed away. Flaco sincerely gave me his condolences on my dad's passing, which I appreciated very much. After a hug in honor of my dad, I asked Flaco to tell a friend I was with about his session with the Rolling Stones. Flaco said, "The Stones are great, Elvis was great, but your dad was the man." I think he meant it.
mp3 Sound Byte
La Mucura - Flaco Jimenez with The Texas Tornados 1994


Flaco with The Texas Tornadoes (1996)
(left to right- Flaco Jimenez, Doug Sahm, Freddy Fender, and Augie Meyers)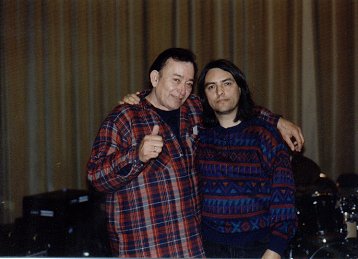 Flaco Jimenez & Mark Guerrero- Paris, France (1998)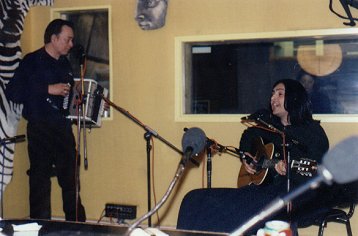 Flaco Jimenez & Mark Guerrero- Paris, France (1998)
(performing Mark's song "Oh Maria" on a live radio show)

Selected Flaco Jimenez You Tube Videos

Flaco Jimenez "Cajun Song"
(Ry Cooder on guitar)



Flaco Jimenez "La Bamba" (1998)
(Paris, France- Mark Guerrero sitting in on guitar)



Click here to go to the Flaco Jimenez store at amazon.com



Previous page || Go to next article