Tierra: Funkafied Salsa
By Mark Guerrero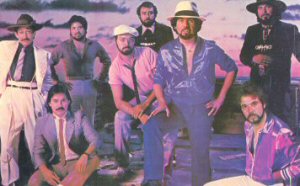 Tierra is a Chicano band from East L.A. At their commercial peak they had a hit song, "Together," which reached number 18 on the national charts in December of 1980. On the wings of their hit record, they appeared on numerous national television programs including "American Bandstand," "Soul Train," "Solid Gold," and the "American Music Awards." Tierra also toured the U.S. extensively, including concerts at the Houston Astrodome and legendary Carnegie Hall.
Tierra was formed in 1972 by Rudy and Steve Salas, brothers who had been singing together professionally since the early 60's when they were pre-teens. I saw them perform for the first time at St. Alphonsus Auditorium when I was still in junior high. I would guess Steve was about 12 and Rudy 14. I remember being impressed with their voices and tight harmonies. They were wearing suits and ties and were fronting a band called the Jaguars, who were very musically polished and probably in their mid to late teens. I had already formed my first band, "Mark & the Escorts" and had been playing around East L.A. My band and The Jaguars with the Salas Brothers eventually played the same venues, such as, the Big Union and Little Union Halls, Rainbow Gardens in Pomona, the Alexandria Hotel in downtown L.A., and the aforementioned St. Alphonsus Auditorium. We eventually had the same manager, Billy Cardenas, and recorded for producer Eddie Davis, who released many records by Eastside groups at the time. In 1966, Eddie put out a compilation album entitled, "West Coast Eastside Revue," which had cuts by the Salas Brothers, Mark & the Escorts, The Blendells, The Premiers, and Cannibal & the Headhunters, among others.
In the early 70's, our paths crossed again as we once again shared the same manager, Art Brambila, who happened to be their uncle. Steve and Rudy Salas had formed Tierra and I was a solo artist at the time, backed by a band that would later become my group, Tango. Art helped me secure a record deal with Capitol Records, while Tierra signed with 20th Century Records. Brambila had a third group, Yaqui, who recorded for Playboy Records. Tierra's first album, "Tierra," was very inspired and energetic. It may not have been as polished as later efforts, but I think it's their best. The album had a lot of good songs, the best being "Barrio Suite," an all-time classic Chicano anthem. The original Tierra had many talented musicians. Their keyboard player, David Torres, is presently musical director of Poncho Sanchez' great salsa band. Conrad Lozano, who played bass on some cuts, shortly thereafter joined Los Lobos, with whom he still plays.
The word "Tierra" means earth, land, soil, in Spanish. It was chosen for its rootsy back to basics connotation and it fits. Tierra's style has always had many different musical elements, including, r&b, doo wop, Latin and rock. They've managed to survive as a group for over 30 years, although Steve Salas has been in and out of the group in the last 10 years. For a while Steve had a group called Los Rebels, and sang rock in Spanish, and later formed another band called Steve Salas and the Original Members of Tierra. Steve Salas has one of the best and most recognizable voices to come out of the Chicano rock scene. Aside from his own hit with Tierra, he sang the lead vocal on El Chicanos' 1972 hit, "Brown-Eyed Girl," a cover of Van Morrison's 1967 classic song. (The lead vocal was shared with El Chicano's bassist, Fred Sanchez.) On the other hand, Rudy Salas is an excellent lead guitarist and producer/arranger. Steve and Rudy have also written some good songs, together and separately. Personally, I would like to see them together in Tierra, but they're both valid musical artists together or apart.
Tierra has recorded for many record labels, including the aforementioned 20th Century, Salsol, Boardwalk, Satellite, Fiesta and currently, Thump Records. They have performed on the same bill with Ruben Blades, Tito Puente, The Miami Sound Machine, Jackson Browne, Linda Ronstadt, Bob Dylan and Chuck Berry. In 1995, they did an album of doo wop-style music, mostly cover tunes, called "Street Corner Gold," and recorded a live album with El Chicano and Malo entitled, "Latin Legends Live," both released by Thump Records. The three groups toured jointly in support of the latter album. In 2001, Tierra released "Dos Mundos-Two Worlds," its first totally bilingual album. It features a song written by and featuring Little Joe, and the first single off the album is called "Lady In the Moonlight." This album and a "Tierra- Greatest Hits" collection are also available on the Thump label. In 2005, Tierra released a new studio album called "Welcome To Cafe East L.A." It's mostly a return to their r&b and doo-wop roots. The exceptions are the title track, which is a Pachuco swing song, and "God Save Us From Ourselves," which is a funky gospel track written and sung by Rudy Salas. The latter track happens to be my favorite. The CD also has a few excellent Latin-style tracks. Steve Salas has continued his career on his own and in 2004 released a solo album entitled "Directions." Steve also performs in concert with his own band. All in all, I think the Salas Brothers have done quite well for themselves for a couple of kids from East L.A.
Updates
On July 20th and September 22nd of 2002, my band, Mark Guerrero & Radio Aztlán, performed on the bill with Tierra, and Malo, at The Galaxy Theater in Santa Ana, CA and The Hop in Puente Hills, California. On November 1, 2003, we played with Tierra, El Chicano, Thee Midniters with Special Guest Little Willie G., The Premiers, and others at the Latin Oldies Festival 2003 in San Bernardino, California. In 2005, Rudy Salas participated on Ry Cooder's great album "Chavez Ravine." I also worked it assisting my dad, Lalo Guerrero, who sang three of his songs on the project. Rudy sang with Little Willie G. on the track "Three Cool Cats." In April of 2005, I performed with Steve Salas as a duo in El Paso, Texas. In late 2005, Rudy and Steve Salas reunited and are once again performing together in Tierra and have plans to record a Salas Brothers album.
In April of 2006, I interviewed Rudy Salas for my internet radio show, "Chicano Music Chronicles." I played thirteen of my favorite Tierra tracks and we talked about them. The interview gives insight into Tierra's music and career. It aired multiple times in the month of May 2006 on crnlive.com. The show is now archived on my website on my "Chicano Music Chronicles" page. A high speed internet connection is recommended. Click here for a shortcut to the page. In the summer of 2006, I interviewed Rudy Salas again for my show. This time it was for an edition of "Chicano Music Chronicles" about the golden age of the the Eastside Sound. Rudy and I talked about his first record "Darling (Please Bring Your Love)" by the Salas Brothers.
In early 2007, I interviewed Rudy and Steve Salas for an exhibit called "American Sabor: Latinos in U.S. Popular Music," which opened in October of 2007 at the Experience Music Project museum in Seattle, Washington. The interviews will also find a permanent home in the museum's oral history archives. On October 14, 2007, I performed with El Chicano on the bill with Tierra at a benefit for my alma mater, Garfield High School. Also on the bill for the event that raised funds for the rebuilding of the school's auditorium which was burned down by an arsonist, were Los Lobos, Little Joe y La Familia, War, Little Willie G., and Upground.
On October 9, 2008, I performed on the bill with Rudy and Steve Salas at the premiere of the documentary "Chicano Rock: The Sounds of East Los Angeles," which took place at the historic Million Dollar Theater in Los Angeles. On November 11, 2008, I performed on the bill with Tierra, El Chicano, Little Willie G. & Thee Midniters, the Greg Rolie Band, and Trini Lopez at the Orpheum Theater in downtown Los Angeles. It was the taping for a PBS television special called "Trini Lopez Presents Latin Music Legends," which aired in March of 2009. On that program Tierra backed me on "Los Chucos Suaves" in tribute to my late father, "The Father of Chicano Music," Lalo Guerrero. On September 18, 2010, I was on the bill with Tierra at Palm Springs Fiesta Days, a two day Chicano rock festival which took place at the O'Donnell Golf Course in Palm Springs, California. Tierra's percussionist Dale Villavicencio and saxophonist Victor Cisneros sat in with my band. Others on the bill included El Chicano, Malo, Los Fabulocos featuring Kid Ramos, The Blazers, and others.
mp3 Sound Bytes
Barrio Suite - Tierra 1973
Lady in the Moonlight - Tierra 2001


Tierra (1972)
(left to right- David Torrez, Steve Salas, Rudy Villa, unidentified, and Rudy Salas)

Tierra (1981)
(left to right- Bobby Navarette, Phillip Madayag, Steve Falomir, Joey Guerra,
Roberto Loya, Rudy Salas, Steve Salas and Andre Baeza)

Tierra (2002)
(top row, left to right-
Jeff Lewis, Dale Villavicencio, Roger Rivas, Isaac Avila, Steve Falomir, Rudy Villa, Victor Cisneros, and Aaron Ballesteros
front, left to right- Rudy Salas and Billy Mondragon)

Mark Guerrero & Rudy Salas (2002)
(backstage at The Galaxy Theater, Santa Ana, CA)

(Rudy is leader, lead guitarist, vocalist, and chief songwriter for Tierra)

Steve Salas & Mark Guerrero (1996)
(Steve was a founding member and lead vocalist of Tierra.
In 2005, after many years leading his own band, he has returned to Tierra.)

Selected Tierra You Tube Videos

Tierra "The Early Years (1980-1996)"

Tierra with Mark Guerrero (2009)
(Trini Lopez Presents Latin Music Legends- Orpheum Theater, Los Angeles)

Click here to go to the Tierra store at amazon.com



Previous page || Go to next article