Carmencristina Moreno: Chicana Lady of Song
by Mark Guerrero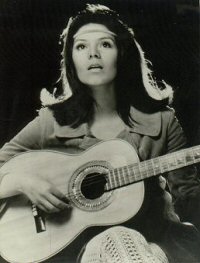 Carmencristina Moreno is one of the best Mexican-American female vocalists of all time. Her voice and singing ability rivals singers the caliber of Joan Baez and Linda Ronstadt. She's also a fine songwriter and accompanies herself brilliantly on acoustic guitar. She has achieved many things in her career, but like most Chicano musical artists, has not received the commercial success and mainstream attention she deserves.

Carmencristina comes from a rich musical heritage. Her parents, Luis M. and Carmen A. Moreno, known as El Dueto de Los Moreno, enjoyed a long and successful career. Her Mexican-born father was a singer-songwriter, who wrote many rancheras that became standards, and her mother was blessed with a beautiful voice. They toured extensively in the Southwest, recorded with the great mariachi, Mariachi Vargas de Tecatitlán, and performed with the legendary Mexican ranchera singer, Lucha Reyes. El Dueto de Los Moreno recorded for several major labels and were radio stars.

Carmencristina was born in East Los Angeles and grew up in Fresno, California and Jalisco, Mexico, becoming linguistically and musically bilingual. She was influenced by the various Mexican/Latin musical styles, i.e., ranchera, salsa, Tejano, and Veracruz, as well as by the music of The Beatles, Bob Dylan, and Joni Mitchell. She has recorded for Epic, Capitol, and Boardwalk Records, both in English and Spanish. In 1976, she was the first Mexican-American to represent the United States in the prestigious OTI Festival in Acapulco, where she performed her composition, "Sangre Antigua." She later recorded that song and another of her songs, "El Corrido de Dolores Huerta" on a United Farm Worker's Union fund-raising album entitled, "Si Se Puede," accompanied by Los Lobos.

Ms. Moreno's acting credits are many, including roles in films, such as, "Hickey & Boggs," with Robert Culp and Bill Cosby, "Master Gunfighter," with Tom Laughlin and "Deal of the Century," with Chevy Chase. She's done dramatic television shows, such as, "Knots Landing," and "Baby Boom," (with Kate Jackson), as well as variety shows, such as, the "Joey Bishop Show" and the "Virginia Graham Show." She participated in Moctezuma Esparza's docu-show, "Celebration," hosted by Ricardo Montalban for ABC-TV, and starred in her own half-hour one-woman show for PBS's "Ahora" series. Carmencristina also wrote the soundtrack for Sylvia Morales' docu-film "Bread and Roses."

In 1992, Carmencristina participated in a star-studded tribute to my dad, Lalo Guerrero, at the McCallum Theater in Palm Desert, California. Sharing the bill with yours truly, Daniel Valdez, Cheech Marin, Paul Rodriguez, Don Tosti, Little Joe, and Culture Clash, she proceeded to "bring down the house" with a passionate version of my dad's "Cancion Mexicana," accompanied by Mariachi Sol de Mexico de Jose Hernandez. She did the same thing a couple of years later at UCLA, backed by Los Camperos de Nati Cano, at a show entitled, "Cancion Mexicana: The Music of Lalo Guerrero," which I attended. In 1993, she participated in the Smithsonian Institution's "Festival of American Folklife," (themed "Borderlands") in Washington D.C. Later, she did six follow-up workshops held in several border cities.

My family and Carmencristina's go way back. It was her father who showed my dad's song, "Cancion Mexicana" to Lucha Reyes, who later recorded it and the rest is history. I first met Carmencristina around 1970 under completely separate circumstances. I was recording with a record producer by the name of Tommy Coe, who was friends with J.R. Shanklin, also a record producer. J.R. had met Carmencristina when he saw her perform at the Smokehouse Restaurant in Burbank. He recognized her talent and apparently more because they eventually married and had a son together. So at the time, we were working and hanging out with the same crowd. I had no idea when we first met that our parents had known each other, but was very impressed with her great voice and talent. In the mid-eighties, my dad and I went to Bakersfield to attend a birthday celebration for Cesar Chavez at the convention center and Carmencristina was performing. My dad, who was very impressed, invited her to sub for him at his gig in Rancho Mirage, California. She took the job and wound up moving to nearby Palm Springs, where she lived for many years. When I moved to the same city in 1990, I got to see more of her and know her better. She's a strong woman who has endured the trials and tribulations of the music industry, and life in general, with her dignity and sense of humor in tact. Several years ago, after raising her three sons, she returned to live in Fresno, where she remains musically very active.

Currently Carmencristina Moreno has a CD out, which she produced herself, entitled, "Train from Tenochtitlán." It contains twelve of her compositions, all in English, but in a musical framework that is very Mexican. Two of my favorite songs on the album are "Vaquero," a tribute to the cowboy of the Americas, and "Lady Tex Mex," which is done with a bajo sexto and accordion, giving it the authentic conjunto sound. There's also a song called "Lorena," which deals with the Lorena Bobbit incident. It doesn't condone "the act," but tells the story from the point of view of the physical and cultural abuse she suffered. Another standout track is "Dollar a Song," which tells the story of when Carmencristina would sing with her parents in country bars for a dollar a song. The album is well recorded, with excellent musicians, and her voice is as great as ever.
Update
Two songs written by Carmencristina Moreno are being used in the theatrical production "Cesar and Ruben," written by Ed Begley Jr. and starring Edward James Olmos. It's a play about Farm Worker organizer, Cesar Chavez, and slain journalist, Ruben Salazar. The play, which opened March 14, 2003 in Los Angeles, also features music by Joni Mitchell, David Crosby, Santana, Ruben Blades, Peter Gabriel, Enrique Iglesias, Control Machete, and Los Pinguos.
In September of 2003, Carmencristina Moreno received the nation's highest folk-arts honor, the National Endowment for the Arts National Heritage Fellowship. She received the award, which includes a $20,000 prize, at a ceremony in Washington, D.C., and performed in a separate concert that in the past has been attended by U.S. presidents. My dad, Lalo Guerrero, won the same award in 1991. This is an honor Carmencristina richly deserves.
Carmencristina Moreno has a great new CD out called "Lovers & Legends," which she describes as "ballads of heroes, bandits, causes, and lovers." Her voice is as great as ever and her songwriting continues to evolve to new heights. Some of the highlights of the album are "The Battle of Cinco de Mayo," which chronicles the history of the legendary event in Mexican history; "You'll Always Have Sabor a Mi," an English language version of the classic Mexican bolero; a sexy, bluesy song called "Working Man's Woman;" the beautiful and jazzy "Ellen's Song;" a cover of Jack Hanna's "Ballad of Joaquin Murrieta;" and a beautiful Spanish/English version of "America O' Bella/America the Beautiful." This and other Carmencristina Moreno CDs are available on her website, carmencristina.com.
On January 11, 2013, Carmencristina Moreno and I finally got the opportunity to perform together. The venue was a cultural center called Arte Americas in Fresno, California, where I presented a program in tribute to my father, the late Lalo Guerrero. My program consisted of a video and slide show on the life and career of my dad, followed by solo sets of Lalo Guerrero songs performed by Carmencristina and yours truly. For a finale, Carmencristina and I performed three Lalo songs together; "La Minifalda de Reynalda," "Nunca Jamas," and "El Chicano."
mp3 Sound Byte
Carmencristina Moreno 1999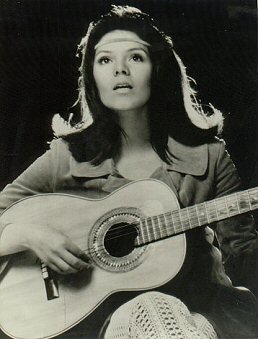 Carmencristina Moreno (1972)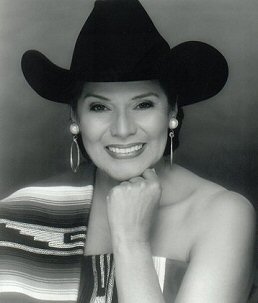 Carmencristina Moreno (2000)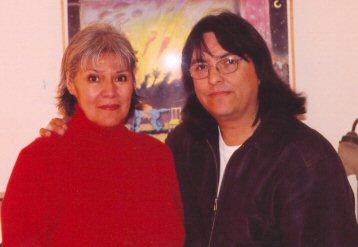 Carmencristina Moreno & Mark Guerrero (2004)

Carmencristina Moreno You Tube Video

Carmencristina Moreno "Solamente Una Vez" (2008)






Previous page || Go to next article