Lalo Guerrero: The Father of Chicano Music
by Mark Guerrero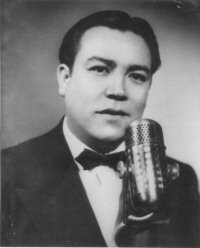 After having written seven articles featuring Chicano musical artists, I think it's about time I write about my dad, Chicano music legend Lalo Guerrero. Lalo Guerrero is rightfully recognized as the "Father of Chicano Music" because no other Chicano artist has come close to writing and recording more great songs in virtually every genre of Latin music, including salsa, norteña, banda, rancheras, boleros, corridos, cumbias, mambos, cha cha chas, socially relevant songs, swing, rock & roll and blues. He has also created children's music, comedy songs and parodies, in addition to being a world-class singer. Generations of children in Mexico and the U.S. grew up with his "Ardillitas" (squirrels), and his parodies such as, "Tacos for Two," "Pancho Claus," "Elvis Perez" and "There's No Tortillas," have brought laughter to Chicanos and people of all races and ethnicities. His songs about Cesar Chavez and the farm workers, the braceros, martyred journalist Ruben Salazar, and the plight of illegal aliens, have chronicled Chicano history and inspired his people. He's the only Chicano I know of who has written songs that have become standards in Mexico. His "Cancion Mexicana" was covered by legendary singers such as, Lucha Reyes and Lola Beltran, while "Nunca Jamas" was recorded by the equally legendary Trio Los Panchos, Javier Solis, and Jose Feliciano. As Jesus Velo, bassist for Chicano rock band Los Illegals, recently quipped, "Lalo's the first Chicano to cross back" (as opposed to cross over). His Pachuco music of the late 40s and early 50s provided the sound track to Luis Valdez' late 70s play and movie, "Zoot Suit." All the above offers just a glimpse of over 700 songs he's recorded since his first record in 1939, with Los Carlistas on Vocalion Records.
Lalo Guerrero has performed all over the United States, Mexico and in Paris, France. He has received countless awards, including being declared a National Folk Treasure by the Smithsonian Institution in Washington D.C., a National Endowment of the Arts Fellowship, a Nosotros Lifetime Achievement Award, and the National Medal of Arts, presented by President Clinton. He has been invited to the White House three times, by Carter, Bush (the 1st), and Clinton. Not bad for a kid who was born and raised in the Barrio Libre section of Tucson, Arizona to a large family with limited financial means. His father, Eduardo Guerrero, who was born in La Paz, Baja California, worked for Southern Pacific Railroad as a boilermaker. Lalo didn't finish high school due to the depression and had no formal musical education. His first group, Los Carlistas, represented Arizona at the New York World's Fair of 1939 and, while still in New York, appeared on the Major Bowes Amateur Hour on national radio. He appeared in a few Hollywood movies, including, "Boots and Saddles" starring Gene Autry and "His Kind of Woman" starring Robert Mitchem and Jane Russell. When Lalo moved to Los Angeles in the 40s, he recorded about 200 songs for Imperial Records, with the Trio Imperial and as a soloist. He performed as a solo front man for years at the legendary Bamba Club near Olvera Street and later, in the 50s, formed his own orchestra and played for years at the Paramount Ballroom in East L.A. and toured extensively around the southwest. In the 60s, with the proceeds from his national hit, "Pancho Lopez," he bought his own night club called "Lalo's," where his orchestra regularly performed. In 1972, after ten successful years, he sold it and moved to Palm Springs, California.
My musical relationship with my dad goes all the way back to the 60's when my teenage band, Mark & the Escorts, backed him on several records and even toured with him a few times around California and Arizona. It was great experience for a bunch of 14 year olds. The most successful song we recorded with him in that era was "La Minifalda de Reynalda." It was a big hit in the Southwest and has been covered by many artists in Mexico. In the late 70s and early 80's, I collaborated with him on many of his children's records, "Las Ardillitas de Lalo Guerrero." Typically it would go something like this: I would write the music of a song, usually rock, and he would write the Spanish lyric. I would put together a band and cut the tracks. We'd fly to Mexico City, where his label, EMI Capitol, was based, and do the vocals. Yes Virginia, I would be one of the "Ardillitas." We'd stay a week, recording and enjoying the great city. My dad has also written Spanish lyrics for some of my rock songs, such as the all-Spanish version of "On the Boulevard." We also collaborated on a ballad entitled, "Receta de Amor," which was my music and his lyric. Also in the early 80s, during the Fernandomania era, we each wrote a song about Dodger pitcher, Fernando Valenzuela. It was released as a 45 and sold at Dodger Stadium. Dad did the vocals on his "Ole Fernando" and my "Fernando, El Toro." The arrangements were done by Jose Hernandez , founder and leader of the great mariachi, Sol de Mexico. In 2001, these recordings were used in a documentary on Fernando Valenzuela entitled "Fernandomania" on the ESPN Classic cable network.
As far as live performances with my dad are concerned, we performed in 1985 at the Southwest Museum in Highland Park, California, where I did a set of my material, followed by him doing a set of his. The program was entitled, "Two Generations of Mexican-American Music in L.A." In 1990, we performed with the same format at the Barnsdall Art Center Theater in Los Angeles. In 1998, my dad asked me to perform with him in Paris, France at the Cite de la Musique. We put together a small band, in which I played lead guitar and was musical director. I also performed two of my songs. The tremendous response we received from the French audience led to enlarging the band to six pieces and performing eleven concerts from 1998 through 2000. We performed at the new Getty Center in L.A., the Annenberg Theater in Palm Springs, the Luckman Auditorium at Cal State L.A. (my alma mater), and in my dad's hometown, Tucson, Arizona, to name a few. At every concert, I performed two or three of my songs in the show. I feel very fortunate that circumstances made it possible for me to perform with my dad. We called the group Lalo Guerrero with Mark Guerrero and the Second Generation Band. It's amazing that in his 80s, my dad was still able perform at a tremendous level and give a great show that could captivate and thrill an audience. He deservedly is considered an icon and a legend to the Chicano people.
Lalo Guerrero has a parody CD out entitled, "The Funny Side of Lalo Guerrero" on Brown Bag Records, which includes his classic "Tacos for Two," "Pancho Claus," "There's No Tortillas," "No Chicanos on TV," and eight others. It's available through my website. He also has a great CD out called, "Lalo Guerrero: Vamos a Bailar Otra Vez." Recorded in 1999, It's a collection of new versions of some of his greatest songs, including, "Vamos a Bailar," "Marijuana Boogie," "Nunca Jamas" and "Barrio Viejo," to name a few, as well as a recemt song, "El Carnalito." This album has world-class musicians and arrangers, with a big band composed of some of the members of the Brian Setzer Orchestra. It's available on Break Records.
Updates
In 2002, Lalo Guerrero's autobiography, written with Sherilyn Meece Mentes, was published by the University of Arizona Press. (You can read about it on my "Miscellaneous Writings" page). Also in 2002, Lalo performed at legendary Notre Dame University and a compilation CD of some of his best recordings of the 60s was released, entitled "Lalo Guerrero, El Chicano Inolvidable." In May of 2004, Lalo was given an award by the Los Angeles Historical Society at a ceremony in Los Angeles. One of the other recipients was legendary science fiction writer, Ray Bradbury. I was fortunate to perform with my dad several times in 2003 and 2004. By then I had formed my current band Mark Guerrero & Radio Aztlán. We backed him on a couple of songs at the Gene Autry Museum in Los Angeles, once in 2003 and again in 2004. At the latter concert, I also performed a few songs with him as an acoustic duo. In June of 2004, we were on a television show together in the Palm Springs area called "The Talking Stick." We were interviewed and performed a few songs acoustically. On July 10, 2004, I performed with my dad at the Levitt Pavilion in Pasadena with a three piece band.
The last time I ever performed with my dad was on October 3, 2004 at the tribute concert for Don Tosti, who had recently passed away. I was performing a four song set with a band which included Ry Cooder on guitar. We brought him up to sing his "Los Chucos Suaves" with us. He and I traded verses and he even danced during the instrumental interludes to the crowds delight. He performed one more time with Mariachi Cobre in his hometown of Tucson, Arizona in November. His health began to fail rapidly after that and he never performed again. You can view a video of his last performance on this website on my "Lalo Guerrero Gallery," page 4. Lalo Guerrero passed away peacefully on March 17, 2005 at the age of 88. Imagine, five months before he passed away he was still performing and bringing down the house. In June of 2005, three months after his passing, a CD by Ry Cooder was released called "Chavez Ravine." It includes three songs on which my dad sang lead vocals, a song he wrote for the project entitled "Corrido de Boxeo" and new versions of his classic compositions "Los Chucos Suaves" and "Barrio Viejo." He recorded the project in January of 2003 at the age of 86 with a still strong and vibrant voice. It's fitting that even after he's physically no longer with us, he's on a great new CD which will help to advance Chicano music to a new mainstream audience. Lalo Guerrero was without a doubt the greatest Chicano musical artist of all time. He was one of a kind and there will never be anyone like him. Thankfully, his music is with us and will endure for generations.
In 2000, my brother Dan and I donated our dad's archives (records, cds of his recordings, photos, posters, etc.) to CEMA (California Ethnic Multicultural Archives) at the University of California at Santa Barbara. There they will be preserved and made available to researchers for generations to come. To view the Lalo Guerrero webpage on the CEMA website click here. On April 17, 2005, Lalo Guerrero was posthumously inducted into the Arizona Music Hall of Fame. I performed two of his songs at the ceremony/show. The next day, April 18, 2005, a proclamation was read on the floor of the Arizona House of Representatives in Phoenix, Arizona. To read my article on the two events click here. To visit his page on the Arizona Hall of Fame website click here.
In December of 2005 my internet radio show, "Chicano Music Chronicles" had it's debut. My first show appropriately featured the music of Lalo Guerrero. I played twelve of my favorite Lalo Guerrero tracks. My show, which usually includes an interview with the featured artist, could not do so because my dad had passed away nine months previously, on March 17, 2005. The show nonetheless gives insight into Lalo's music and career. I made comments on each song, sharing what information I had about it. The show aired multiple times in the month of December 2006 on crnlive.com. You can hear it at your convenience on my website on my "Chicano Music Chronicles" page" where it is archived. A high speed internet connection is recommended. Click here for a shortcut to the page.
In October and November of 2006, a documentary on the life and career of Lalo Guerrero called Lalo Guerrero: The Original Chicano will be airing on PBS stations across the United States. The documentary was produced by my brother Dan Guerrero and Nancy De Los Santos. It features luminaries such as Ry Cooder, Linda Ronstadt, Cheech Marin, Paul Rodriguez, Los Lobos, Edward James Olmos, Cesar Chavez, Dolores Huerta, and Luis Valdez rhapsodizing about Lalo Guerrero and his music. It's a magnificent documentary that will serve as an enduring record of who my dad was and his musical achievements. A DVD of the documentary, with a compilation CD, is available from the amazon.com link below and this link on my website: dvds.php.
mp3 Sound Byte
Lalo Guerrero 1977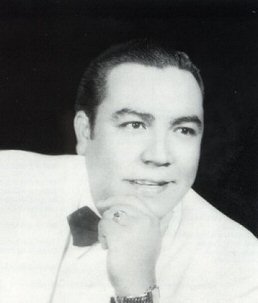 Lalo Guerrero (c. 1950)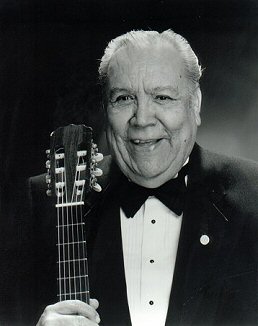 Lalo Guerrero (c. 2000)

Lalo Guerrero
with Mark Guerrero
& the Second Generation Band

(Left to right: Bobby Dominguez, Lorenzo Martinez, Steve Alaniz, Lalo Guerrero (seated),
Mark Guerrero, Willie Loya and Alex Armstrong)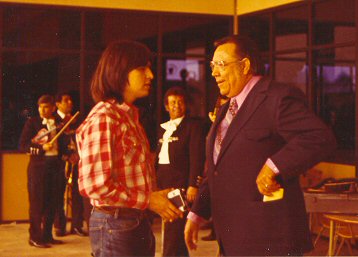 Mark & Lalo Guerrero (1972)
(Robert F. Kennedy Elementary School- East L.A.)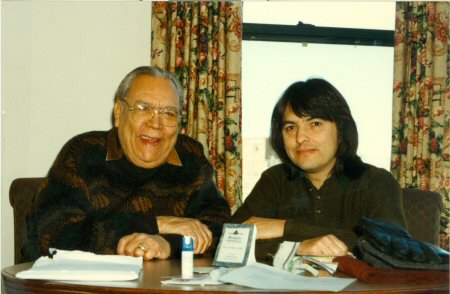 Lalo & Mark (1997)
(Washington D.C.)

Selected Lalo Guerrero You Tube Videos

Lalo Guerrero "Muy Sabroso Blues" (1999)
(Mark Guerrero on lead guitar)

Lalo & Mark Guerrero "Receta de Amor" (1986)
(music by Mark Guerrero, lyric by Lalo Guerrero)
Lalo Guerrero Christmas Album "Pancho Claus & Other Holiday Favorites"
download available at Amazon.com for only $6.99!

"Pancho Claus & Other Holiday Favorites"

Previous page || Go to next article